For a great recipe your whole family will gobble up at Thanksgiving dinner, try out this apple cranberry sauce. It's a fun twist on traditional cranberry sauce that serves as the ultimate holiday side dish.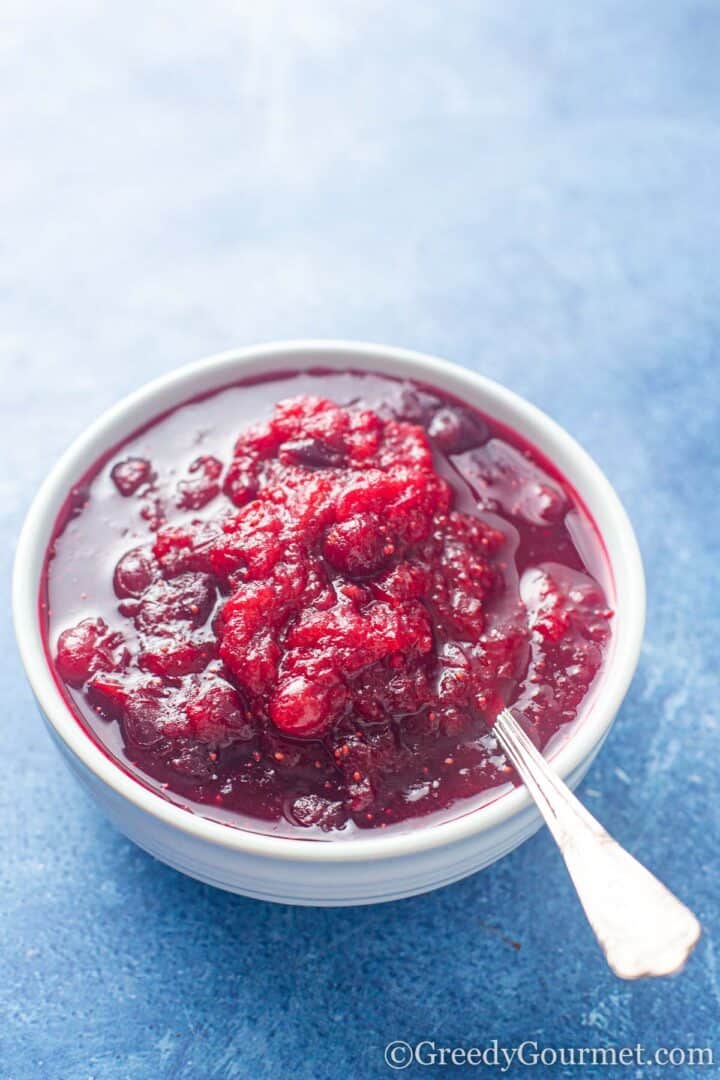 With delicious sweet flavour, you'll love this warm sauce on top of your other foods and on its own. I promise, it's the best cranberry sauce you'll taste.
Why You'll Love This Recipe
You'll love this apple cranberry sauce because it's easy to make, it's different from the traditional sauce recipe without deviating too much, and it can be whipped up in minutes.
Special Equipment Needed To Make This Recipe
Apple peeler and corer - For this homemade cranberry sauce recipe, the apples need to be peeled and cored. You'll find it much easier to do so with the right tools, which is why I love this apple corer and peeler. It even slices the apples for you, making preparing this dish so much easier and quicker.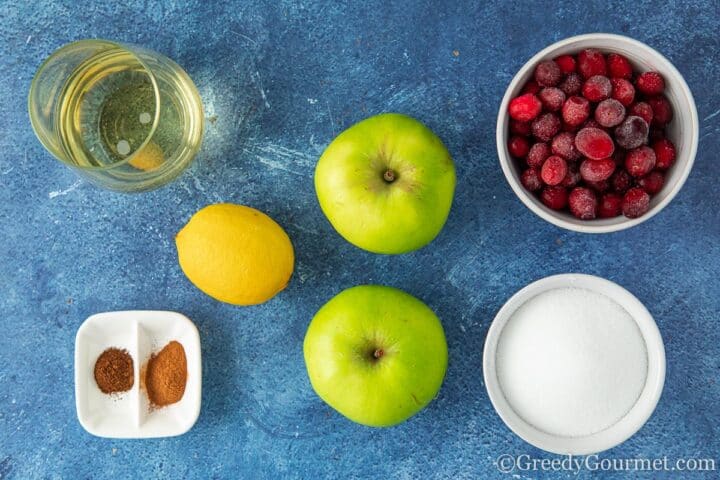 Special Ingredients You Need For This Recipe
Cranberries - Fresh cranberries are not always available, especially before and after the holidays. But you can use fresh or frozen cranberries for this homemade cranberry sauce with apples.
Granny Smith apples - If you don't have this kind, you can use something else that is tart in your cranberry sauce.
How To Make This Recipe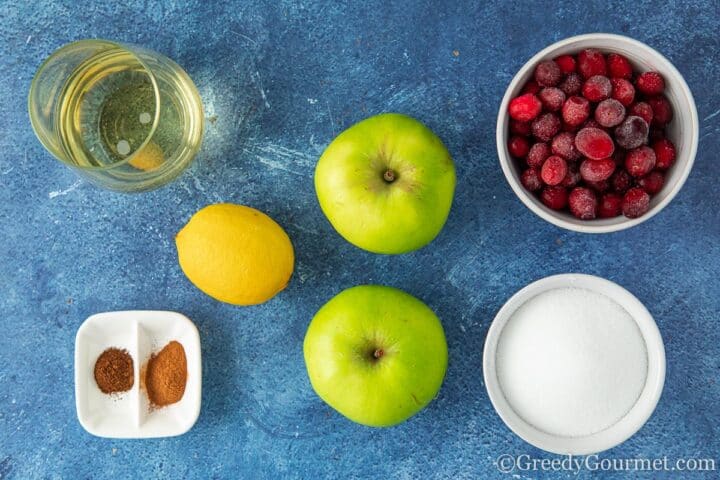 Put the cranberries, cider, apples, sugar, cinnamon, nutmeg, and orange zest in a large saucepan. Turn the heat to high.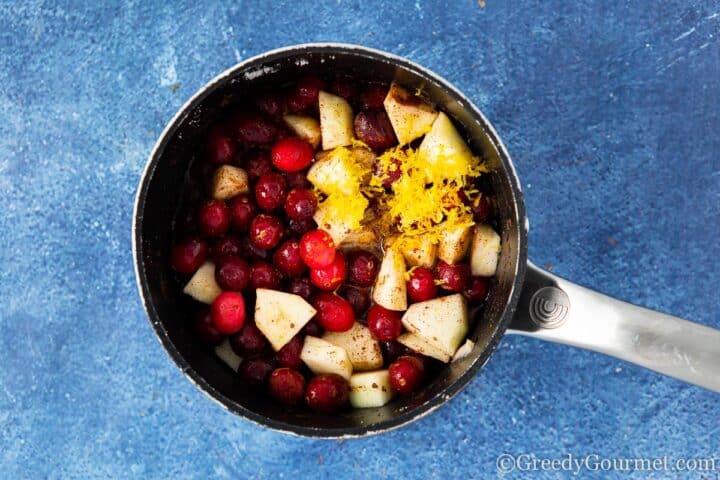 Bring the ingredients to a boil and then reduce to medium to low heat and let the sauce simmer. After 10 to 15 minutes you should hear the cranberries pop.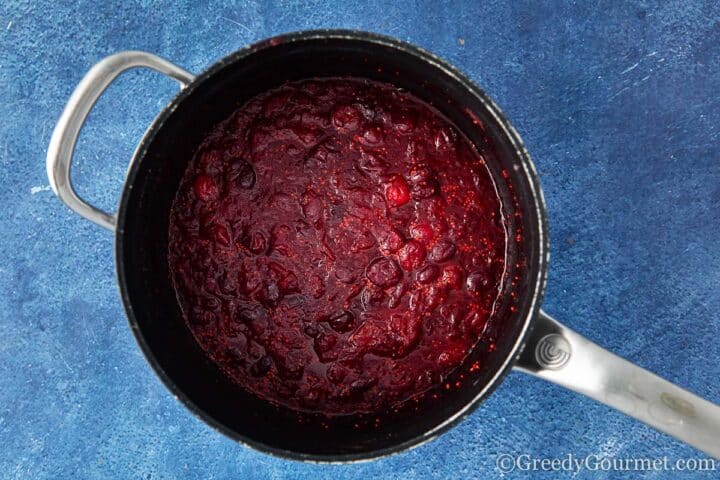 Once the cranberries have popped and the sauce has thickened, remove from the stovetop and let it cool. Leave it in the refrigerator overnight or serve immediately.
Top Tip
Don't leave the sauce on the highest stove setting thinking that it will speed up the process. For your homemade cranberry sauce to properly thicken, it needs to cook at a cooler temperature.
What to Serve with Your Homemade Cranberry Sauce
Here are some other Thanksgiving recipes you'll love on your holiday table next to your apple cranberry sauce:
Entrees
Whole Roast Turkey - For a lovely festive entree with your cranberry sauce, try your hand at this whole roast turkey. It gives the bird the loveliest flavour that you're sure to eat up.
Ham In Coca Cola - Your cranberry sauce with apples will take on a new, lovely taste when paired with this ham. Plus, by telling your kids it's made with soda, they'll be tempted to try it.
Roasted Artichoke Hearts - If you're having a meatless holiday, serve these incredible roasted artichoke hearts. They're so hearty you won't even notice you're missing meat, and they'll pair well with your cranberry sauce.
Sides
Butternut Squash & Orange Soup - Keep with your non-traditional traditional meal theme by serving a soup over the holidays. This recipe featuring a fall staple food and bright oranges will have all your guests wondering why they don't serve soup with their holiday buffets.
Sweet Potato Gratin - Swap traditional potatoes for this sweet potato gratin. I promise you'll fall in love. You might even mix it with your cranberry sauce. It's that good.
Blanched Kale - For a super healthy side, turn to blanched kale. It's quick to throw together and will give you more nutrients in addition to your cranberry sauce with apples.
Desserts
Gooseberry Crumble - It's good to keep some tradition, and a gooseberry crumble is the best form.
Carrot Cake Cupcakes - For a dessert you don't have to cut into, give guests carrot cake cupcakes. They're sweet, easy, and universally loved.
Cocktails
Alcoholic Butterbeer - Nothing says holidays like butterbeer, and this lovely recipe will warm your heart when you taste it.
Popular Substitutions For This Recipe
Cider - If you do not have cider, you can use another liquid like orange juice or lemon juice in the cranberry sauce with apples. Note that if you use lemon juice, you may have to add more sugar to get the sweetness to your preferred taste. If you use orange juice, you shouldn't have to add any sugar if it is store-bought.
Sugar - Instead of sugar you can use another sweetener. Brown sugar and maple syrup will both work in this homemade cranberry sauce with apples.
Spices - If you don't have ground cinnamon, you can either grind your own using cinnamon sticks, or just boil with the sticks.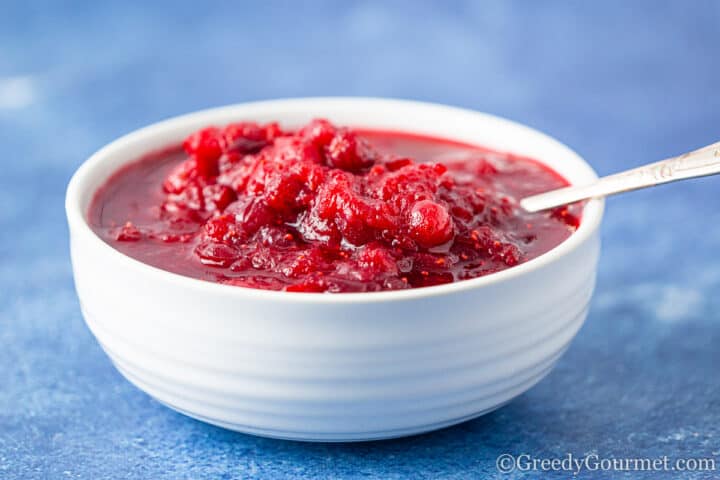 Variations To This Recipe
Pears
If you aren't a fan of apples, you can change this side dish up a bit by using another popular fall fruit - pears. Treat them the same way you would the apples and enjoy a flavorful variation to your homemade cranberry sauce.
Berries
For even more natural sweetness, add berries. Blackberries and raspberries will taste divine with this apple cranberry sauce.
Gelatin
Instead of making this into a cranberry sauce, you can turn it into a gelatin by adding some pectin.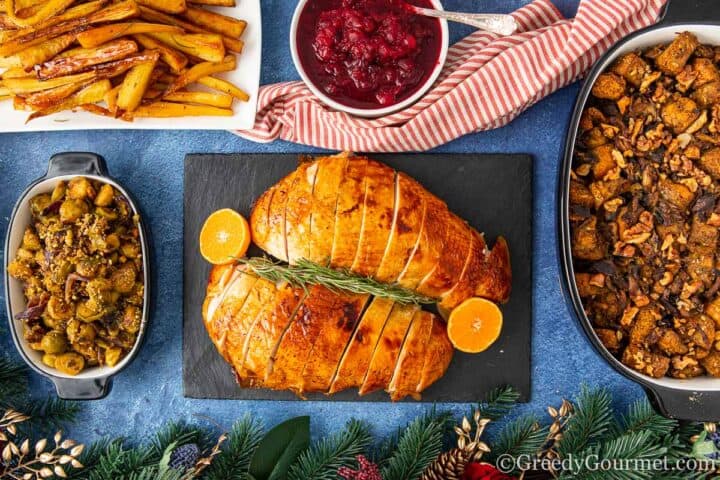 How Do I Store Leftovers?
Store cranberry sauce leftovers in an airtight container in the fridge for up to five days.
Can I Freeze This Recipe?
Yes, you can freeze apple cranberry sauce. Store it in a freezer-safe container for up to three months. It stores best in a glass container like a mason jar.
How Do I Thaw This Dish?
You can thaw homemade cranberry sauce a couple different ways. You can put it in the fridge to thaw, or you can defrost it in the microwave or on the stove. 
Make sure you stir the cranberry sauce to thicken it back up. And note that you may need to reheat it a bit to return it to its desired consistency.
Can This Recipe Be Scaled?
Yes, this cranberry sauce can be scaled, but only to a certain degree. You can reduce the amounts easily, but be careful when trying to double or triple the amount. 
Make sure your saucepan can accommodate the larger amount of fruit without it being overcrowded. This could affect the cranberries' ability to pop. A medium saucepan might not be big enough.
Can This Recipe Be Made In Advance?
Yes, this cranberry sauce can absolutely be made in advance, and it is a great side dish to prepare ahead of time when you are in charge of a holiday dinner.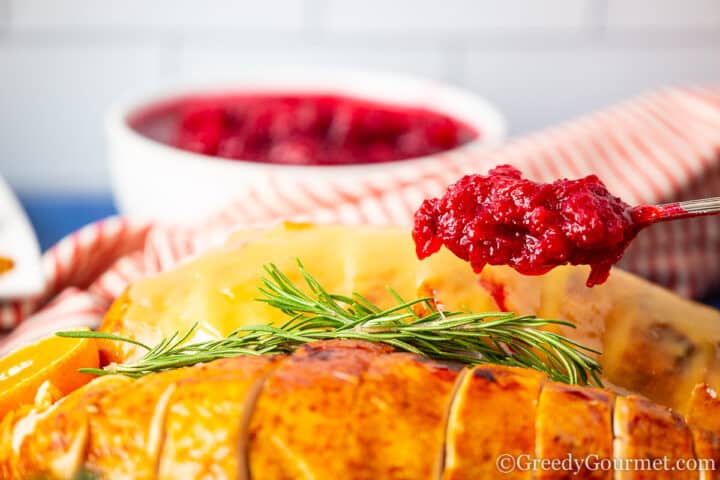 Other Thanksgiving Recipes You'll Love
Here are some of my favourite Thanksgiving dishes that I know you'll love, too. They all taste great with cranberry sauce:
Apricot Stuffing - This side dish cuisine is a lovely twist on classic stuffing. It gives a bright, fruity taste to a traditional recipe and is amazing with cranberry sauce.
Rosemary Potatoes - For a tasty carb, use this recipe for rosemary potatoes. They are simple to make and will make your house smell amazing and perfectly complement your cranberry sauce.
Creamed Leeks - You'll love creamed leeks for a variety of reasons, but mostly because it'll be the perfect addition to a non-traditional holiday dinner.
Food Safety
Share Your Thoughts!
Once you've tried this apple cranberry sauce recipe, let me know what you think. I always love trying new variations, so if you adapt the recipe at all, let me know.
Print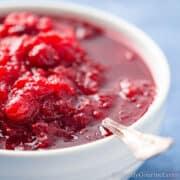 Apple Cranberry Sauce
---
Author:

Michelle Minnaar

Total Time:

25 minutes

Yield:

12

-

16

servings

1

x

Diet:

Vegan
Description
Learn how to make this homemade Apple Cranberry Sauce sauce, which is a fun twist to its traditional counterpart.
---
400g

(

3 cups

) cranberries

250

ml (1 cup) cider

270g

(

2

apples) Granny Smith apples, peeled, cored and chopped

100g

(

½ cup

) sugar

2g

(

½ tsp

) cinnamon

1g

(

¼ tsp

) nutmeg
zest of

1

orange (optional)
---
Instructions
Place all of the ingredients into a large saucepan over a high heat.
Bring to the boil and then reduce the heat to a medium to low heat and allow to simmer for around 10-15 minutes. At this point the cranberries should have burst and the sauce thickened.
Allow to cool and then serve fresh or you can store in the fridge in an airtight container for no more than 5 days.
Notes
If you can't get hold of Granny Smith apples then feel free to substitute for another variety such as McIntosh, Jonagold etc
Lemon zest would work just as well as the orange zest
If you like a sweeter or tarter taste to your sauce you can alter the amount of sugar you add.
Prep Time:

10 minutes

Cook Time:

15 minutes

Category:

Side Dish

Method:

Boil

Cuisine:

British
Keywords: Apple and Cranberry Sauce, Dairy-Free Cranberry Sauce, Gluten Free Cranberry Sauce, Vegan Cranberry Sauce, Vegan Apple and Cranberry Sauce, Turkey Sides