This delicious Thanksgiving Day dried cranberry sauce is so easy to make and incredibly versatile.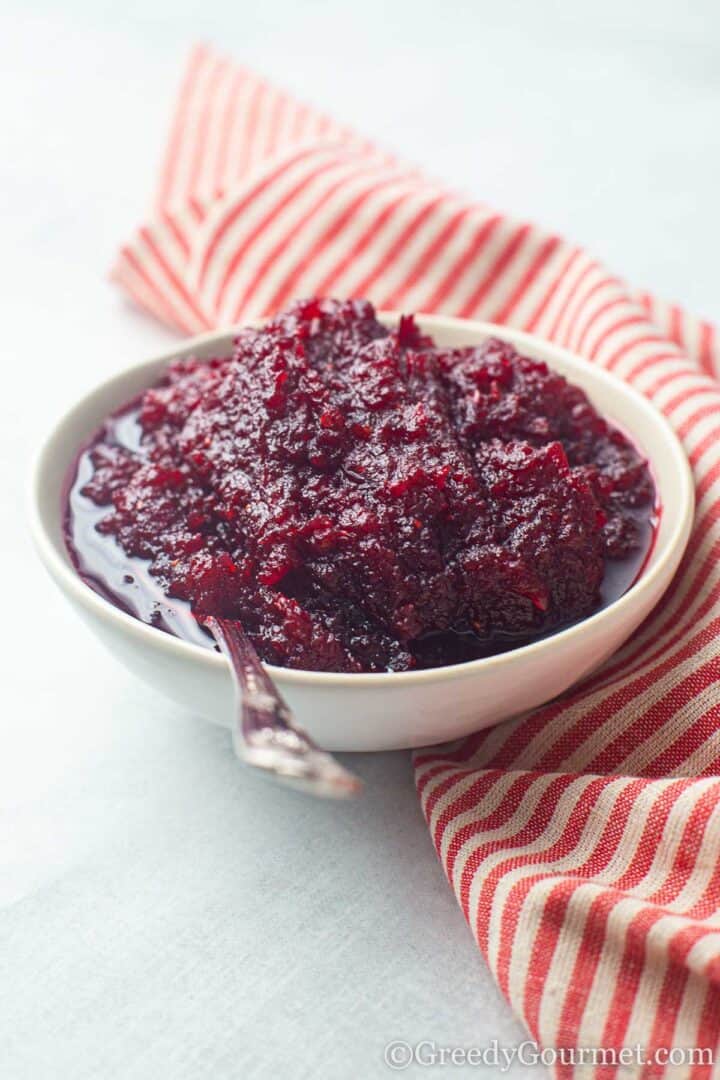 Whether it's adding some zest to your centerpiece turkey or bringing a fruity flavour to your ice cream dessert, this homemade cranberry sauce is a pure delight!
Products you need for this recipe
There are a few essential items you'll need for this recipe:
Dried cranberry sauce recipe
One of the staple dishes to any Thanksgiving feast, cranberry sauce is sweet, tangy and goes so well with roast turkey. Best of all, this cranberry sauce recipe is so quick and easy to make.
While many cranberry sauce recipes call for the use of fresh cranberries, this cranberry sauce is made with dried cranberries, as they're easy to get hold of. This recipe will definitely save the day if cranberries are out of season, or the shops are out of stock of fresh and frozen cranberries.
Cranberry sauce with dried cranberries tastes delicious and, once you've got the steps down, you'll want to make cranberry sauce every single year.
The ingredients list is minimal and easy to source – dried cranberries, cranberry juice, orange juice, sugar, salt and cornstarch. Making homemade cranberry sauce makes you realize just how much better it is than the store bought stuff.
Believe me, once you've tasted this wonderful sauce, you'll never go back to that mediocre store bought cranberry sauce ever again.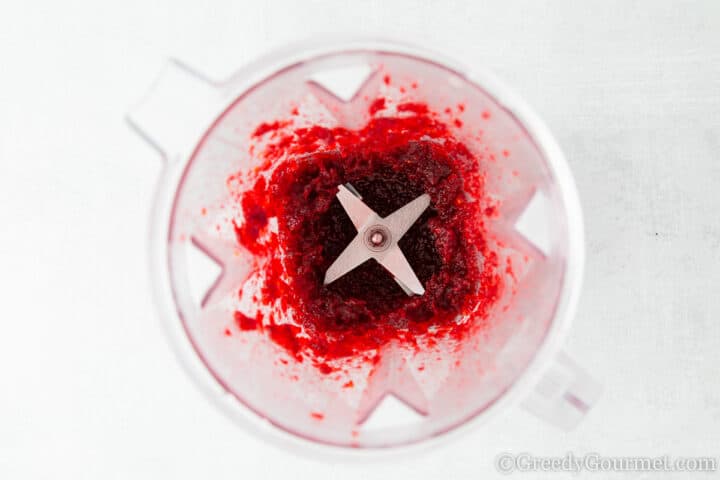 Can you make cranberry sauce from dried cranberries?
Cranberry sauce can definitely be made using dried cranberries. When it comes to making delicious homemade cranberry sauce, there's no need to use fresh cranberries.
Of course, fresh cranberries taste wonderful and make an excellent ingredient. Fresh cranberries are in season from September to December, hence their popularity at Thanksgiving.
However, when it comes to readily available, easy to source ingredients, dried cranberries are perfect for this recipe!
Is this sauce sweet?
It's mildly sweet, with a tartness that comes from the cranberries. It's that sweet/tart balance that makes cranberry sauce so delicious on the sauce of choice to perfectly complement your Thanksgiving feast.
If you do prefer your cranberry sauce on the sweeter side, feel free to use a ⅓ cup of sugar, as opposed to the ¼ cup stated in the recipe below.
How do you store cranberry sauce?
This cranberry sauce recipe is great for making big batches. You can double or triple the ingredients, then keep it for using during the whole holiday season.
To store your cranberry sauce, simply spoon it into an airtight container. Place it in the fridge, where it will stay fresh for up to 2 weeks.
Can you freeze homemade cranberry sauce?
If you want to keep your cranberry sauce for longer than 2 weeks, you can easily freeze it. Read my 'Can you freeze cranberry sauce' guide for step by step instructions, including how to freeze cranberry sauce in small, individual portions.
Which sugar is best?
When it comes to sweetening your homemade cranberry sauce recipe, golden caster sugar is best. You can also use brown sugar, or even granulated sugar.
Can I use sweetened dried cranberries?
Yes you can. Sweetened dried cranberries work just as well as normal cranberries. You'll just need to leave out the sugar from the recipe.
Can I use something other than sugar to sweeten the sauce?
Yes you can. Maple syrup will give your cranberry sauce with dried cranberries a wonderful complex flavor. You can also use any kind of sugar substitute.
How do you thicken cranberry sauce?
Cranberry sauce from dried cranberries, like other sauces, is thickened by cornstarch. The cornstarch is mixed with water to form a slurry, which is then added to the sauce to thicken it.
Why is my cranberry sauce bitter?
As long as you follow the ingredient amounts below, your cranberry sauce with dried cranberries should not be bitter. You need the right amount of sugar to balance with the bitterness of the cranberries.
Also, the orange juice and orange zest should help counteract the bitterness.
Can you add spice to this recipe?
Cranberries respond really well to a little bit of spice. If you want to make this a spiced cranberry recipe, add ½ teaspoon of ground cinnamon, ½ teaspoon of allspice, ⅛ teaspoon of ground ginger and ⅛ teaspoon of ground cloves.
Is cranberry sauce healthy?
Yes it is! Cranberries are packed full of healthy vitamins and minerals. What's more, a study by the American Chemical Society found that antioxidants in cranberries were found to help lower bad cholesterol and raise good cholesterol.
Meanwhile, those who regularly drink cranberry juice will have a healthier heart.
Should I use orange or lemon juice?
It's important to bring some citrus to your cranberry sauce. My preferred ingredient is orange juice, along with orange zest. 
If you prefer, you can also use lemon juice and zest. For me, orange juice and cranberry juice fit together better.
How do I know when homemade cranberry sauce is ready?
Spoon a small amount of cranberry sauce onto a small plate. Til the plate – if water separates from the sauce, it's not ready. Cook it for a few more minutes, then try again.
If the sauce stays together without the water separating, then your homemade cranberry sauce is good to go!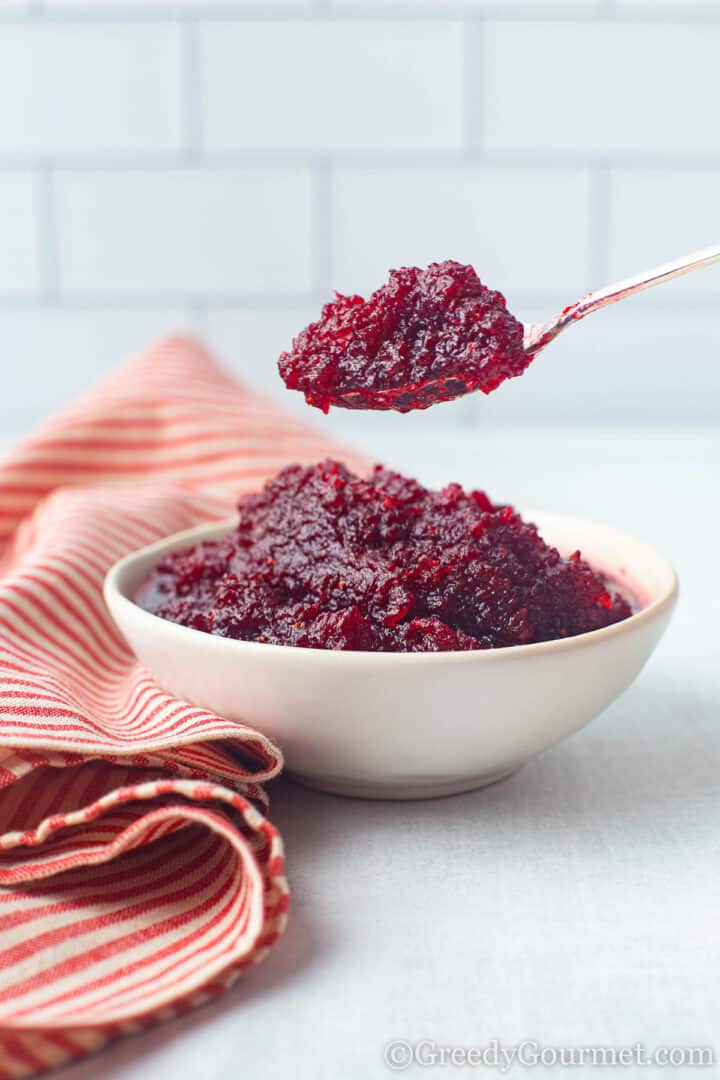 How to use your cranberry sauce
One of the great things about dried cranberries sauce is its sheer versatility! To get the best out of this recipe, use it with the following:
Go for the classic – spoon a big helping onto the side of your Thanksgiving Day meal
Add a spoonful to your favorite fruit smoothie
Add some on top of a scoop of vanilla ice-cream
Spread some on a slice of toast and enjoy with your morning cup of coffee
Add a teaspoon or two into the mix for a fruity twist to your favorite muffin recipe
Add a spoonful to a bowl of granola or yogurt for a healthy brunch
More saucy favorites
Once you've made this cranberry sauce recipe, check these out:
Orange sauce for duck – the ultimate orange sauce, this goes so well with crispy duck. Make it once and you'll be hooked
Curry sauce – this base sauce is an absolutely essential recipe for any curry lovers out there
Adobo sauce – an amazing Mexican chili sauce that can be used to bring character to so many dishes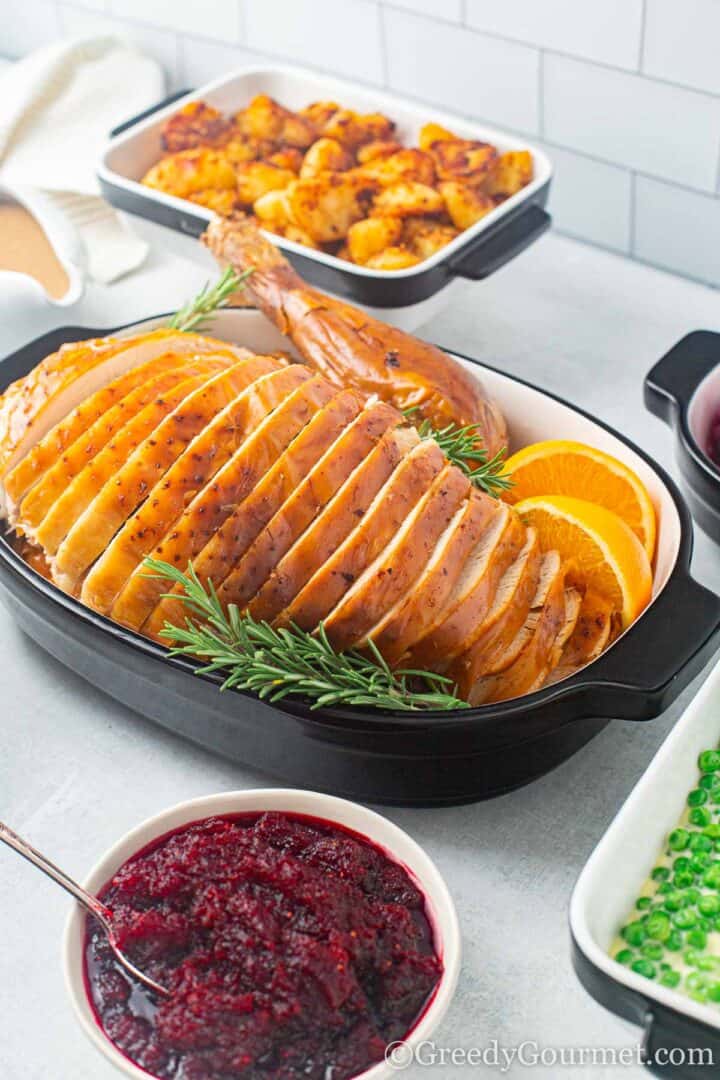 More amazing Thanksgiving recipes
Let the feast begin! Once you've mastered this dried cranberry recipe, work your way through the following recipes:
Whole roast turkey – the centerpiece to your Thanksgiving feast, this is my ultimate roast turkey recipe. Succulent, tender and juicy, you'll never need to look at another whole turkey recipe again!
Marmite roast potatoes – these roast potatoes are simply divine! Using the favourite Brit ingredient, which works so well as a flavor bomb, you end up with the most amazing potatoes that are crispy on the outside and fluffy on the inside
Apple cider turkey brine – so much flavor and so simple. You're going to love this recipe
Turkey giblet broth – you haven't tasted broth like this! Set your taste buds to stun and prepare to be amazed at just how incredible this recipe tastes
Apricot stuffing – wonderfully fruity and oh so moreish, this stuffing recipe is simple and quick. It's set to become a firm Thanksgiving favorite
Leftover turkey curry – this recipe takes leftovers to another level! Incredibly easy and fantastically tasty, this is a must-make for curry lovers over Thanksgiving
Leftover turkey chowder – smoky, creamy, garlicky and oh so tasty, turn your Thanksgiving leftovers into a warming soup with this unforgettable chowder 
Leftover turkey lasagne – a rich feast of a leftover meal, this is the perfect Sunday lunch option for the weekend after Thanksgiving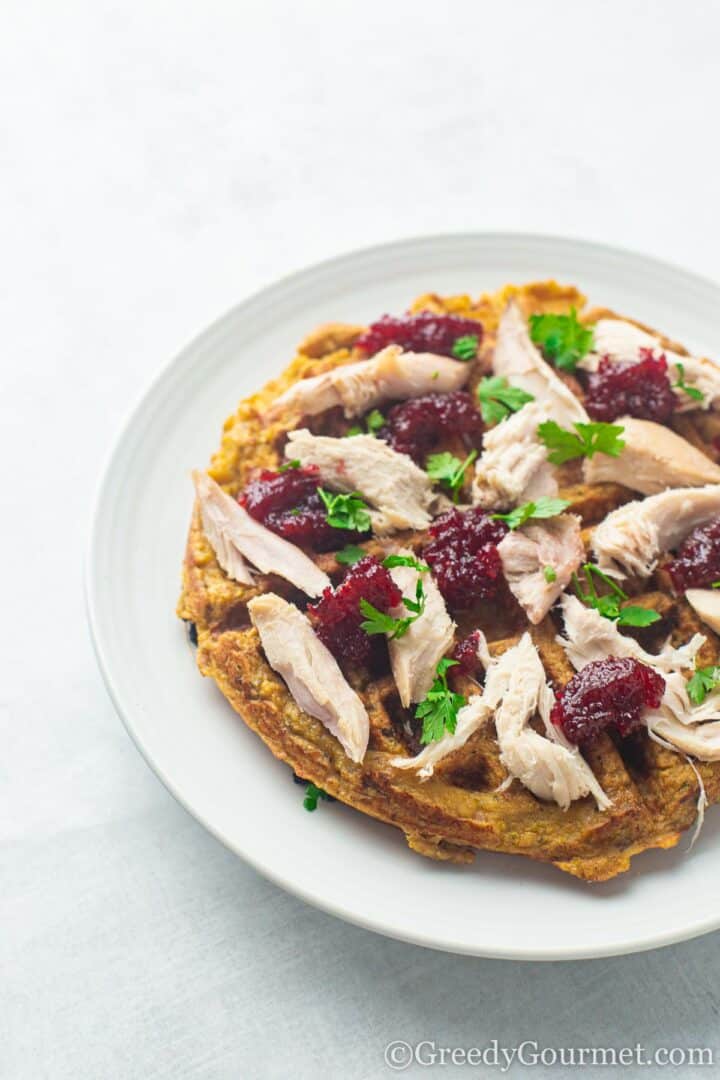 Print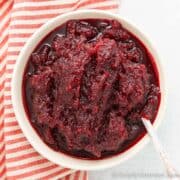 Dried Cranberry Sauce Recipe
---
Author:

Michelle Minnaar

Total Time:

15 minutes

Yield:

8

portions

1

x

Diet:

Vegan
Description
This Dried Cranberry Sauce is the perfect solution if you can't find fresh or frozen cranberries. Great with any Thanksgiving meal.
---
2 cups

(

260g

) dried cranberries

¾ cup

(180ml) cranberry juice

1

orange, juiced and zested

¼ cup

(

60g

) golden caster sugar
a pinch of salt

1 tsp

(

2.5g

) cornstarch

2 tsp

(10ml) water
---
Instructions
Place the cranberries, juice, orange, sugar and salt in a medium saucepan and place on a medium-high heat.
Once the mixture is boiling, turn down the heat until the mixture is simmering and cook for around 5-10 minutes; the cranberries should look nice and plump.
Mix the cornstarch and water in a cup to make a slurry.
Slowly drizzle the slurry into the cranberry sauce mixture while stirring. Keep stirring for at least 1 minute, or until the sauce thickens. Don't overdo it as the sauce will thicken more as it cools.
Serve with a roast turkey or chicken dinner. Enjoy!
Notes
If you don't have golden caster sugar to hand then I would substitute it with brown sugar. Granulated sugar will work too!
You can substitute the orange with lemon, which will work just as well. I prefer the flavours of the orange though.
Don't let this beautiful sauce go to waste if you find you can't use it all, check out my guide on freezing cranberry sauce.
Prep Time:

5 minutes

Cook Time:

10 minutes

Category:

Condiment

Method:

Boil

Cuisine:

American
Keywords: dried cranberry sauce, sauce for turkey, cranberry recipe, sauce recipe, cranberry sauce using dried cranberries, thanksgiving sauce recipe, Christmas sauce recipe