Succulent, juicy and unbelievably tasty, this wonderful slow roasted turkey is perfect for Sunday lunch or your festive feast. It's all so easy and the results are truly spectacular.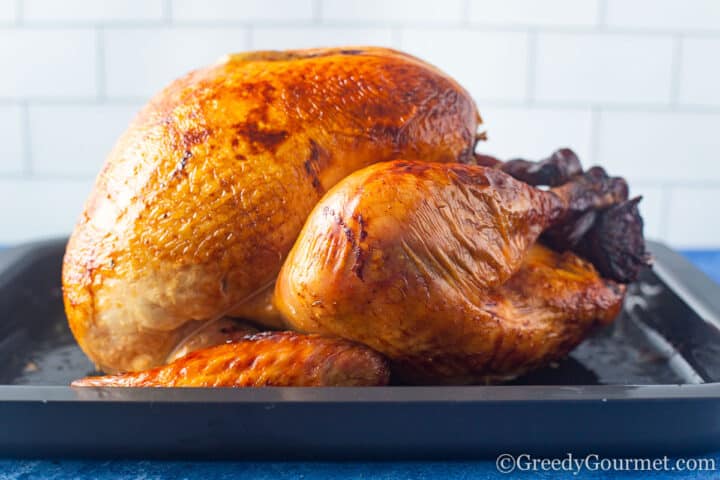 If you've never tried slow roasting a turkey, you're in for a treat! The preparation is simple – it's just a case of adding the right ingredients to the roasting pan, so that the turkey is infused with delicious flavors and wonderful fragrances.
Then it's over to the oven to do its job. Slow roasting for over four hours allows the turkey to take on some incredible flavors. Once you've cooked turkey slow roast style, you'll never go back. Whether it's a Christmas or Thanksgiving turkey, or just a special Sunday lunch, this is the only slow cooked turkey recipe you'll ever need!
Why You'll Love This Recipe
When you slow cook a turkey, the taste and texture are incredible
It's easy to roast a turkey using the slow cook method – preparation is minimal and the oven does all the work
This slow roast recipe is perfect for the holiday season, or just for a special Sunday lunch
There'll be lots of leftovers… and I've got some amazing leftover turkey recipes at the end of this recipe!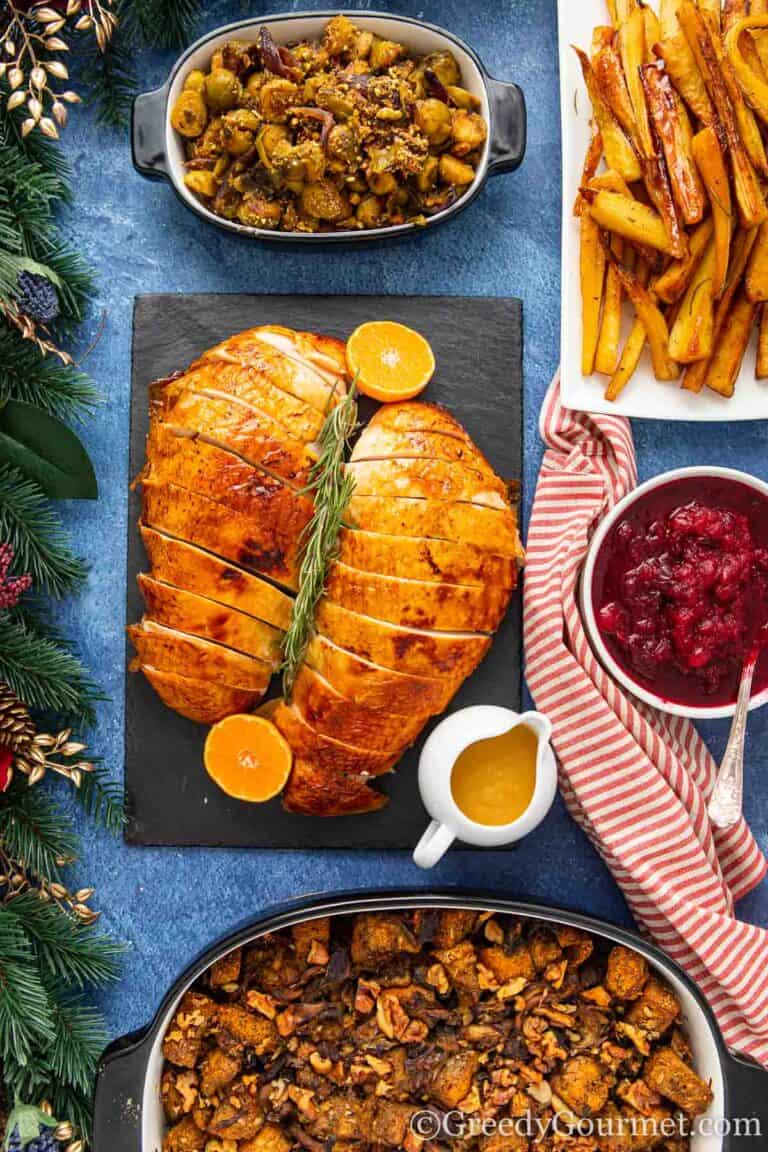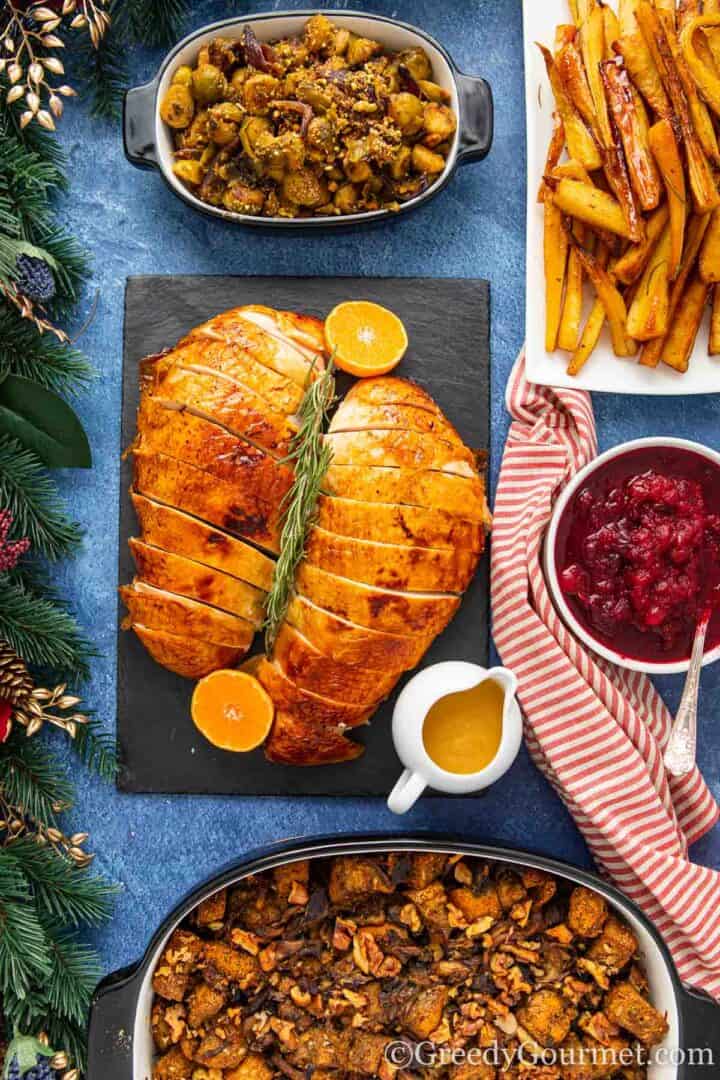 Equipment Needed To Make This Recipe
Let's take a look at some of the key pieces of kitchen equipment that you'll need to make this delicious slow roasted turkey recipe: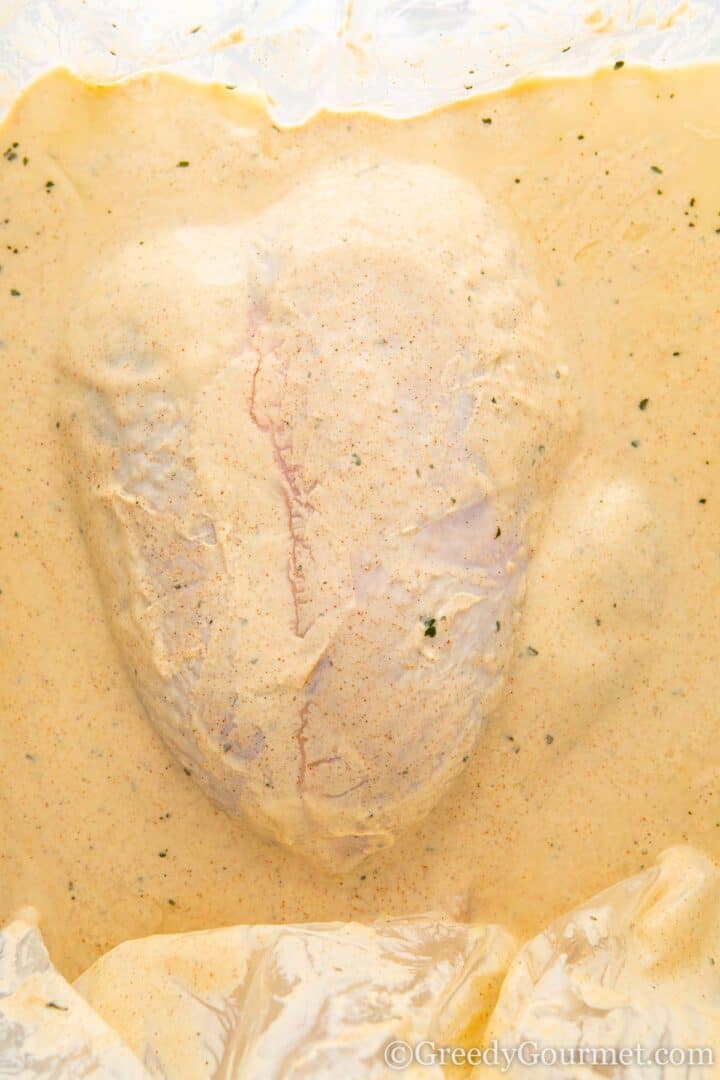 What to Serve with Slow Roasted Turkey
Sides
The classic side for a slow roast turkey would be roast potatoes or mashed potatoes. Here are few of my favorite potato recipes, to give you a little inspiration:
You could also go for some greens or other side dishes. Here are some of my favorites:
Top Tips
Give the turkey at least 30 minutes to rest once it's cooked. This will allow all the juices to be absorbed, giving you perfectly succulent turkey meat.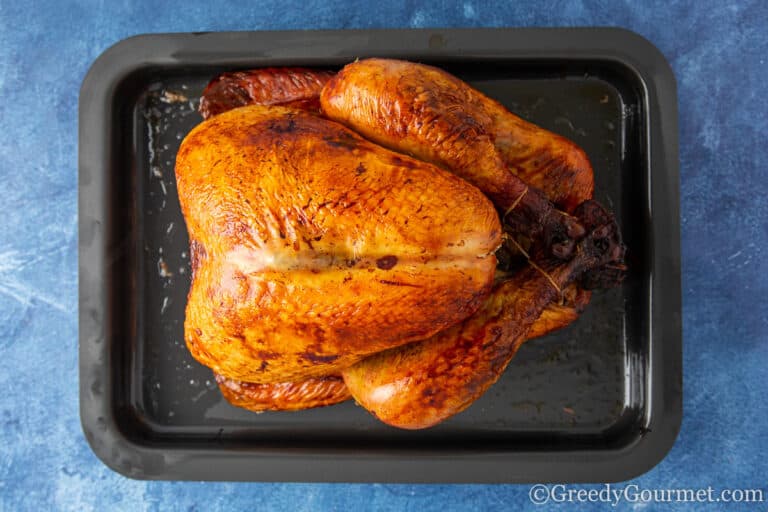 Wine pairing
A slow roasted turkey is special and, therefore, demands a special wine to accompany it.
Variations To This Recipe
This recipe is very straightforward, with just three ingredients that bring a nice harmony of flavor to the turkey. However, it's very adaptable and can be tweaked to your tastes.
Here are a few variation ideas for this slow roast turkey recipe:
Stuffing
Although this recipe is stuffing free – aside from the standard onion and citrus fruit – you can add any type of stuffing if you wish. When it comes to stuffing, feel free to play with various different ingredients. You can even make your own stuffing, using bread, sausage meat, herbs and vegetables.
If you do decide to make your own stuffing, try my delicious apricot stuffing. It will infuse your roast turkey with a beautiful fruity flavor and makes a great alternative to standard types of stuffing.
Garlic butter under the skin
Another interesting variation that adds a lot of flavor and tenderness to your turkey, particularly the breast meat, is to add garlic butter underneath the skin of the turkey breast. This involves making a simple garlic and herb butter, with a few squeezes of lemon juice, and carefully working it underneath the skin.
Bacon layered over turkey breasts
Another great trick to keep the meat tender and delicious is to drape some bacon rashers over the turkey breasts. As the meat cooks, the fat from the bacon spreads over the turkey, basting it and helping it stay deliciously tender and juicy.
Popular substitutions
There are lots of different herbs you can use with roast turkey. I've gone for rosemary, although thyme and oregano work just as well. You can also use marjoram, tarragon or chives. If you can't find fresh herbs, ground herbs work just fine.
You can replace the orange with a lemon to bring a nice citrus fragrance to the turkey.
Sprinkle kosher salt and black pepper, then rub melted butter onto the skin of the turkey, for an extra tasty, crispy skin.
Top Tips
Use an oven thermometer to make sure your oven is calibrated correctly.
Use a meat thermometer to ensure you end up with turkey cooked to perfection.
Don't waste the pan juices! You can create an amazing turkey broth, better than any turkey or chicken broth you've ever tasted! Here's my turkey stock recipe.
Bring the turkey to room temperature before you cook it. You should aim to remove it from the fridge about 30 minutes before cooking. This will ensure you get an evenly cooked and perfectly textured meat.
It might be tempting to leave the turkey alone for the whole cooking period, relaxed with a glass of bubbly while it does its thing. However, remember to baste the turkey every hour or so. They will help to keep the bird perfectly juicy and wonderfully tender.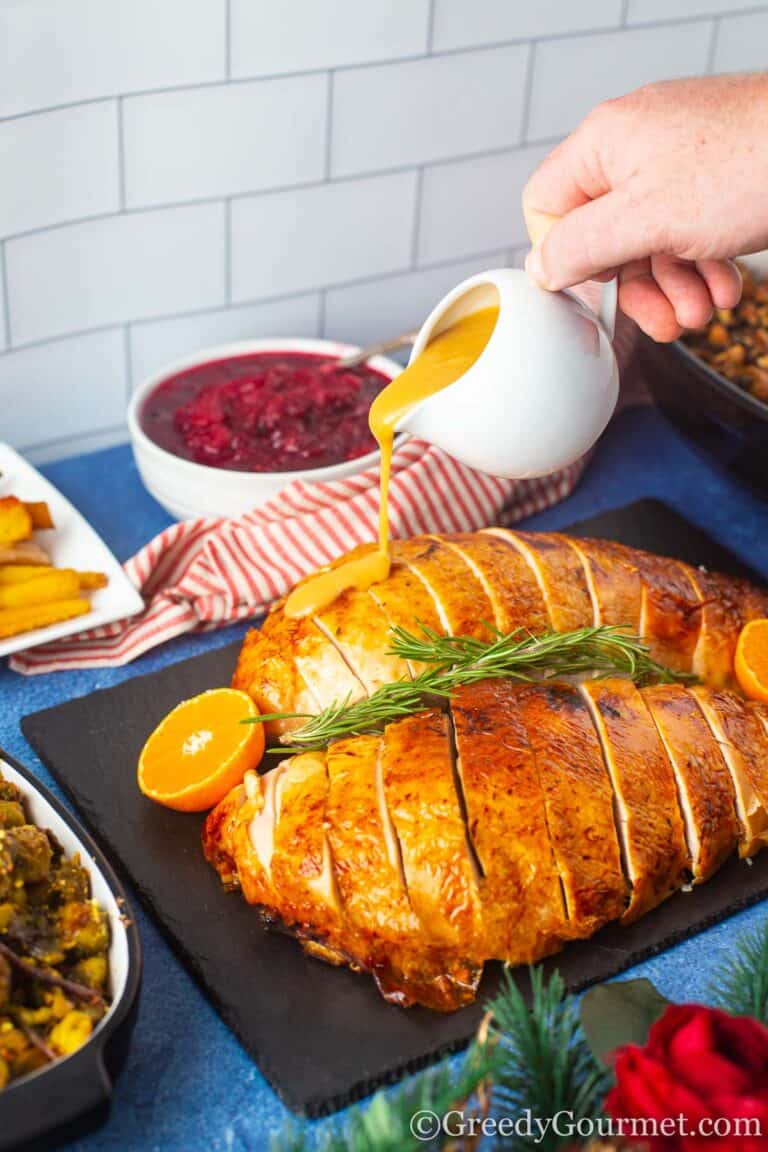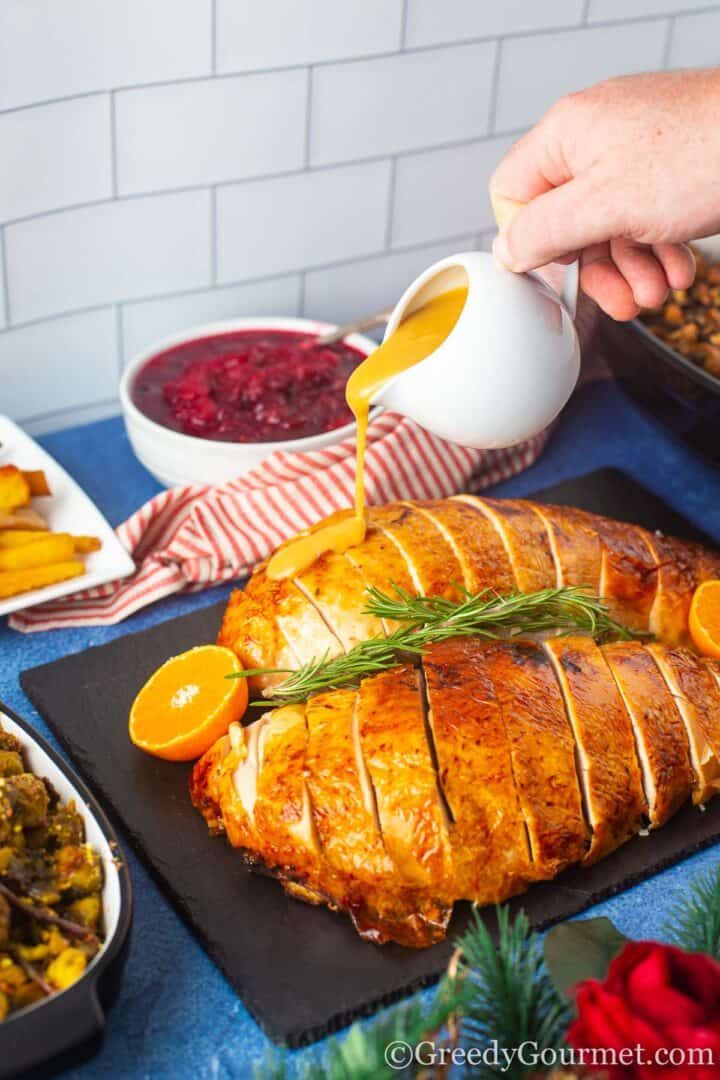 Why is slow roasting a turkey a good idea?
As with any meat, slow cooking turkey is the best way to achieve tender and delicious meat. The slow temperature and longer cooking time allow the meat to take on incredible flavor, while also ensuring that the turkey doesn't dry out.
How do you defrost a turkey?
Many people buy turkeys frozen, so getting the defrosting stage right is crucial. In order to properly defrost your turkey so that it's ready for Thanksgiving or Christmas Day it's best to leave it to thaw in the refrigerator. 
Defrosting turkey this way will ensure the whole turkey thaws evenly, from the leg and thigh meat to the breast meat, which will give you an even cooking temperature. 
Unfortunately, you can't defrost a turkey overnight. Thawing turkey in the refrigerator will take some time and, depending on the size of your turkey, could even take a few days. Allow a day for every 5 pounds of weight.  
Another way to defrost turkey that has been done traditionally for many years is to leave the turkey outside. This only works in colder climates, where the temperature doesn't reach more than 10°C/50°F. This method allows you to free up space in your refrigerator.
Leave your turkey in a sealable larger container and place it in a garage or garden shed. This method also takes a few days.
Can you cook a frozen turkey?
Yes. You can actually cook a partially thawed turkey, although personally I wouldn't recommend it. Cooking turkey when it hasn't been properly defrosted means you won't get that wonderful flavor and texture that comes with slow cooking a fresh turkey.
However, there are times when you might need to cook a partially frozen turkey to save Thanksgiving or Christmas. 
If this is the case, you'll need to allow a lot longer to cook the turkey. For example, a 20lbs turkey will require at least seven hours to cook to a safe temperature.
Can you roast a turkey overnight?
Yes, you can cook a turkey overnight. Turkey cooked overnight will produce spectacular results! Even though you won't be able to baste the turkey every hour, the slow cooking process ensures the meat stays wonderfully juicy and full of flavor.
For instance, you can cook the turkey on a very low temperature – 135°C/275°F for example. This would take around 20-23 minutes per pound, or 22-25 minutes if stuffed. For a 20 pound turkey, this means 6 ½ to 7 ½ hours of cooking time.
What can I do with turkey leftovers?
Let's be honest, we normally buy a turkey that's way too big to eat in one sitting. One of the themes of Thanksgiving or Christmas is the piles and piles of leftovers. Don't waste any of it! Especially this wonderful slow roasted turkey… throwing away any of this turkey is a culinary crime!
Make sure you strip the turkey carcass of any good meat that can be used for festive leftovers. This includes the turkey breast or any dark meat. Turkey leftovers generally keep for around 2-3 days when stored in an airtight container in the fridge, so you've got a bit of time to use them.
Here are a few recipe suggestions when it comes to turkey leftovers:
Leftover turkey chowder – a wonderfully tasty winter warmer, with beautifully subtle spices 
Leftover turkey soup – soothing winter soups don't get much nicer than this… and all with leftovers too!
Leftover turkey tacos – a Mexican-inspired recipe that will bring a little bit of spice to your post Christmas celebrations
Leftover turkey stroganoff – deep, rich and delicious, this intensely flavored stroganoff is the perfect leftover meal when you're craving some comfort food
Leftover turkey curry – one of the best leftover turkey recipes out there! There's something about leftover turkey that just works wonders when made into a spicy curry 
Leftover turkey lasagna – one for fans of Italian cuisine! A lovely little twist on a traditional lasagna, it's oh so satisfying the day after the main feast
Leftover turkey casserole – another big epic comfort food classic, this turkey casserole is to die for!
How do you know when turkey is cooked properly?
The internal temperature of turkey should reach 74C/165F. The best way to ensure your turkey is fully cooked to a safe temperature is to use a meat thermometer.
Insert the meat thermometer skewer into the thickest part of the turkey thigh. Give it a few seconds for an accurate reading. If the temperature falls a bit short, place the turkey back in the oven and continue to cook. Then repeat the process until you've reached the correct temperature.
More turkey recipes
Need a little more inspiration for cooking your turkey during the festive period? Check out these great recipes:
Whole smoked turkey – this recipe takes turkeys to a whole new dimension. There's something extra special about smoked meat and this recipe is out of this world
Whole roast turkey – a slight variation on this roast turkey recipe, my whole roast turkey is a more standard recipe with a quicker cooking time
Apple cider turkey brine – bringing turkey makes the meat even more tender and delicious. This apple brine recipe infuses the meat with a wonderful flavor and, when slow roasted, will produce the best turkey you've ever tasted in your life!
Print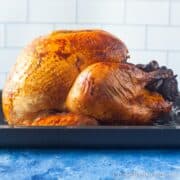 Slow Roasted Turkey
---
Author:

Michelle Minnaar

Total Time:

6 hours 10 minutes

Yield:

16

servings

1

x

Diet:

Gluten Free
Description
Great for a Sunday lunch or a festive meal. Once you've tried Slow Roasted Turkey you won't want to have it another way.
---
20

lbs

(9kg) turkey, defrosted and giblets removed

1

orange, halved

1

onion, halved

1

sprig of rosemary
---
Instructions
Remove the turkey from the fridge at least 30 minutes before roasting.
Preheat your oven to 160°C/ 140°C fan / 325°F / gas mark 3.
Place your turkey in a large roasting tin then stuff with the onion halves, orange halves and a sprig of rosemary.
Cover with tin foil and place in the oven for 4.5 hours. Baste the turkey every hour.
Turn up the temperature to 220°C / 200°C fan / 425°F / gas mark 7 and cook for another 30 minutes in order to brown the skin. Keep an eye on it to make sure you don't overdo it. Use your thermometer to check the temperature, you are looking for an internal temperature of around 75°C / 165°F.
Remove the turkey from the oven and transfer it to a draining board. Cover and allow it to rest for at least 30 minutes.
Carve and serve with the sides of your choice. Enjoy!
Notes
For best results, brine your turkey for 24 hours. See my brining recipes.
You can stuff the turkey with whatever flavors you like but I just prefer this combo for a wintery flavor.
You can roast slower for longer 160°C/325°F cooking is 15-17 minutes a pound unstuffed
17-20 minutes filled with stuffing.
150°C/300°F takes roughly 17-20 minutes per pound 20-23 minutes if stuffed.
135°C/275°F takes around 20-23 minutes per pound 22-25 minutes if stuffed.
These are just guidelines. Please use a thermometer and make sure the internal temperature has reached 75°C/165°F.
You can use the giblets in the gravy and we have a good recipe for that here.
Prep Time:

10 minutes

Cook Time:

6 hours

Category:

Dinner

Method:

Roast

Cuisine:

British
Keywords: Slow Roasted Turkey, Roast Turkey, slow cook turkey in oven, Christmas Dinner Ideas, Thanksgiving Ideas, Sunday Lunch Ideas