Have you ever made a turkey brine? When it comes to making your holiday turkey, you don't want to take any chances. Brining a turkey is a surefire way to produce perfectly succulent meat, fit for a feast!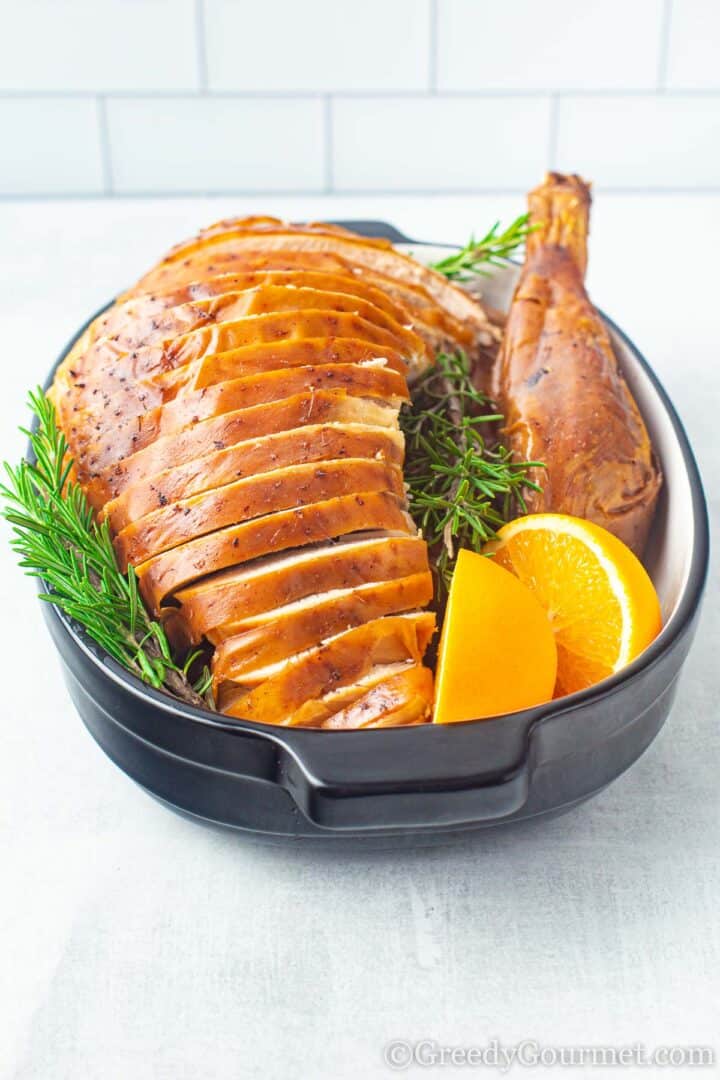 Best of all, it's incredibly easy! So, get hold of your holiday turkey and let's get cracking!
Products you need for this recipe
Before you get started making your turkey brine, here are a couple of items you'll need:
Stock pot – you'll need a big one!
Kosher salt – when it comes to brining your turkey, accept no substitute. This salt is a must, as it's coarser than standard sea salt, absorbs fully into the turkey and has a more subtle saltiness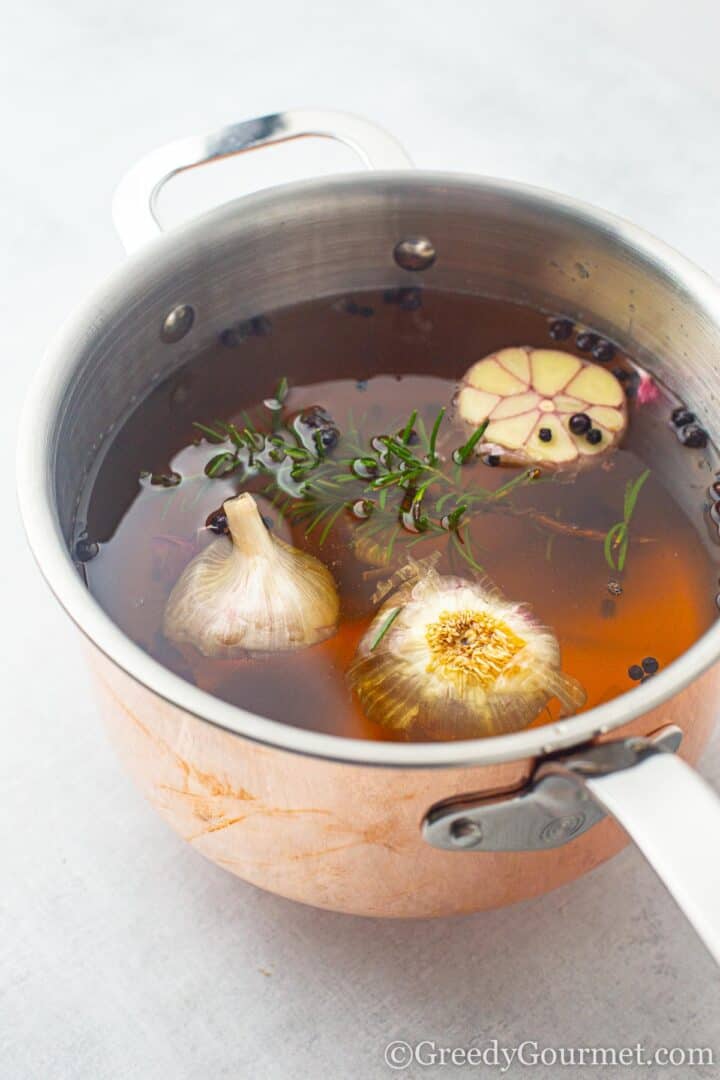 Whole turkey brine recipe
A dry Christmas or Thanksgiving turkey is pretty much sacrilege. It's unthinkable! Still, we've all been there – or most of us have. So, what's the solution?
Well, there are some great recipes out there that all but guarantee a delicious, flavorsome turkey. However, there are times when, despite your best efforts, the turkey ends up on the dry side. Brining is the answer!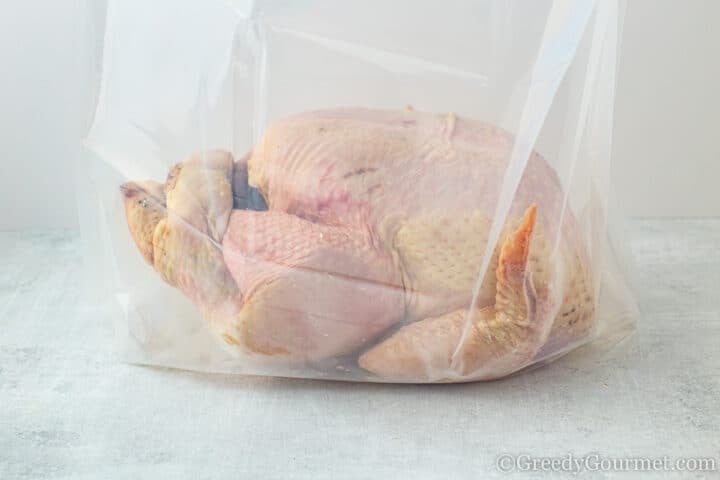 What is turkey brine?
Brining a turkey means submerging the turkey in a saltwater solution for a long period of time – normally around 24 hours. When you brine turkey, you help the whole turkey – from the turkey breast and legs to the wings and every other part – retain moisture. 
The salt water solution can be flavored with various ingredients to bring extra flavor and aroma to the turkey brine.
This technique is known as 'wet brining.' There is another technique called 'dry brining,' where the turkey is rubbed in masses of salt and left for a day or two, but let's leave that for another day, shall we?
Do you need to brine a turkey?
Well, there's no doubt you can cook a flavorful turkey without brining it. Still, turkey brine just adds so much to the dish. As turkey is a naturally lean meat, it can easily end up dry during the roasting process and become tasteless if you don't get the preparation and cooking time spot on. 
Brining adds that extra little bit of insurance – even if you overcook them, brined turkeys tend to come out juicy, tender and utterly delicious! The brining process locks in the juices, meaning your turkey is far less likely to dry out in the oven. The meat will fall apart and melt in your mouth!
So, while it's not essential to brine a turkey, it certainly makes a big difference. If you're cooking a big centerpiece for the holidays, be it for Thanksgiving or Christmas, it's totally worth the extra effort! 
Where did brining come from?
Brining originated hundreds of years ago in Europe. It was used as a method of preserving food – particularly fish and meat, which were submerged in seawater. The concentrated salt acted to prevent bacterial growth.
Over the years, preservation gave way to flavor as the primary motivation for brining, mainly due to the invention of mechanical refrigeration. Sea water was replaced by salted water, with the levels of salt adjusted to taste. Other ingredients were soon added to brine, to bring about different flavors.
Since the beginning over the 20th century, brining has been far more popular in the United States than anywhere else. 
How does brining work?
Now for the science bit!
The salt water passes through into the cells of the meat in a process called 'osmosis'… are those school science lessons coming back to you?!
The salt water also breaks down proteins in the meat strands. These strands are normally tightly wound, but during the brining process they untangle. This helps them to trap water molecules and hold onto them, resulting in the meat retaining the moisture.
So, you end up with meat that has been deeply flavored and is able to better retain its juices during the cooking process. 
How long do you need to brine a turkey?
For a whole turkey, you need at least 12 hours and anywhere up to 48 hours. Bringing turkey breast could be anything from 12 to 24 hours.
Does a brine need to be covered?
It's not strictly necessary, but you can cover your stock pot with a lid or other kind of cover to prevent the turkey brine from splashing other foods or surfaces within your fridge.
Can you brine any type of turkey?
Most turkeys bought from a supermarket or a butcher's should be fine. However, keep an eye out for turkeys labeled "kosher" or the self-basting type of turkeys. Anything that's been pre-seasoned should not be brined.
This is because your turkey will end up way too salty. As well as keeping the inside of the turkey tender, brining will add lots of seasoning. So it's important not to add this seasoning to a bird that has already been salted.
Do I need to rinse the turkey after brining?
No. Despite what many people think, brining a turkey is not necessary. All you need to do is leave the turkey for around 6 hours to dry after removing it from the brine. All the salt will have dissolved, so there won't be any left on the surface of the turkey.
Rinsing a turkey after brining will only prevent the skin from crisping up.
What other ingredients can you use to brine a turkey?
The great thing about turkey brine is that you can play with the flavors and customize them to suit your tastes.
There are a variety of vegetables, fruits, herbs and spices that can be used to good effect in this recipe. Try some of the following:
– Sage
– Rosemary
– Thyme
– Bay leaves
– Tarragon
– Garlic cloves
– Onion
– Carrot
– Celery
– Lemon peels
– Orange peels
– Apple juice
– Apple cider
– Juniper berries
– Coriander seeds
– Fennel seeds
– Fenugreek seeds
Can you brine a frozen turkey?
Yes you can. Just place the turkey in the turkey brine and defrost it and brine it at the same time. You can also brine a partially frozen turkey.
How do I store the brine solution?
After you brine your turkey and it has cooled down, you'll need to keep it in the refrigerator. Just make sure you've got enough fridge space beforehand!
How long can I keep this brine solution?
You can keep it in the refrigerator for up to a week.
Can I use a brining bag?
Absolutely! Brining bags are a good alternative, if you haven't got a pot that's large enough to fully submerge your turkey. Once the turkey brine has cooled, all you have to do is add it to the turkey inside the brining bag.
Then, place the bag inside a roasting pan and squeeze out any excess air. Seal the bag – you can use a clip to help keep it properly close – then place it in the refrigerator.
Can you make gravy out of brined turkey drippings?
It's usually one of the best bonuses about cooking a big Christmas or Thanksgiving turkey – the delicious drippings that collect in the bottom of the pan. The perfect foundation for an amazing gravy!
However, when you brine a turkey, the turkey dripping can end up being far too salty. You could end up with something far too salty.
Your best bet is to use your taste and judgment. After you've removed the roasted turkey from the pan, have a taste of the drippings and decide if they're usable. You could always use a low salt stock to make the gravy, or even water. 
Can you smoke a brined turkey?
Yes you can. In fact, smoking a brined turkey takes a lot less time and a smoked turkey is delicious!
Why kosher salt?
Kosher salt has wider, coarser grains than standard table salt. This leads to a more even flavoring throughout the skin of the turkey. This type of salt also sticks to the skin of the turkey far easier than other types of salt and dissolves better.
The salty effect of kosher is also far more subtle than regular salt, which can be overly salty. This leads to a much better flavored turkey.
What kind of sugar should I use?
You can either go for standard granulated sugar, light sugar or dark brown sugar. Dark brown sugar will bring a deeper dimension to the flavor of your turkey brine.
Do you have some tips for making the perfect turkey brine?
Let's recap on a few key points when it comes to getting the perfect turkey brining liquid and bringing the turkey properly:
Be sure to use kosher salt. Sea salt is not suitable for brining, whereas kosher salt will give you a subtly salted turkey, with a good distribution of flavor.
Add extra flavors if you like – there are so many you can play with (see above) until you have your ideal turkey brine. Just be careful not to overdo it, as you could ruin the natural flavor of the turkey
Wait until your turkey brine is completely cool before submerging your turkey in it. You should never put a turkey in warm or hot brine solution, only in cool water.
Make sure your turkey is fully submerged in the turkey brine. This can be difficult, especially if you haven't got a large enough pot, but is very important to the overall quality of your turkey. You can also buy brining bags, if your pot isn't large enough.
If you want particularly crispy skin on your turkey, make sure to allow it to dry or pat dry with paper towels before placing it in the oven.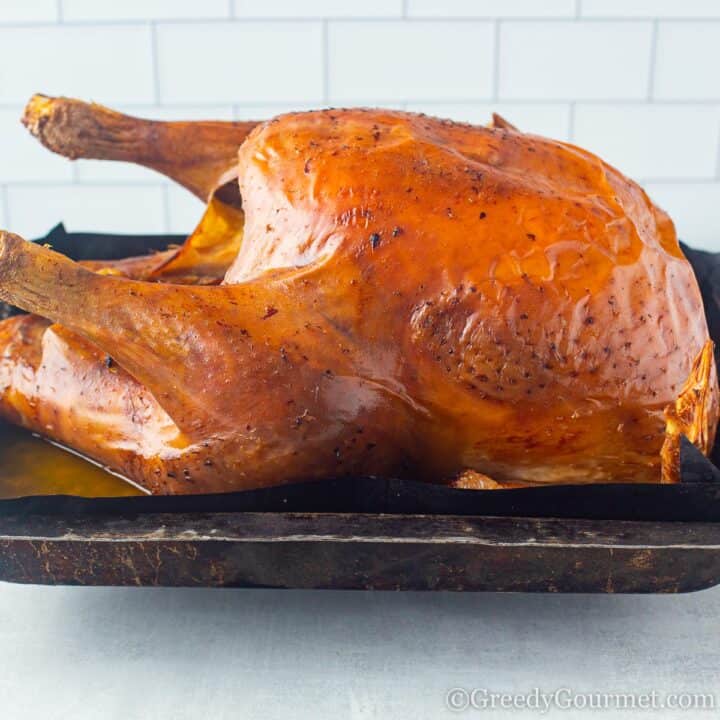 More turkey recipes
Whether it's for Thanksgiving, Christmas or just something for the weekend, I've got the recipe for you. When done right, turkey recipes can be glorious… here's the proof!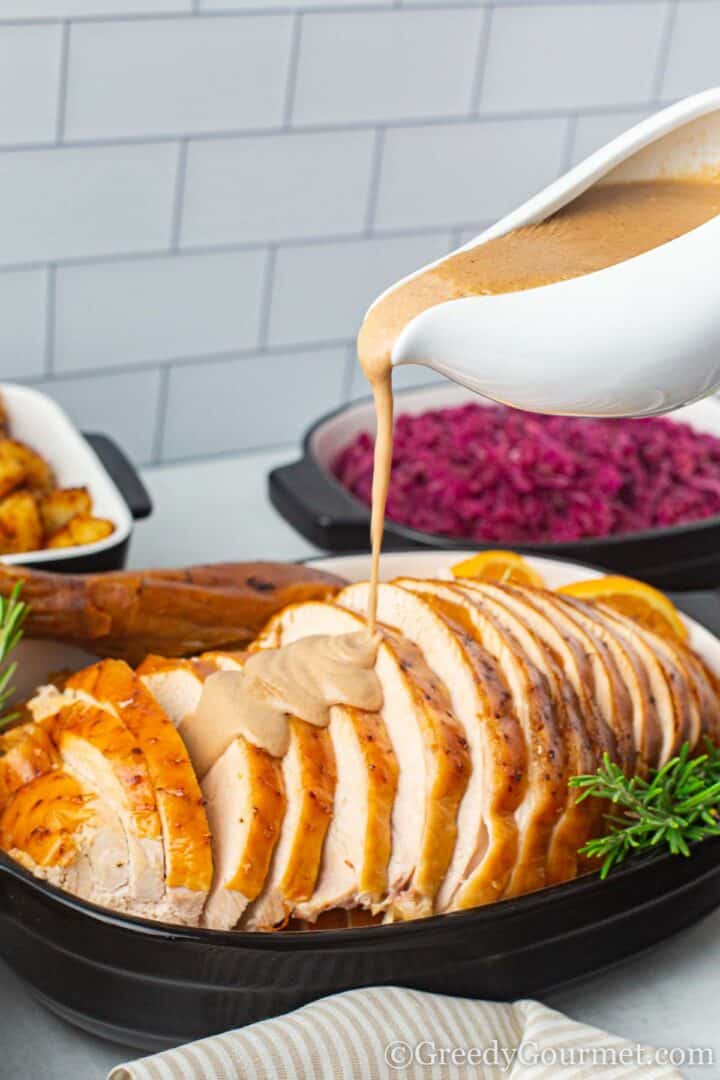 GIVEAWAY
Win a copy of the Art of Parsi Cooking: Reviving an Ancient Cuisine by Niloufer Mavalvala
Read about everyone has to say about it:
"Niloufer Mavalvala's The Art of Parsi Cooking introduces Parsi cooking — shaped by Persian and Indian cuisines –.with easy preparation and appetizing flavors. Her history of Parsi cuisine is fascinating and well-written, accompanied by tempting recipes. The Art of Parsi Cooking fills a gap in the world of cookbooks." Denise Landis Publisher & Editor in Chief The Cook's Cook

"Wonderful choice of Parsi Food favourites of yesteryear. Glad to see my cultural and traditional cuisine revived in such a simple and eloquent way. You do our ancestors proud." Ronnie Screwvala Mumbai, India. Entrepreneur, philanthropist, CEO, Author.

"The ancient art of Parsi cuisine translated to modern day cooking …I could happily cook my way through this book." Maheen Khan Karachi, Pakistan. Fashion Designer and CEO Gulabo & Maheen.
Entering is easy, just follow the instructions below.
a Rafflecopter giveaway
HELP
Here you can find a tutorial on how to enter with Rafflecopter.
If your form is not showing, try refreshing the page.
Complete the form, otherwise your entries will not count.
Make sure the mandatory entries (e.g. leave a blog comment) are completed first.
Don't forget to come back daily for extra entries via Twitter.
If you're viewing this post by email, please come to the actual webpage to enter.
Competition Question: What do you do to get the best result with cooking turkey?
Print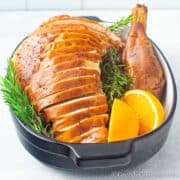 Whole Turkey Brine
---
Author:

Michelle Minnaar

Total Time:

15 minutes

Yield:

2

L (8 cups)

1

x

Diet:

Gluten Free
Description
Want to learn how to make a whole turkey brine to bring that extra flavour to your favourite bird? It's easier than you think and quite easy too. 
---
2

L/quarts water

144g

(

½ cup

) kosher salt or sea

100g

(

½ cup

) sugar, firmly packed
---
Instructions
Place all the ingredients in a large pot over a medium heat. 
Bring to the boil, while stirring. 
Once the salt and sugar have dissolved, remove the pot from the heat and let it cool down completely. 
Place in the fridge for at least 2 hours or until well chilled.
Use immediately, or it can keep in the fridge for up to a week.
Notes
You can use granulated, light or dark brown sugar. The latter will add a deeper dimension to the flavour.
For this recipe, you can brine a turkey breast for 12-24 hours, a whole 12-16lbs turkey and a whole +17lbs turkey for 12-48 hours. 
Always ensure the turkey is completely submerged in the solution. If not, make extra batches until the job is done. 
Prep Time:

5 minutes

Cook Time:

10 minutes

Category:

Brine

Method:

Brining

Cuisine:

American
Keywords: turkey brine recipe, whole turkey brine, basic brine recipe, how to brine a turkey, brining turkey