Nothing satisfies quite as much as a bite of creamy and crunchy vegan coleslaw. This recipe is one of the classic side dishes that pairs well with any hearty and traditional meals like this one.
Some people even like to eat it directly from the mixing bowl! Of course, what usually follows are minor feelings of guilt, when one realises just how much mayonnaise was used in the coleslaw recipe.
Needless to say, eating huge amounts of traditional mayo-heavy coleslaw will not only fill you up completely, but your trousers will mysteriously tighten all well.
This vegan coleslaw help with this problem though, and will leave you with a feeling of lightness. That's why this vegan coleslaw is the perfect choice when it comes to light and healthy side dishes, as well as dinners.
Even without the mayonnaise, the end result is tasty and super healthy. Plus, you can make it your own by adding your favourite ingredients or spices.
vegan coleslaw
"Coleslaw" is derived from the Dutch word "kool", meaning cabbage. In Dutch, it is called "koolsla". It also has Latin roots from the word "coolis" – which also means cabbage.
Today, it is commonly known as coleslaw or slaw. It consists of shredded cabbage and carrots, that are flavoured with mayonnaise or a vinaigrette.
Usually it is paired with fried chicken wings, smoky ribs, and other BBQ meats. It is also very common to serve coleslaw with savoury pies like this Lancashire butter pie, along with some fries.
Coleslaw comes in many varieties, each country having their own spin on this recipe.
For example, in Germany, the traditional "krautsalad" (cabbage salad) mixes shredded cabbage with oil and vinegar. In Russia, they also add carrots, apples and cranberries.
healthy coleslaw
If you don't add any extra ingredients, vegan coleslaw can potentially have a very low glycemic index. The traditional coleslaw can be as well if it isn't completely drowned in mayonnaise.
Hence, vegan coleslaw is very fitting to those who suffer from diabetic conditions. Highly nutritious, rich in fiber and healthy!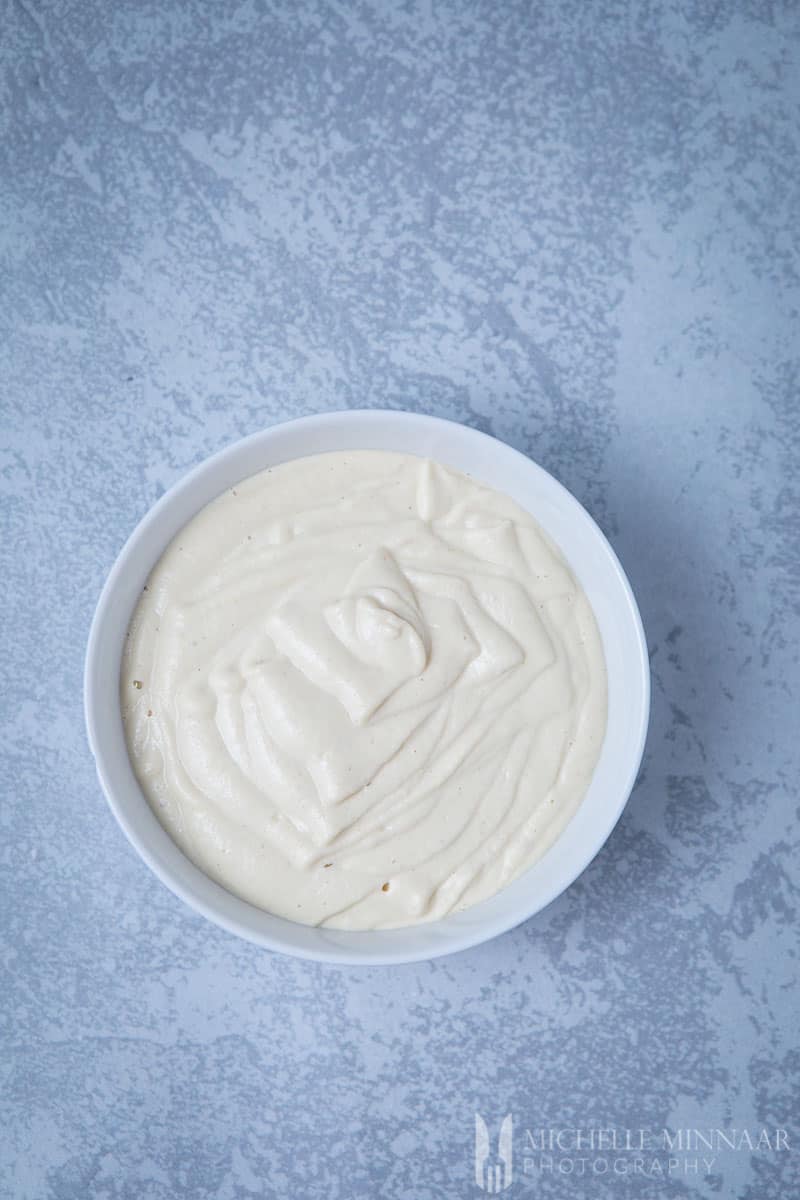 the cabbage
The best type of cabbage you can use for making vegan coleslaw is the traditional green cabbage. You might know it also as cannonball cabbage from it's resemblance.
The leaves are dense, so they are perfect for shredding. If you don't happen to use the entire cabbage for the vegan coleslaw, you can also save half of the cabbage for this shredded rainbow salad recipe.
Cabbage will make a very fine addition to its existing ingredients. A good substitute to the green cabbage is the savoy cabbage. They have very crunchy leaves and are also a great way to make salad wraps like these.
Otherwise, go for the purple-green January king cabbage which is also similar when it comes to texture. For a more vibrant vegan coleslaw, just opt for the red cabbage.
Napa cabbage has soft and delicate yellow-green leaves and is commonly used in kimchi recipes.
To learn more about cabbage, click here. If you don't feel like using cabbage, there are cabbage like substitutes that can produce a similar vegan slaw.
How about giving my celeriac remoulade a go? You will need to apply the same preparation method, i.e. shredding the celeriac prior to mixing all the ingredients together.
the dressing
Again, you can either opt for a creamy vegan coleslaw or a non-creamy version. In the latter's case, all you need is a simple French salad vinaigrette, or some drops of apple cider vinegar and hints of olive oil.
Otherwise, you can also reuse pickling liquid from this courgette pickle recipe. Did you know that by using a vinegar-based dressing or a pickling solution, it will extend the lifespan of the vegan coleslaw?
The acid acts as a preserving agent and it will make your coleslaw last a few extra days longer in the fridge while retaining the flavours.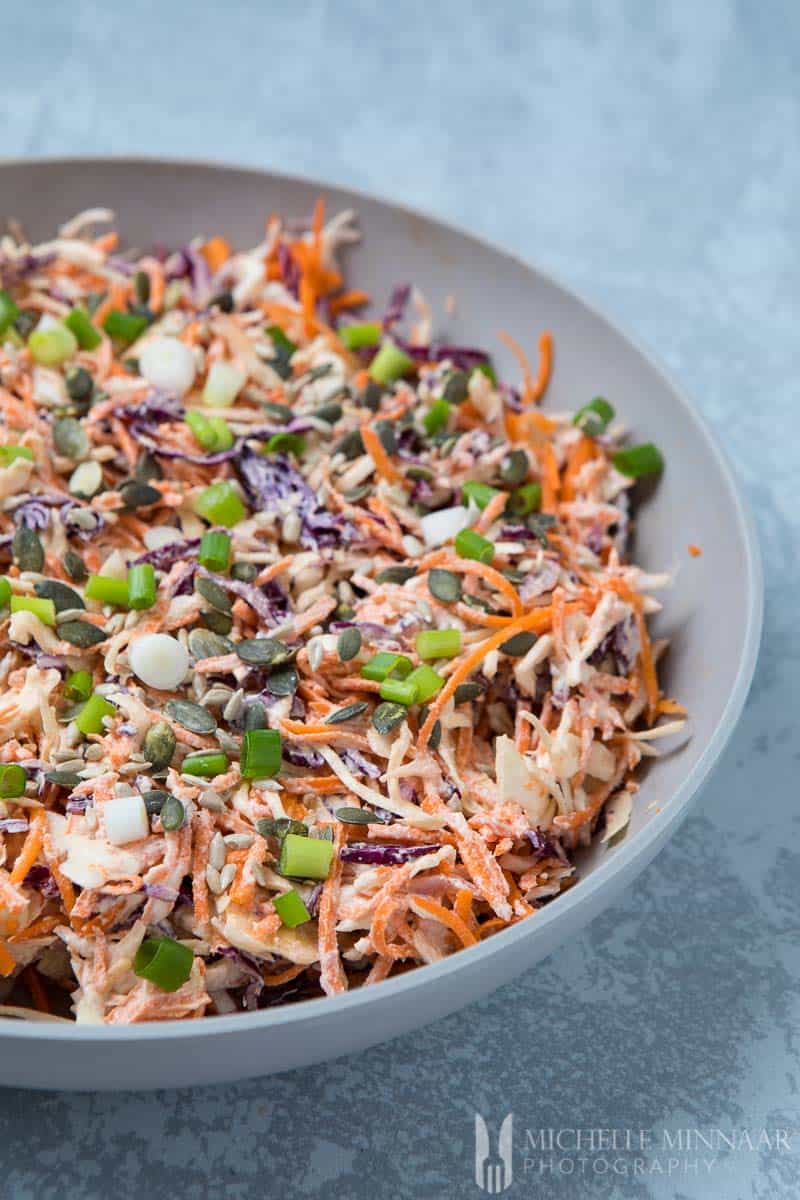 creamy vegan coleslaw
So, I've tried to replicate the vegan mayonnaise to the best of my abilities, however as most vegan copycat recipes, the vegan version doesn't taste exactly the same as the real deal.
Vegans know what I am talking about! However, my vegan coleslaw still tasted amazing, and I was satisfying to know that it is super healthy.
So, what makes a coleslaw vegan? By not using mayonnaise, which is egg-based.
Most importantly, how do you retain the cream factor? You can recreate a creamy vegan coleslaw by creating vegan mayonnaise and adding it in afterwards.
Alternatively, you can use either vegan yoghurt or non-diary yoghurt. Most of these are made with plant-based substances like soy beans which can possess a certain fragrance.
Try to opt for the vegan yoghurts that are natural. For a very healthy version of vegan coleslaw, I like pour a bit of high quality olive oil and sprinkle some lemon juice over the slaw. Don't forget to season with salt and pepper!
spicy vegan coleslaw
Again, you can make the vegan coleslaw completely your own when it comes to flavours and spicing. Another way how to keep the creamy nature while adding a punch of flavor is by adding tahini sauce.
Tahini is a paste made from white sesame seeds, and it gives lends a Middle Eastern flavour to the dish, which will pairs well with pomegranate.
I also like to add red onion to my coleslaw as I did with my pickled cabbage and red onion slaw recipe. If you feel like pickling your coleslaw, just add a few mustard or coriander seeds along with a hint of cayenne pepper.
This way, the cabbage will absorb the extra flavours and you'll get more flavour in a single bite.
What is your favourite way to enjoy coleslaw?
Print
Vegan Coleslaw
---
Description
Vegan coleslaw comprises of shredded cabbage and vegan mayonnaise, retaining its creamy texture. You can also opt for salad dressing or pickling solution.
---
SALAD
½

red cabbage, shredded

½

white cabbage, shredded

4

carrots, peeled and grated

125

ml (½ cup) mixed seeds

8

spring onions, finely chopped
DRESSING
300g

(¾lb) raw cashews

60

ml (¼ cup) olive oil

1

lemon, juiced

15

ml (1 tbsp)  Dijon mustard

30

ml (2 tbsp) sugar

2.5

ml (½ tsp) garlic powder

2.5

ml (½ tsp) cumin

1.25

ml (¼ tsp) celery salt

1.25

ml (¼ tsp) salt
---
Instructions
Place the cashews in a bowl and cover with water. Soak them for at least an hour.
Drain the nuts then pour into a food processor along with 250ml (1 cup) water and the rest of the dressing ingredients.
Blend until smooth. Add splashes of water in case the dressing is too thick, then season to taste.
Mix the vegetables and seeds in a large salad bowl.
Pour the dressing over and stir until everything is covered.
Serve immediately, or let the salad chill in the fridge until when needed.
Notes
Use any seeds you fancy, such as sunflower, sesame, pumpkin, etc.
Prep Time:

30 minutes

Category:

Side Dish

Cuisine:

Dutch
Nutrition
Serving Size:

1 serving

Calories:

348

Sugar:

5.8 g

Sodium:

949 mg

Fat:

23.6 g

Saturated Fat:

4.2 g

Carbohydrates:

18.6 g

Fiber:

3.1 g

Protein:

9.1 g
save the recipe to your pinterest board