This light and healthy carrot and parsnip mash takes the cake for being one of the healthiest mashes out there!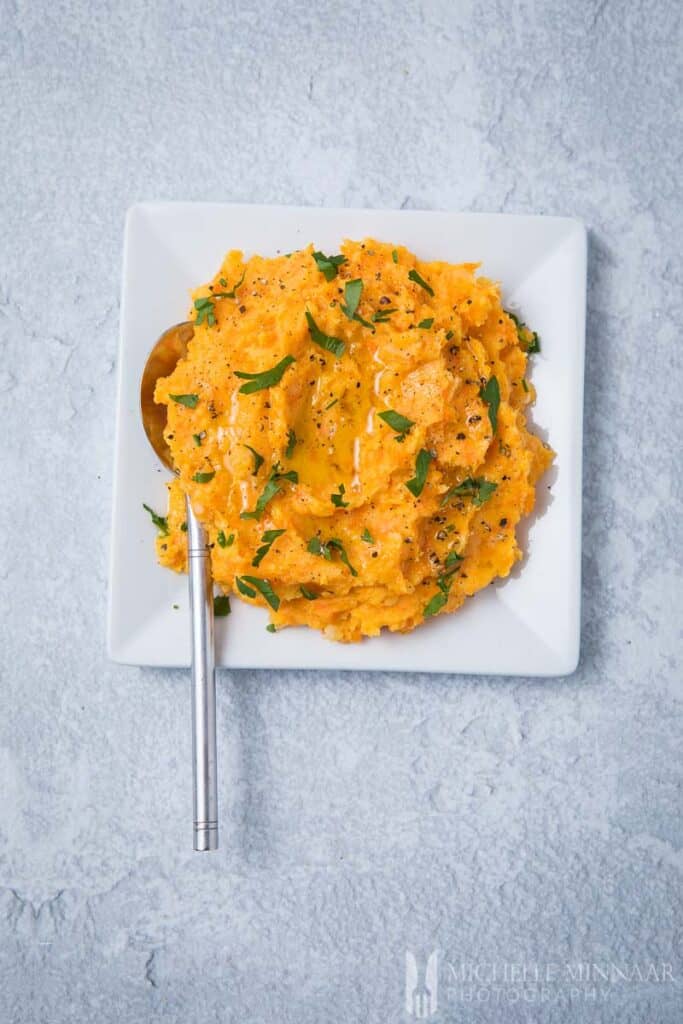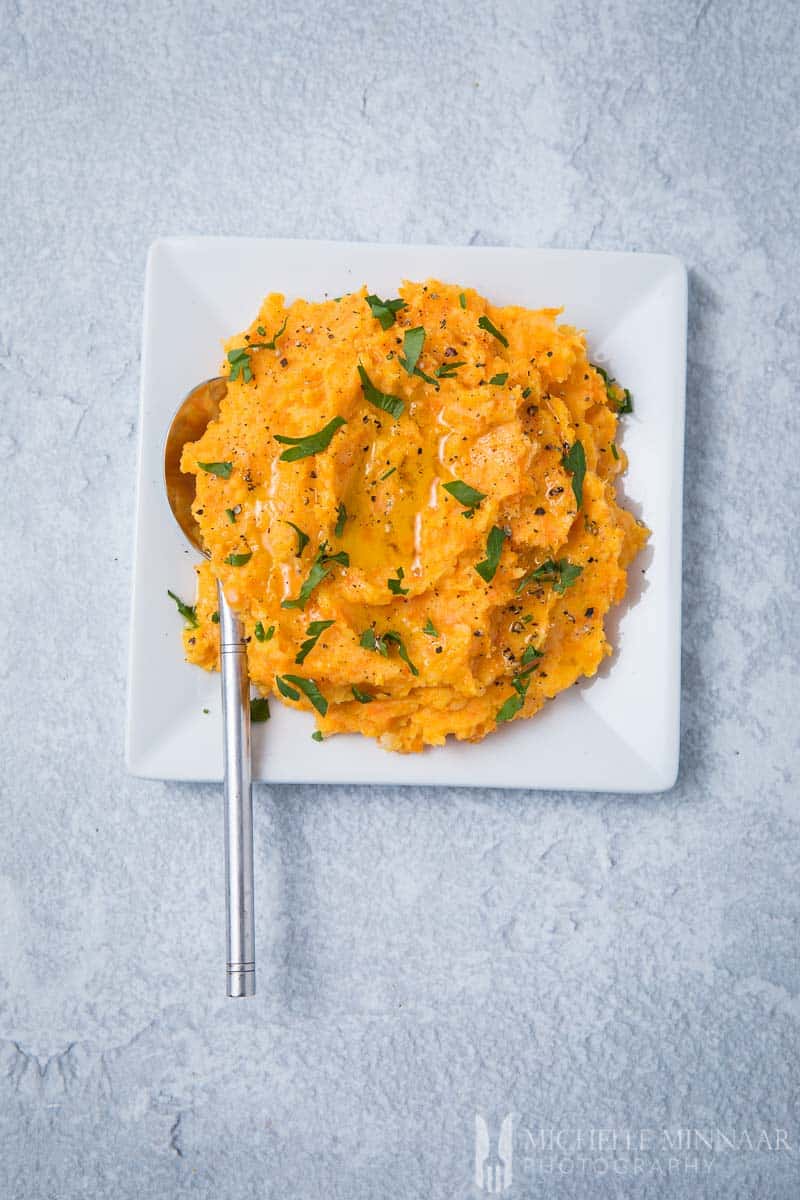 Enjoy this vegan vegetable-based mash as a side dish to vegan main courses, or double up in portion size and enjoy it as a main course. What's best is you can interchange the carrot and parsnip with other root vegetables and still keep the recipe vegan.
Keep reading to find out more on the different variations of this recipe. In addition, this carrot and parsnip mash is a fantastic way to use up any leftover root vegetables from a hearty meat stew recipe.
carrot and parsnip mash recipe
This carrot and parsnip mash is a very simple recipe using humble ingredients like good ol' traditional veg. The carrot contributes by adding a sweet flavour.
Whereas the parsnip is responsible for delivering a nutty and creamy flavour. Hence, there is absolutely no need to add a cream element into this carrot and parsnip mash recipe.
Keep things simple and vegan and let the ingredients shine as they are! There are two ways you can prepare ingredients to complete this root vegetable recipe.
First, you can boil the vegetables. Second, you can oven-roast them.
The fastest and most efficient way to cook this carrot and parsnip mash recipe is to pre-boil the vegetables. Once they are soft, just mush them up and add a high-quality olive oil for best results.
If you are a foodie, you probably already have multiple types of olive oil at hand. One olive oil is mass-produced for cooking, another is premium quality (and usually has a premium price as well) for salads, dressings and more. I recommend using the premium olive oil for a fantastic flavour!
oven-roasted carrot and parsnip mash
The second option involves oven-roasting the carrot and parsnip in the oven. This will result in a sweeter and creamier version of the mash. The more you leave the vegetables in the oven, the sweeter they will be.
You can also opt to use spices like cumin for extra flavour. Just follow this cumin roast carrots recipe. You can also consider using thyme or rosemary. These two work wonders in a roasted vegetable recipe.
carrot and parsnip mash calories
Now that you have two options for cooking the vegetables, you can choose between the two. In terms of calories, carrot and parsnip mash is very low, so it's perfect if you are on a diet or if you are diabetic.
Mind you, for people who suffer from diabetes or have problems with sugar, they should only opt for the boiled version.
If you oven-roast the vegetables, the glycaemic index of those vegetables will increase and they will be unsuitable for diabetics.
So, for the most healthiest option, stick to boiling the ingredients. To respect the very low calorie count, go easy on the olive oil as well.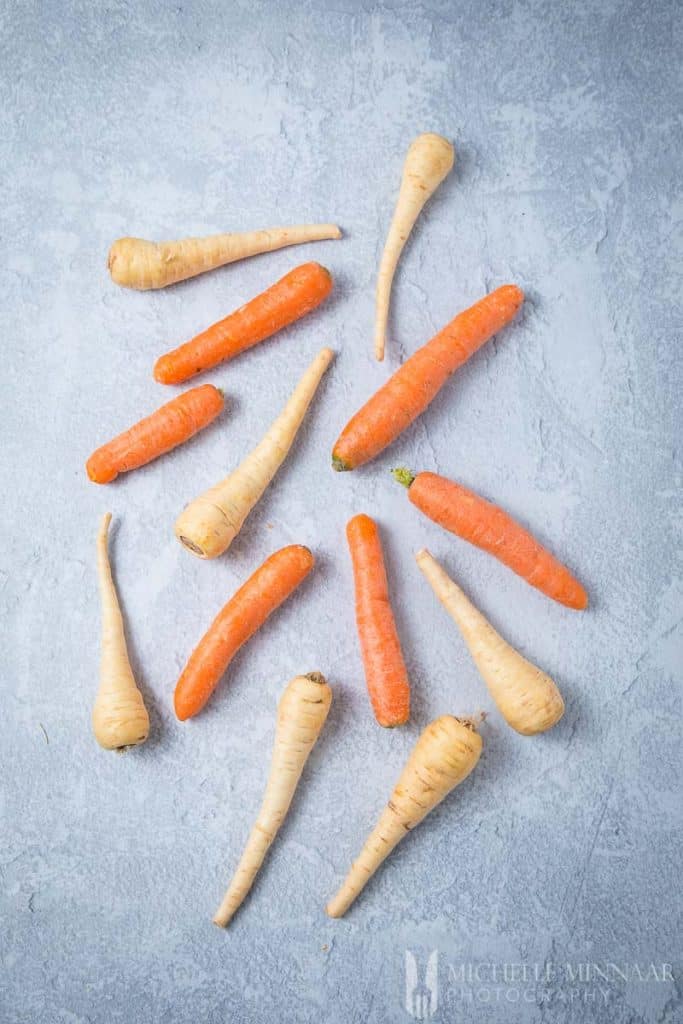 carrot and parsnip mash BBC
While researching my carrot and parsnip mash, I came across an interesting root vegetables and mustard mash from the BBC. You can find it here.
While I understand that the use of mustard is intended to spice up a vegetable mash, I just don't see the flavours marrying together so well.
The mustard can add an unwanted bitterness to the mash that can clash with the sweetness of the carrots and nuttiness of the parsnip.
Of course, this also depends on the type of mustard you use and how strong it is. However, I did find inspiration in the use of other root vegetables which I think are perfect for making different variations of this recipe!
carrot, swede and parsnip mash
In the past, I've made a delicious carrot and swede mash which was also very light on calories and vegan. Naturally, the ingredients worked very well together, so to give this carrot and parsnip mash an extra ingredient, you can opt for adding the humble swede.
carrot, turnip and parsnip mash
Similarly, to the carrot and swede mash, I've also tried my hand at making a carrot and turnip mash. Just like the swede, the turnip is another excellent choice for making the ultimate root vegetable mash.
Of course, you can also add these vegetables to make your own carrot and parsnip mash variations:
Similarly, you can also go for these flavour enhancers
garlic - roast the garlic and enjoy the sweetness!
shallots - when raw they are quite pungent, however when cooked they have a mild sweetness.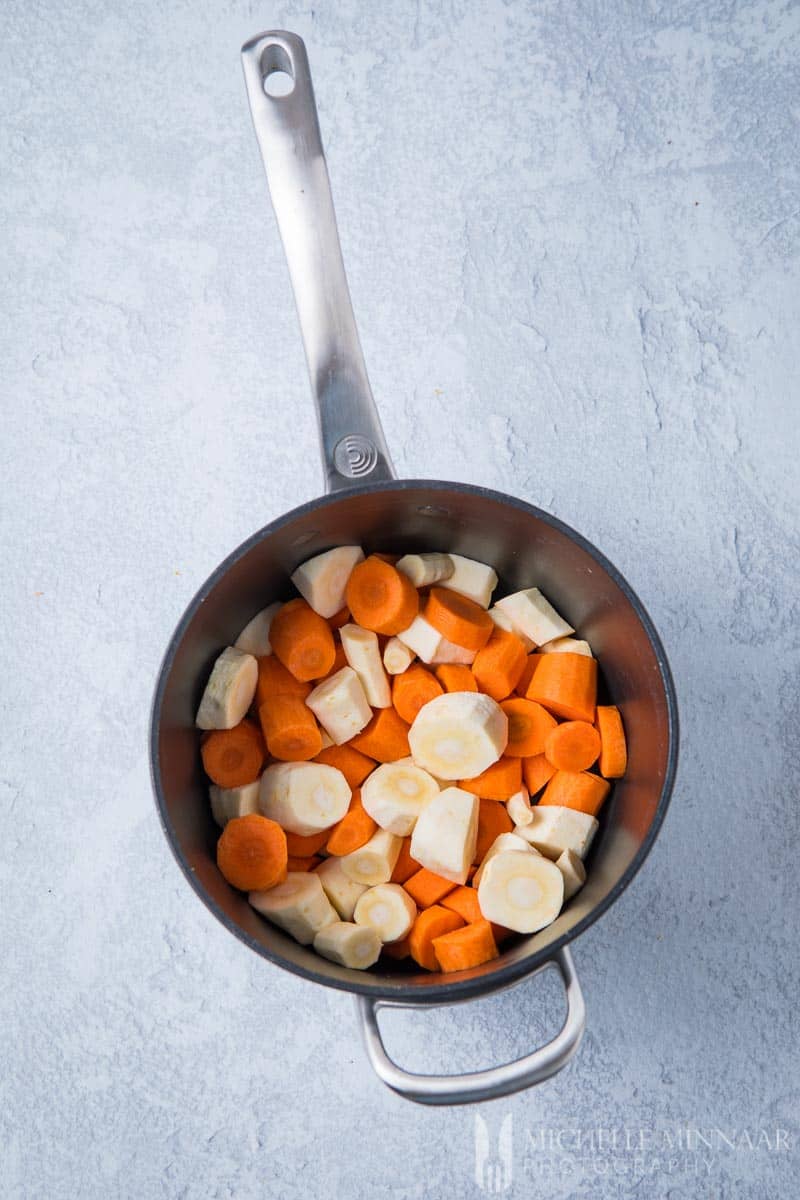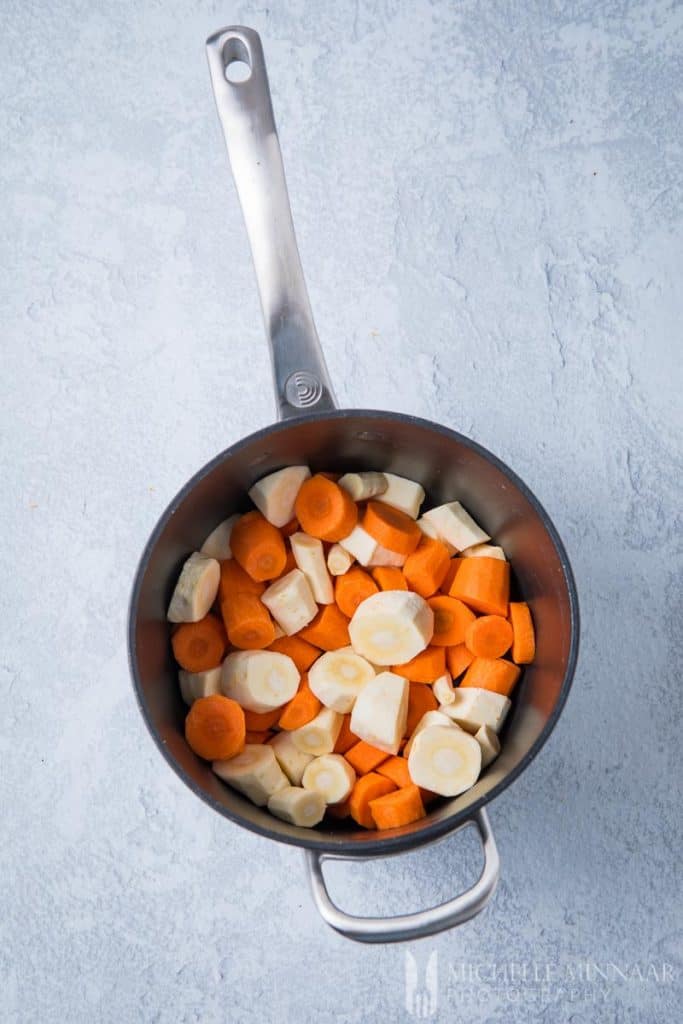 can I freeze carrot and parsnip mash?
The answer is yes! This recipe freezes well. So, you can make a large batch of this carrot and parsnip mash, freeze it and eat it whenever you want!
So, all in all, don't be afraid to stick this mash in the freezer. You'll see that it will come in handy one day.
carrot and parsnip soup
If you've got leftover carrots and parsnip, just toss them in a vegetable soup or a stew. They can sweeten up any hearty stew recipe like this beef stew or Irish lamb stew.
Also, you can add them to this simple chicken soup recipe for extra crunch.
roasted parsnips and carrots recipe with rosemary
Lastly, what you can also do with leftover carrots and parsnips is to oven-bake them, pan-fry them or roast them. Cut them into long, thin pieces and enjoy them as they are.
Flavour them with honey, for that perfect honey glaze that enhances their sweetness even further. Season them with salt, pepper and other herbs like thyme or rosemary.
For a more great side dish recipes, check out the ones below:
Print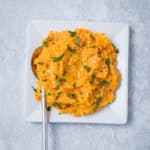 Carrot and Parsnip Mash
---
Description
Make this delicious and healthy carrot and parsnip mash. It is completely vegan and very low on calories. Read more about different variations of this mash.
---
4

medium carrots, peeled and chopped

4

parsnips, peeled and chopped

30

ml (2 tbsp) olive oil
---
Instructions
Boil the vegetables in salted water for 10 minutes or until tender.

Drain and let the vegetables steam dry for 5 minutes before mashing with the olive oil until desired consistency.
Notes
If you're not vegan, feel free to use butter and/or cream instead of olive oil.
Prep Time:

15 minutes

Cook Time:

10 minutes

Category:

Side dish

Cuisine:

English
Nutrition
Serving Size:

1

Calories:

186

Sugar:

9.4g

Sodium:

55mg

Fat:

7.5g

Saturated Fat:

1.1g

Carbohydrates:

29.9g

Fiber:

8g

Protein:

2.1g
save the recipe to your pinterest board