Okay, let's get serious… these chocolate orange brownies are a thing of beauty. When it comes to sweet tooth satisfaction, it doesn't get much better than this!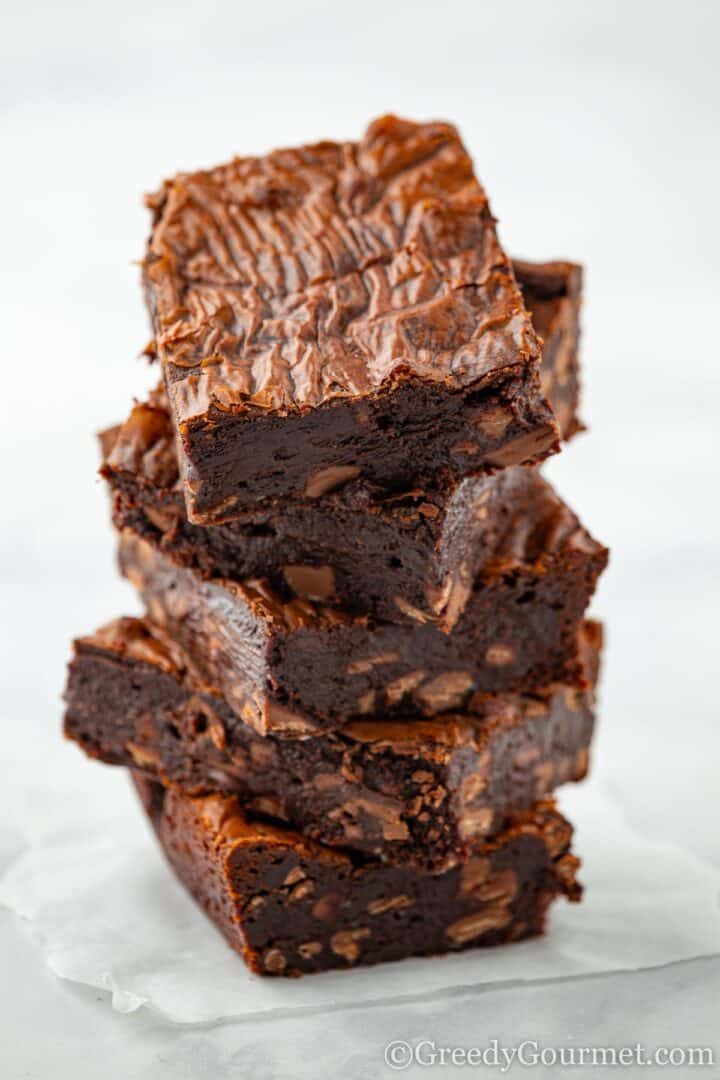 If you're a brownie fan and you've made plenty, this recipe knocks spots off those standard brownie recipes. If, on the other hand, you've never made homemade brownies, you're going to be amazed at how easy it is and just how satisfying it is to make your own.
Products you need for this recipe
Before you get started baking up a batch of delicious chocolate orange brownies, there are a few key items you'll need to equip your kitchen with.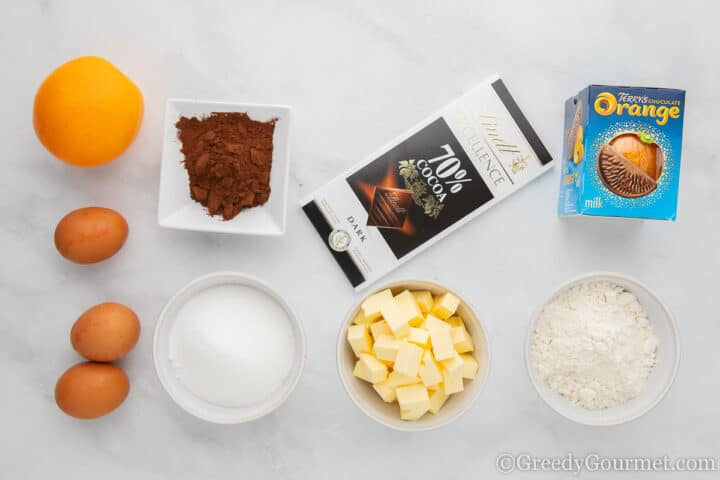 Chocolate orange brownies recipe
Do you remember Dawn French in the old Terry's Chocolate Orange adverts?
"They're not Terry's… they're mine!"
That's how I feel about these brownies. Don't get me wrong, I love a good brownie. That fresh out of the oven warm gooey centre, mixed with the slightly crumbly outside. The pure deep chocolate taste that melts in your mouth and sends your taste buds into maximum overdrive.
These brownies, however, are a totally different proposition. I love chocolate orange recipes, and this one is one of the very best. Terry's chocolate orange brownies are going to rock your world, trust me!
What's more, making chocolate orange brownies is easy… your biggest problem is going to be stopping the family from nabbing them all.
The list of ingredients is pretty minimal and everything is easy to get hold of. You'll need two types of chocolate for the brownie batter – dark chocolate to go alongside the Terry's chocolate orange (dark works far better than milk chocolate).
You'll also need the brownie basics – butter, caster sugar, plain flour and cocoa powder – as well as a little extra kick of orange, courtesy of Angostura orange bitters.
Why are they called brownies?
Boston baker Fanny Farmer is said to have coined the term "brownie" in her 1896 'Boston cooking school' cookbook. These were molasses cakes made in individual tin molds. However, despite calling them brownies, Fanny's desserts didn't actually contain any chocolate.
 
In 1907, Maria Willet Howard took things to another level of lusciousness, taking Fanny's recipe and adding chocolate to set the standard for what was to come. The true brownie was born and soon became the favourite dessert in the Northeastern U.S.
One thing's for sure… brownies are a Boston invention.
What are Angostura orange bitters?
It's a herbal alcoholic drink made from a combination of tropical oranges and spices that is used to add flavour to baked recipes and cocktails.
Flavours and aromas include orange (well, obviously) as well as clove, cinnamon, angelica root and glycerin.
How do I melt Terry's Chocolate Orange?
Melting chocolate needs to be done over a low heat. The best way to do it is to use a bain-marie – a water bath. This way, you won't burn the chocolate – burnt chocolate is pretty horrible and is enough to put you off the sweet stuff for a good while.
Don't worry, melting chocolate over a bowl of water is simple. Just follow the instructions in the recipe below to get the perfect melted chocolate for your brownie batter.
You'll also need to make sure your Terry's chocolate orange segments are chopped up into smallish pieces.
Can I use a microwave to melt chocolate?
Yes you can. If you don't want to melt the chocolate on the hob, you can use the quick and easy microwave method. Melt the chocolate in 30 second blasts, stirring in between each session.
Can I make these brownies without Terry's Chocolate Orange?
This chocolate orange brownie recipe calls for Terry's chocolate orange. You can, however, replace it with plain dark chocolate for the melted chocolate. Then add 3 teaspoons of orange extract and orange zest from one orange. 
You'll have to use plain old dark chocolate for the chunks, unless you can find some other orange chocolate.
Do brownies need baking powder?
Baking powder makes brownies 'cakey' rather than 'fudgy.' So, no, it's not necessary to use baking powder or baking soda when making brownies.
Which chocolate should I use to make brownies?
Definitely go for a combination of dark and milk. This recipe gets the balance between milk chocolate orange and dark, so don't be tempted to replace the dark with a milk chocolate, otherwise the consistency won't be right. 
What's the best sugar to use?
For me, it's caster sugar all the way. Some call for light brown or dark brown sugar to be used, but I much prefer caster sugar. This is because it whisks into the eggs better than other kinds of sugar.
Can I use oil in place of the butter?
Lots of chocolate orange brownie recipes use vegetable oil in place of butter. However, I think butter produces a far better consistency.
How do you know when brownies are done?
Brownie cooking times vary, depending on ingredients and the type of oven. 
The best way to find out if your brownie is baked to perfection is to look for the first signs of cracking on the surface. When you see a few cracks on the top, which should have a little shine to it, take your baking tray out of the oven.
The centre of the brownie layer should be properly set and not wobbly. Insert a skewer or a toothpick into the centre – it should come out with a few moist crumbs on it. If you see wet brownie batter, it needs a few more minutes, so pop it back in the oven.
Do brownies harden as they cool?
Some brownies do… but not these babies.
You see, the trick is to add cocoa and butter into the mix. If you just make your brownies with chocolate, the cocoa butter in the chocolate will firm up at room temperature. Butter, on the other hand, stays soft. This means you'll have nice and tender brownies once cooled.
How do you portion up brownies?
Firstly, you need to make sure your brownies are completely cool. If they're hot and gooey, the knife won't cut through them cleanly and you'll run the risk of creating a big brownie mess.
Use a large sharp knife when slicing up your brownies and keep it clean while slicing, wiping it in between slices if necessary. When cutting the brownie block, push down firmly with the knife in order to get a clean cut.
Criss cross your brownie block, cutting the brownies to your preferred size.
How do you store chocolate orange brownies?
The best way to store your chocolate orange brownies is in an airtight container at room temperature. They'll keep fresh for 3-4 days.
How do you stop brownies from going dry?
There's a little-known trick that keeps your brownies perfectly moist after baking. It involves bread. Yep, you read that correctly… bread!
Once you've allowed your brownies to cool, unless you're going to eat them straight away, you'll need to store them in an airtight container. When doing so, add a slice of bread into the container. This little trick works a charm – the brownies draw all the moisture from the bread to get them wonderfully moist.
You can even add a slice of bread to the tub to revive dry brownies! 
Can you freeze chocolate orange brownies?
Absolutely! In fact, you can freeze any type of brownie.
For an in depth guide on how to do it properly, check out my Can you freeze brownies guide.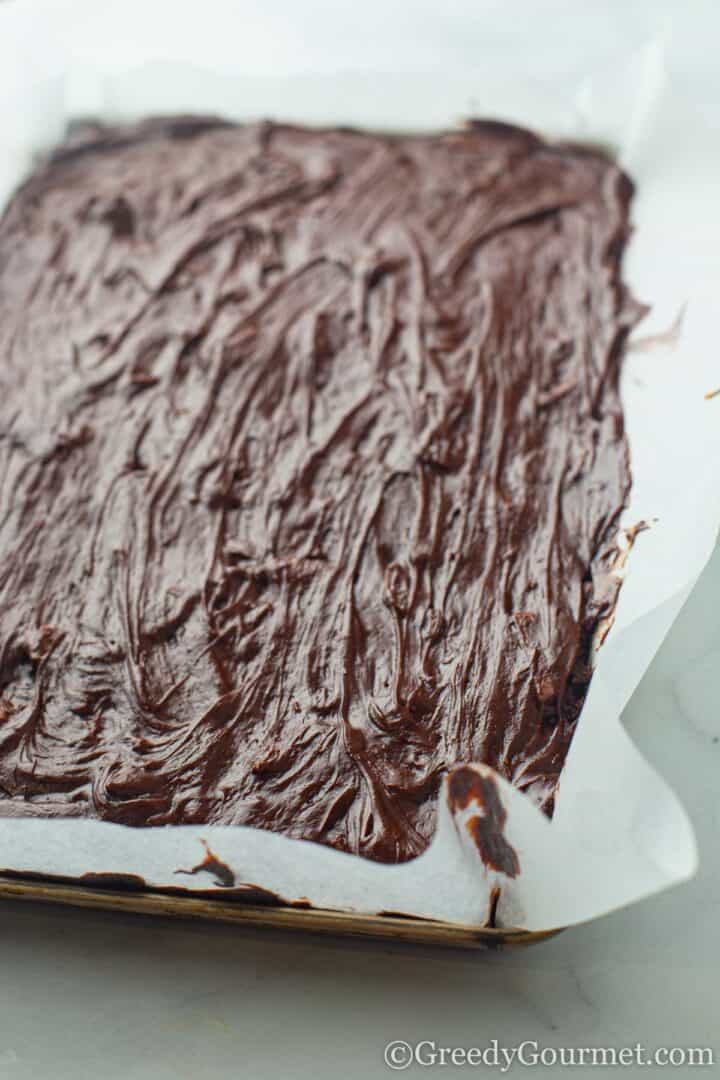 What should I serve with these chocolate orange brownies?
Of course, these luscious chocolate orange brownies taste incredible on their own. Still, if you want to take things to another level, you can always serve them up with any of the following: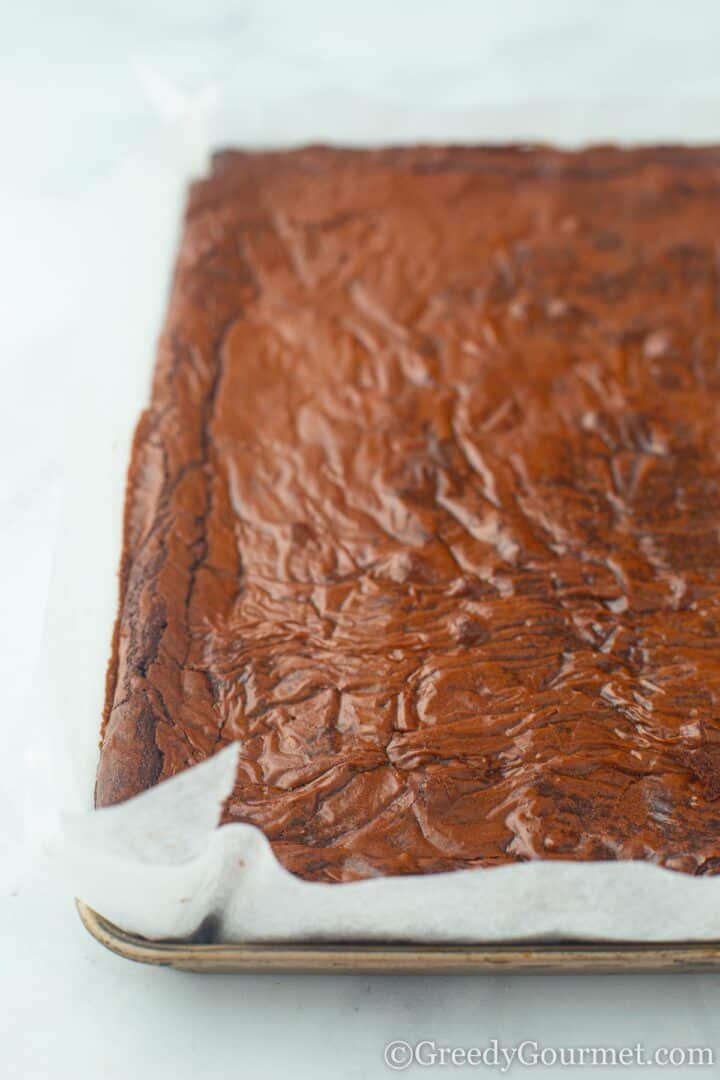 What drinks go with brownies?
If you're tucking into a brownie or two at brunch, it will go down a treat with a coffee.
A dark beer or a stout would also work wonderfully well with the chocolate flavour. If you're more into wine, try a dark red like merlot. You could also try a ruby port.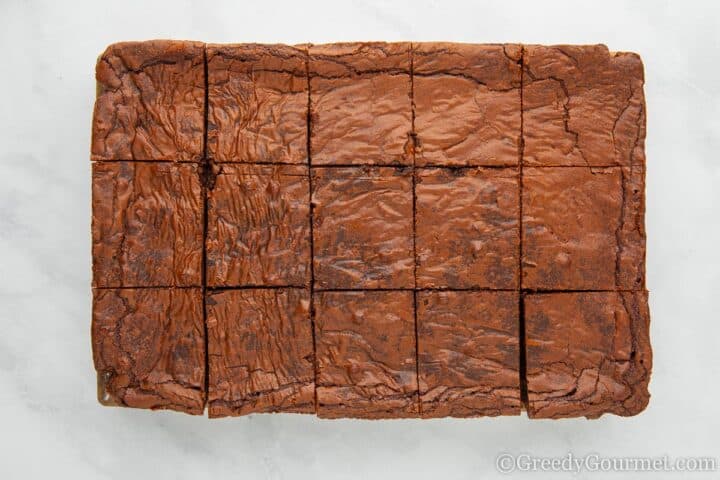 Tips for the perfect chocolate brownies
Let's go over a few key points that you'll need to follow to get the best possible chocolate orange brownies:
Be sure to whisk the eggs and the caster sugar fully. This is the key to getting that wonderful gooey texture on the inside of your chocolate orange brownies
Use an aluminium baking tray, as opposed to a pyrex dish. This is because brownies bake slower in glass dishes
Make sure to line your baking tray with parchment paper. This will make removing the brownies so much easier
it's a good idea to rotate the pan halfway through the cooking time. Since most ovens have hot and cool spots, this ensures that the brownies will bake evenly
Keep your brownies moist by adding a slice of bread to their storage container. The brownies will draw the moisture out of the bread to prevent them from going dry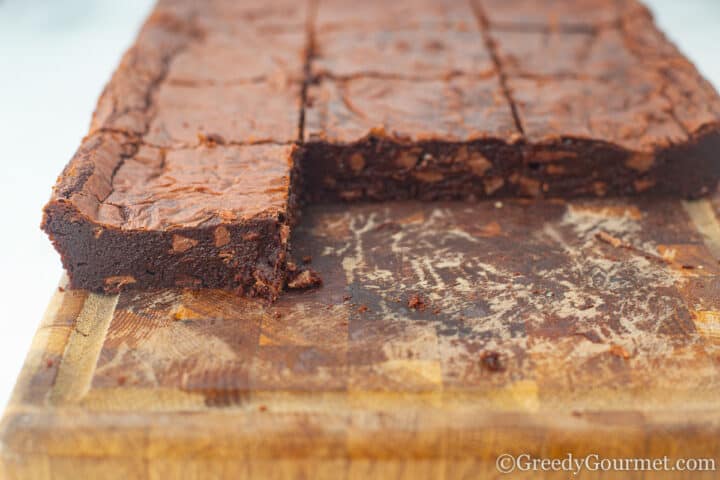 More chocolate orange recipes
Can't get enough chocolate orange? As nice as it is to nibble on Terry's Chocolate Orange, take things to the next level with these recipes:
Chocolate orange cupcakes – cupcakes of the highest order! These chocolate orange delights are easy to make and impossible to resist
Chocolate orange cheesecake – lusciously creamy and deliciously chocolatey. If you're a cheesecake fan, don't miss out on this one!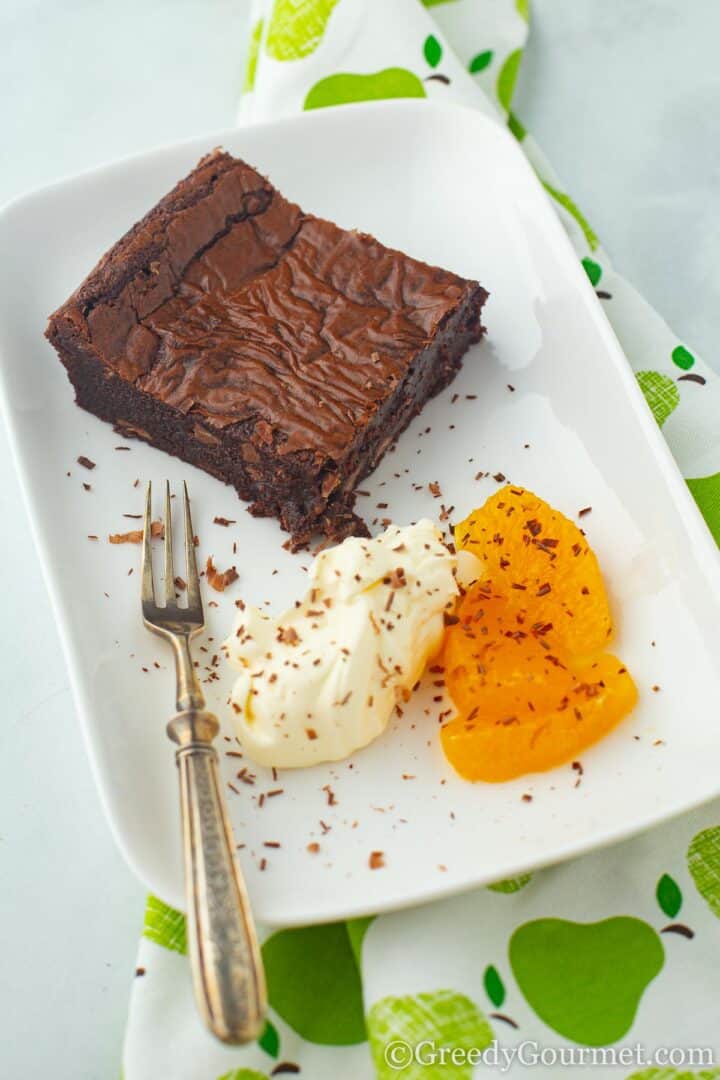 More brownie recipes
If you loved this chocolate orange brownie recipe, try some of these sublime brownie recipes!
GIVEAWAY
One winner will receive a box of Rococo Chocolates!
A Christmas Carol – Milk & Dark Chocolate Collection: Inspired by A Christmas Carol, this irresistible collection makes a decadent gift. This collection of exquisite chocolates and truffles is encased in milk, dark and white chocolate, and beautifully presented in a festive red Rococo Christmas toile gift box, look out for the story inside.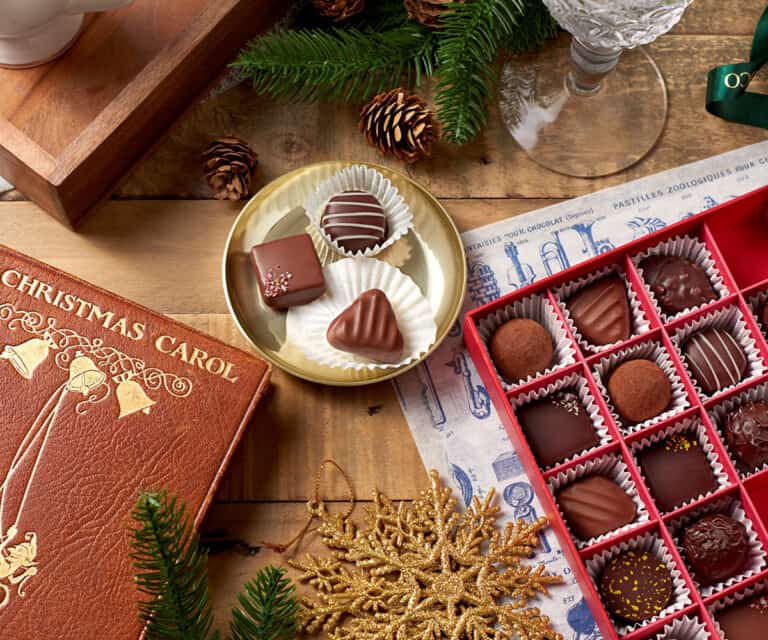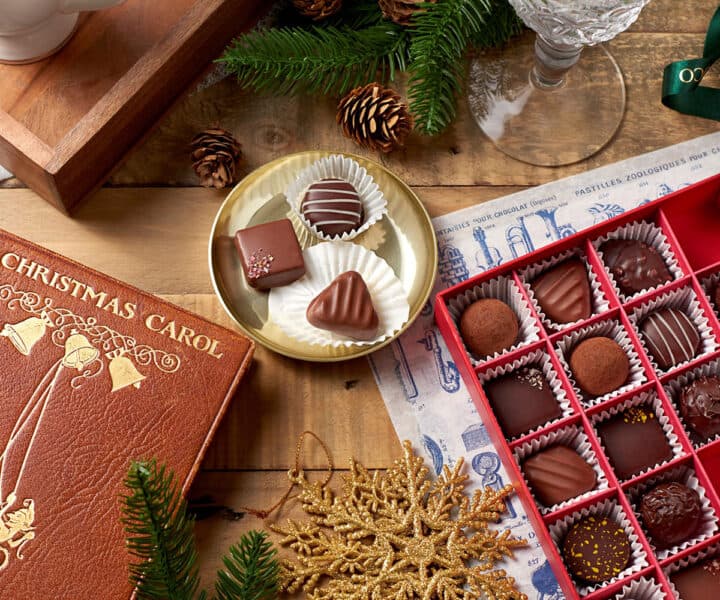 At Rococo Chocolates we bring 36 years of expertise, heritage, and British style to the world of chocolate, we combine exceptional flavours with original design-led packaging to produce unique and delicious products.

Our chocolates are expertly crafted by our chocolatiers in our London kitchen where there is no compromise on quality, we care about provenance and use only the best and most ethically sourced ingredients.

Our five London shops are brimming with luxurious chocolate gifts; we are the go-to chocolate shop for thoughtful, generous gifters. We think chocolate is an unforgettable experience; whether it's the emotions evoked through our flavours or the service provided in our shops, we love that we can be a part of bringing back old memories and creating new traditions.

Our Christmas gift boxes this year follow a storytelling theme, including our A Christmas Carol – Milk and Dark Chocolate Collection. This luxurious chocolate box contains chocolates and truffles encased in milk dark and white chocolate, presented in a jolly red Rococo gift box. The gift box contains a snippet from the story as well as some interesting Christmas facts (did you know Charles Dickens created the phrase 'Merry Christmas'?), to get you in the festive spirit!
Entering is easy, just follow the instructions below.
a Rafflecopter giveaway
HELP
Here you can find a tutorial on how to enter with Rafflecopter.
If your form is not showing, try refreshing the page.
Complete the form, otherwise your entries will not count.
Make sure the mandatory entries (e.g. leave a blog comment) are completed first.
Don't forget to come back daily for extra entries via Twitter.
If you're viewing this post by email, please come to the actual webpage to enter.
Competition Question: What is your favourite chocolate dessert?
Print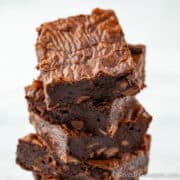 Chocolate Orange Brownies
---
Author:

Michelle Minnaar

Total Time:

45 minutes

Yield:

16

large squares or

32

small squares

1

x

Diet:

Vegetarian
Description
If you have a sweet tooth this is the recipe for you. These delectable Chocolate Orange Brownies won't last a day.
---
---
Instructions
Preheat your oven to 180°C / 160°C fan / 355°F / gas mark 4 and line a 10 x 15 x 1in (25.5 x 38 x 2.5cm) baking tray with parchment paper.
In a bain-marie, melt the Terry's Chocolate Orange, dark chocolate and butter together. You can use the microwave instead. If you do so, use 30 second blasts and stir after each session. Set aside and allow to cool.
Using a stand mixer, whisk together the eggs and caster sugar until you achieve a pale yellow colour and it has almost doubled in volume. 
Stir the Angostura orange bitters into the cooled chocolate mixture, then gently fold the cooled chocolate mixture into the egg mixture until fully incorporated. This will take a little time but it will be worth it, you don't want to lose the air bubbles achieved through whisking the egg mixture. 
Sift the flour and cocoa powder in a separate bowl. Gently fold it into the chocolate batter, trying to retain as much air in as possible.
Once fully combined, fold in the chocolate orange chunks. 
Pour the batter into the baking tray then transfer to the oven and bake for 35-40 minutes.
Once baked remove from the oven and allow to cool completely in the baking tray.
Portion up as you wish and enjoy!
Notes
Don't replace the dark chocolate with milk chocolate as they have two different fat content levels and you won't get the best results.
If you can't find Terry's Chocolate Orange then another brand will do. Or, you can replace it with the same quantity of milk chocolate and then add extra orange extract.
You can serve these brownies cold as a treat or give them a quick zap in the microwave and serve with strawberries and cream. Even ice cream will work!  
The cooking time may vary with different ovens so use the skewer test. If it comes out mostly dry and the center of the brownie doesn't wobble it should be good.
The brownies will last in an airtight container for up to 2 weeks or you can even freeze them.
Prep Time:

15 minutes

Cook Time:

30 minutes

Category:

Dessert

Method:

Bake

Cuisine:

British
Keywords: chocolate orange brownies, chocolate orange dessert, chocolate orange recipe, Christmas brownie recipe, brownie recipe