Sweet gooseberries cooked down into a wonderful gooseberry jam that tastes absolutely refreshing. With a squeeze of fresh lemon juice, the gooseberry's natural flavours pop even more.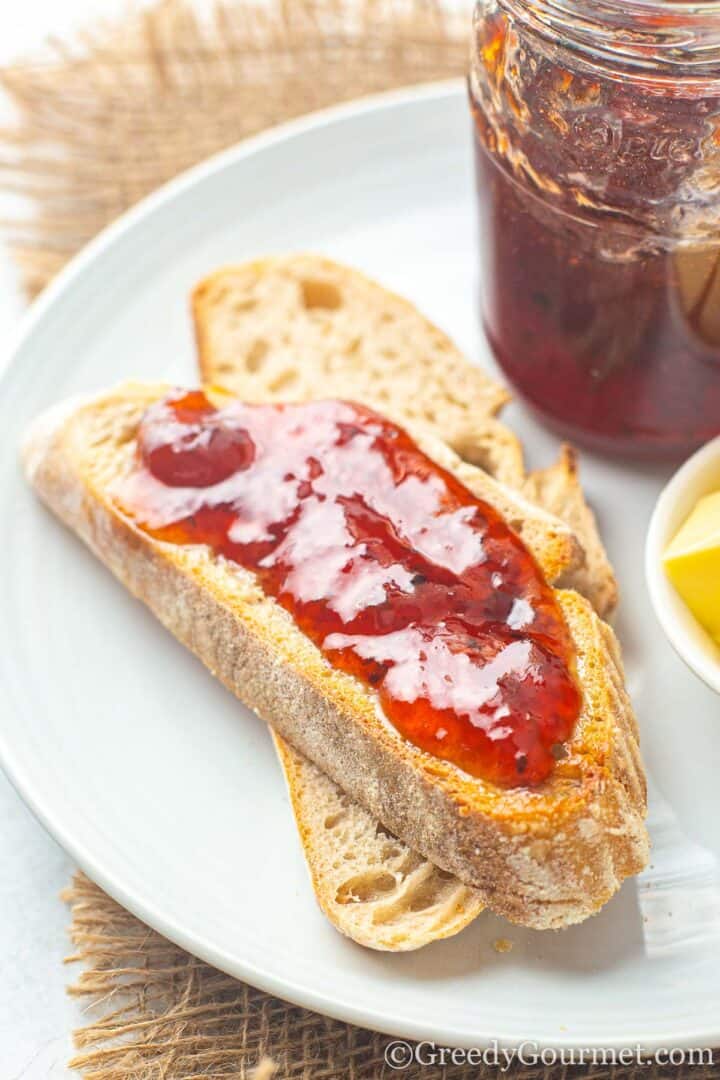 After making my gooseberry crumble recipe, I could not get enough of that mouthwatering flavour. So instead of making a whole gooseberry crumble, why not make a gooseberry jam recipe? Then I could enjoy this lovely taste at any time, with much less work!
This has quickly become one of my favourite jams from my latest recipes. Make sure to give it a try!
Try this homemade gooseberry jam with a slice of chia bread toast, or on top of yoghurt.
Why You'll Love This Recipe
Easy to make, especially for the novice jam maker
Only 4 ingredients, and all are easy to find
Perfect blend of tart and sweet
Lasts for a long time, so you can have jam whenever you like!
Special Equipment Needed To Make This Recipe
Preserving pan: this pan is used to cook the jam. If you can't find one, a stainless-steel saucepan works just as well.
Jam jars: jam jars or mason jars are the best containers to store the jam. Make sure to sterilise the jars before pouring the jam in.
Special Ingredients You Need For This Recipe
All of the ingredients for gooseberry jam are easy to find at home or in the grocery store.
Gooseberries: If you can't find fresh gooseberries, try using canned or frozen gooseberries. If using canned, give them a rinse to wash off any of the syrup.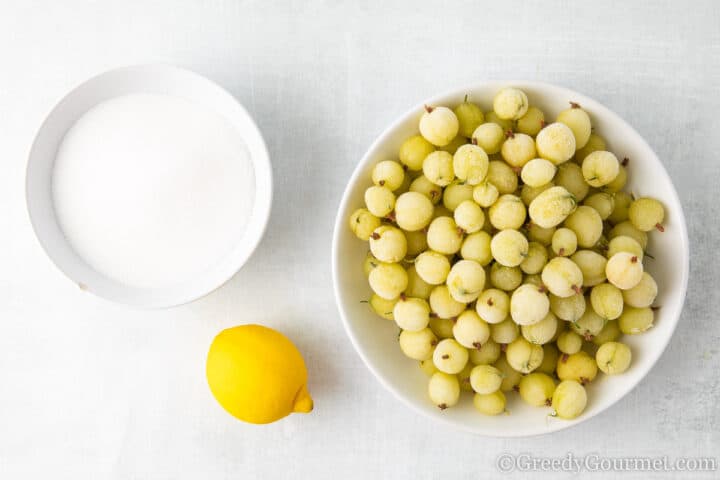 How To Make This Recipe
Step 1: Prep the ingredients
For fresh gooseberries straight from gooseberry bushes or from farmers markets, wash and tail the gooseberries. This can take a while, which is why many prefer using frozen berries. But, use what you have on hand.
When using frozen fruit, add them to the preserving pan (or pot) on low heat for about 15 minutes. Then follow the rest of the steps below. Making jam is easier with frozen berries, because there is less prep work. But, either works in this recipe.
Step 2: Boil the mix
Add the gooseberries and water into the preserving pan. Bring it up to a boil rapidly, then lower the heat to low. The water should be at a simmer.
Let it cook for 30 minutes, or until the gooseberries are soft and cooked. Stir occasionally.
Step 3: Add in the rest of the ingredients
While stirring, pour in the granulated sugar and lemon juice. Stir until the sugar has completely dissolved.
Bring the heat back up to high, and let the mix come to a rolling boil. Keep it at this heat until the setting point is reached. If you have a jam thermometer, it should reach 105C (220F).
The wrinkle test is also another way to test if the jam has reached the setting point.
To do the wrinkle test: Place a saucer in the freezer for 5 minutes, then put a dollop of jam on it and place it in the fridge. After a minute, gently push the jam with your finger. If the jam wrinkles, it's ready.
Step 4: Sterilise jars
Wash the jam jars, then place them in a pot with boiling water (or hot water). Leave them in the hot water for about 10 minutes. Pull them out with tongs, so you do not burn your hands on the hot glass jars.
Step 5: Jar and cool
Once the gooseberry jam has set, pour the finished jam into the jars and seal.
Let them cool completely, then label each jar. Keep the jam in a dark place until you are ready to eat it. Once you have opened the jam, place it in the refrigerator.
After you give this gooseberry jam recipe, you will love gooseberry jam as much as I do!
Top Tip: The best gooseberries for making homemade gooseberry jam are green and under ripe fruit. Under ripe gooseberries have that balance of sweet and tart that makes it such an extraordinary jam.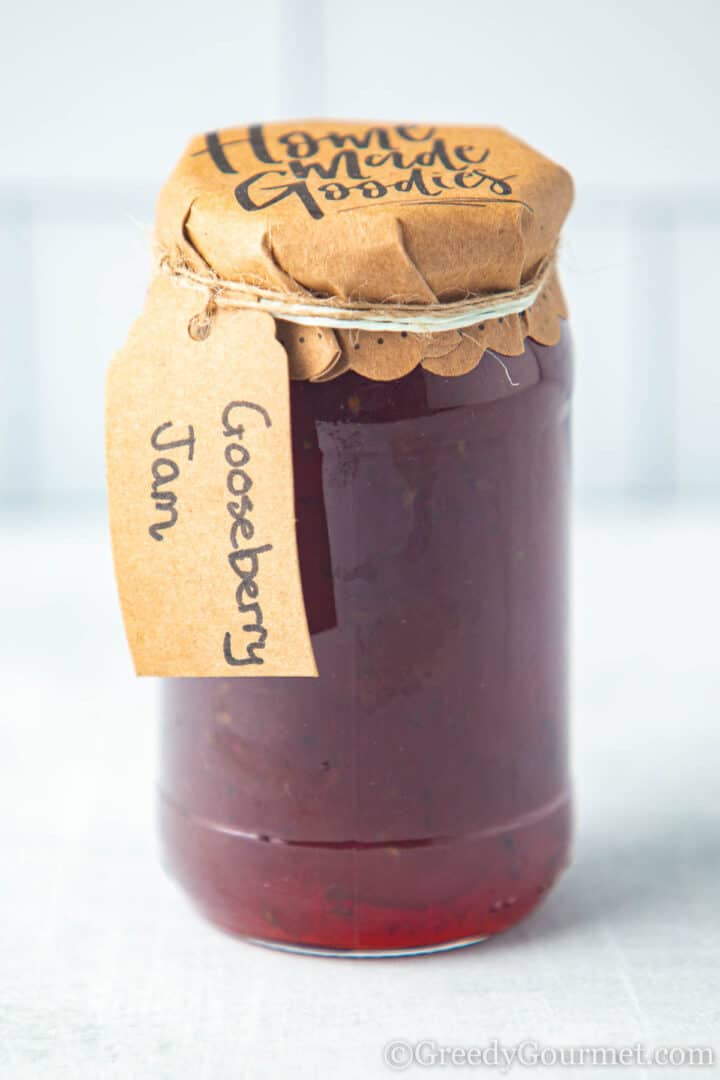 What to Serve with Your Homemade Gooseberry Jam
Sides
Toast: there's nothing gooseberry jam pairs better with than a slice of crusty buttered bread.
Cheese: make a charcuterie board and mix savoury cheeses with this sweet jam.
Yoghurt: start your morning off with a healthy breakfast, and top your yoghurt with this vitamin packed gooseberry jam. Similarly, add the jam onto a bowl of porridge.
Scones: top some scones with a spread of this lovely gooseberry jam and butter! It'll be the perfect balance of savoury and sweet.
Desserts
Gooseberry crumble: Take this Gooseberry Crumble to the next level by adding even more gooseberries on top!
Eggnog French Toast: A dollop of this jam will add a nice, gentle zing that contrasts the sweetness of the French toast.
Baked Rice Pudding: Elevate a simple rice pudding with a bit of homemade gooseberry jam.
Cocktails
Gooseberries pair well with floral and citrus notes, so it's best to blend the jam with beverages that have those flavours infused in them.
Gooseberry Fizz: Mix the gooseberry jam with a bit of elderflower cordial and chilled sparkling wine. It will make a deliciously refreshing cocktail for the hot summer months.
Gooseberry Gin: This cocktail is balanced beautifully, with sweet and sour notes. Combine some gooseberry jam with gin, elderflower liqueur, a bit of lime juice, and some simple syrup. What better way to beat the heat?
Popular Substitutions For This Recipe
Replacing Gooseberries
Use a different fruit in this recipe for a whole different delicious jam! Keep in mind that gooseberries are naturally high in pectin, so they don't need additional pectin.
If you are only replacing the fruit, try to look for one high in pectin like apples. Try this damson jam recipe for inspiration!
Sugar
Use jam sugar instead of granulated sugar. If it is your first time making gooseberry jam and you're worried about it setting, use jam sugar instead.
Gooseberries don't really need additional pectin, but the recipe won't be damaged if you use jam sugar instead.
Frozen Gooseberries
if you freeze gooseberries after picking them, use the frozen ones. Let them thaw in a pot on low heat for about 15 minutes, then continue the same steps for making jam. But if you have access to fresh gooseberries, you can definitely use them as well!
Lemon
For a weaker citrus flavour, use the juice of half a lemon instead. You can also switch out the lemon for another citrus fruit. It depends on your tastes and preferences.
For a sweeter citrus taste, use oranges instead of lemons. You'll get the same acidity, but it won't taste as sour.
Variations To This Recipe
Floral Notes
Add some elderflowers, or elderflower essence, to bring some floral notes into the jam. Gooseberries pair well with floral notes, so feel free to experiment with different flower essences.
Heat
Mix in a bit of grated ginger root for some extra heat. Don't substitute fresh ginger with ground ginger powder. It won't give the same flavour or texture that fresh ginger would.
Fruity
Gooseberries pair well with citrus fruits, so experiment with other citrus fruits like grapefruit or oranges to see what combination you like the best.
Regardless of which fruit you add into the gooseberry jam, it's best to stick with fruits that have a bit of acidity. The contrast in taste will bring out the natural sweetness of the gooseberries.
Rhubarb
Gooseberry tastes delicious with a bit of rhubarb. It also has a tart taste that brings out the gooseberries' sweetness.
Top Tip
Gooseberries may have different levels of juiciness, so the amount of gooseberry jam made at the end may vary.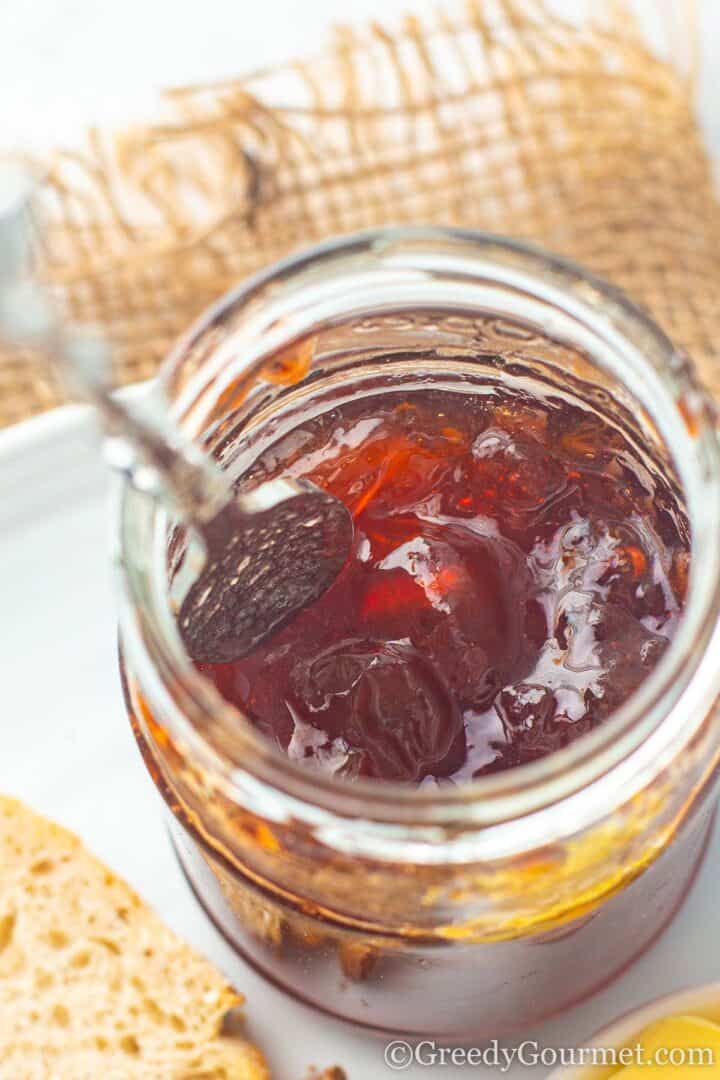 How do I store leftovers?
Pour the hot jam into sterilised jars, but leave about ¼ inch of space at the top of the jar. Leave the homemade jams in a cool dark place. Once opened, store it in the fridge. 
Make sure to leave that little bit of space in the jars, as the jam can expand while in the refrigerator or freezer.
How Long Will This Jam Last In the Fridge?
Keep the jam in the fridge once it's opened. The finished jam will last in the refrigerator for about a month, and in the freezer for up to 6 months. 
Before eating it, give the jam a quick look to make sure no strange mould is growing.
Can I Freeze This Recipe?
Yes! Pour the jam into the jars and wait until the hot jam cools completely. 
If freezing, leave about ½ inch of space in the jar as the jam will expand. The gooseberry jam will last in the freezer for up to 6 months. Leave it in the refrigerator overnight to thaw before serving.
Can this recipe be scaled?
Yes and no. This gooseberry jam recipe can be doubled, but it shouldn't be scaled higher than that. Cooking too much gooseberry jam at once will cause uneven cooking, making it more difficult to reach the setting point.
Can I use less sugar?
You may find this gooseberry jam recipe to be a bit too sweet. There are multiple ways to combat this. 
The first is to slightly reduce the amount of sugar in the jam, but doing this could change the jam's texture, shelf-life, and ability to set. 
A better way to make the jam less sweet is to add in a splash of balsamic vinegar (or other vinegar) when you add the sugar. The acidity of the vinegar will help calm down the sweetness from the sugar without changing its flavour. 
Feel free to use a bit of the juice from currants to get the same acidity, if you don't want to use vinegar. Currant juice doesn't have too much pectin, so the texture should not be affected.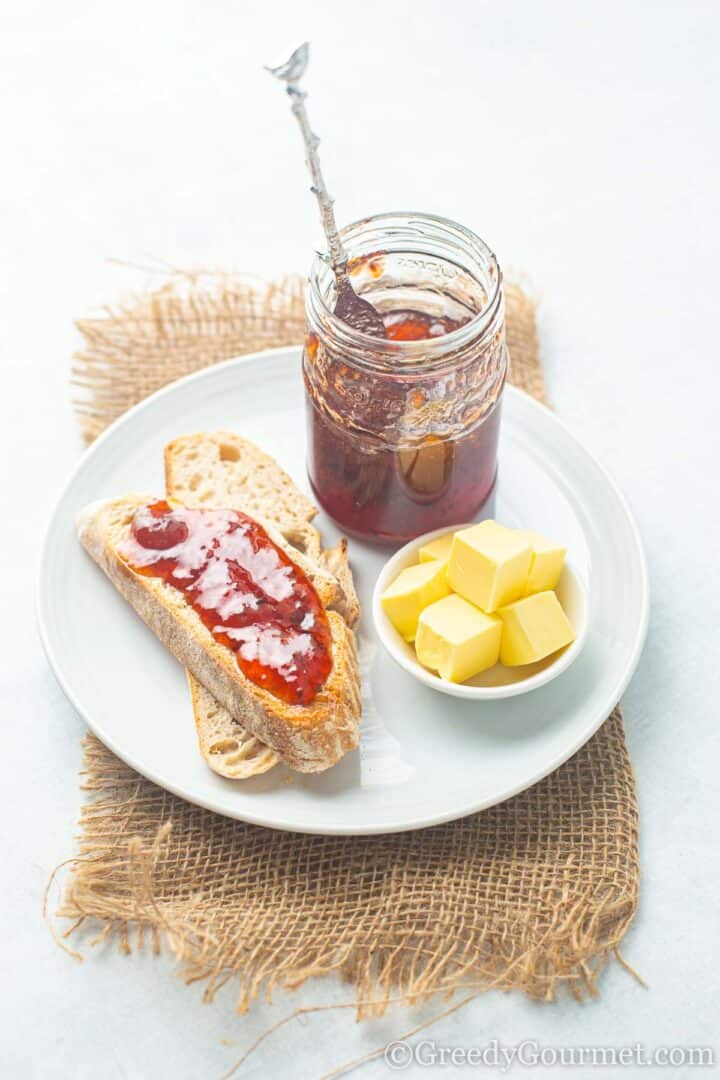 Other Gooseberry and Jam Recipes You'll Love
Gooseberry Crumble: a classic English dessert filled with a delicious gooseberry sauce. Add some gooseberry jam on top for even more gooseberry goodness!
Gooseberry Fool: a simple, quick gooseberry fool that takes lovely green gooseberries to the next level!
Marrow Jam: having more jam recipes in your pocket is never a bad thing. Turn this summer vegetable into an incredible homemade jam.
Blackberry Jam: a tart, refreshing jam that is only made better by the fact that it's seedless!
Food Safety
Sterilise and wash the jars. Place the jars in boiling or hot water for about 10 minutes to properly sterilise them.
Wash the fruit well. Gooseberries are quite gentle, so wash them right before making the gooseberry jam.
Use oven mitts when you are making the gooseberry jam. Hot jam can be dangerous to work with, so make sure to protect your hands.
When storing the jars of jam, make sure to leave some room between the jam and the lids. The jam will expand in the freezer or refrigerator. Cleaning up jam in your freezer is not fun!
Don't forget to come back and let me know how your recipe turned out!
Print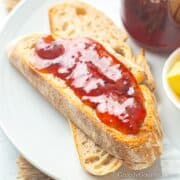 Gooseberry Jam
---
Author:

Michelle Minnaar

Total Time:

1 hour

Yield:

1.8

kg of jam, 5 x 450g (1lb) jars

1

x

Diet:

Vegan
Description
This Gooseberry jam is one of the best Gooseberry jam recipes around. Take advantage of this delicious fruit when it's in season. 
---
1.5

kg (3lb) gooseberries, topped and tailed

500

ml (2 cups) water

1.5

kg (3lb) sugar

1

lemon, juice only
---
Instructions
Place the gooseberries and water in a preserving pan. 
Bring to the boil, then lower the heat to a constant simmer. Continue to cook for about 30 minutes or until the fruit is cooked and soft. Don't forget to give it a stir every now and then.
Stir in the sugar and lemon juice. Stir until all the sugar has dissolved.
Crank up the heat and let the contents get to a full rolling boil. Boil hard until the setting point is reached. 
Pour into sterilised jars and seal. Once cooled you can label them.
Eat whenever you desire. Enjoy!
Notes
If you're not experienced at jam making, you can use jam/preserving sugar for peace of mind. 
Green/Unripe gooseberries work especially well for jam purposes.
I used frozen gooseberries in this recipe. The first step is to tip the frozen gooseberries in the post and then thaw them slowly while stirring. It should take about 15 minutes before it's fully thawed. Then follow the recipe as above.
Other variations you can play with are adding 3 elderflowers to the mix, or adding 50g (2oz) grated, fresh ginger root. 
Prep Time:

15 minutes

Cook Time:

45 minutes

Category:

Jam

Method:

Boil

Cuisine:

British
Keywords: gooseberry jam, gooseberry recipe, how to cook gooseberries