Marie Rose sauce is an all-time classic. You have most likely had it before in some way or another, as this creamy condiment goes back a bit. It's like one of those things that have always just sort of been around, right? Well you're not entirely wrong in thinking this. The invention of this tomato and mayonnaise dressing is credited to be the idea of a certain Fanny Cradock. She was a popular TV chef, starting her television career back in the 1950s. It is questionable whether she can really be awarded all the glory however, as other places in the world, very similar sauces appeared around the same time.
The best known alternative is probably the Thousand Islands dressing, originally from the USA. Although the sauce enjoyed immense popularity throughout the 1980s, it has since then fallen a bit into the background, making way for other more exotic sauces and spices that made their way to the western palate. It's quite a shame because not only is it delicious and an excellent pairing for seafood, it is also super easy to make. It's time for you to rediscover this classic.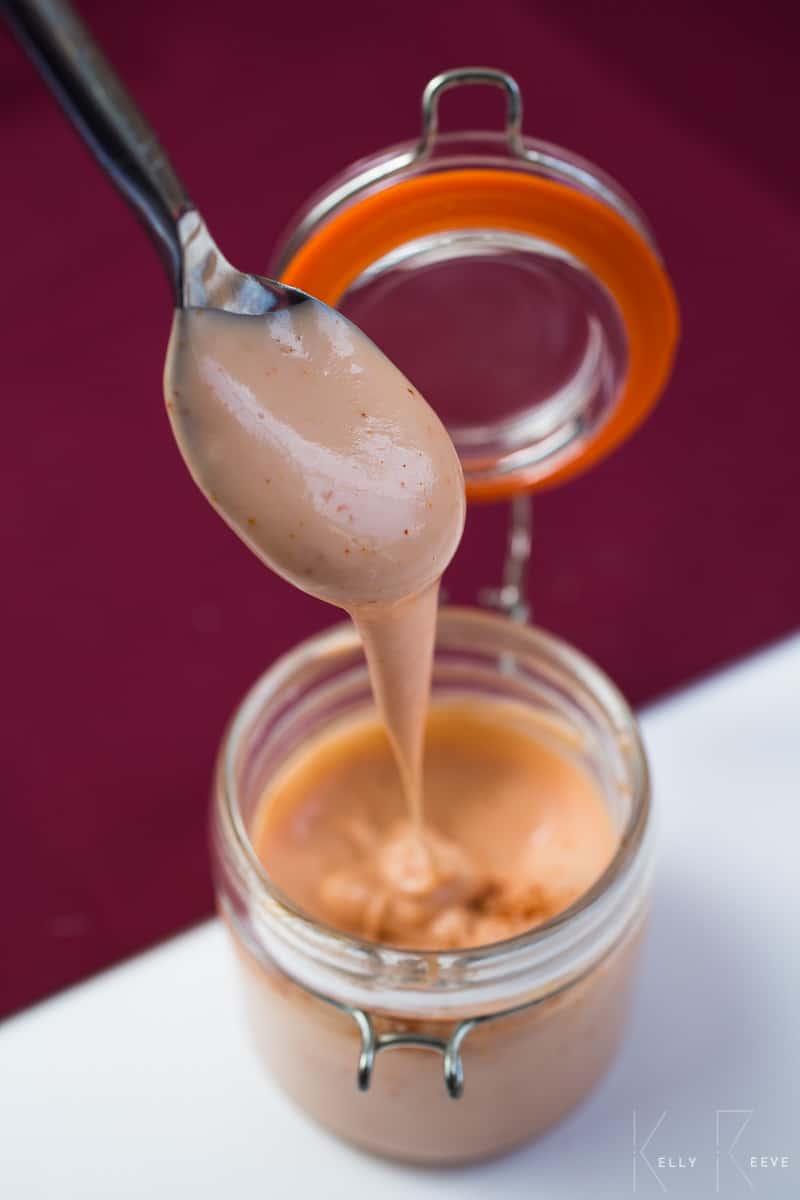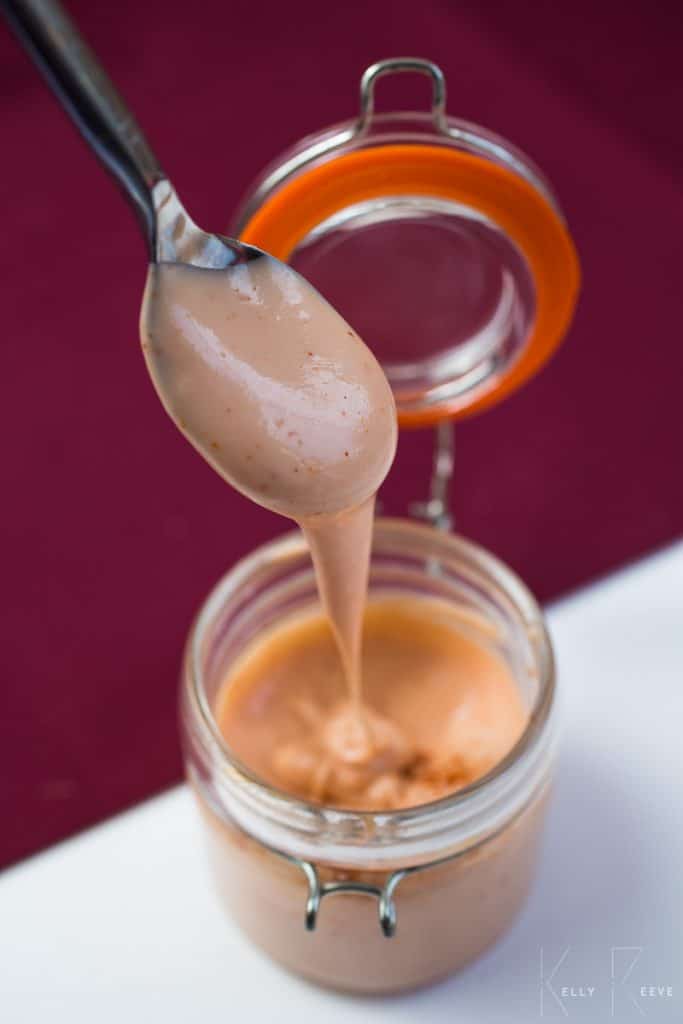 Uses for Marie Rose sauce
Traditionally the sauce was intended to go with seafood. Prawns and lobster in particular. The creamy, lightly tomato flavoured sauce works extremely well in combination with sweet shellfish. This is certainly also the reason why it became the global standard dressing for prawn cocktails, which in itself is a delightful starter. The Marie Rose sauce is also great as a dressing for fish. In particular, as a dressing for a steamed or seared white fish. However, it is equally good for smoked white fish or with smoked salmon. Or the classic prawn cocktail.
A simple piece of toast with a lettuce leaf, smoked salmon, a splash of the Marie Rose sauce, topped off with some fresh dill, and possibly a teaspoonful of caviar, makes a delicious snack or lunch dish. If you do small pieces of toast, you can make canapés for a cocktail party. Easy! Another great combination for this sauce is avocado. These two simply go hand in hand.
What you can do for instance is to take half an avocado, fill some of the sauce in where the stone used to be, and top off with a handful of prawns. Simple and delicious. It's an easy starter to prepare, or a light lunch dish, when served with some bread, and perhaps a little salad on the side. You should try it next weekend on the terrace with a glass of white wine and truly enjoy your day off.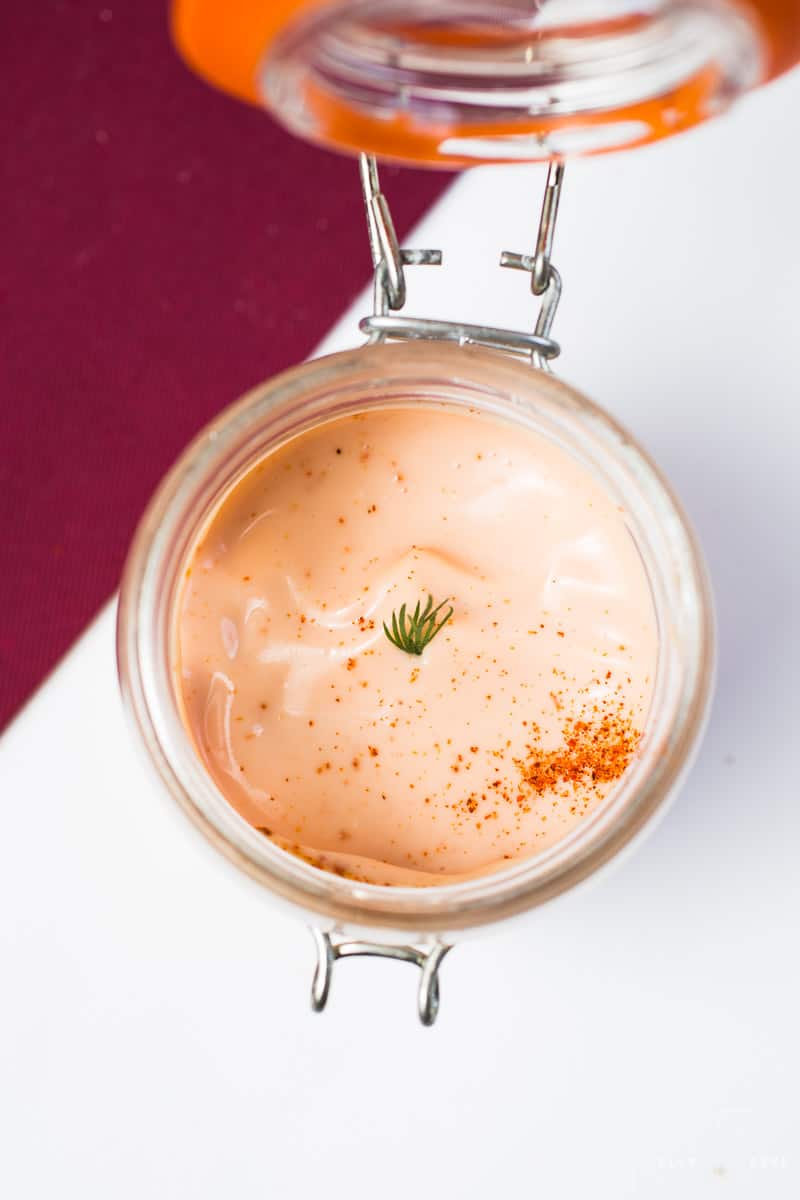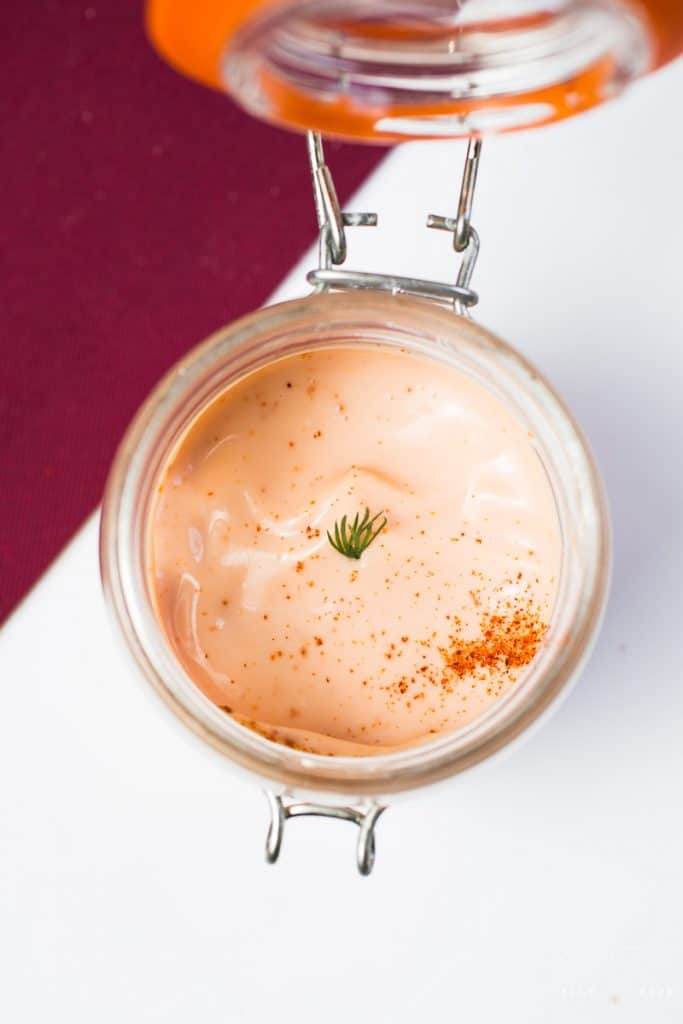 Other ways of serving
As you have probably gathered by now, Marie Rose sauce is actually quite versatile and can be used for a number of things besides the classic prawn cocktail. You can also use it as a sandwich dressing. For example, you can make a sandwich with lettuce, tomatoes and eggs. The sauce will go much nicer with these ingredients than just plain mayonnaise, without stealing the show.
For sandwiches, I would recommend you using a crustier bread type with a bit of bite in it, such as ciabatta. This is in order for the bread not to get soggy, as that could happen if you use standard toast bread. Believe it or not, the Marie Rose sauce is actually also a great burger dressing. If you make homemade burgers, just spread some sauce on the toasted bun before assembling the burger. It's always a hit with the kids at our house. Especially if they have some of their school mates over.
Dipping Sauce
One of the best ways to use the Marie Rose sauce is to use it as a dipping sauce. Obviously it's good for prawns, but have you tried it with tempura prawns? You can even season the sauce with a bit of dried chili powder to give it a kick. Or, you can use it as a vegetable dip for party food. Simply put a small bowl of sauce on a tray with some vegetable crudités and you have the snacks taken care of! For this I would recommend you to make small sticks of cucumber, carrot and celery and place them in glasses next to the dipping sauce.
Make sure that you cut the sticks somewhat delicately but on the other hand not so thin that they are flimsy. Here it's all about finding the golden middle ground, as too big vegetable sticks will look unappetising. If your guests are not the biggest vegetable eaters you can also use the sauce as a dip for crisps. Or, if the boys of the house are watching football, it's a great sauce for chips and potato wedges. Sometimes you just need something else than just ketchup!
Adding the personal touch
If you want to be a little daring with the Marie Rose sauce, you can season it to your taste. As mentioned, I like to throw in a bit of chili powder sometimes. This is especially good if you are going to use the sauce as a dip for something deep fried, such as tempura shrimps. You can also add a little bit of finely chopped fresh herbs into the sauce.
If you are going to use it for prawns or seafood, the obvious choice is of dill. The latter is an unbeatable match with seafood. You can season the sauce with any herb you like but be careful that it doesn't overpower or change the basic taste of the sauce. I encourage you to be creative in the kitchen. Maybe you have discovered a great combination that I haven't thought of. If you have, then leave a comment to let me know!
Print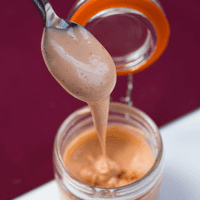 Marie Rose Sauce
---
Scale
Ingredients
30

ml (2 tbsp) mayonnaise

30

ml (2 tbsp) tomato puree

5

ml (1 tsp) lemon Juice

2.5

ml (1/2 tsp) sugar
---
Instructions
Stir everything together until smooth.
Serve immediately are store in airtight container in fridge.
---
Notes
Alternatively, you can mix 30ml (2 tbsp) ketchup and 45ml (3 tbsp) mayonnaise for more or less the same result. Fewer ingredients!
For greater quantities, just multiply the ingredients accordingly. Just stick to the same ratios!
Nutrition
Serving Size:

1 serving

Calories:

69

Sugar:

2.8 g

Sodium:

111 mg

Fat:

5 g

Carbohydrates:

6 g

Cholesterol:

4 mg
save the recipe to your pinterest board


A special thanks to Kelly Reeve for assisting with the recipe shoot.