A simple sauce with a classic taste, Marie Rose sauce is a tasty blend of tabasco sauce, mayonnaise, lemon juice and sugar. Prawn cocktail just wouldn't be the same without it!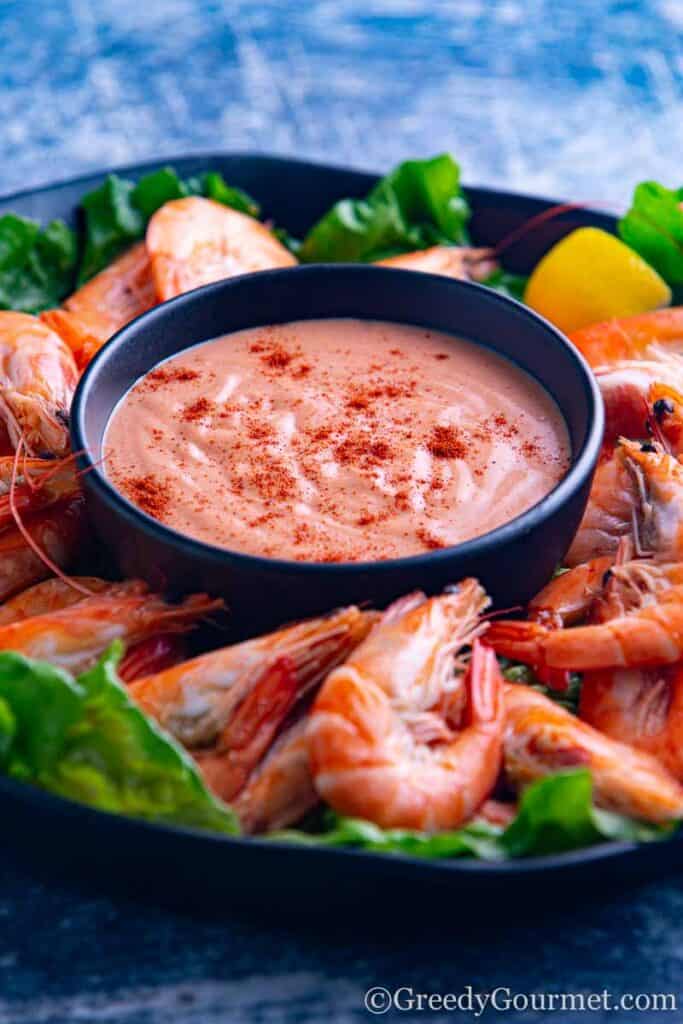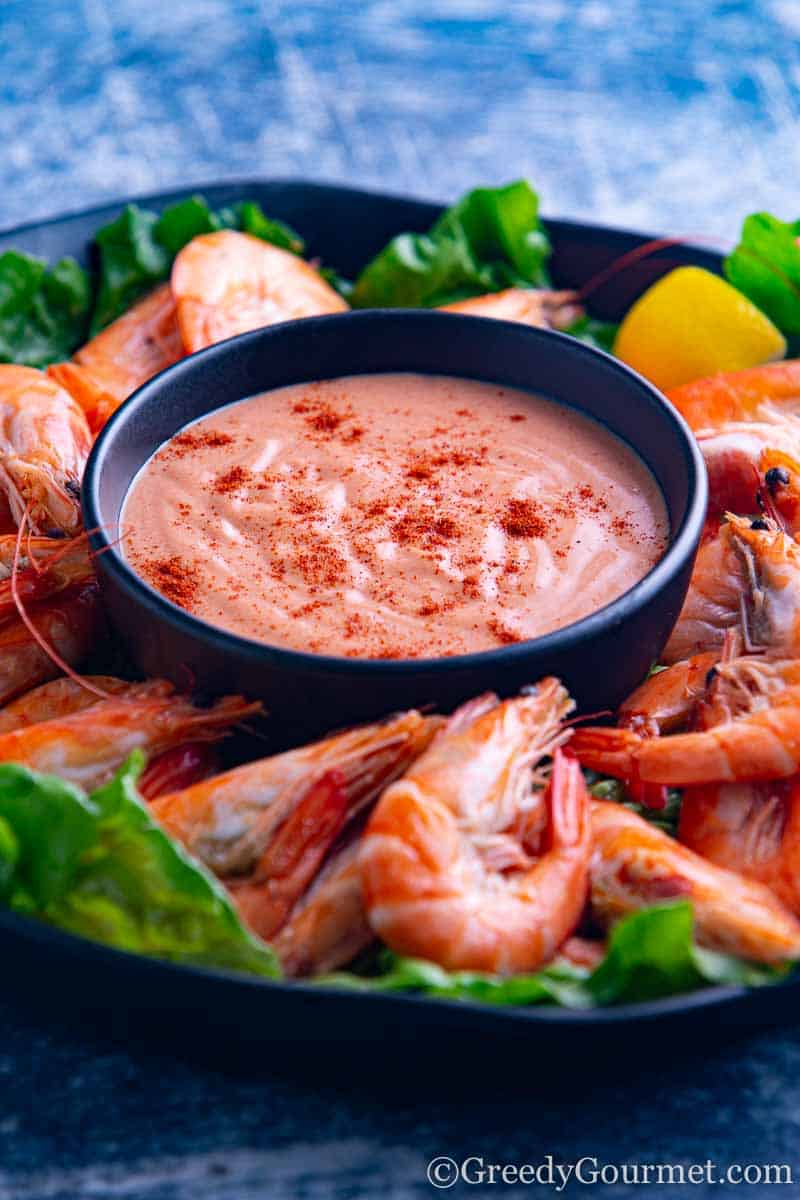 K-Mojo Digimaster
If you've never tried to make your own mayonnaise, you're in for a treat. It tastes a million miles better than shop bought stuff.
For this recipe I've enlisted the help of an ingenious little gadget – the K-Mojo Digimaster – to make sure I get the perfect mayonnaise every time.
The K-Mojo Digimaster takes the stress out of so many of those fiddly little kitchen jobs. I don't know about you, but for me, the joy of cooking is all about creating. The laborious tasks aren't fun and I'll avoid them if I can.
That's what makes a tool like this so invaluable. It's got 10 different functions – so you juice, slice, chop, knead, blend, grate, shred, whisk, grind and emulsify with ease.
For this sauce recipe, we're using the latter. Emulsifying with the K-Mojo Digimaster is an absolute breeze.
You'll be able to make great tasting mayonnaise with a beautiful consistency – this will be the base for your fantastic sauce.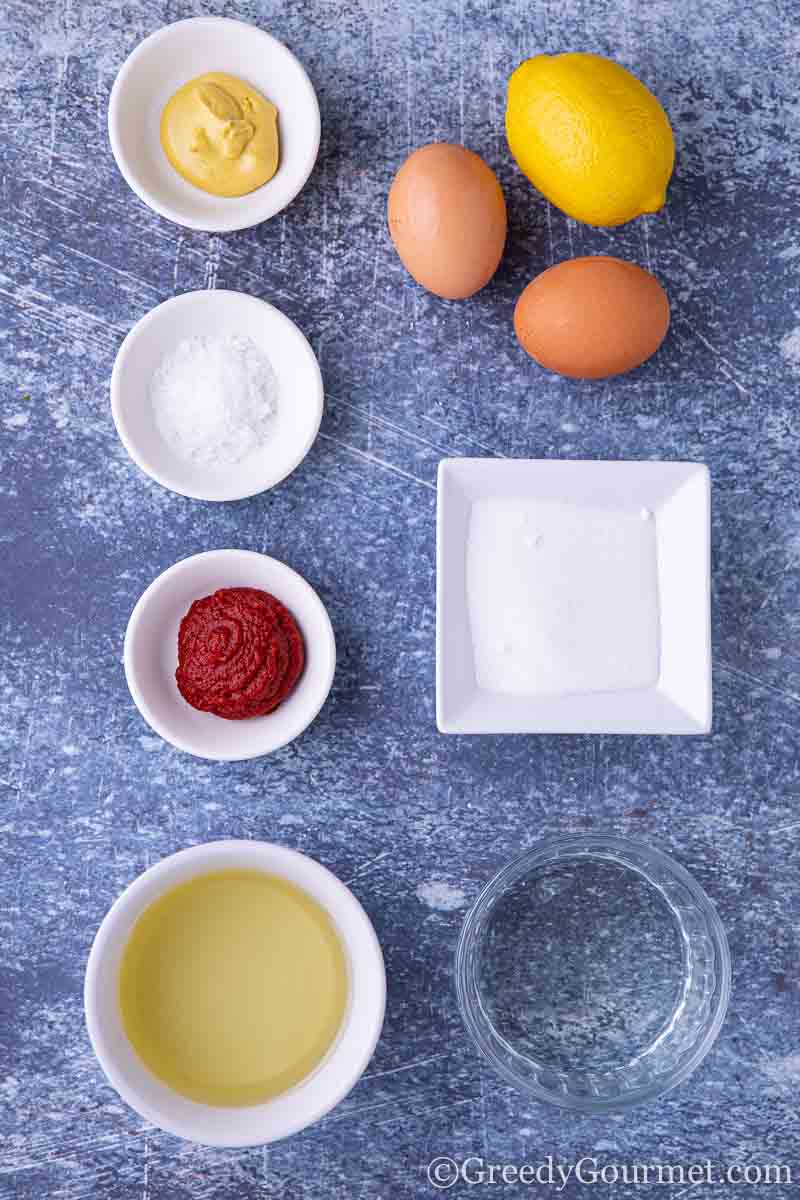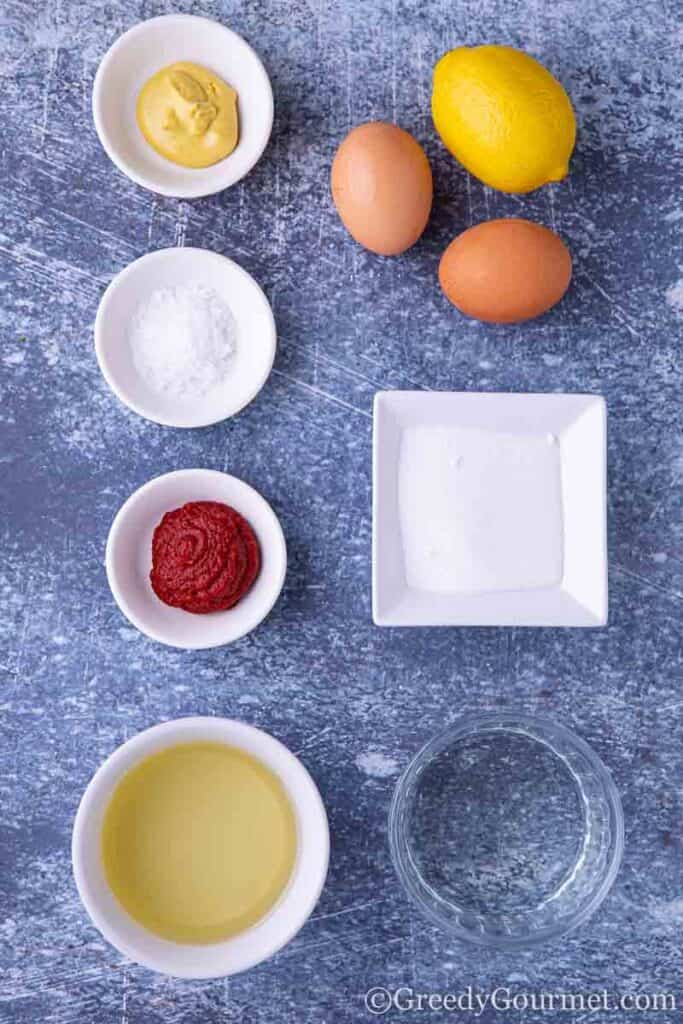 Marie Rose sauce recipe
This sauce is an all-time classic. You've most likely had it before in some form or another, as this creamy condiment goes back a bit.
It's been commonly served with prawn cocktail for many years – the two are made for each other. This simple sauce mixture has been whizzed up in kitchens up and down the UK for decades.
People have often referred to it as "ketchup mayonnaise." It often comes with a dash of worcestershire sauce, a pinch of cayenne pepper or even a splash of brandy.
Whatever your method, it's as good a partner for prawn cocktail as any. There's just something about this ketchup with a twist that makes the perfect sauce to add to prawns.
Around the festive season, it's practically a British institution. So, if you're looking for recipes to bring a bit of joy this Christmas, you've come to the right place!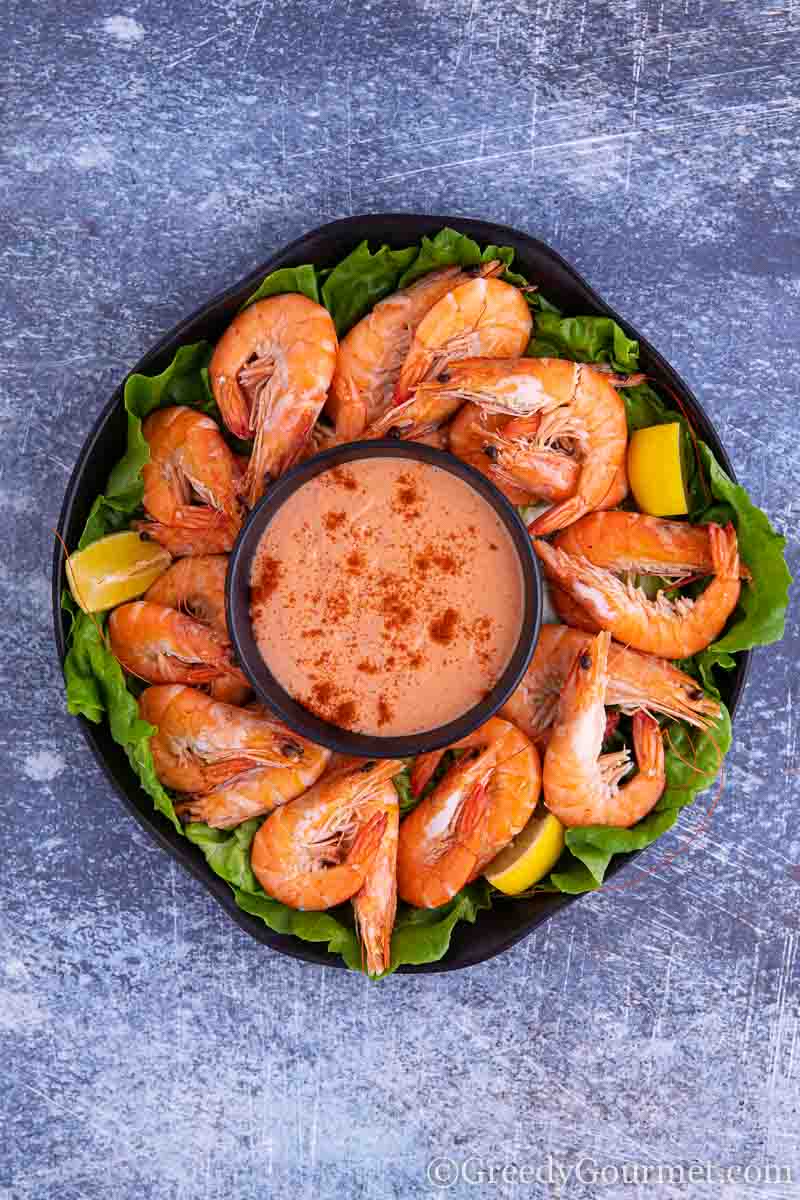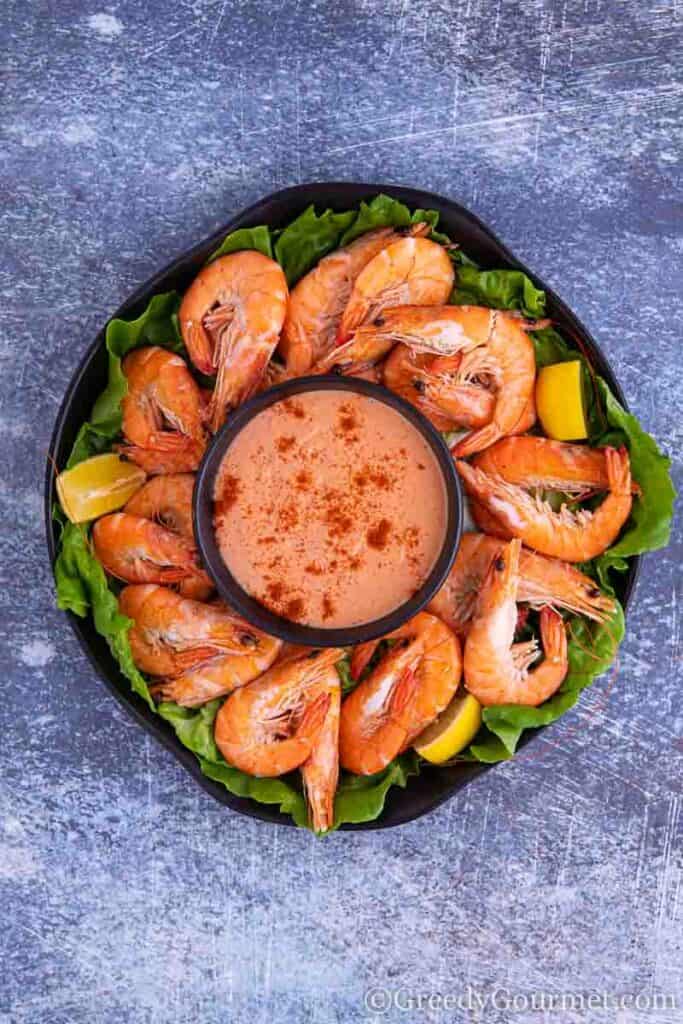 Is Marie Rose sauce the same as Thousand Island?
They are pretty much the same thing with the same ingredients. The main difference is the type of dish you normally have each sauce with.
Thousand Island is more popular in America and is usually served together with Reuben sandwiches, big tasty burgers and as a dressing for salads. It is sometimes made with horseradish mixed in with tomato ketchup and all the usual ingredients.
This British version of the delicious sauce is more associated as a seafood sauce. That's what makes it the go-to sauce to add to prawns. 
Who invented Marie Rose sauce?
This mayonnaise ketchup sauce is said to have been invented by British celebrity chef Fanny Craddock back in the 1960s.
It's not clear whether Fanny should take all the credit though, as similar sauces were being served up all round the world long before she donned her apron.
One theory is that a 19th century Californian miner invented it. Legend has it that he was bored of his regular old oyster lunch one day.
So, he asked the cook for a side of ketchup, vinegar, horseradish and creamy sauce. Without knowing it, he'd invented a dish that would soon become legendary.
Soon after, seafood cocktails with a serving of delicious tomato ketchup with a twist sprang up all over menus on California's coastline.
Why is it called Marie Rose sauce?
The origins of the name are a bit of a mystery. Some have linked it with the recovery of the wreckage of the famous warship 'the Mary Rose' in the 1980s. 
The name of the sauce is said to have been changed from Mary Rose to 'Marie' Rose to make it sound more glamorous and French, something that was pretty common back in the 1980s.
Hmmm… I'm not convinced. Still, what I'm definitely sure of is that this sauce is absolutely fantastic.
What can you serve Marie Rose sauce with?
As you have probably gathered by now, this is one versatile sauce! Besides the classic prawn cocktail, it can be used for a number of dishes and snacks. 
As a sandwich dressing, it works a charm. Add it to a sandwich with lettuce, tomatoes and eggs for an extra special treat. 
For sandwiches, I would recommend a crustier bread type with a bit of bite in it, such as ciabatta. This will make sure the bread does not get too soggy, which could easily happen if you use standard toasted bread. 
Don't stop at sandwiches. This sumptuous sauce is also a great burger dressing. Just ask the Americans.
If you make homemade burgers, just spread some sauce on the toasted bun before assembling the burger. It'll be a huge hit with kids and grown ups alike.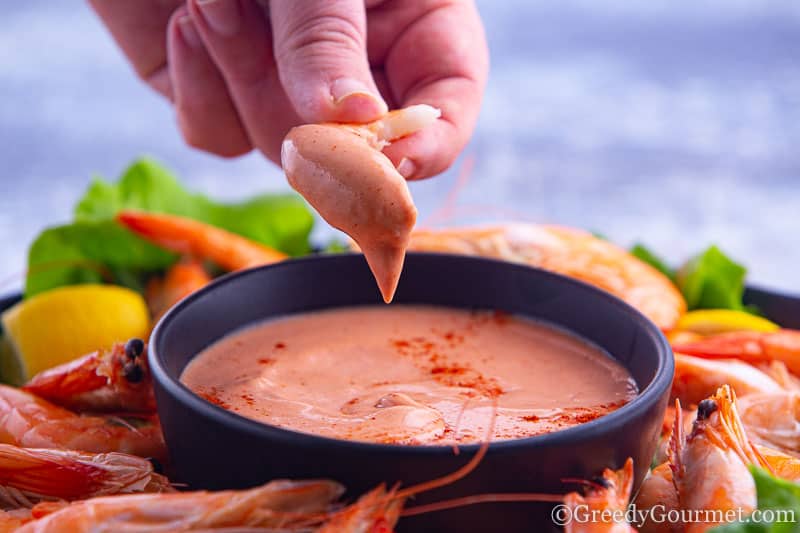 More saucy fun
If you're looking for a sauce of inspiration, check out these recipes:
Competition Question: What will you make with the DigiMaster's emulsifier attachment?
Print
Marie Rose Sauce
---
Author:

Michelle Minnaar

Total Time:

15 minutes

Yield:

12

portions of 30ml (

2 tbsp

)

1

x

Diet:

Vegetarian
Description
Make this easy Marie Rose sauce in under 15 minutes at home! Best served with prawns, lobster, smoked salmon, seafood, vegetable crudités & burgers.
---
Mayonnaise
2

egg yolks

1.25

ml (¼ tsp) salt

15

ml (1 tbsp) lemon juice

15

ml (1 tbsp) white wine vinegar

5

ml (1 tsp) Dijon mustard

250

ml (1 cup) oil
Marie Rose Sauce
250

ml (1 cup) mayonnaise

45

ml (3 tbsp) tomato puree

½

lemon, juiced

16g

(

1 tbsp

) caster sugar

10

drops Tabasco
---
Instructions
For the mayonnaise: Using the K-Mojo Digimaster's emulsifier attachment, switch on the machine at the lowest setting.
Pour in the egg yolks, salt, lemon juice, vinegar and mustard. Speed up the DigiMaster to its highest setting and run for 30 seconds. Change the machine's speed to its lowest setting again.
Pour the oil as slowly as possible while the machine is running. Be patient. It should take around 2 minutes, if not more.
By the time you've run out of oil, a thick mayonnaise would have formed. Optional: Store in a sealable jar in the fridge and use as you see fit.
For the Marie Rose Sauce: Place all of the ingredients in a bowl and stir.
Serve as a dipping sauce with crudites or in a Prawn Cocktail. Enjoy!
Notes
You can tweak the recipe to your taste. E.g. adding more or less lemon juice, Tabasco, sugar or tomato puree.
Prep Time:

15 minutes

Cook Time:

0 minutes

Category:

Sauce

Method:

Emsulsify

Cuisine:

British
Keywords: marie rose sauce, prawn cocktail sauce, seafood sauce, Marie Rose recipe, prawn sauce, how to make Marie Rose sauce
save the recipe to your pinterest board


P.S. This is a sponsored post.