Everyone knows that lamb and mint are one of the best and most sophisticated combinations when it comes to cooking amazing lamb recipes. Although, have you ever thought about combining mint into a lamb mince burger patty? These minted lamb burgers are the essence of a refined and elegant burger. Forget the traditional beef burger, don't settle for the ordinary and make a bold switch to this option instead.
With lamb being a very tasty and nutritious ingredient, you should always strive towards using it more in your weekly meal plan. If you don't already have some lamb recipes up your sleeve, you can start with these lamb minted burgers. Also, lamb minted burgers are a fabulous addition to a BBQ menu which includes classics like Indian roast leg of lamb or lamb BBQ burgers. Lamb burgers aren't just for the summer time though. If it's too cold outside for a barbecue, you can grill or pan-fry your burger indoors. You won't know how much you will love lamb, until you try it!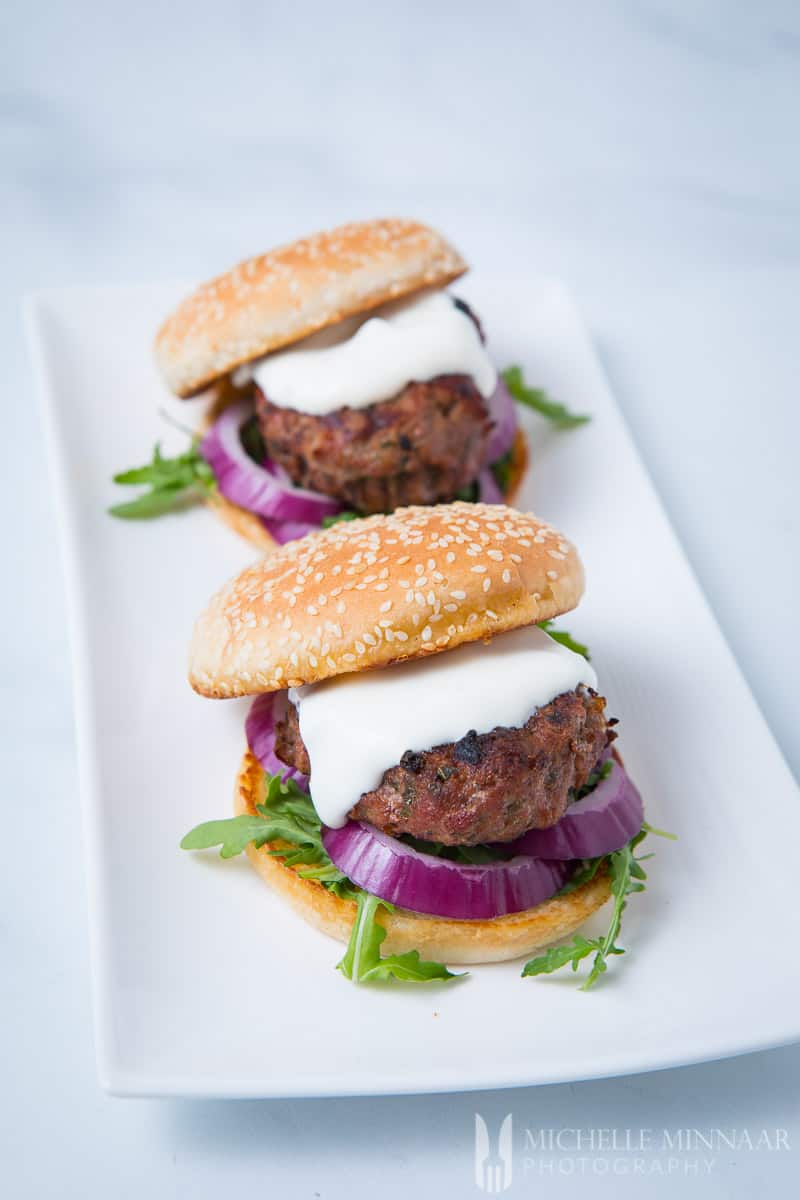 Minted lamb burgers Lamb Try it Love It
Lamb. Try it Love it is a new EU funded campaign that really proves that lamb is more than just a 7-hour lamb roast wonder. Take these minted lamb burgers as an example of just how versatile lamb really is. Lamb has various types of cuts which are widely available at stores and they are conveniently inexpensive. There is a very common misconception that lamb is super expensive, but that's really far from the truth. You have gorgeous cuts of lamb that can comply even with the tightest weekly food budgets. So, these minted lamb burgers are in fact a low cost food option which you can enjoy at any time of the week.
Lamb is such an amazing and exciting ingredient that young people should take advantage of. If you consider the facts of how cheap it is to source a premium cut of lamb, then you really should reconsider your list of shopping items. Furthermore, it's really easy to prepare and tastes amazing! Please don't think that lamb is heavy or overpowering! Try it and you'll see that you'll love it!
Lastly, I felt the need to highlight the health factor. Many people don't purchase lamb because they think that it is too fatty. Lamb is a very protein-rich, high-quality meat, with essential vitamins and minerals. It comes from EU farms which operate sustainably in remote regions of Europe. Altogether, lamb is an integral part of a balanced diet that you shouldn't ignore.
Other easy lamb recipes as this minted lamb burger, is a classic bbq rack of lamb and easy lamb tikka.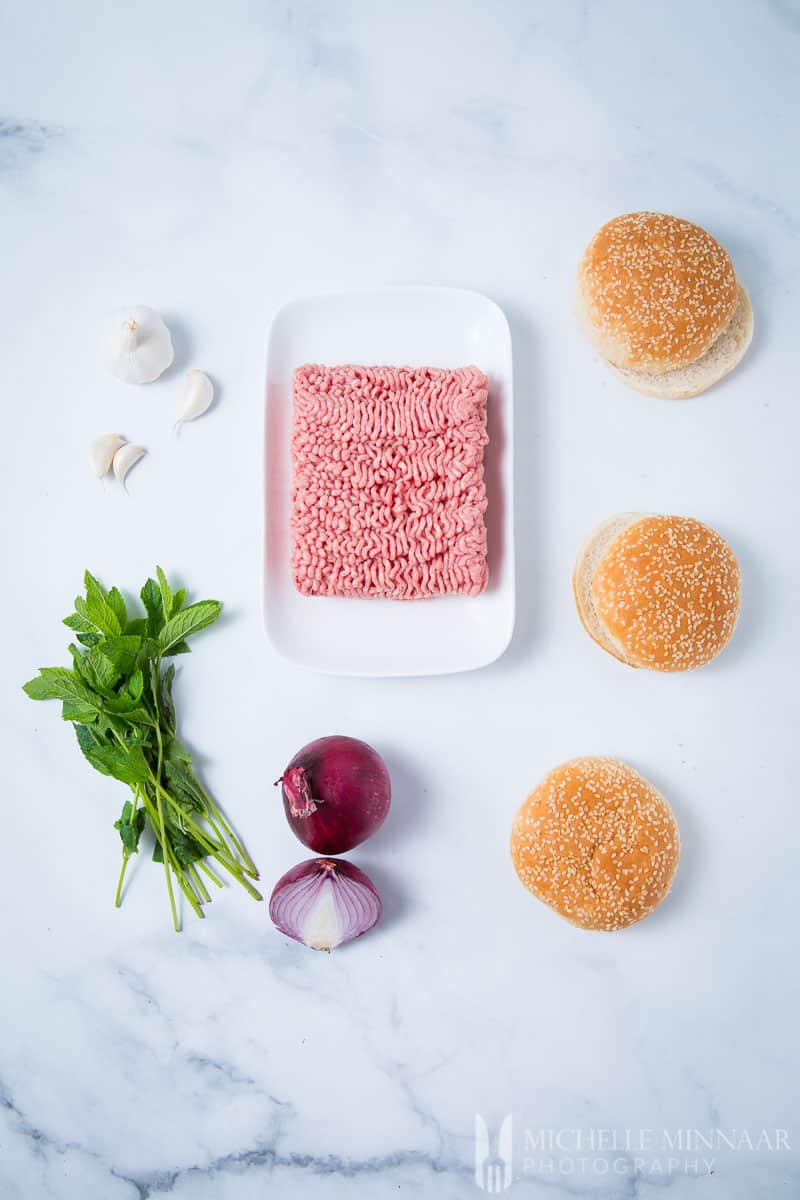 Types of mint for mint lamb burgers
When I was young, I always thought that mint was only one type of herb. It was only later when I discovered that there are actually up to 20 types of mint plants. Can you believe it? The most popular ones are peppermint, spearmint and apple mint. You might know peppermint from peppermint tea. Spearmint and apple mint are widely used for mojitos. The best type of mint for minted lamb burgers is spearmint. It is the most common to use while cooking and when trying to make mint sauce. To eliminate some bitterness that comes with mint, soak the mint in cold water first. This will clean any excess dirt or dust off and it will reduce bitterness when the mint is completely fresh. If you haven't got mint, a good substitute is coriander or parsley, which are both very fragrant herbs.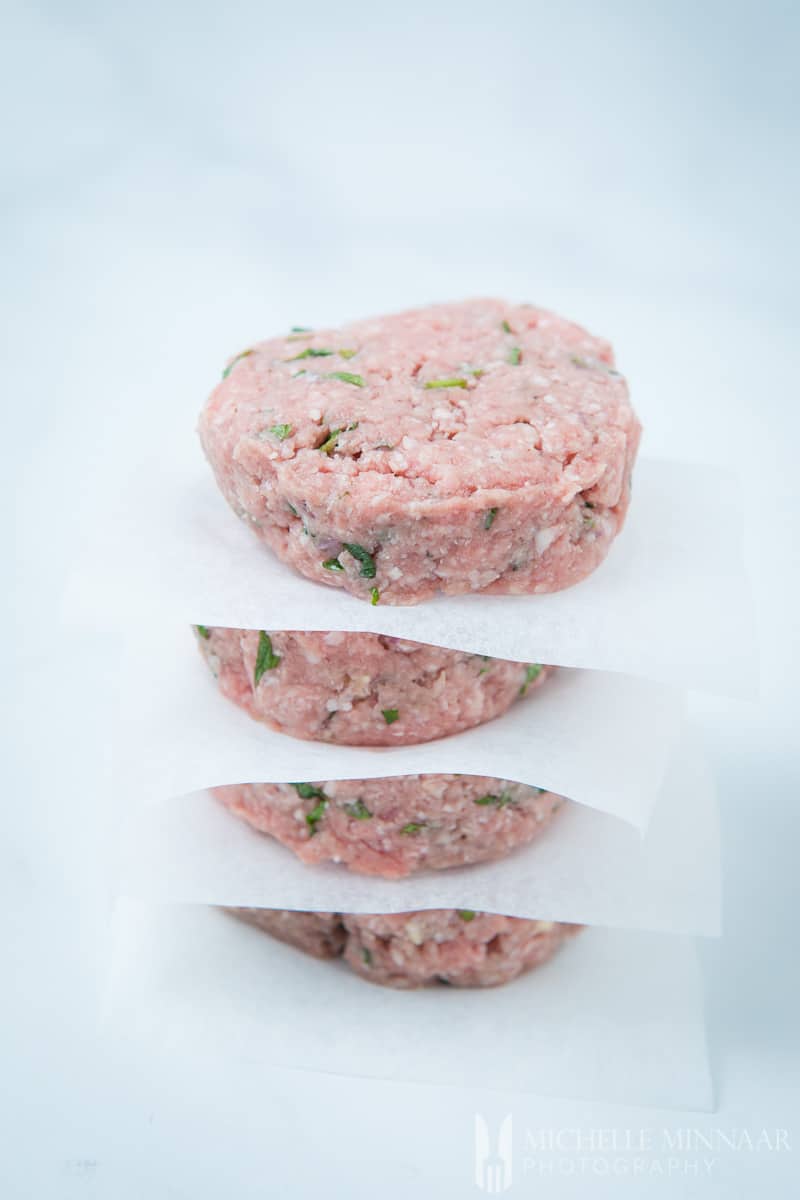 Minted lamb burgers mint sauce
Do you genuinely love mint? You can easily incorporate mint into your sauce for your minted lamb burgers. Not to worry, it won't be too much mint, even if you have the mint inside the burger patty. Just chop some up some of your favourite type of mint and mix it into yoghurt. You can control just how 'thick' you want the yogurt to be. However, my recommendation is to just toss in a handful amount, otherwise, your burger mint sauce can get very bitter. Sprinkle a bit of cayenne pepper or some smoked paprika powder for a bit of colour.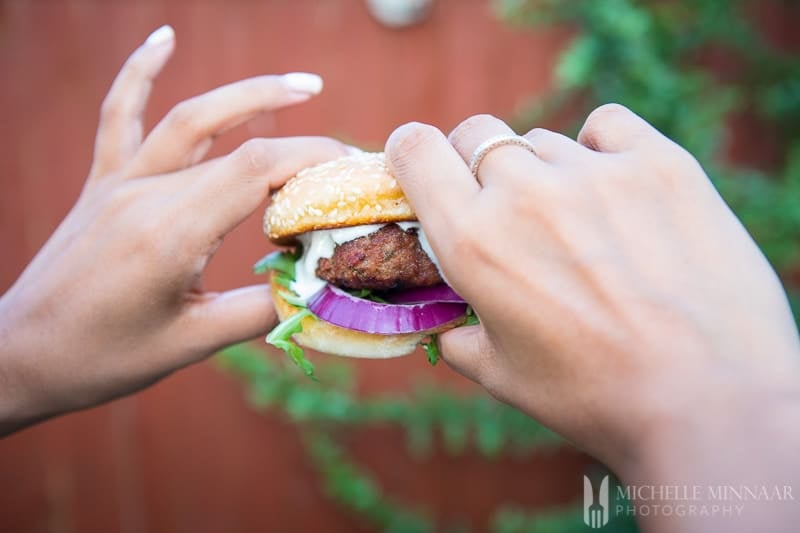 Top 5 lamb burger toppings you should know about
The number one topping I recommend you should check out for your minted lamb burgers is to include slices of red onion. One can say that red onion is a very common burger topping, but for a good reason. It provides a lovely crunch and a subtle sweet flavour. These complement the flavours of the meat and the softness of the bun. Next, being South African – I love to add a bit of spice. Why don't you toss some hot pickled jalapenos as a topping on your minted lamb burgers? Can't go wrong with a bit of heat!
The third topping which a lot of people enjoy with lamb are fried onion bits. These are the same ones that you would put on a hot dog. You can buy these pre-made and they last forever. The fourth topping which you might enjoy is olives. Lamb is commonly associated with the Mediterranean and the Middle Eastern region. So, it is very common to combine these two, either inside the burger as a topping or on the side. Lastly, to make this minted lamb burger a Middle Eastern version, top the burger off with a bit of tahini sauce. Tahini sauce it basically a sesame paste which will add even more flavour and fragrance. Plus, it will bind everything together, as with any sauce.
What to serve with minted lamb burgers
To truly enjoy the taste of lamb to the maximum, you can eat the minted lamb burgers without a side. However, the most common side dish to any type of buris are freshly made fries. These can include baked sweet potato fries, traditional fries or even celeriac fries as a healthier option. Otherwise, you can always go for the easy roasted green beans with garlic. No matter what you choose to serve your minted lamb burgers with, you won't lose the taste of the lamb! Enjoy and let me know how this recipe works out for you.
Print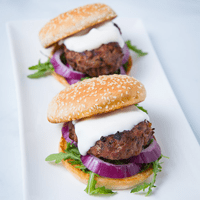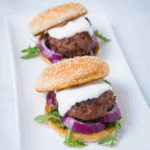 Minted Lamb Burgers
---
Description
Minted lamb burgers will make a traditional burger a thing of the past. Learn about the best 5 toppings for a lamb burger recipe. Start enjoying lamb today!
---
450g

(1lb) lamb mince

4

garlic cloves, peeled and crushed

1/2

onion, peeled and grated

30

ml (2 tbsp) fresh mint leaves, washed and finely chopped

salt and pepper, to taste

4

burger buns

60

ml (4 tbsp) plain yogurt
---
Instructions
Place all the ingredients, minus the burger buns, in a big bowl and mix until everything is well combined.

Divide the lamb mixture into four even portions then shape them into patties.

Fire up the barbecue and cook for 4 minutes on each side, or cooked to desire.

Halve the burger buns and butter them if you wish.  

Jazz up your burger any way you please. E.g. Use lettuce, red onion slices and add a dollop of yogurt on top of the lamb burger patty.
Prep Time:

20 minutes

Cook Time:

10 minutes

Category:

Main Course

Cuisine:

British
Nutrition
Serving Size:

1 serving

Calories:

460

Sugar:

3.3 g

Sodium:

463 mg

Fat:

20.6 g

Saturated Fat:

9.3 g

Carbohydrates:

42.6 g

Fiber:

2.6 g

Protein:

25.5 g

Cholesterol:

3 mg
save the recipe to your pinterest board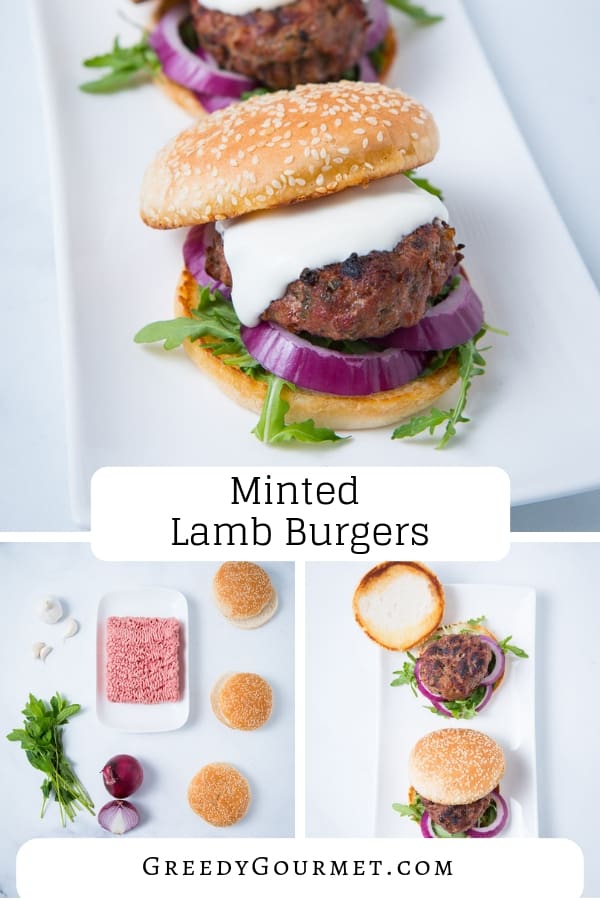 P.S: This is a sponsored post