The tuna stuffed avocado is a true retro dish that can easily make a comeback in any modern kitchen. For me it actually never ran out of style. It is a very simple, low carb lunch or dinner which can be easily jazzed up. It was very popular around the 70's and 80's, but I feel that amazing food can never be forgotten. What I love most about this recipe is its total simplicity when it comes to the preparation process. All you need is a soft, ripe avocado with no bad spots and some tuna of your liking. Combine with some onions, herbs and spices and you are good to go. Works well in other combinations as well.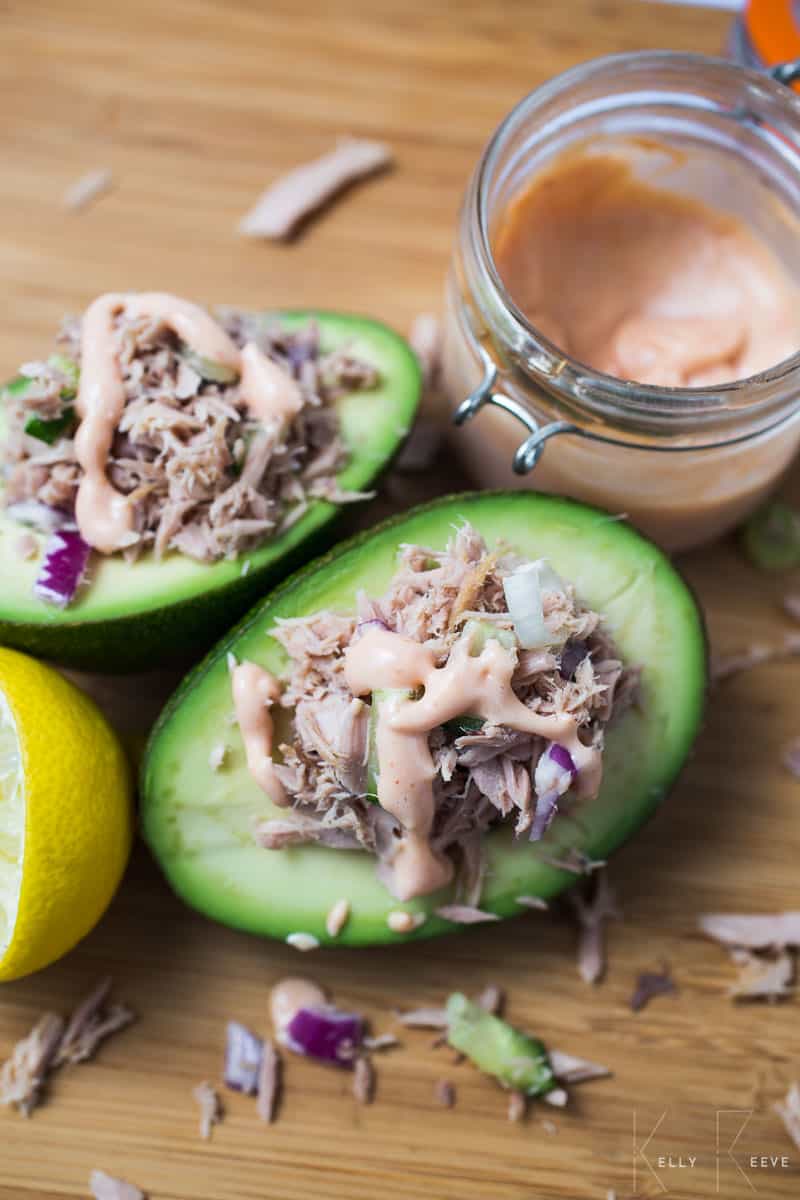 tuna stuffed avocado
Nobody really knows the exact origin of the tuna stuffed avocado phenomenon. There was a large buzz around it in the 1970's along with the appearance of the shrimp cocktail. These two classics have since then remained popular dishes with the latter still regularly featuring on British restaurant menus. Did you know that the tuna stuffed avocado is also referred to as tuna avocado boats? If you don't know what tuna stuffed avocado is, then the reference to the boats is pretty self-explanatory.
Basically, you halve an avocado and scoop out some of the interior with a spoon creating a bigger pit. You then mush up the avocado with tuna and some finely cut red onions. The general spices used to season the tuna stuffed avocado are salt, black pepper, sometimes cumin and a bit of lemon juice. Once these are mixed in a bowl, they are then placed back into the avocado halves. Thus, the avocado serves as a 'boat', carrying the rest of the ingredients. Clever! What a great way to enjoy this high protein starter! Simply hold the avocado in your hand and eat away with a spoon.
sourcing the avocado
This is the key to mastering this recipe. You'll need to look for a perfectly ripe avocado that has that tender and smooth center we all love. I recommend going to a premium supermarket and looking for a luxurious large dark soft avocado. Remember, you want your avocado to be large enough so you can fit the other ingredients into it. I always like to test the avocado, so I press my thumb into the top. The general point is to find out whether the avocado is soft inside. The softer, the better. Otherwise, you'll have to wait a couple of days before you can use it for the tuna stuffed avocado.
possible variations
Would you consider adding bell peppers (of any colour), thinly sliced cucumbers, and perhaps cherry tomato halves? All these lovely ingredients can work fabulously with the tuna stuffed avocado recipe. I also like to add fresh herbs, like watercress or rocket salad, for that slight bitterness. You can also sweeten things up a bit by adding sweetcorn kernels. It would almost be like giving the tuna stuffed avocado a Mexican twist – just remember to add the cilantro!
If you feel like creating an Asian or Thai version of the tuna stuffed avocado, then you'll need the following ingredients. Add two table spoons of soy sauce, 1 finely diced garlic clove, juice of 1/2 of a lime and throw in some peanuts. Don't forget the fresh cilantro and the tuna! As a finishing touch, place the mixture back into the avocado and drizzle some sweet chilli sauce for those perfect Thai flavours.
Speaking of sauces, to blend all the ingredients together, I recommend using my fresh marie rose sauce. It fits perfectly with seafood and avocado. You can also use a few drops of the avocado oil mayonnaise for some extra flavour.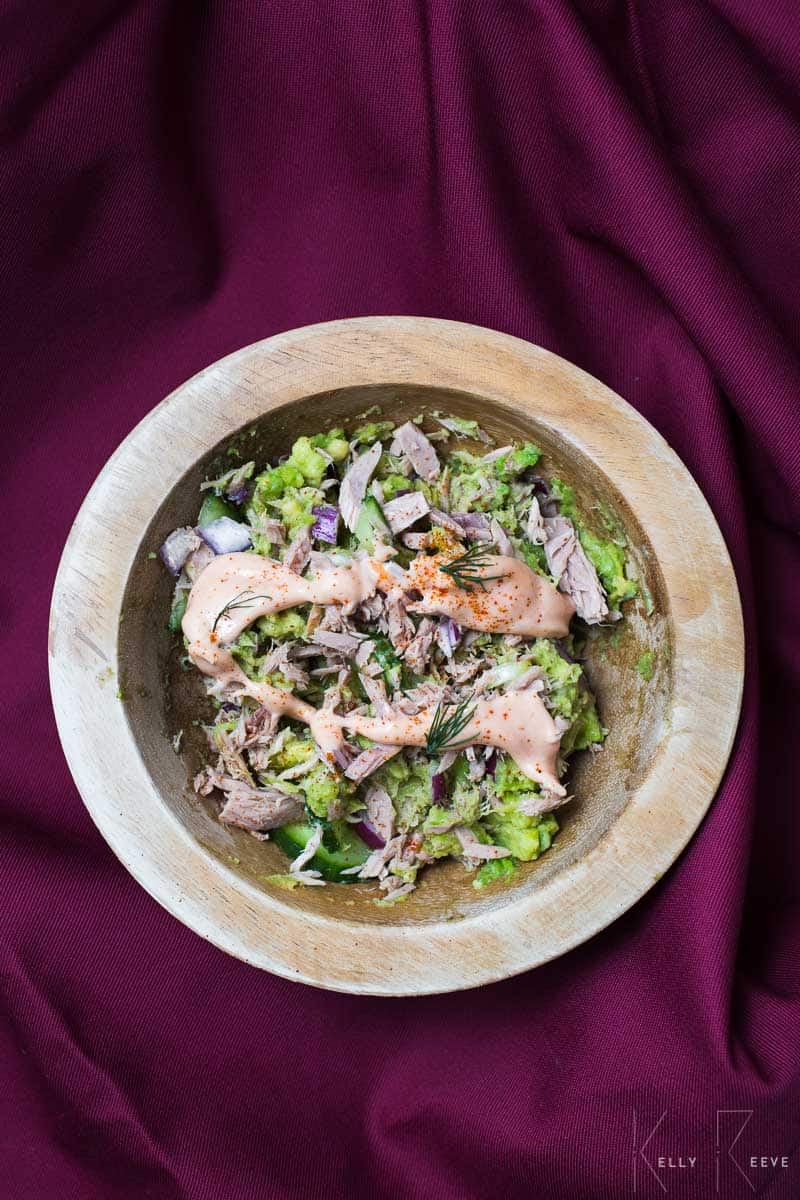 the tuna
Traditionally, canned tuna is used for this recipe and it needs flaking it into smaller pieces. However, being an ambassador for quality fresh produce, I highly suggest using fresh tuna steak. If you have a lovely piece of tuna, I would recommend cooking it sashimi style, i.e. pan-fried for 30 seconds on each side, leaving the inside raw. Just check out my post on fresh tuna and mango with lime noodles for inspiration. If you have such a quality fish, you can also make tuna tartare and mix it in with the red of the avocado, which is also a divine alternative.
Generally, when I have so many beautiful ingredients, I like to make as many delicious meals with it as possible. If you have any spare tuna steak leftover, you could use the rest of the ingredients to make a lovely nicoise salad. This consists of fresh tuna steak, avocado, tomatoes, bell peppers, onions, salad, olives and hard-boiled egg. As you can see, you only need a few more ingredients to make this work.
more ideas
You can put multiple twist on this tuna stuffed avocado recipe. First, you can place the mixture, with all the ingredients, into a sandwich. Simply spread it on some toasted white or whole grain bread and enjoy. You can also add a benedict style egg, as in my lobster benedict post, with that gooey egg yolk. Top it off with pea salad or watercress. You can also spread the mixture into rolls, however instead of lobster rolls you'll have tuna avocado rolls. If you want to keep this recipe gluten-free, then you can also create avocado tuna stuffed peppers.
serving
The original recipe can work as a starter if you serve one halve. In order to serve this as a main course, you'll need to double up on the portion and add a side salad. For example, you can add a cucumber salad with avocado and cashews or the simple mung bean salad will do the trick. If you want a more luxurious serving, you can turn the tuna stuffed avocado into a tian. Just build up the ingredients into separate layers. Bottom layer should include the mushed avocado, then add the onion layer, fish layer and some cucumbers and some herbs such as watercress. Don't forget a few drizzles of some sauce of your liking marie rose, ranch or honey and mustard salad dressing will do.
Print
Tuna Stuffed Avocado
---
60

ml (4 tbsp) mayonnaise or Marie Rose sauce

1

tin (4oz) tuna, drained

½

red onion, peeled and finely chopped

1

large avocado, halved and pitted
---
Instructions
Flake the tuna a small mixing bowl and stir in the mayonnaise and onion.
Season the avo halves and place each one on a plate.
Divide the tuna mixture evenly between the two halves and season to taste.
Notes
Adapt the recipe to your liking by adding cucumber, peppers etc. to spruce it up.
Prep Time:

10 minutes

Category:

Starter

Cuisine:

American
Nutrition
Serving Size:

1 serving

Calories:

354

Sugar:

3.6 g

Sodium:

227 mg

Fat:

29.8 g

Saturated Fat:

5.6 g

Carbohydrates:

18.3 g

Fiber:

7.3 g

Protein:

7.2 g

Cholesterol:

17 mg
save the recipe to your pinterest board
A special thanks to Kelly Reeve for assisting with the recipe shoot.