Remember my easy leek and potato soup? Well this is the vegan version! This vegan leek and potato soup is equally easy to make and doesn't require too much effort.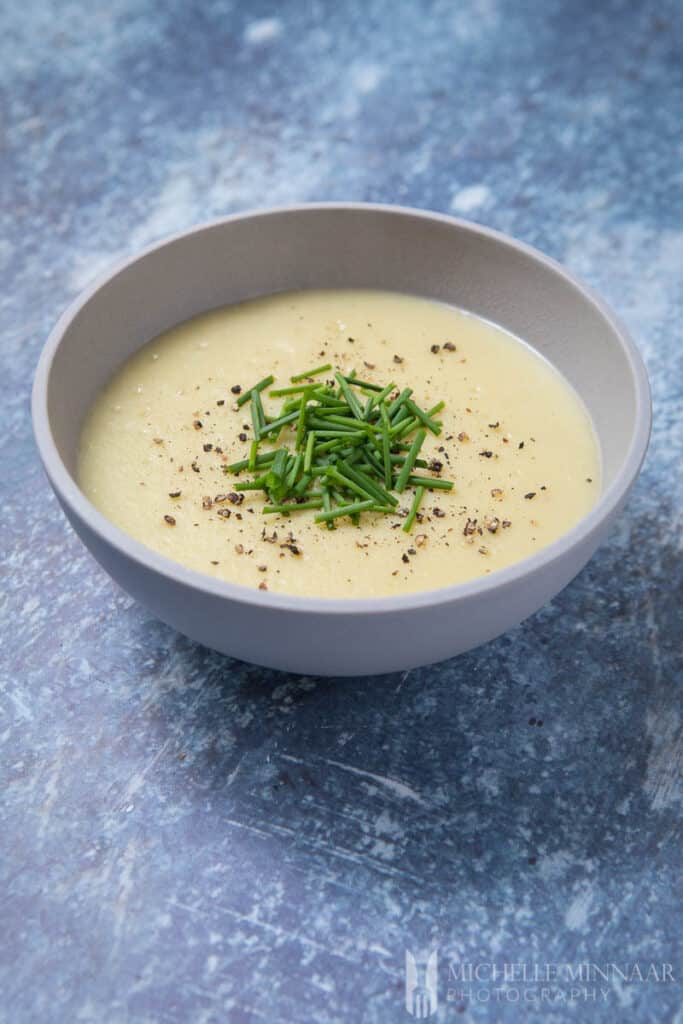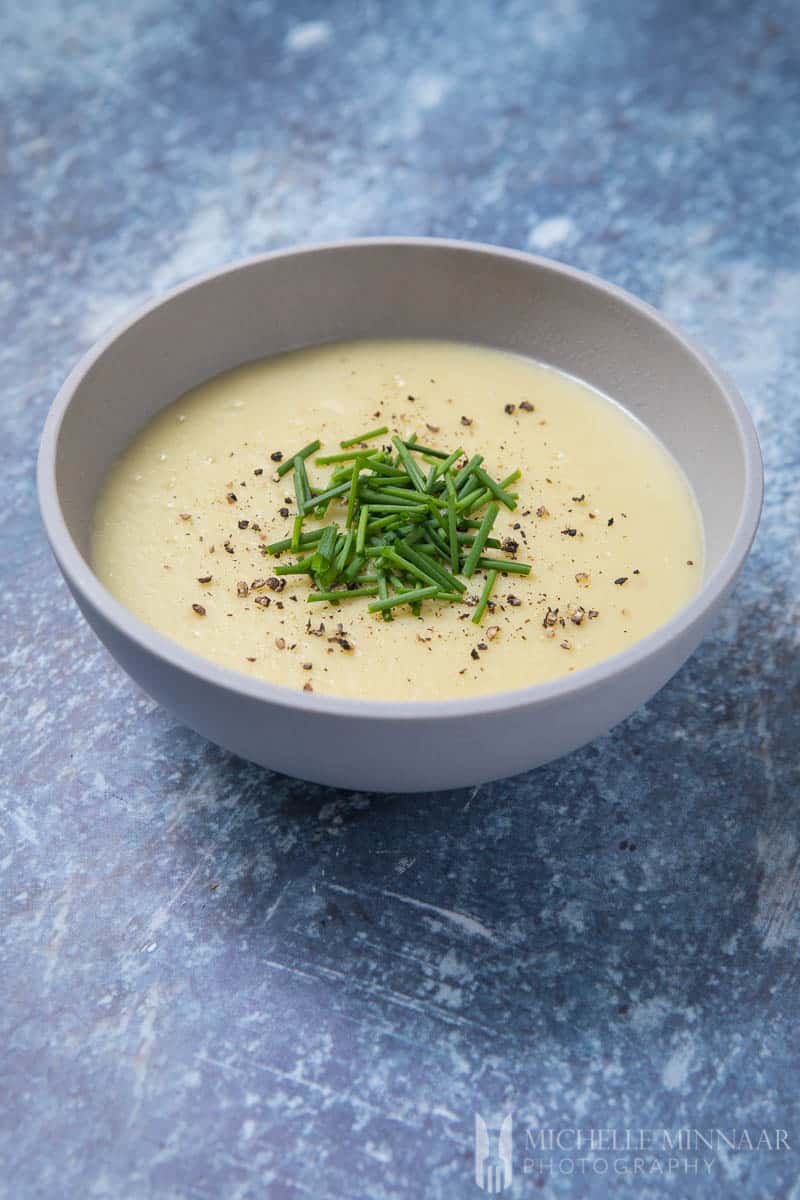 It is also creamy, rich and perfectly spiced – and yes, it's really vegan! Ultimately, this soup can convert anyone to loving vegan food.
In addition, it is a kid-friendly soup because it gets a subtle sweet tone from the leeks, so kids love it. Hence, it's a great way to get them eating healthily and make sure that they are getting their five-a-day! Don't you think so?
The leeks and potatoes are also accompanied by other root vegetables and herbs. In combination, they make a very tasty vegan option that you'll want to have a couple of times in the month.
This is especially true when it gets cold and the weather is a bit gloomy. So, let's go have fun, cooking this winter warmer recipe. If you want a lighter recipe, try this zucchini and leek soup.
vegan leek and potato soup UK
This vegan leek and potato soup is very easy to make. Even better, it is also very inexpensive. It uses everyday ingredients like leeks, potatoes, celery sticks, garlic and onions – and that's it!
However if you can't find any celery, feel free to check out some celery alternatives!
To jazz up the flavour of this little number, fresh chives are added for the simmering process. As you can see, this soup is a keeper when it comes to making healthy and budget-friendly meals.
All in all, this vegan soup is everything you are looking for! It's comforting, it's rich and super-satisfying! Plus, if you haven't used leeks in a soup before, then you're in for a treat!
making soups with the Wesco Kickmaster
Now, I don't know about you, but when I make soups I tend to be quite messy in the kitchen – especially when the recipe calls for some cutting, dicing or peeling.
Certainly, I never seem to enjoy struggling to dispose of the scraps in the kitchen bin. However, I must admit with my new Wesco Kickmaster 33L bin, I am loving every part of the cooking process!
First of all, I love that the design is very retro and unique. The sturdy, chrome-plated pedal allows the shells to open efficiently, so you never have to use your hands to open the lid.
I particularly love the glide effect; how it shuts and opens so smoothly when you step on the pedal. It makes every trip to the bin a fun experience (plus my kids love it, too).
It is easy to clean as the 33-litre metal insert is removable. Also, another one of its innovative features is the integrated damper. The damper regulates the closing and opening process of the lid.
Overall, it is very spacious and perfectly elegant addition to any kitchen. The best part is that the design comes in 13 different colours so you can easily match it to your own kitchen. Check out the Wesco Kickmaster here for more information.
vegan leek and potato soup – chunky
If you wish to make this soup more chunky and more filling then add as many potatoes to match your desired consistency. Remember, potatoes are a thickening agent so if you add too much of them they might turn your soup into a stew.
Nevertheless, potatoes are the ultimate comfort food and they blend up really well to create that creamy effect in soups. For example, the potato was the perfect addition for my cauliflower and potato soup.
The same can be said about sweet potatoes, and these also give the soup a very beautiful colour. Just check out my slow cooker sweet potato soup.
vegan leek and potato soup – with coconut milk or coconut cream
I know that when you think of vegan leek and potato soup, the term creamy doesn't really come to mind. It should though!
Even if you make vegan soups, they too can have the same creamy effect as a cream-based soup. The secret to making vegan soups creamy is to add coconut cream (not coconut milk).
The cream of coconut is the unspoken secret that practically all vegans follow when making soups or curries. It's something that you can do time and time again to make a normal soup vegan.
For example, you can try it with this easy carrot soup. Coconut cream isn't only for making Asian-inspired soups!
vegan leek soup with no potato
If you want to avoid using potatoes, you might think that this vegan leek and potato soup recipe is doomed. You couldn't be more wrong.
There are plenty of things you can do to salvage this recipe and not use potatoes. First, you can substitute the simple potato with swedes or turnips.
These will be more or less the same as regards colour. In terms of taste, they are not as starchy but, still, you will notice their subtle flavours.
For extra creaminess, I recommend adding an entire avocado. Also, it's a good idea to stock up on those essential fats that the avocado is well known for.
Otherwise, if you feel like you still want a thick consistency, but just not at the expense of adding potatoes, then use split peas. I've used split peas in a vegan split pea soup before, and it yielded excellent results.
If you've got leftover leeks, use them in a delicious chicken and leek risotto recipe, or you can make fresh creamed leeks.
how to season a vegan soup
To enhance the flavour of this vegan leek and potato soup, add fresh chives during the cooking process. You can also consider adding thyme for a more seasonal effect.
Add oregano for a more Mediterranean twist. Next, you can also consider adding some chilli powder or cumin for extra flavour. I can also recommend ground coriander.
There are also a couple of ways for you to thicken a soup. Especially if you think the consistency is a bit runny. You can try adding a spoonful of the following:
You can also always add a sausage to make it more meaty. For instance, fried andouille sausage work fabulously. Otherwise, try any one of these andouille sausage substitutes.
leek and potato soup toppings
First, top the vegan leek and potato soup with any herbs you might have already used during the cooking process. These include chives, thyme, oregano, basil, parsley, watercress and more.
However, to add a bit of crunch in your spoonful, consider adding nuts like cashews or walnuts. Pumpkin seeds also work well and are very nutritious.
Lastly, I absolutely love adding croutons on top of my soup. You can easily make these on your own – just make sure you follow a vegan recipe. Otherwise, look for pre-packaged vegan croutons in the supermarket.
More smooth vegetable soup recipes
Need some more soup for the soul? Check out these divine recipes.
Print
Vegan Leek and Potato Soup
---
Description
Make this tasty vegan leek and potato soup recipe. It is creamy, perfectly spiced and absolutely vegan! Read more on the different variations of this soup.
---
30

ml

(2 tbsp) vegetable oil

1

onion, finely chopped

3

leeks, white part only, chopped

1

stalk celery, chopped

1

clove garlic, finely chopped

200

g

(7 oz) potatoes, peeled and chopped

750

ml

(3 cups) vegetable stock

250

ml

(2 cups) almond milk

30

ml

(2 tbsp) chives, roughly chopped
---
Instructions
Heat the oil in a large, heavy-bottomed saucepan and add the onion, leek, celery and garlic.
Let the vegetables sweat over a low heat until they are softened but not browned. This will take about 12 to 15 minutes.
Add the potato and stock and bring to the boil. Reduce the heat and leave to simmer, covered for 20 minutes.
Allow to cool a little before puréeing in a blender or food processor. Return to the clean saucepan. (If you have a hand blender there is no need to wait. You can blend the soup immediately.)
Bring the soup gently back to the boil and stir in the milk.
Season with salt and pepper and reheat without boiling.
Serve hot or well chilled, garnished with chives.
Notes
Check out one of these leek substitutes if you're having a hard time getting a hold of them.
Prep Time:

15 minutes

Cook Time:

40 minutes

Category:

Main Course

Cuisine:

Welsh
Nutrition
Serving Size:

1 serving

Calories:

303

Sugar:

7.1 g

Sodium:

636 mg

Fat:

22.8 g

Saturated Fat:

14.9 g

Carbohydrates:

24.4 g

Fiber:

4.5 g

Protein:

4.3 g
GIVEAWAY
This week one winner to receive a Wesco Kickmaster retro styled 33 L bin.
Add style and colour to your home by entering this competition to win one of Wesco's retro styled Kickmaster bins. It combines everything about Wesco; vibrant colour, distinctive design and lasting quality. The Kickmaster 33L bin has been designed with a stainless steel central opening top that is foot operated by a sturdy chrome plated pedal. As the pedal is pressed the two shells which form the lid will open, allowing a hands-free operation.
The shells are edged with a rubber strip sealing in any odours. The innovative feature of an integrated damper regulates the closing and opening of the lid and assures a smooth, silent operation. The Kickmaster has a 33 litre removable metal insert allowing for ease of emptying and cleaning.
To access the inner bin the outer shell is removed by using the handles at the side and lifting the outer shell up and over the metal inner bin which rests on the floor.
EXTERNAL SPECIFICATIONS
Height: 690mm
Depth: 375mm
Capacity: 33L
Width: 375mm
Like what you see, then check more of Wesco's unique range of kitchen and bathroom products which will give your home stylish individuality without compromising on quality and performance and all available in an extensive range of exclusive desirable colours.
Entering is easy, just follow the instructions below.
Competition Question: Which new vegan recipe did you discover this Veganuary?
HELP
Here you can find a tutorial how to enter with Rafflecopter.
If your form is not showing, try refreshing the page.
Complete the form, otherwise your entries will not count.
Make sure the mandatory entries (e.g. leave a blog comment) are completed first.
Don't forget to come back daily for extra entries via Twitter.
If you're viewing this post by email, please come to the actual webpage to enter.
save the recipe to your pinterest board
P.S. This is a sponsored post.