Once you've had avocado oil mayo, you'll never go back to the traditional heavy stuff! This avocado oil mayo is much lighter, tastier, and let alone healthier! Trust me, you'll want to master this avocado mayo recipe as soon as possible. Besides, making homemade avocado mayo is a piece of cake. All you need is a few ingredients and some seasoning. The best part is that you can use this avocado oil mayo as a spread on bread. Or, with pasta, or you can even use it as a sauce for extra flavouring.
avocado oil mayo vs regular mayo
Before I start getting into the details of how to make homemade avocado oil mayo, there are a few things you need to know about mayonnaise first. Do you know what a traditional mayonnaise consists of? Admittedly, for years I've opted for the store-bought stuff in jars and I never really reflected what ingredients actually make up a traditional mayonnaise. First of all, standard mayonnaise is also informally called "mayo".
Mayonnaise is a thick, creamy sauce that comprises an emulsion on oil, egg yolk and some form of acid. The acidic element can be either plain vinegar or lemon juice. Actually, you can use various types of vinegars such as white wine vinegar, apple vinegar, rice vinegar, and more. The difference between traditional mayo and this avocado oil mayo recipe is that I use avocado oil instead of vegetable oil. Plus, I added a hint of Dijon mustard.
When it comes to taste, expect a slight difference as well. For example, this avocado oil mayo is more tangy and has a sharpness to it as a result of the Dijon mustard. You can leave out the mustard element or you can also just put a hint of it inside for a bit of flavour. In addition, compared to the traditional mayo, this one is much silkier and fresher in flavour.
all you need to know about avocado oil mayo
Nonetheless, let's go back to mayonnaise for a second. Mayonnaise made its first appearance in the 19th century. Back then, it was referred to as bayonnaise, which was used for poultry and fish salad. The original recipe called for tarragon oil, minced ravigotte, parsley, mustard and aspon which was then mixed with fish. Doesn't quite sound like the mayonnaise we know and eat today, does it? Besides, today we have so many varieties to choose from, such as this avocado oil mayonnaise. To discover more information about mayonnaise, click right here.
how to make homemade avocado oil mayo
What is the secret to making the perfect and ultimate homemade avocado oil mayo recipe? Well, the secret actually lies with the selection of oil. Luckily, avocado oil is one of the best oils to use for mayonnaise. Standard sunflower oil will give you a very similar consistency to that of commercial mayonnaise. However, it faults in delivering a homemade or specific flavour.
In comparison, avocado oil is quite low in acidity so you might want to add a few more drops of lemon juice. Plus, it adds a certain nutty element to the mayonnaise. To make this avocado oil mayo even healthier, try using virgin avocado oil, where the green coloured avocado oil may even add more sharpness. How often do you serve green mayo without actually mixing in an avocado?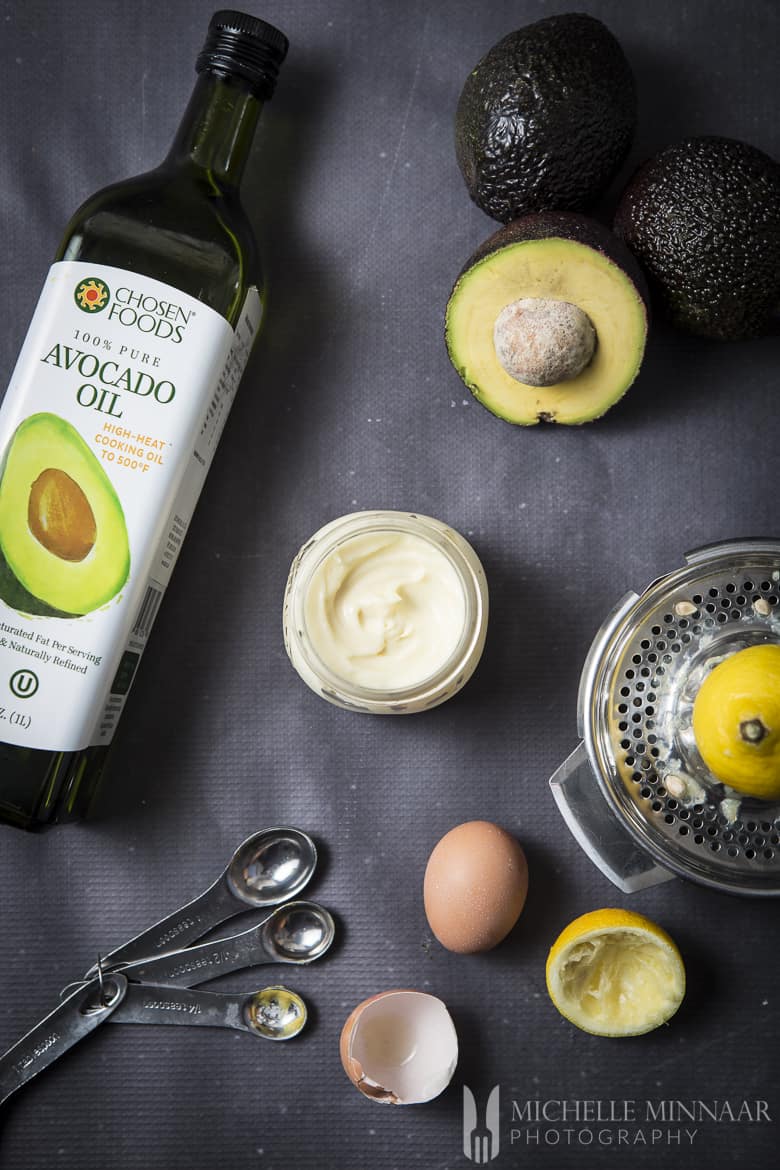 homemade thick avocado oil mayonnaise
If you haven't got avocado oil at home, you can also substitute it with virgin olive oil, ghee, sesame oil, grape see oil, or macadamia nut oil. You can also use coconut oil but make sure you use the unscented version. Otherwise, you'll end up with a highly aromatic flavour that might be somewhat undesirable.
The best part is that you can use leftover oils when preparing salad dressings or delicious smoked meat salads. Sometimes, I also like to sprinkle a bit of these aforementioned oils over toasts, garlic bread, roasted vegetables, or oven baked fish. Otherwise, I recommend buying two or three different varieties of these oils and experiment which mayonnaise you like the best. Beware, different oils will yield different results as far as consistency is concerned.
Now, to get the best results for a thick and silky homemade mayonnaise, the most important thing is patience! When you are making homemade mayonnaise you have to whisk in the oil super slowly, otherwise, the ingredients will not emulsify. Keep a slow and steady pace while whisking and pouring the oil in. If you whisk it too fast, your avocado oil mayo will undoubtedly break.
In addition, the best and thickest homemade mayonnaise recipes require a hand whisk, not an electric blender. The hand whisking technique will allow the avocado oil mayo to "breathe" and get that luscious thickness you yearn for. The electric blender will yield a thinner consistency.
how to fix homemade mayo
Now that you know how to make the best homemade thick mayonnaise, now comes the hard part. A top mayonnaise chef needs to also master the technique of how to fix a broken mayonnaise. Don't worry, this has happened to the best of us. You haven't made homemade mayo properly until you've hhadat least one broken mayonnaise experience. Now, what do you need to do if your avocado oil mayo breaks?
If your avocado oil mayo breaks and is a bit thin, add two teaspoons of boiling hot water. The hot water will re-emulsify the oil and bind all the ingredients back together again. Otherwise, if your mayonnaise lacks that luscious thickness, add another yolk. Whisk in the yolk very slowly until you achieve the desired consistency.
Once you are done, it's time to enjoy the result of your hard work. Why don't you try mixing a bit of the avocado oil mayonnaise into the filling of this egg, mayonnaise and cress sandwich? Do you have the best mayo recipe? Tell me in the comments section!
How would you use avocado oil mayonnaise?
Print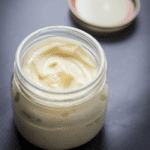 Avocado Oil Mayo
---
Description
Master this homemade thick avocado oil mayo recipe and you'll never go back to the traditional store-bought stuff in the jar. Learn all the tricks here.
---
2

egg yolks

1.25

ml (¼ tsp) salt

1.25

ml (¼ tsp) Dijon mustard

15

ml (1 tbsp) lemon juice

15

ml (1 tbsp) white wine vinegar

250

ml (1 cup) avocado oil
---
Instructions
Place the egg yolks, lemon juice, vinegar, salt, and mustard in a food processor and blend until combined and thickened.
While the food processor is running, slowly pour in a thin stream of oil. The mixture should start thickening immediately. The mayonnaise is ready when you've added all the oil.
Notes
Some might find the mayonnaise slightly tangy, in which case, lessen the amount of lemon juice and vinegar slightly.
Nutrition
Serving Size:

1 serving

Calories:

211

Sodium:

64 mg

Fat:

23.4 g

Saturated Fat:

3.3 g

Cholesterol:

42 mg
save the recipe to your pinterest board