I am great fan of eating the seasonal vegetables. This way you get the ingredients that at the time when they are at their best.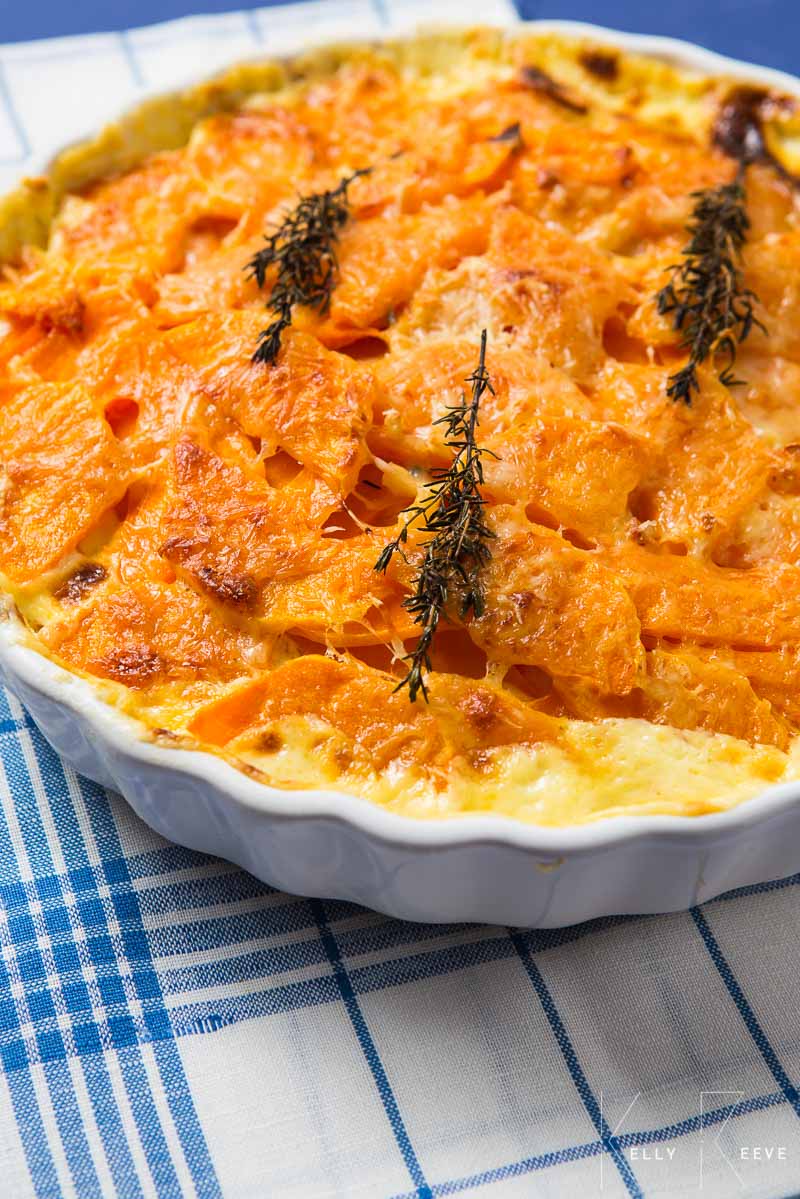 It's not environmentally-friendly and healthy, but the produce taste better as well. Autumn has many great ingredients to offer which you should definitely take advantage of.
Mushrooms of all sorts, chestnuts and kale for instance are all in their prime right now. So are pumpkins.
The butternut squash is a particularly delicious autumn vegetable that I want to use a little differently to create this recipe. With this on the dinner table, the horrible weather outside is not going to bother you one bit.
If you love heavy dishes, as an alternative, you can definitely go for the sweet potato gratin.
My butternut dauphinoise is a new spin on the French classic gratin dauphinoise. The French dish is usually made with potatoes, but this version with butternut squash is something else.
The nutty squash marries well with the French flavours of garlic, cream and gruyere cheese and I guarantee that this dish will warm your heart as well as your stomach during the cold winter months.
butternut squash
So what exactly is a butternut squash? Is it a pumpkin or a squash?
Well, although the butternut squash has yellow flesh, it is not a pumpkin. It is a so called winter squash, originally coming from North America.
What differentiates it the most from the summer squashes or courgettes, is the skin. When left on the vine to mature, the outer skin becomes hard, developing a protective shell around the flesh.
For the same reason, the butternut squash and its likes were treasured by the Native Americans.
The hard skin prevents the soft inner flesh from rotting thus the vegetable can be kept for a long time. A very beneficial feature back then before the comforts of the modern world we enjoy today.
Luckily, nowadays the butternut squash has also made its way to Europe, and is widely available, even out of the season.
However, if you want fresh locally grown butternut squash, you should head to your local farmers' market because now is the time to get them.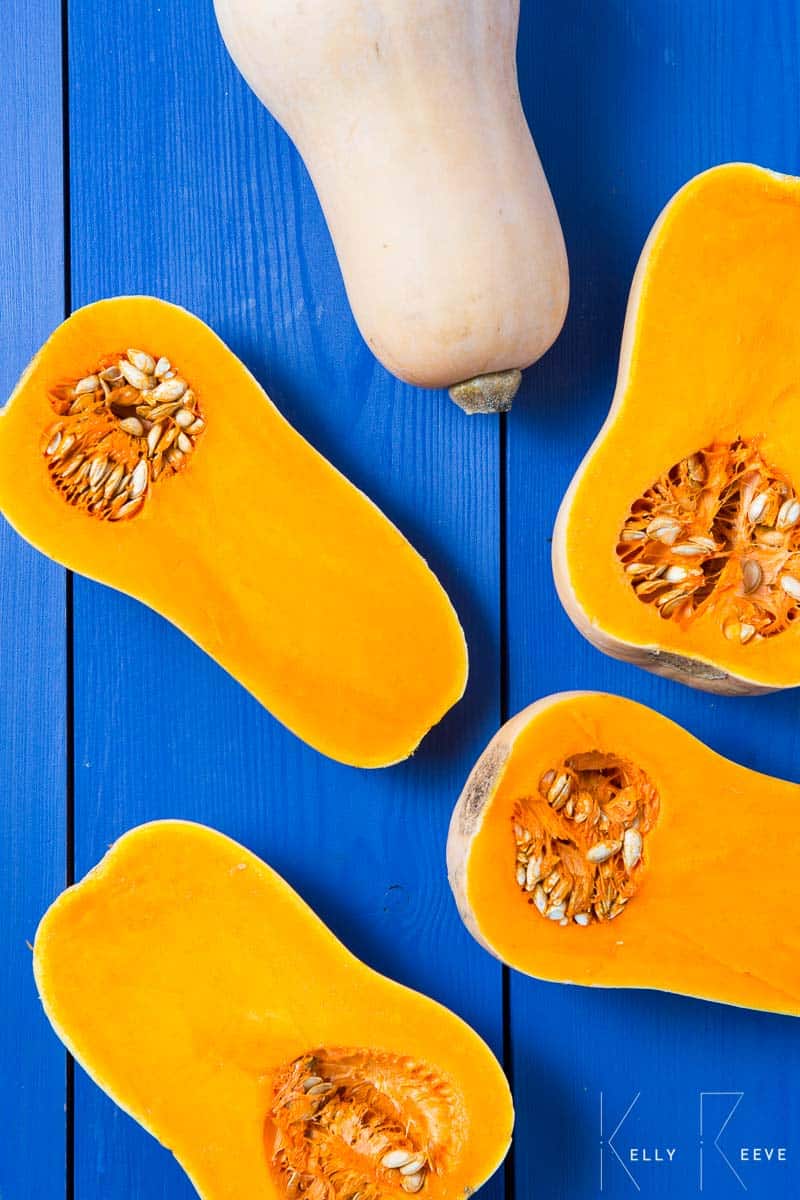 grow your own
If you have a vegetable garden you can simply grow them yourself! Obviously, it is too late for this year, but if you prepare in time, you can have your own home grown butternut squash for next season.
In the spring, as soon as the danger of frost has passed you can start the growing process. If you live in a colder place where the growing season is short, you can start off a few weeks early indoors or in a greenhouse.
Thereafter, plant the squash in the garden. The butternut squash plants need quite a bit of space around them so make sure you leave plenty around each plant.
It can have vines up to 15 feet long. The reward however is that each plant will be able to bear between 10 and 20 squashes!
Once you harvest them in the autumn, all you have to do is store them somewhere dark and cool.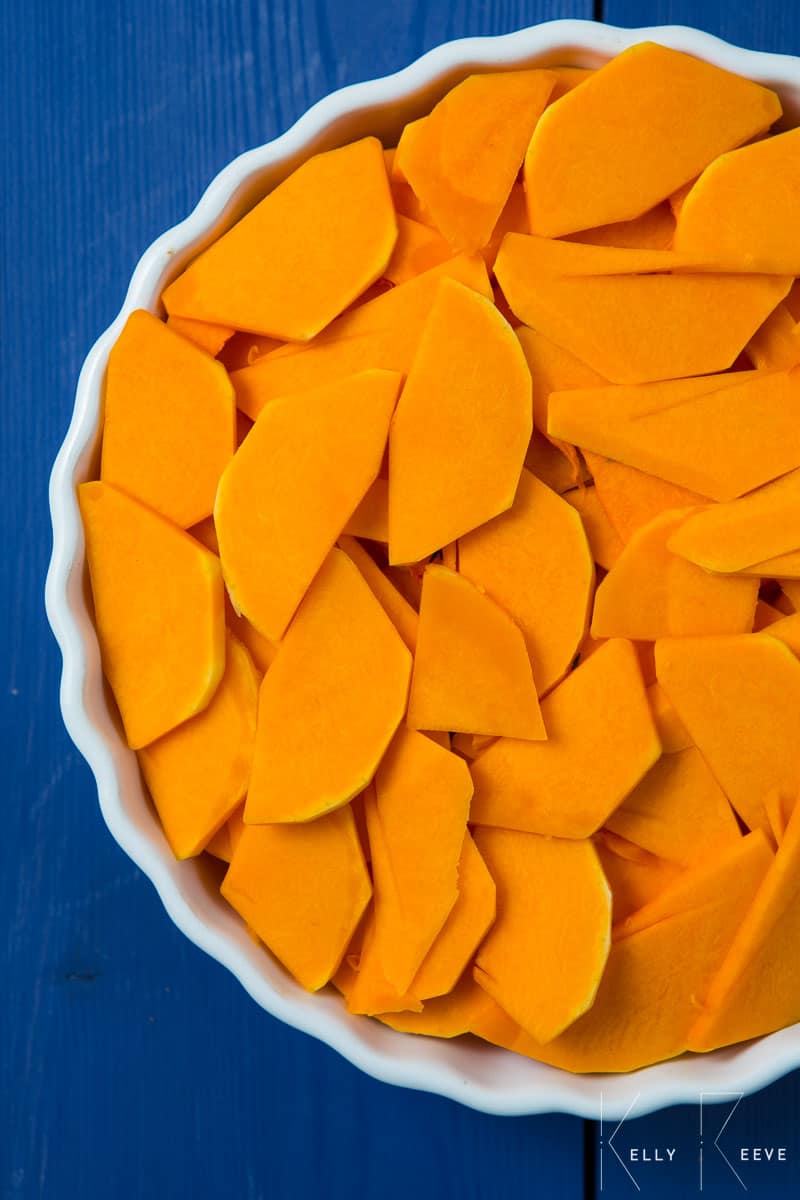 other uses for butternut squash
Butternut squash is actually a versatile ingredient. You can do so many things with it, like roasting or pan frying it with butter.
Apart from the dauphinoise, one of my favorite things to prepare from butternut squash is a creamy soup.
Try a beautiful hearty creamy soup from butternut squash topped off with a sprinkle of crispy fried bacon and chopped chives. It will be just the thing you need after a long day.
You can use butternut with pasta, in a risotto or blended and served as a puree with meat. It goes fantastic with venison.
You can even cut the squash into wedges or fries and oven bake them, as an alternative to the usual potato wedges. If you have come up with a brilliant use for butternut squash please leave a comment below.
seasoning
I seasoned my butternut squash dauphinoise with only a little garlic and thyme. There are more herbs you can use that complement the flavour of the butternut squash.
If you still have fresh herbs in your garden, now is the time to make use of them before the frost starts to set in. As always, seasoning is a matter of taste, but for butternut squash I would particularly recommend oregano and sage.
We tend to not use sage very often in modern cooking and I find that a shame. It's an absolutely delicious herb when paired with the right ingredients.
Butternut squash is one of sage's very best friends. Be careful not to overdo it though, as sage is quite powerful in flavour. The same goes for nutmeg or cinnamon.
Also a very nice combination, but it has to be used very subtly. Otherwise, you will end up with a dauphinoise tasting more like a dessert than a savoury dish.
serving
The butternut dauphinoise can be served either as a side dish with meat or by itself. It goes well with many types of meat, but I quite like it with darker meats such as beef or venison.
However, it can just as well be served with pork or a roasted chicken. If you want to serve it on its own, I recommend serving it with a green salad, and perhaps a piece of bread.
A tip is to incorporate some rocket salad and walnuts into the salad to have a little sharpness and bitterness to go up against the creamy dauphinoise.
More side dish recipes
Roast marrow makes for a great side dish that will complement this recipe
Print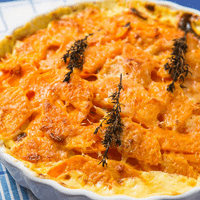 Butternut Dauphinoise
---
---
1

large or

2

small butternut

300

ml (½ pt) double cream

2.5

ml (½ tsp) salt

100

ml (3fl oz) milk

1

garlic clove, crushed

3

oregano sprigs

15

ml (1 tbsp) butter

60g

(

2 oz

) Gruyere cheese
---
Instructions
Preheat oven to 190°C/170°C fan/gas 5.
Place the butternut in the microwave and zap it for 5 mins. This will make peeling the vegetable much easier!
Peel the vegetable and remove the seeds.
Either use a food processor or cut the butternut in thin slices by hand.
Place the cream, salt, milk, garlic and oregano in a small saucepan and warm gently.
Grease an ovenproof dish and arrange the butternut slices and pour over the creamy sauce.
Cover with the dish with foil and place in oven and bake for 25-30 minutes.
Remove the from the oven and remove the foil.
Top the butternut with cheese and place in the oven again. Bake for another 25-30 mins.
Serve with a green salad or roast meat.
Nutrition
Serving Size:

1 serving

Calories:

262

Sugar:

1.4 g

Sodium:

215 mg

Fat:

24.6 g

Saturated Fat:

15 g

Carbohydrates:

6.3 g

Protein:

5.2 g

Cholesterol:

87 mg
save the recipe to your pinterest board
A special thanks to Kelly Reeve for assisting with the recipe shoot.