Have you ever wondered what clarified butter is and how to use it?
Until recently, I've never bothered with clarified butter. If it came up in a recipe I would simply use the standard version instead or if it was a critical ingredient to a recipe such as in a Hollandaise sauce, I simply skipped the recipe altogether. I'm sure I'm not alone on this front.
When I received an invitation to do a masterclass with hot-chef-in-town Tom Sellers at his Michelin-starred restaurant, Story, curiosity got the better of me and I jumped at the opportunity. Beforehand, I ran a Lurpak voucher giveaway where readers could ask any questions they had about clarified butter. After perusing all the questions, I compiled them all into the set of questions that will be answered shortly below. The funniest question of the lot was when a reader asked whether clarified butter would keep her christmas pudding moist, to which all the chefs' heads whipped up with cheeky smiles suddenly listening intently to the conversation. Tom's answer? Yes, but more alcohol would help too.
Afterwards, we got to try two types of fillet steak, one fried in rapeseed oil, the other in clarified butter. The difference is subtle but the butter-fried version definitely had a more beefy flavour. The chips were deep fried in clarified butter and the result simply stunning.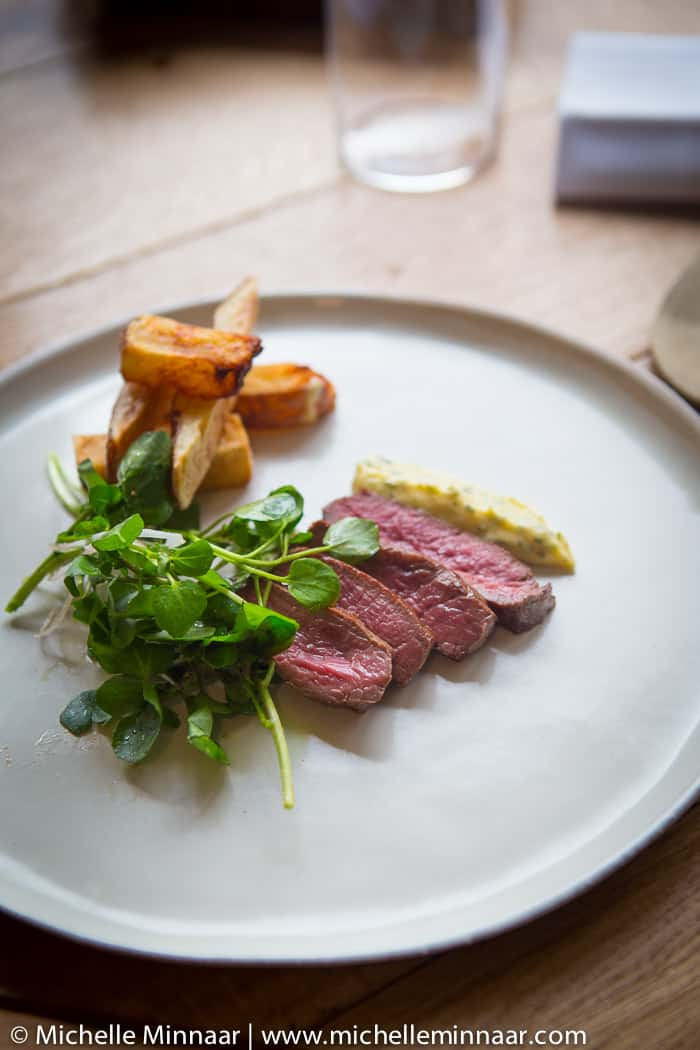 What is clarified butter?
Clarified butter is butter that has been melted in a pot and then practically boiled. In the process, the butter's water content evaporates and the milk solids separate from the actual fats. The milk solids float to the top and is scooped off, which leaves you with 100% fat. It contains no additives.
How does it differ from normal butter?
Normal butter contains water and milk solids and its fat content hovers around the 80% mark. Clarified butter contains 100% fat.
Due to the milk solids, normal butter has a shorter shelf life and only lasts about 2 weeks in the fridge, whereas its counterpart keeps for 2 months.
Clarified butter has a higher smoke point because it's the milk solids in plain butter that causes it to burn easily.
Clarified butter is different in taste and has a velvety texture.
What is the difference between clarified butter and ghee?
Ghee is also butter that bubbled away and its water element evaporated. The big difference is that the milk solids weren't removed and ended up blending back into the fat and caramelised, which is where its nutty flavour comes from.
Ghee is traditionally used in curries but clarified butter can be used too. In the grand scheme of things, it doesn't make a huge difference.
Is it better than Extra Virgin Olive Oil?
Olive oil is made of olives and in comparison to other oils have a very strong flavour, whereas butter is more versatile and can be matched with more ingredients.
Currently, in the health world there is an uproar about "good" and "bad" fats. It turns out all these "low fat" products were just a gimmick and butter is not so bad after all.
How do you use clarified butter?
Clarified butter is used a lot in French cooking. It can be used in preserving, such as potted prawns and pâtés. Surprisingly, it can be used for deep-frying, which turns out to be a very decadent cooking method. Pan-fry and sauté also work. It is a must in sauces like Hollandaise and Béarnaise.
If all else fails and you're too lazy or feel a bit intimidated to attempt making your own clarified butter, Lurpak has brought out its Cook's Range. There are four products, each one with a different application: Baking, Cooking Liquid, Cooking Mist and Clarified Butter. The latter is the real deal.
Happy cooking and experimenting!
P.S. This is a commissioned post.