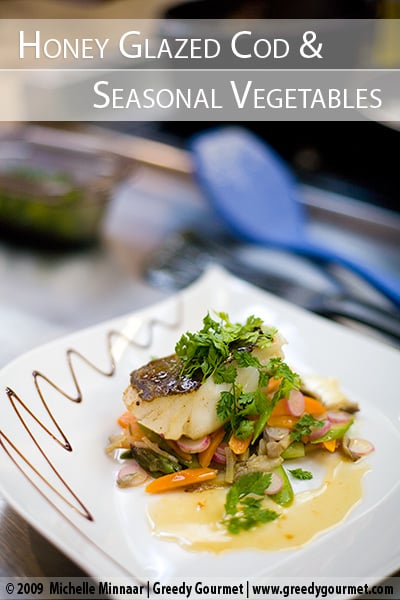 After we prepared the Ch'tiramisu we got started on the main meal which in French is called Pavé de cabillaud au miel de fleur de bière, palette colorée de légumes de saison. It is a very simple yet nourishing dish from Northern France that was enjoyed with some white wine and bread on the side.
Now this is how I would like to cook every day.
All the ingredients neatly laid out, ready to be massacred.
I think Sarah has to hang out more often at my house to pose as a hand model in my food shots.
We worked in fours and in a very short timeframe chopped all the vegetables.
One trick we learnt in the class was in order to get a crispy skin on chicken or fish, you put the oil and meat in a cold pan and gently heat the pan until all is sizzling. That way you avoid burning the food. The same applies to duck breast but minus the oil because duck skin oozes fat anyway. This technique also works on vegetables.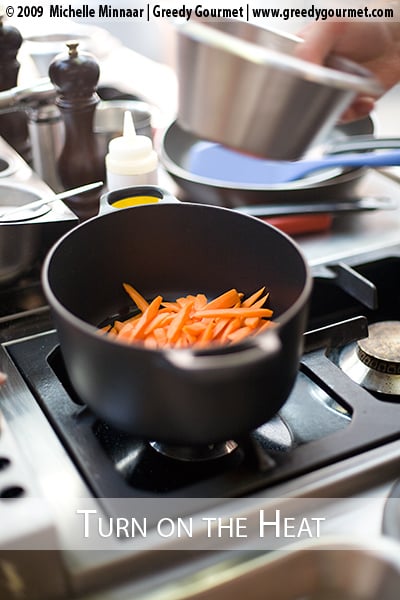 There is a reason you haven't seen many fish recipes on Greedy Gourmet thus far. As much as I enjoy a good piece of fish once or twice a week I am no expert at cooking it. Sometimes the fish, for example Hake, falls to pieces and at other times it just doesn't look presentable at all. So when The Chef asked for volunteers my hand shot up in the air quicker than fireworks on Guy Fawkes Night. Soon afterwards doubt set in, since I was responsible for three other people's food who would be anything but pleased if I made a dog's dinner of it all. Luckily The Chef was very attentive and with his help I pulled it off which gave me much more confidence.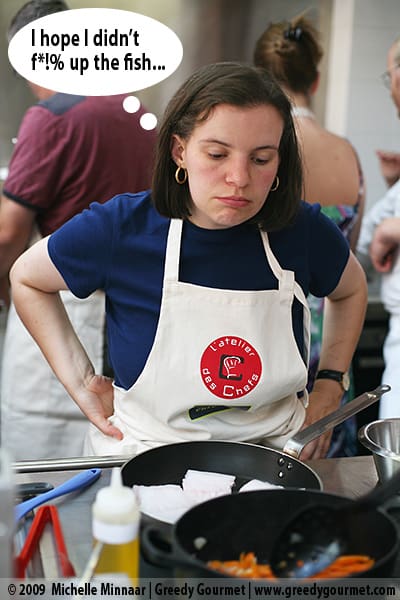 In a blink of an eye the food was prepared.
The Chef gave us some pointers on professional presentation.
It looks so sophisticated but in reality it is easy.
In true food blogger style cameras were clicking and flashing away before anyone touched their food.
Some bloggers loved and others loathed the dish. As someone with a sweet tooth I am in the former category and will drizzle honey over anything any day. To each his own!
To be continued...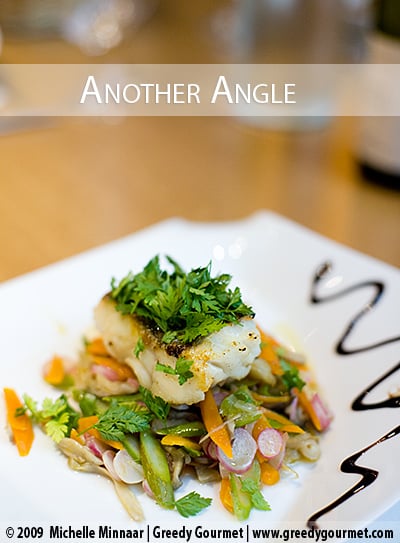 Print
Honey Glazed Cod with Seasonal Vegetables
---
30

ml

(2 tbsp) of honey

30

ml

(2 tbsp) sherry or flower beer

30

g

(1 oz) butter

1

shallot, finely sliced

1

bunch of asparagus, cut into thin diagonal strips

1

bunch of carrots, washed and thinly sliced

1

bunch of radishes, washed and thinly sliced

250

g

(1/2 lb) oyster mushrooms, roughly chopped

1/4

bunch of Chervil, chopped

50

ml

(3 tbsp) olive oil

6

pieces of cod, about 150g (

5oz

) each
salt and pepper to taste
---
Instructions
Mix the honey and sherry/beer in a bowl and set aside.
Sauté the shallot, carrots and asparagus for 4 to 5 minutes in a skillet with a knob of butter and a pinch of salt. Add radishes and cook 2 minutes. Add the mushrooms and cook for another few minutes. Sprinkle with chervil.
In a skillet with a drizzle of olive oil, brown the skin side of the cod for 3 minutes and season with salt and pepper. Lower the heat and lacquer the skin with the honey and sherry/beer mixture. Continue to cook for another 2 to 3 minutes.
On each plate, serve a bed of crisp vegetables, place the cod on top and drizzle with sauce. Garnish liberally with chervil.
Notes
You can also prepare this dish in advance by initially browning the cod in the pan, then finish cooking in the oven at 200°C/fan 180°C/gas 6 for 3 minutes with the honey and sherry/beer mixture later.
Prep Time:

15 minutes

Cook Time:

30 minutes
Nutrition
Serving Size:

1 serving

Calories:

472

Sugar:

6.9 g

Sodium:

237 mg

Fat:

12.4 g

Saturated Fat:

3.7 g

Carbohydrates:

32.3 g

Fiber:

5.3 g

Protein:

53.7 g

Cholesterol:

109 mg