Oh, sod the British weather! For nine days in a row it was the most gorgeous conditions; bright blue skies, warm rays of sunshine with a gentle breeze to cool you down. In a whiff it's all gone now, replaced by a solid sheet of pale grey, a slight drizzle of rain here and there and icy winds blowing from the north-east, sent with love from Russia.
In Pretoria, the capital of South Africa, where I used to live, weeks would go by in summer without rain and the soil would turn bone-dry and cracks would appear. Out of nowhere you would see a puff of cloud that formed in the distance. Then another and another, until the sky would fill with countless cumulonimbus clouds that look like marshmallows clumsily stuck together. Electricity fills the air and you just know it's going to rain when the clouds turn a steely, dark grey and hear a rumble far away. After the prolonged heat day in and day out everybody would let out a sigh of relief when the first heavy drop splatters on the dusty earth. (Officially it would be known as a pancake day.) I never quite got used to the storms though. The lightning's can be quite destructive and it's not uncommon to hear people complaining about their fried antennae. At times the thunder is quite frightening as well and I'm thankful for not being incontinent.
Enough weather talk! Since I have no power over it, I might as well pretend it is summer. Therefore I present you these pretty, palatable pitas. If you enjoy eating messily like me, don't be afraid to top your pita with copious amounts of apricot dressing. When you take a hearty bite of it, the yogurt will ooze lazily over your fingers, which you can suck off eagerly for dessert. Yum. You've been warned.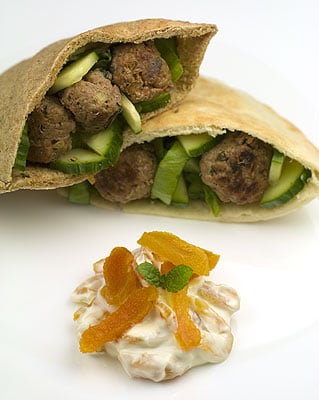 Print
Cumin Lamb Meatball Pitas with Mint & Apricot Dressing
---
900g

(

2

lb) lamb mince

1

onion, finely chopped

45

ml (3 tbsp) fresh mint

10

ml (2 tsp) ground cumin

15

ml (1 tbsp) olive oil

225g

(

8 oz

) Greek yogurt

8

ready-to-eat dried apricots, finely diced

6

pita breads

½

cucumber, thinly sliced

1

head lettuce, finely sliced
---
Instructions
For the meatballs, put the minced lamb, onion, 2 tablespoons of mint, ground cumin, and plenty of seasoning, into a bowl and mix well. Shape the mixture into 2.5cm (1 inch) balls and set aside.
To make the mint and apricot dressing, put yogurt, apricots and remaining mint into a bowl and mix well. Season to taste and chill until required.
Heat the olive oil in a non-stick frying pan and fry the meatballs on all sides until browned and cooked.
Meanwhile, put the pitas onto a tray and spray lightly with water. Cover with foil and put into a hot oven or under the grill for 5-6 minutes. Using a serrated knife, split open each pita to form pockets.
Fill each pita with cucumber, lettuce, meatballs and top with a dollop of mint and apricot dressing. Garnish with fresh mint.
Notes
When guests are around, I let them fill the pitas themselves. It's fun to do and they can prepare how they like their pitas, as well as omit anything they don't like.
Greek yogurt is best for this dish because of its thick consistency. Natural yogurt is more runny, but could still be used.
Nutrition
Serving Size:

1 serving

Calories:

428

Sugar:

10.15 g

Sodium:

253 mg

Fat:

21.14 g

Saturated Fat:

9.52 g

Carbohydrates:

35.91 g

Fiber:

4.27 g

Protein:

25.55 g