This green pea fava recipe is ideal for vegans as a warm starter, toast spread or dip. Brighten up your meals, vegetables, salad and meat dishes, or serve on a meze platter with fresh pita bread.
This is pure tradition wrapped in comfort. Green Pea Fava is one of those meals you absolutely cannot get enough of. Your loved ones will simply have no choice but to forgive you for finishing all the pita bread, to eat your fava, before anyone else had a chance.
It reminds me of idyllic lunches at a local taverna, on sun-dappled stone terraces, under the vines, overlooking the Mediterranean with friends and family all around, sipping wine, chatting and laughing well into the evening.
Once you start eating this delicious Greek dip, you will feel like you are in Greece. Those savoury flavours of the greek fava will send you straight on a journey through the gorgeous Mediterranean islands.
I would give anything to sneak a vacation this year in Greece and indulge in the delicious food that Greek cuisine has to offer. Even though we can't compete in terms of weather, we can still enjoy real Greek food with The Real Greek.
The Real Greek is dedicated to bringing excellent and authentic Greek cuisine right here in the UK. Lucky us! Once you dine in one of the Real Greek restaurants, you are bound to return for more.
Not only because the food is extraordinary, but also because you will feel like you are in Greece. With their motto 'Eat Together', you will be surrounded by other restaurant guests enjoying the same experience. Soon, you will feel like a real Greek.
Where can you find a Real Greek restaurant?
Bankside
Bournemouth
Bristol
Covent Garden
Dulwich
Marylebone
Muswell Hill
Reading
Soho
Southhampton
Spitalfields
Martin's Lane
Westfield Stratford City
Westfield London
Windsor
If you live close by any of these places, don't hesitate to visit. You can find additional information here: The Real Greek. Trust me, you will fall in love not only with the food, but also the ambiance and the people. This might just turn out to be your new favourite restaurant.
What is Green Pea Fava?
It is not a dish made of fava beans!
So, if you have heard of green pea fava before, or "fava" as it is called, perhaps you've done some research on it. If not, you are forgiven for being confused and abandoning all ambitions you had to make fava or even researching green pea fava.
I knew what green pea fava was when I started this article. I have it on very good authority from the head chef, Alan May, at The Real Greek that fava is made from split peas.
Now I've done further research and sifted through the quagmire of misinformation on the net and really have determined what "fava" is and what it's not.
No Fava Beans Here!
I hope that this information makes it so much simpler for you. Most of all I would like you to make this absolutely delectable vegan meal. You won't be sorry you waited this long for the correct information.
Green Pea Fava is not made of fava beans! It is made of split peas, although historically yellow split peas were used. The dish originates from the island of Santorini where yellow spilt peas grow in profusion and have done so since the beginning of time.
Culinary artists have autopsied cultures and played with traditional recipes. This dissecting of cuisines over the years has allowed this green pea fava recipe to switch ingredients as you please.
Use either yellow split peas, brown and orange lentils or even chickpeas. The chickpeas would obviously then make it more of a hummus hybrid, although the preparation is slightly different between the two recipes.
Fava Bean and Split Pea Dissection
The fava bean in Greece is called "kouki/κουκί". It's a broad bean from the legume family and takes a monumental amount of time to shell the pod and the individual bean shell, to eventually get to the edible bean.
The fava dish in Greece is called "lathouri". It is a split pea purée flavoured with onion, cooked and served with olive oil. As a meze, it is served at room temperature. As an appetiser, it's served hot before a seafood or fish meal. Many locals eat it hot, as an individual meal, much like we would eat a split pea soup.
This is a hearty rustic meal, very economical and highly nutritious. Not to mention, mouth-wateringly delicious.
Yellow split peas are Scarce
The reason we make this fava with green split peas is the scarceness of yellow split peas. If you are travelling to Greece, stock up on bags of yellow split peas. Apparently, the yellow split peas in Santorini have a very different, much better flavour to those found in other countries.
The dish is available all year round but definitely during Lent as one of the best fasting-friendly dishes, as the devout refrain from eating meat, fish, dairy or eggs during this fast.
Santorini fava, Fava Santorinis, is one of the most significant products of that very famous island, along with wine and tomatoes and the local capers. Fava is made from the plant "lathurus clymenum", a local variety of yellow pea.
Harvesting
When harvested the peas are round, with an outer skin. The peas are then dried and the dull-coloured outer skin removed. The peas are then split in half by hand or machine at the natural split in the seed's cotyledon.
There are green and yellow varieties of a split pea.
Nutritional Content of Peas
Split peas are high in protein and low in fat, with 1g of fat per, 350 calories, per serving. Most of the calories come from protein and complex carbohydrates. The split pea is known to be a natural food source that contains some of the highest amounts of dietary fibre, containing 26g of fibre per 100g portion.
Split that Sack of Peas
Looking like a cross between a lentil and a pea, split peas have been cultivated since antiquity. It is said that the legume was cultivated in Greece as early as 6000 BC and that it was common to see vendors in the streets of Athens vending hot split pea soup.
Today the split pea is grown everywhere in the country, but Santorini is most famous for their cultivation. According to excavations done in Akrotiri, an ancient settlement destroyed following a volcanic eruption on Santorini around about 1627 BC, the split pea plant has grown on the island for more than 3,500 years.
This unique raw material is processed according to traditional methods: ground with stone mills, matured in "kanaves" – the island's typical underground storerooms, cut into the volcanic rock – and dried in the Aegean sun, resulting in a highly distinctive flavour.
200 Growers
Today, about 200 growers cultivate fava fields on the island. The low yield per hectare, but also the labour-intensive method of threshing as well as the processing and conservation mentioned above, elevate its costs. Nevertheless, each year a good harvest is produced.
Many imitating products grown elsewhere are available in the Greek market, but the fava of the Union of Santorini Cooperatives (SantoWines) is the only type that adheres to guaranteed standards.
Like Santorini Assyrtiko (a Greek Wine Grape) and tomatinia (Santorini cherry tomato), the rich volcanic soil and intense sun are perhaps the reason why the yellow split peas from Santorini have also acquired the Protected Designation of Origin label by the European Union.
Prepare and Serve Green Pea Fava
Use this green pea fava recipe to spice up your usual meals or serve it on its own. Do something different and whip up a meze platter with green pea fava dip the next time guests come around.
It is so good on its own but goes particularly well with dark leafy greens and with salty ingredients like anchovies, sardines or feta. This addictive purée also adds a wonderful splash of vibrant green colour topped with salsa as one of a selection of little meze dishes.
Let's get Married
Interestingly enough fava served with a topping is called "married fava". Serve it with a topping of Greek extra virgin olive oil, married with sliced raw onions and crumbled feta.
A side of anchovies or sardines, htipiti, melitzanosalata, tzatziki, white bean dip, some black olives and fresh crusty bread. Fava is the epitome of traditional, rustic Greek cooking.
Dress up your morning toast with some fava, tomatoes and avo, or crumbled cheese and seasoning. You can't go wrong with serving it with an array of vegetable crudités.
Add some garlic to your recipe and drizzle with fresh lemon juice. Mince some preserved lemons into your cold mixture for meze. In Santorini sometimes they add caramelised onions and capers on top of the dish as a garnish.
It can be made a bit chunky or very smooth depending on your taste. You will notice that once it cools, it thickens. Don't worry, if you decide to reheat it, it will be smooth and loosen again.
The next day it will be even tastier.
Print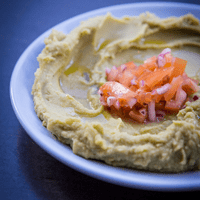 Green Pea Fava
---
Author:

Michelle Minnaar

Prep Time:

15 minutes

Cook Time:

300 minutes

Total Time:

5 hours 15 minutes

Yield:

4

1

x
350g

(

12oz

) green split peas

700

ml (3 cups) water

5

ml (1 tsp) salt

2.5

ml (½ tsp) pepper

50g

(

2 oz

) celery

½

onion

2

garlic cloves

250

ml (1 cup) extra virgin olive oil
---
Instructions
Place all the ingredients, except the olive oil, in a large saucepan. Stir and cover with greaseproof paper and metal lid before bringing to the boil skimming as you boil.
After bringing to the boil leave to simmer on medium heat topping up with water if needed.
Once peas are cooked and soft, remove from the heat and leave to cool for 20 minutes.
While it's warm process the peas while adding the olive oil. Keep blitzing until smooth.
To serve, spread out fava in a large dish topped with tomato and onion salsa and drizzled with olive oil.
Eat hot or cold.
Nutrition
Serving Size:

1 serving

Calories:

477

Sugar:

1.6 g

Sodium:

423 mg

Fat:

32.4 g

Saturated Fat:

4.4 g

Carbohydrates:

31.8 g

Fiber:

5.4 g

Protein:

15.6 g
save the recipe to your pinterest board