Want to make a mouth watering meat-free dish? When it comes to tickling your tastebuds, this vegan moussaka recipe will do it like no other vegan recipe you've ever come across.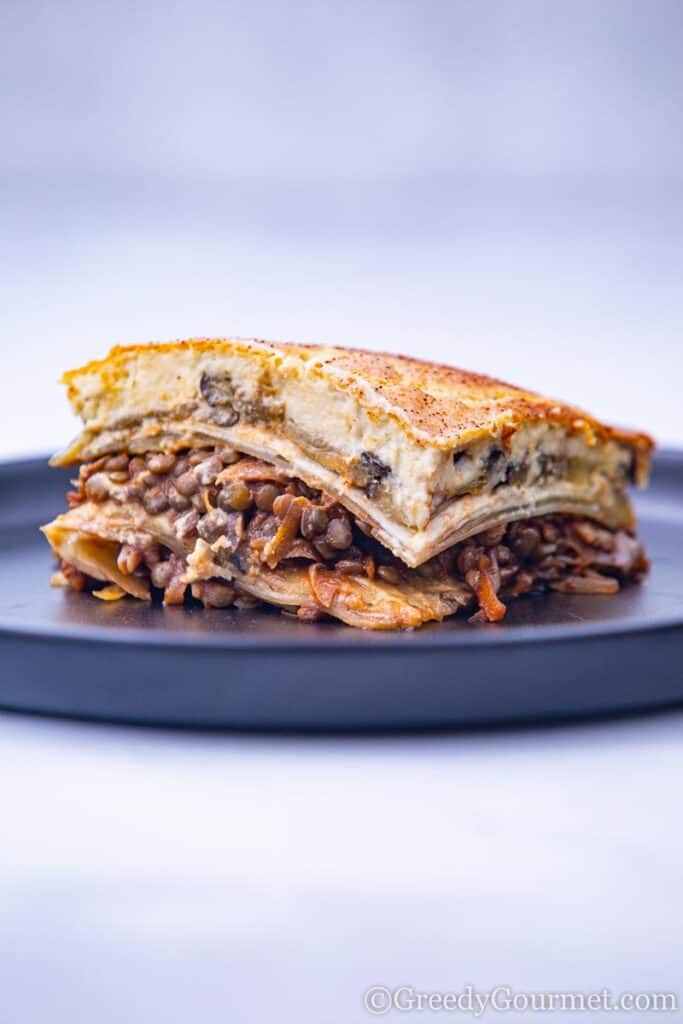 It's a labour of love. Layers of luscious ingredients, all working together in harmony, add up to a dish that will take your breath away. With this vegan moussaka, it'll be once tasted never forgotten!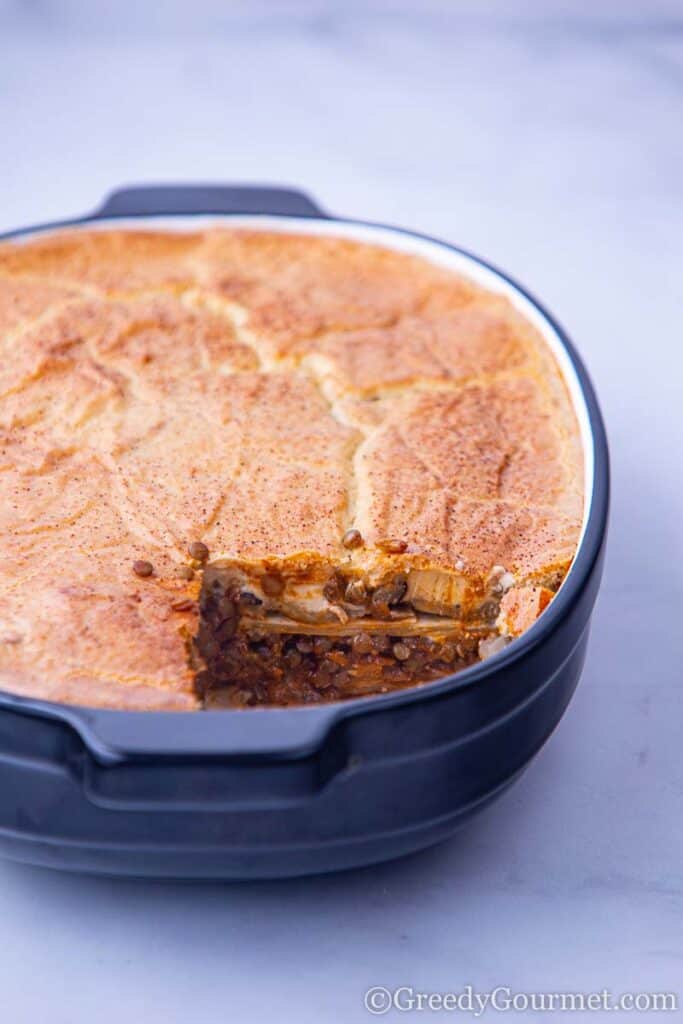 SpiraSlice
The secret to getting perfect layers for this vegan moussaka? Well, if you're fed up with carb-heavy pasta dishes, then here's the perfect kitchen gizmo for you.
I got my hands on a SpiraSlice – a compact like kitchen gadget that helps you to get creative in the kitchen.
Three interchangeable blades mean you can produce sheets, ribbons or spirals in an instant. This thing is going to totally transform the way you prepare meals!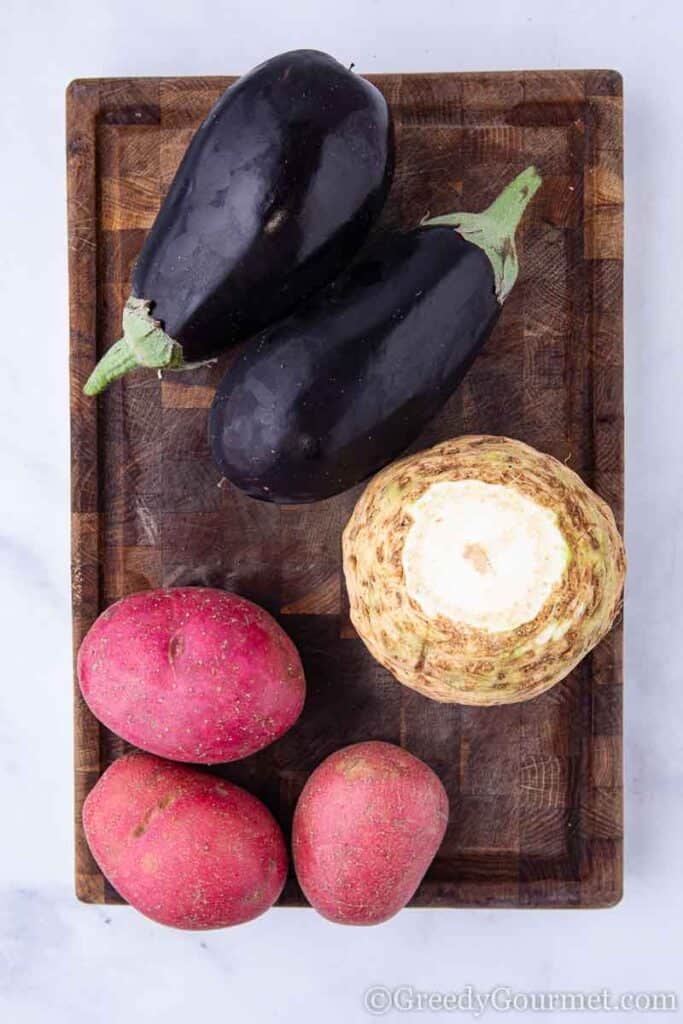 Think about all those delicious pasta dishes that make you feel like a ten-tonne truck after you've eaten them. Well, simply replace the pasta with vegetable sheets, ribbons or spirals made using a SpiraSlice. It's so incredibly easy to use and produces food that looks great!
Cleaning up is simple too. The SpiraSlice can be put together and taken apart with ease and all parts are safe to clean in the dishwasher. As kitchen gadgets go, it really doesn't get much more straightforward than this.
For this recipe, you'll need to use the slice function of the SpiraSlice to create perfect sheets of celeriac and potato. Try it once and you'll realise just how easy it is!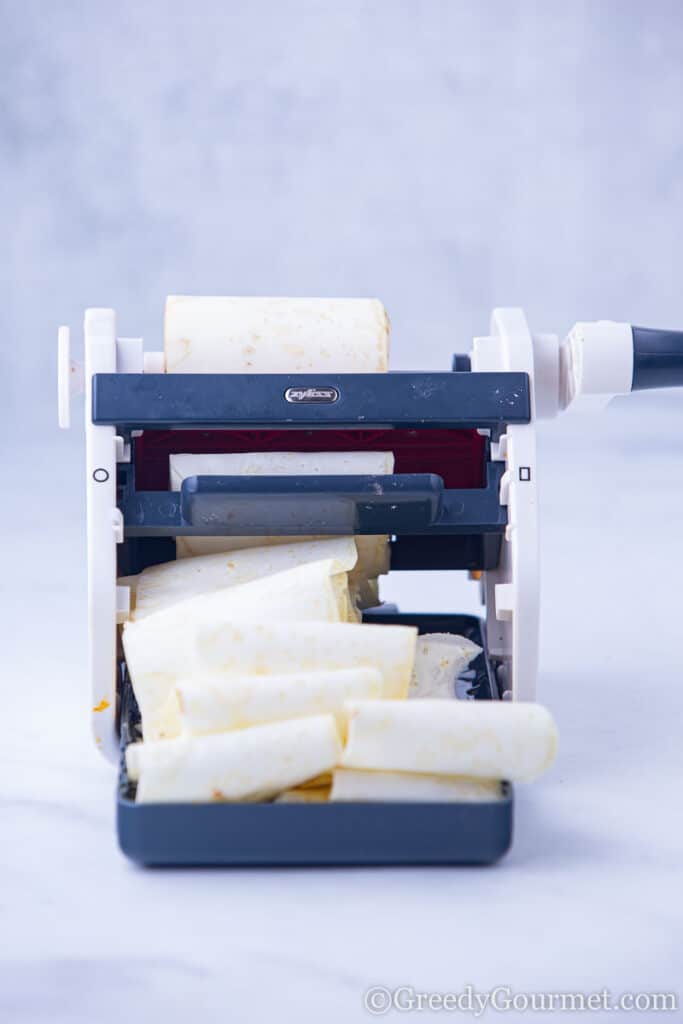 You can also use courgette in the SpiraSlice – check out my amazing garlic and chilli courgetti recipe – as well as many other healthy vegetables.
How to make a vegan moussaka
This vegan recipe has several different steps. First, you'll roast the aubergine with a little olive oil, salt and black pepper.
While the aubergine is roasting in the oven, you'll make the lentil filling – the essence of this vegan moussaka where all the flavour will be. It's important to get this to taste out of this world, so you'll need to follow my recipe precisely.
The ingredients for the lentil filling include puy lentils, passata (or chopped tomatoes if you prefer), carrot and onion (finely chopped) garlic, oregano, paprika, cinnamon, red wine (or beetroot juice) and tomato puree (you can use tomato sauce if you prefer).
Follow the instructions below to cook the filling to perfection. Use the SpiraSlice to create slices of celeriac and potato. These are going to be essential for creating that layered effect for your vegan moussaka.
You'll need to blanch them in a pan of salted water before using them to layer up the baking tray.
Next, comes the béchamel sauce. Unlike regular old béchamel, this recipe uses cashews to create a deliciously healthy vegan white sauce. You're going to love it!
It's easy to make as well. Simply cover the cashews in boiling water for 15 minutes. Then add the other ingredients in the recipe, including plant-based milk, yeast and vegan cheese, and whizz it all up in a blender. Add a pinch of nutmeg if you like, then you're good to go!
Layering the vegan moussaka
Layering your vegan moussaka in the baking dish is one of the fun parts of this recipe. After you've all the prep time you've put in, the layering is the part where everything comes together.
Thanks to your SpiraSlice, you'll have sheets of three different types of vegetables. After placing a thin layer of lentil filling on the bottom of the baking dish, place a layer of potato, followed by celeriac and then aubergine.
Add another layer of lentils and then the vegetable sheets and repeat until there's about 1 inch left on the top of the baking dish.
Then add your delicious vegan white sauce, with an extra sprinkle of nutmeg on top.
What is vegan moussaka?
Vegan moussaka is a vegan twist on a traditional Greek dish. With a standard moussaka, you would typically use aubergine sheets in between a ragu sauce made from ground meat mince – normally lamb or beef. Then, a white sauce is spooned on top.
A vegan moussaka omits the ground meat, instead using a ragu made from Quorn, tofu or, in this case, lentils. For me, lentils are the ingredient that will give you that extra bit of flavour that will make an irresistible moussaka. Vegan or otherwise, you're going to love it!
Where does moussaka come from?
Moussaka is most associated in Greek cuisine. However, it's also very popular in the Middle East.
In fact, legend has it that moussaka was introduced to the Greeks by the Arabs when they brought aubergines to the Mediterranean. 
One thing that we know for sure is that Greek chef Nikos Tselementes invented the modern version of moussaka. Hugely influenced by French cuisine, he added white sauce to the dish to give it an extra richness.
So, much like the dish itself, the origin story is a layered one. Like all the best works of art, moussaka has influences from several different cultures. Add the vegan twist and you've got another layer to the story.
Is vegan moussaka gluten free?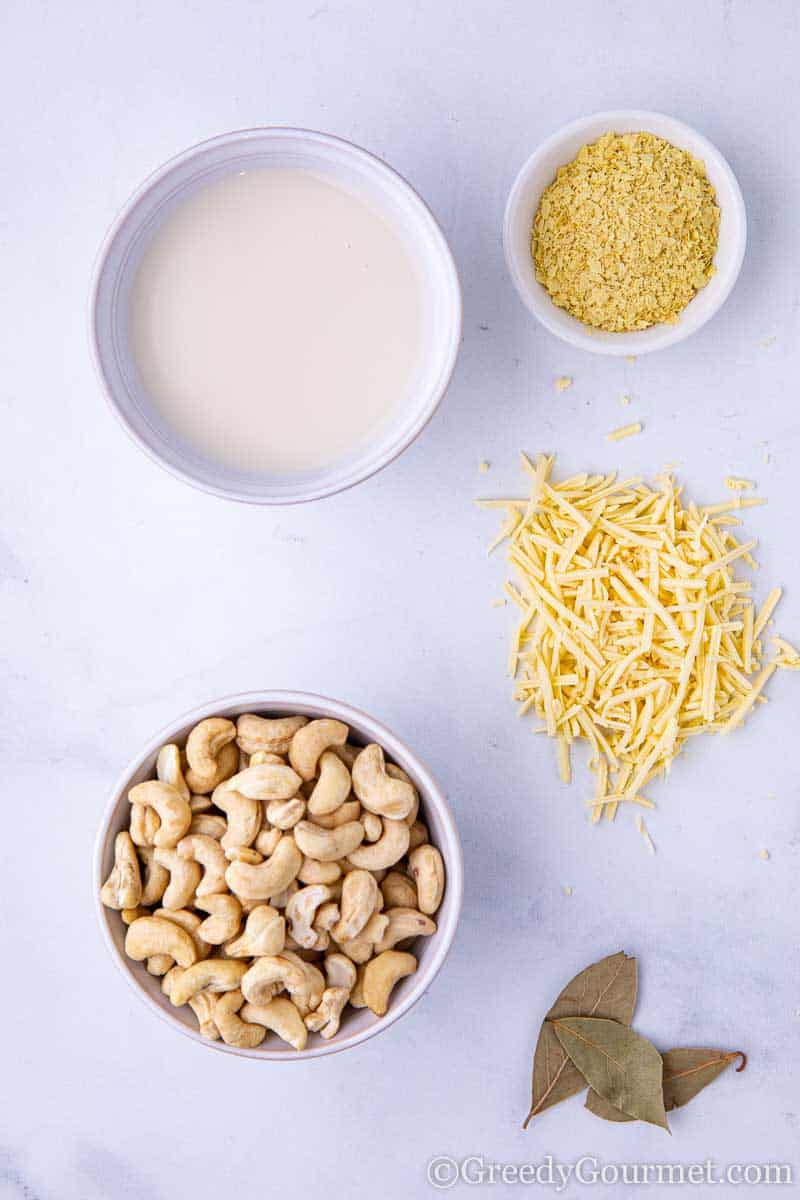 Not only is this moussaka recipe completely vegan, it's also 100% gluten free. 
So, the next time somebody says that gluten free, dairy free vegan food is tasteless, put a plateful of this vegan moussaka in front of them and watch them do a 180º flip with just one mouthful!
What plant-based milk works best with vegan moussaka?
There are lots of different types of plant-based milks you could use to make the vegan bechamel sauce. Anything from oat milk, rice milk, soy milk or even almond would work fine.
What are the best lentils for vegan moussaka?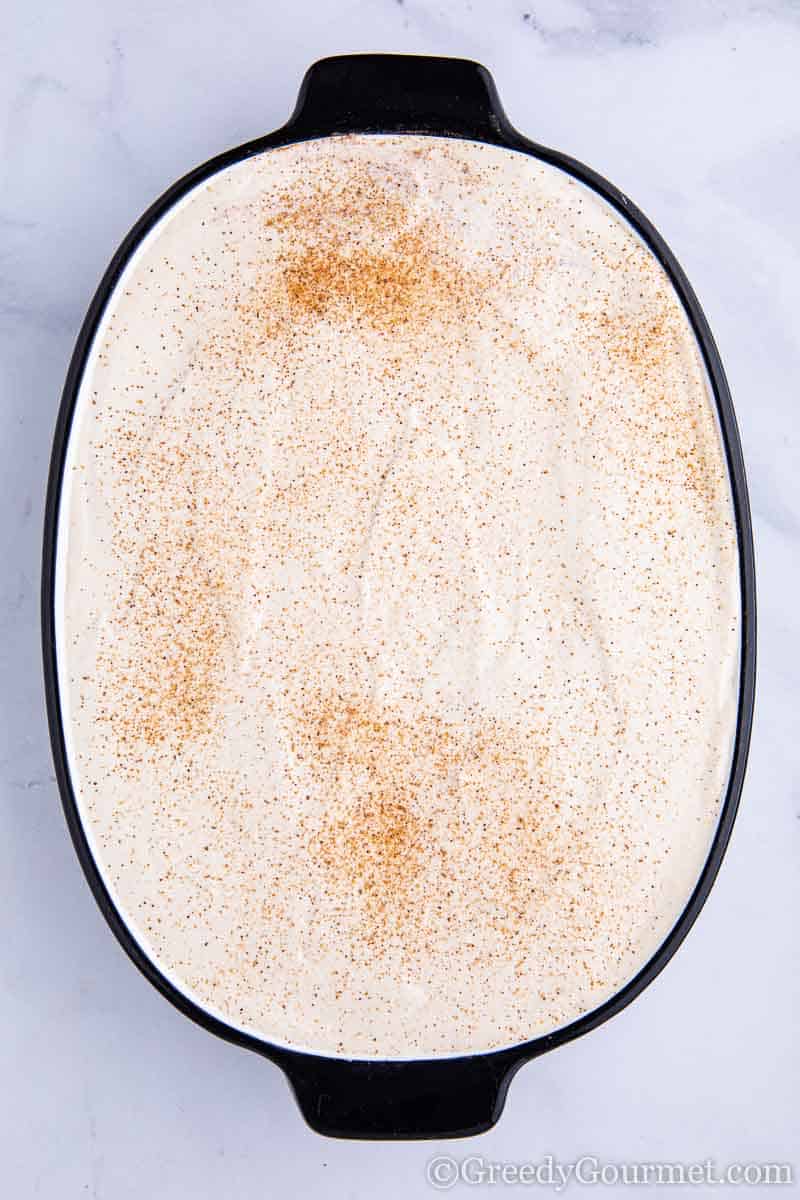 This recipe calls for puy lentils to be used. Puy lentils are a special type of lentil grown in the Le Puy region in central France. The soil these lentils are grown in is volcanic, which lends them a rich, peppery flavour.
What are the best herbs and spices to use in a vegan moussaka?
For this recipe, I've gone for oregano as the herb of choice. You could also use thyme, basil, rosemary and you can even add a bay leaf to the ragu. 
In terms of spice, you want something with a touch of smokiness. For me, a pinch of paprika works wonders, as well as a little bit of cinnamon to bring a little sweetness.
You could also add a teaspoon of cayenne pepper to the lentils instead, which will give you a delicious little kick.
Finally, you can also sprinkle a teaspoon of nutmeg into your béchamel for a tasty earthiness.
What other vegetables can be used to make layers in this recipe?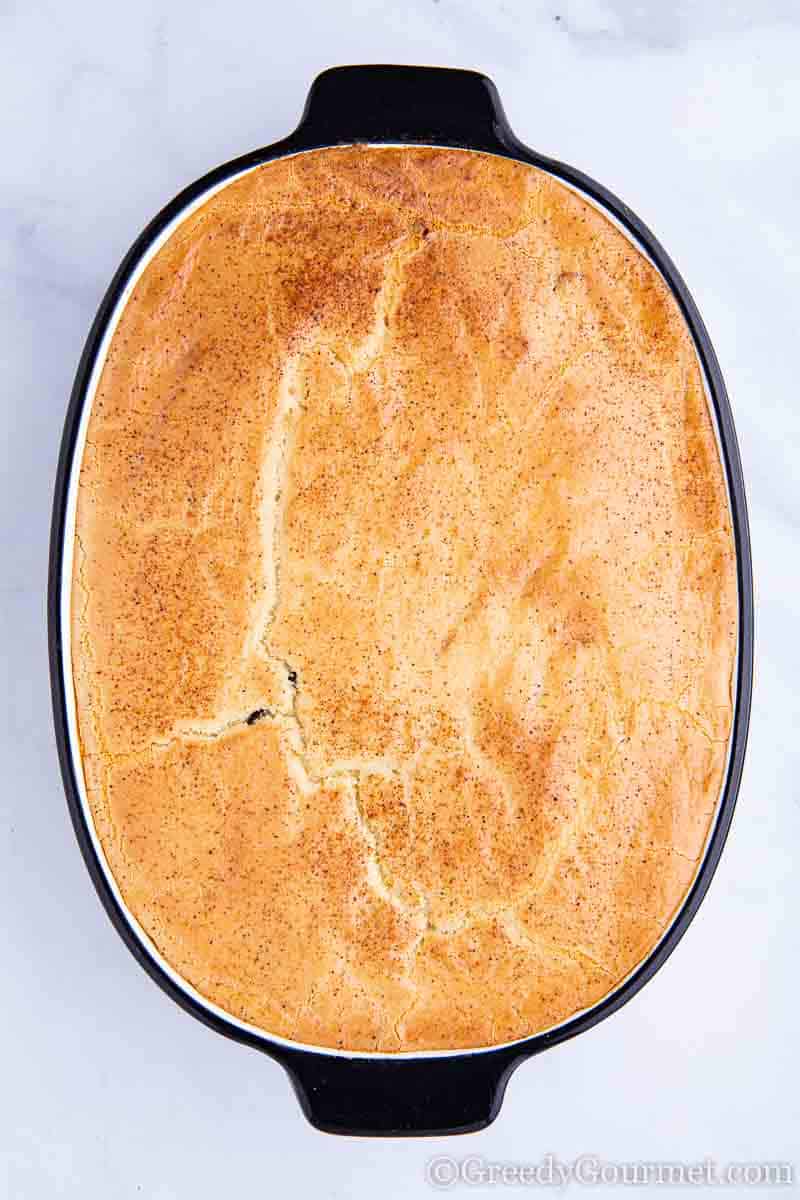 If you want to make this recipe using other vegetables, you can. Why not try sweet potato, courgette, marrow or butternut squash?
How long does vegan moussaka last in the fridge?
If you and your family don't manage to devour this moussaka in one sitting, don't worry. It'll keep for between 4-5 days in an airtight container in the fridge.
Can you freeze vegan moussaka?
Yes, you can freeze vegan moussaka! Again, just place it in an airtight, freezable container and keep it in the fridge for up to 2 months. When you want to reheat it, defrost it in the fridge overnight and heat in the oven at 160ºC for 20-25 minutes.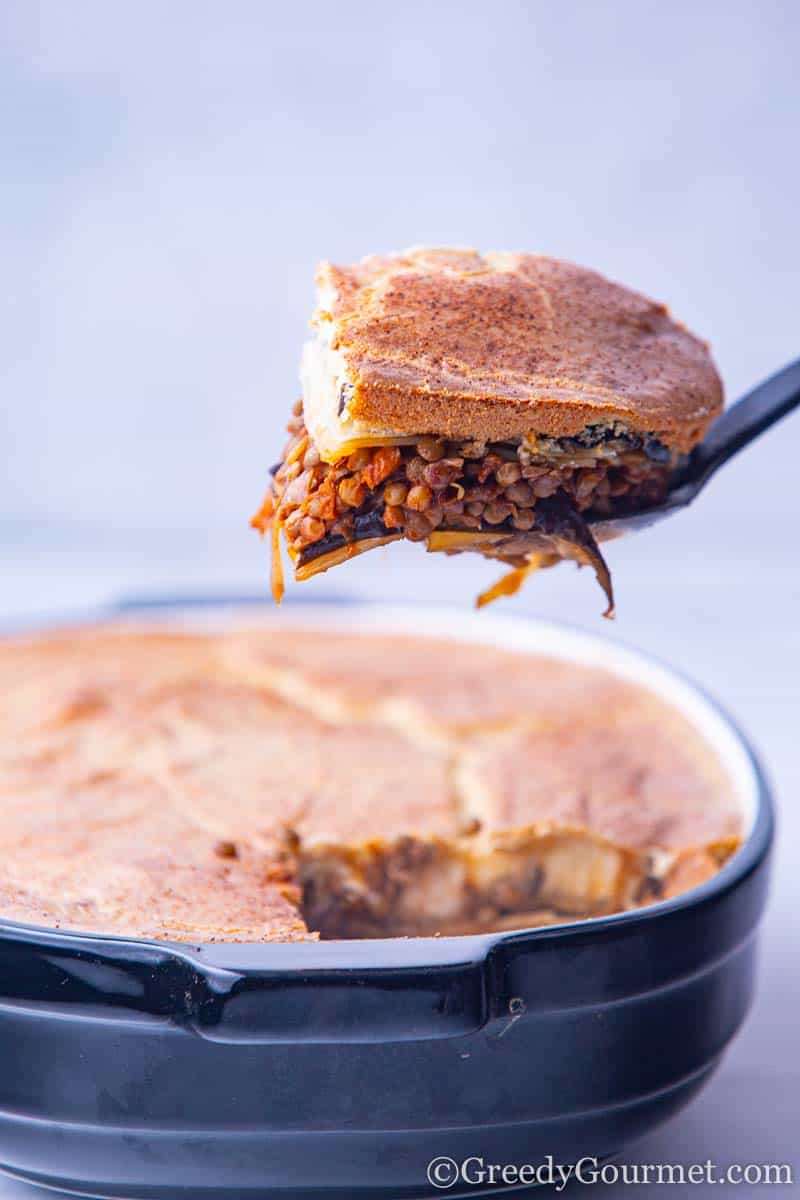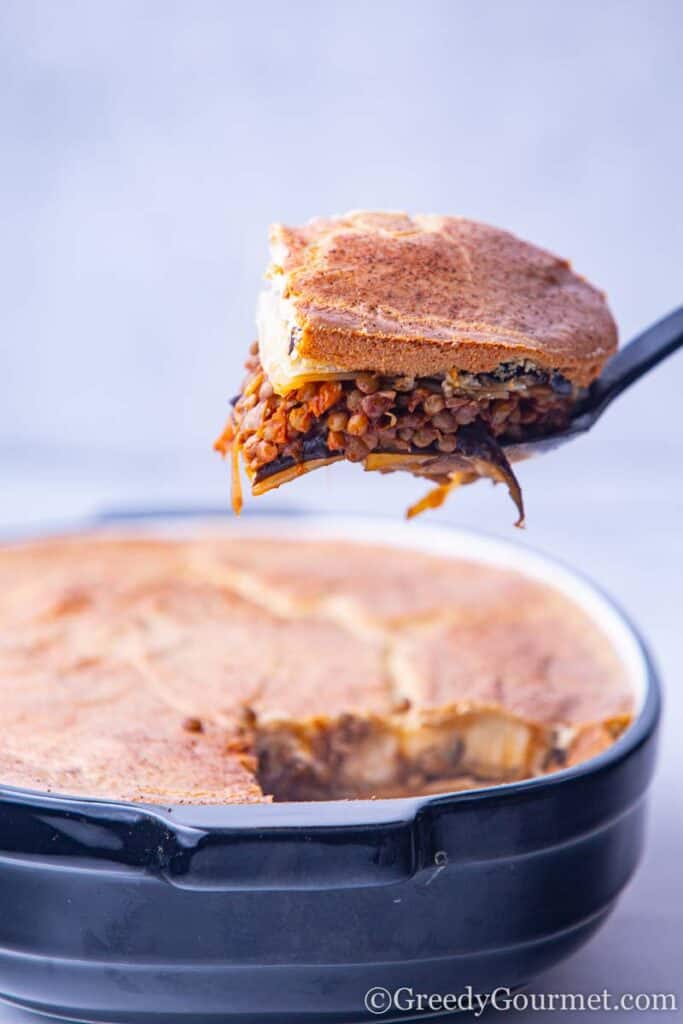 More delicious vegan recipes
Once you've mastered this vegan moussaka, check out some of my other mouthwatering vegan main meals:
Print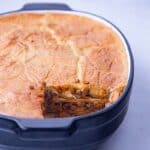 Vegan Moussaka
---
Description
This Vegan Moussaka comprises layers of tomatoey lentils, grilled aubergine slices, sheets of potato and celeriac, topped with vegan béchamel sauce. This recipe uses only natural ingredients and is gluten and dairy-free!
---
Aubergine Layers
2

aubergines, washed and cut into 1cm (

1/2

inch) slices

45

ml

(3 tbsp) olive oil
salt and pepper, season to taste
Lentil Filling
30

ml

(2 tbsp) olive oil

1

onions, peeled and thinly sliced

1

carrot, peeled and grated

3

garlic cloves, peeled and crushed

2

g

(1 tsp) dried oregano

2

g

(1 tsp) smoked paprika

1

g

(1/2 tsp) ground cinnamon

30

ml

(2 tbsp) tomato puree

400

g

(1 can) cooked Puy lentils

150

ml

(3/5 cup) vegan red wine or beetroot juice

1/2

cube of dried vegetable stock

200

g

(1/2 box) passata
salt and pepper, to taste
Potato and Celeriac Layers
3

medium potatoes, peeled

1

medium celeriac, peeled
Vegan Bechamel Sauce Topping
150

g

(1 cup) cashews

400

ml

(1 3/5 cup) plant-based milk

10

g

(3 tbsp) nutritional yeast

100

g

(1 cup) grated vegan Cheddar cheese
salt and pepper, to taste
grated nutmeg, to decorate
---
Instructions
For the Aubergine Layer: Preheat the oven to 200°C / fan 180°C / 350°F / gas mark 4.
Brush both sides of the aubergine with olive oil and season.
Place the slices in a single layer on a baking tray.
Roast for 25 minutes, turning them halfway through.
For the Lentil Filling: Meanwhile, heat the oil in a large saucepan.
Add the onions and stir until softened and translucent, which should take about 2 minutes.
Add the carrot and garlic. Stir and cook for another 3 minutes.
Add oregano, smoked paprika, cinnamon and tomato puree. Stir well.
Add the lentils and red wine.
Turn up the heat and bring to a boil, then reduce to a simmer.
After 2-3 minutes, crumble in the stock cube, then pour in the passata. Stir then let it simmer for 20-25 minutes until the lentils are soft. If the mixture becomes too dry, just add a splash of water.
For the Potato and Celeriac Layers: While the lentils are simmering, use the SpiraSlice to create sheets of potato and celeriac. They will be thin but require blanching.
Bring a saucepan of salted water to boiling point. Drop a sheet in, one at a time. When the water reaches boiling point again, which would take approximately 30 seconds, remove the vegetable sheet immediately then place in cold water. Repeat until all sheets are processed. Set aside.
For the Bechamel Sauce: Pour boiled water over the cashews and soak for 15 minutes. Drain.
Place all the ingredients, apart from the nutmeg, into a blender, then blitz until a smooth paste is formed. Season to taste.
Assembling the Vegan Moussaka: Place a thin layer of lentil filling at the bottom of a large casserole dish.
Place one layer of potato sheets on top of the lentils.
Place one layer of celeriac sheets on top of the potato sheets.
Place one layer of aubergine slices on top of the celeriac sheets.
Repeat until you've got about 2.5cm (1cm) left, which should be enough for the sauce.
Pour the sauce over the top and level off with a spoon. Grate some nutmeg over if you wish.
Place the casserole into the oven and bake for 30 minutes or until the topping is golden brown.
This dish is great by itself but if you want something extra, a green or Greek salad goes well with this dish. Enjoy!
Notes
Feel free to experiment with other types of lentils or other meat substitutes in place of the Puy lentils.
If you can't get hold of celeriac, simply substitute it with the same amount of potato. You can even play around with sweet potato or butternut squash!
Instead of red wine, you can use beetroot juice.
For the sauce, we used almond milk but soy, oat, cashew, etc. milk will also work.
You can slice the aubergines any way you desire.
If you've got any leftover lentils, don't worry, they go well with pasta, for a vegan take on spaghetti bolognese.
Prep Time:

45 minutes

Cook Time:

1 hour 15 minutes

Category:

Main Course

Method:

Bake

Cuisine:

Greek
Keywords: vegan moussaka, vegetarian moussaka recipe, lentil moussaka, vegan eggplant moussaka, vegan greek recipe
P.S. This is a sponsored post.