Aloo ki kachori is a Pakistani as well as an Indian dish that is perfectly suitable as a starter to a fantastic feast. Taking the shape of small circular discs, they make the perfect street food or finger food.
You can serve the aloo ki kachori as part of the main course, next to a bowl of authentic Indian curry. Or you can also serve it for breakfast or just munch away if you feel slightly hungry.
Best enjoyed with a raita or a yoghurt dip. Super-easy to make and bursting with freshness. No need for expensive Indian takeaways, but go for this fresh and homemade option instead.
Trust me – as is the case with making vegetable samosas from scratch, you'll be able to tell the difference immediately.
aloo ki kachori recipe – Pakistani cuisine
Aloo ki kachori is a fried potato flatbread with spicy masala. Typically, kachori is a round puri which is stuffed with lentils, beans or potatoes.
You might also know kachori as kachodi katchuri or simple Indian fried dumplings. Most likely, kachoris originated in Uttar Pradesh or in Rajasthan.
Aloo, being translated to potatoes, tells us that aloo ki kachori is the potato version of the flatbread. So, the recipe calls for cooked potatoes, semolina, ghee and typical spices and herbs you'd find in Indian cuisine.
These include cumin seeds, fresh ginger, green chilli, turmeric, ground coriander, amchoor and garam masala. Reading this, you might be associating this aloo ki kachori with chana tikki.
Comparatively, the chana tikki are traditional Indian patties, but are much larger than the aloo ki kachori.
In addition, their composition is completely different, as the chana tikki is made with chickpeas. As such, this leaves much room for the recipe interpretation as the aloo ki kachori can be made with many more ingredients.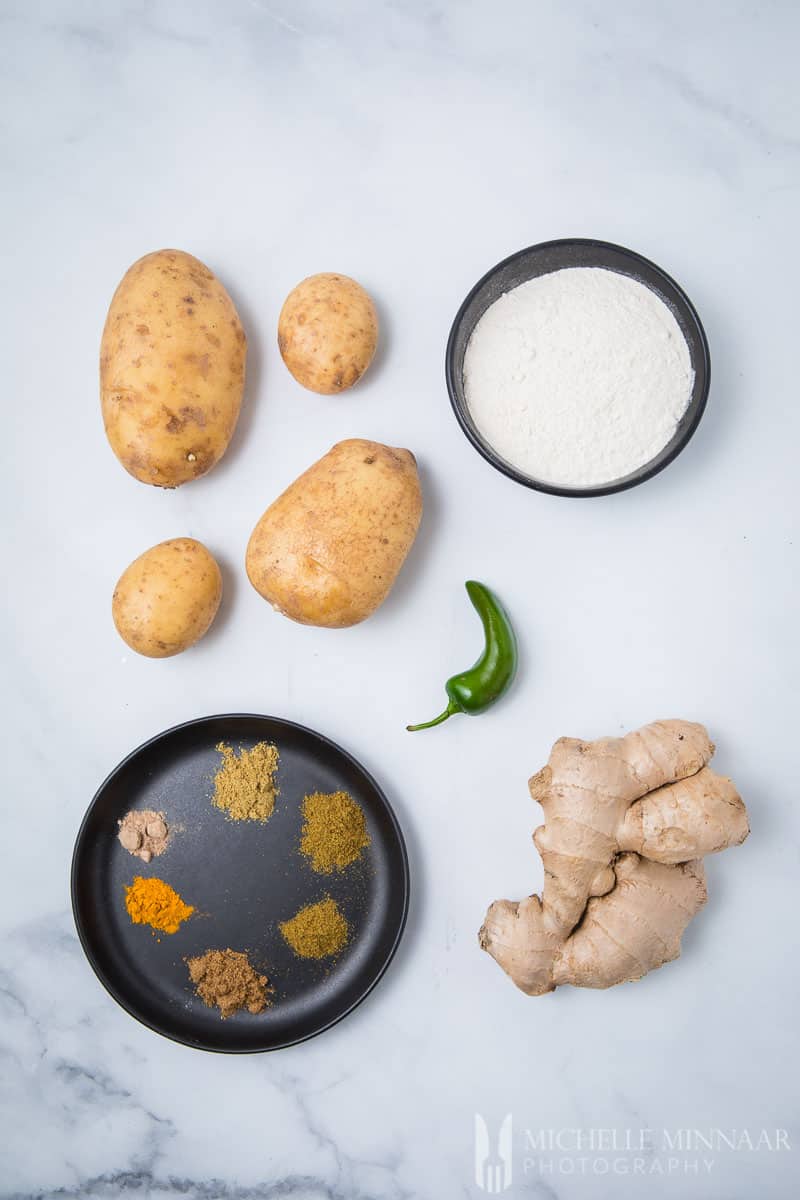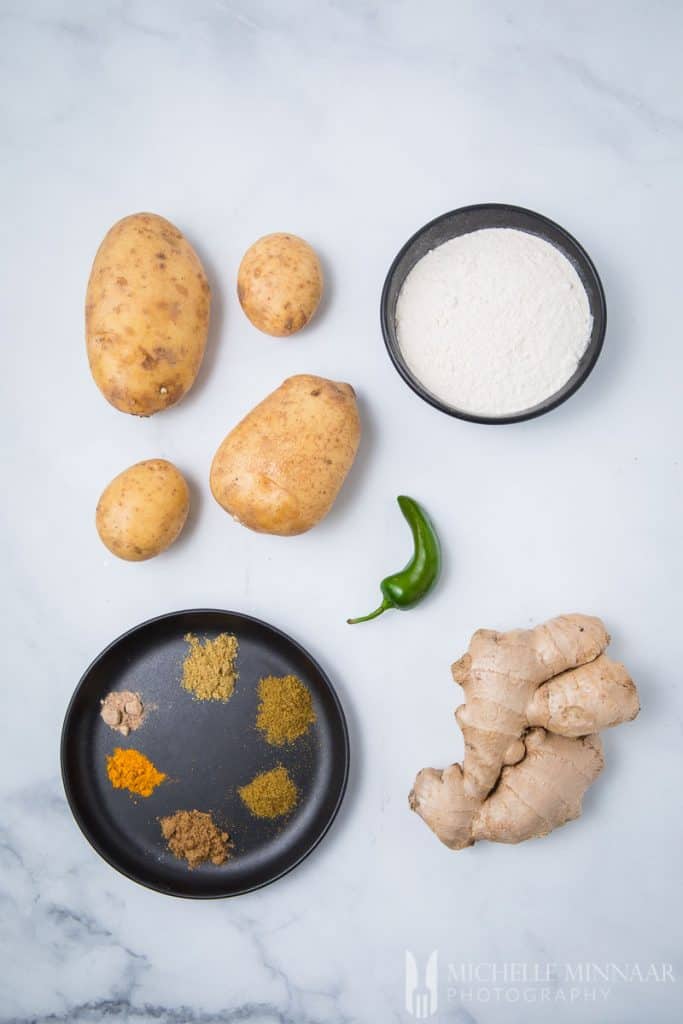 types of kachori recipes
As stated before, there are many types of kachori, with aloo ki kachori being only one variation. Depending on the region, you can alter the recipe to fit the local cuisine.
dal ki kachori
For example, you can try making dal ki kachori with Urad dal (washed horse beans) or yellow moong dal. Basically, make the kachori with yellow split peas.
The dal ki kachori would be typical of the cuisine of the Uttar Pradesh province as well as Rajasthan.
Yellow split peas go hand in hand with Indian cuisine. They make up integral recipes such as tadka daal and vegan split pea soup with traditional Indian spices.
pyaaj kachori
In addition, if you ever visit Rajasthan, you might come across pyaaj kachori (onion kachori). Onions add a slightly sweet note to the flatbread. This version is in fact very famous.
khasta kachori
This version is the New Delhi version of the aloo ki kachori. Similarly to the dal ki kachori, they are filled with lentils. However, they are covered with sauce and served with raw onion topping – as a chaat.
Bengalese kachori
The Bengalese version calls for pea stuffing. Sometimes, in other regions, a bit of ginger paste is included inside the kachori.
mawa kachori
My favourite version of all – the sweet kind! Just make the kachori in the traditional way and serve it with sugar syrup. It makes a delicious Indian dessert.
You can also fill the kachori with chopped dates and garnish with strawberry syrup. Tempted?
So which type of kachori will you go for? Will you stick to the aloo ki kachori recipe or will you put your own twist on it? Please leave a comment below!
what size of kachori?
The best part about making a kachori recipe is that you can experiment and make it your own. I am not talking only about the filling.
You can control the size of the kachori. If you want to serve it traditionally as a starter, then make smaller circular shapes. These will cook faster and they make the perfect start to an Indian feast.
In addition, they are just the right size to hold in between your fingers. If you wish to serve the aloo ki kachori as a main course simply increase the diameter. The bigger it is, the more filling it will be.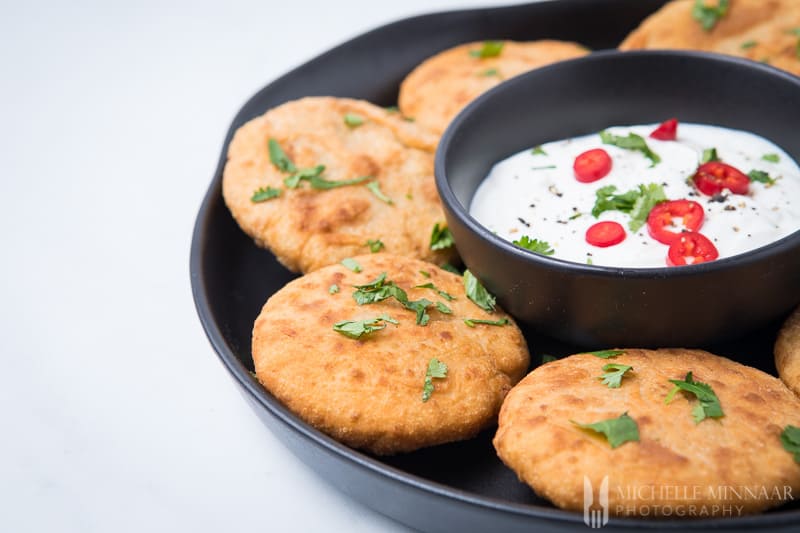 aloo ki kachori Indian starter
If you are planning to make an Indian feast, then don't hesitate to make this aloo ki kachori alongside other starters. Have a go at these typical starters:
Also, let's not forget the traditional Indian side dishes. For example, you can't have an Indian feast without steamed white basmati rice, pilau rice, naans, peshwari naans, rotis, puris and the like.
accompaniments for aloo ki kachori
There are three main types of chutneys that one typically finds with this Indian starter. The first being the traditional coriander chutney a.k.a dhania ki chutney, which provides a lovely tanginess.
Plus, it pairs extremely well with basmati rice and other curries. Second, you can also come across a mint chutney. Finally, the best chutney of all – the tamarind chutney or tamarind sauce that carries loads of flavour.
If you've never tried a tamarind chutney, you don't know what you're missing out on.
You can easily make a coriander chutney from scratch. However, perhaps you might prefer to serve the aloo ki kachori with a creamier dip.
If this is the case, then serve it with a cooling cucumber raita and a chilli and lime yoghurt dip. I highly recommend adding to any sauce, chutney or dip of your choice a bit of chilli powder. This will give the starter the extra punch it needs.
kachori storage
You can make a larger batch of the aloo ki kachori and store them in the fridge. They last pretty long and you can eat them cold. If you don't intend to consume the batch you've made within a reasonably short period of time, then I recommend putting them in the freezer.
More potato recipes
Print
Aloo Ki Kachori
---
Author:

Michelle Minnaar

Prep Time:

30 minutes

Cook Time:

30 minutes

Total Time:

60 minutes

Yield:

12

1

x
Description
Aloo ki kachori is a traditional Indian and Pakistani recipe. Popular as street food and as a starter. Serve with a tangy chutney or a cooling raita. Enjoy.
---
Pastry:
500

ml (2 cups) flour

15

ml (1 tbsp) semolina

2.5

ml (½ tsp) salt

45

ml (3 tbsp) ghee

180

ml (6fl oz) water
Filling:
15

ml (1 tbsp) vegetable oil

2.5

ml (½ tsp) cumin seeds

2.5

cm (½ in) fresh ginger, peeled and grated

1

green chilli, washed and finely chopped

2.5

ml (½ tsp) ground coriander

1.25

ml (¼ tsp) turmeric

1.25

ml (¼ tsp) mango powder

2.5

ml (½ tsp) garam masala

2

large cooked potatoes, weighing about 300g (

10oz

), cut into cubes
Oil, for deep frying
---
Instructions
First, mix all the pastry ingredients. Knead the dough and let it rest for 20 minutes.
Heat the oil in a large frying pan and fry the cumin seeds for about 3 minutes or until their aromas are released.
Add the ginger and chilli and fry for a minute.
Lastly, add the remaining spices and potatoes and stir over a low heat until everything is well incorporated. Remove from the heat and set aside.
Form a golf-sized ball with the dough then flatten it.
Place about 30ml (2 tbsp) of filling in the centre of the dough, then pinch the edges together to envelope the filling. Flatten the ball into a thick disc.
Continue the process until you've run out dough. Any leftover potato can be enjoyed as a side dish to a main meal.
Heat the oil in a large saucepan until it's medium hot. You can test it by dropping a tiny amount of dough in it. If the dough comes gradually to the top, the oil is ready.
Gently lower each kachori with a slotted spoon into the oil. Give it a nudge to help puff it up.
When one side is crisp and brown, turn it around for the other side to fry.
When both sides are cooked, lift it out with a slotted spoon and drain a paper towels.
Serve immediately with your favourite chutney.
Category:

Starter

Cuisine:

Indian
Nutrition
Serving Size:

1 serving

Calories:

178

Sugar:

2.4 g

Sodium:

61 mg

Fat:

5.1 g

Saturated Fat:

2.4 g

Carbohydrates:

29.5 g

Fiber:

2.4 g

Protein:

3.6 g

Cholesterol:

8 mg
save the recipe to your pinterest board