Bhindi ki sabzi might be a tongue twister for some but it is a healthy vegetable side dish commonly found in India. Let alone, in many UK Indian takeaways. Why waste precious money on expensive takeaways if you can prepare your very own Indian 'fakeaway' in the comfort of your own kitchen? Besides, it only takes a few steps to complete this bhindi ki sabzi from start to finish. Just to let you know, you'll need a considerable amount of okra for this recipe. So keep an eye out of okra in the supermarket or special Asian stores, which generally tend to have them on display. You'll see for yourself that cooking with okra can be a lot of fun and makes for something different.
Serve it as a side dish to other Indian meals such as prawn korma and a nice warm roti or naan. Or, you can eat it alone as is for a healthy and nutritious main course. Enjoy!
bhindi ki sazbi – north indian cooking
If you ever travel around this part of the world, you'll notice that the food in northern India is different than the southern parts of India. North Indian cuisine is more creamy and uses more yoghurt in curries on a regular basis. Moreover, you would find that food is served with rotis, naans or samosas. Other typical side dishes include vegetables samosas like these and aloo based dishes like aloo ghobi.
Typically, you would find north Indian cuisine in the regions of Punjab, Rajasthan, Haryana, Jammu and Kashmir, Uttar Pradesh, Chandigarh, Delhi, etc.
Southern Indian cuisine involves a lot of coconut as well as cooking with rice, lentils, idli (rice cakes that are steamed) and dosas (pancakes). An example of a classic South Indian dish would be tadka daal, which is a vibrant spiced lentil stew. Take a look at the recipe here.
sabzi recipe
Firstly, bhindi in Indian means okra or 'lady fingers'. On the other hand, sabzi, also known as 'sabji' translates to vegetables. So, bhindi ki sabzi means okra vegetables or 'okra cooked vegetables'. In essence, bhindi ki sabzi is a fried okra-based dish with typical Indian spices. I would say, a rather jazzed up version of the bhindi bhaji, which is another easy okra recipe.
You might be asking, what is the difference between bhindi bhaji and bhindi ki sabzi? Generally speaking, the preparation and cooking method are almost identical. Similarly, you can reuse the same spice between the two recipes as they go in each. However, the main difference is the addition of ground cumin, cumin seeds and tomatoes. Can you guess which recipe uses what ingredient? Well, bhindi bhaji uses fresh tomatoes as therefore has a subtle sweetness but also some acidity given off the tomatoes. Also, you'll find cumin seeds as a part of the recipe too.
In comparison, bhindi ki sabzi uses ground cumin and doesn't involve the sweetness. Also, the acidity element is compensated by the addition of lemon juice which is only optional for the other dish. In summary, both recipes are very similar but carry a different flavour punch.
how to cook okra
If you've never cooked with okra before, it might seem like an intimidating ingredient to cook with. Not to worry, cooking with okra is really simple. The important thing here is to avoid introducing it to any moisture, such as water. Before cooking, they need washing and need to be completely dry before you cook them, otherwise you will end up with a slimy mess. That said, there are some dishes where the latter is actually the end goal… but not this one!
When it comes to pan-frying okra, you need to cut it into uniform circular shapes or discs. The reason for this is for the okra to cook evenly. Generally speaking, these green pods take some time to cook, so you'll need to cook them until they are completely tender. The okra usually shrinks and changes colour when cooked.
Did you know that the juice released from okra acts as a thickening agent? That's why it's an excellent addition to stews. No need to use flour, but use a surprising gluten-free alternative!
the vegetables
The preparation process for bhindi ki sabzi doesn't take long at all. First, cut and finely chop the 2 onions as well as peel and crush 5 garlic cloves. If you like heat in your food, don't forget to add a chopped fresh green chilli. Start frying these ingredients on roughly 2 tablespoons of vegetable oil until they appear to be slight brown. Of course you can also use coconut oil or ghee.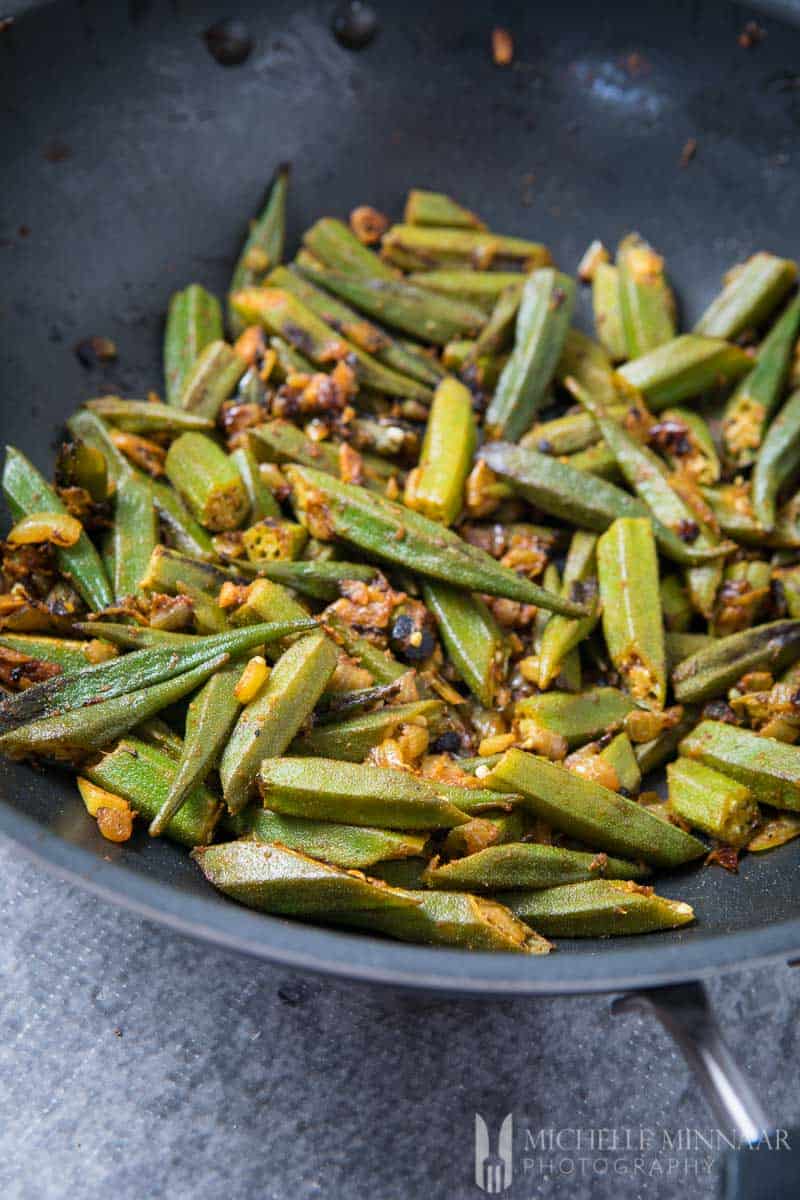 stir-fried okra
Next, add the okra and stir while frying. Then, place a lid on the pan and let it cook further for 3 minutes. When you place the lid on top, you allow the okra to cook faster before you isolate all the heat.
the spices
Add the turmeric, ground coriander, chilli powder and garam masala to the okra and stir vigorously until everything is well mixed. Don't forget to add the ground cumin! Some versions of bhindi ki sabzi in Indian include the addition of dry mango powder, so feel free to use this spice.
I genuinely love chilli, so I like to sprinkle a bit more of chilli powder than necessary. Obviously, with you being the chef, you are in control of the spices and their amount. As a finishing touch, add the lemon juice and stir. Season with salt and pepper and let the bhindi ki sabzi cook with the lid on.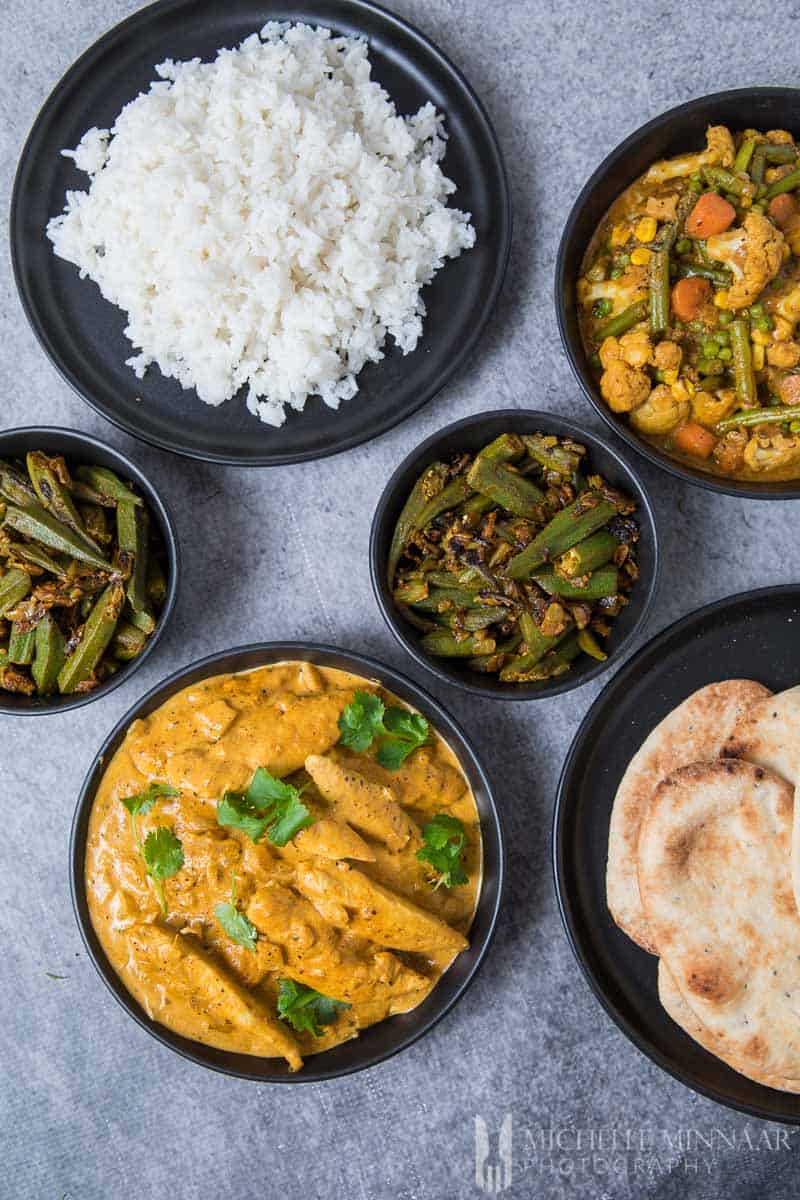 side dish
As mentioned before, northern Indian cuisine involves serving dishes with naans, chapatis, rotis or aloo based dishes. Here are some you can tempt yourself with:
sag aloo – get the recipe here
bombay aloo (purple potatoes) – get the recipe here
aloo dimer jhol (potato and egg curry) – get the recipe here
What is your favourite okra recipe?
Print
Bhindi Ki Sabzi
---
Author:

Michelle Minnaar

Prep Time:

15 minutes

Cook Time:

15 minutes

Total Time:

30 minutes

Yield:

4

1

x
Description
One might say that bhindi ki sabzi is a jewel of Northern Indian cuisine. It is vegetarian, it is nutritious and most importantly it is very easy to prepare. No need to slave away in the kitchen. You'll need okra, onions, garlic, lemon, ground turmeric, ground cumin, chilli powder, ground coriander and garam masala.
---
Scale
Ingredients
30

ml (2 tbsp) vegetable oil

2

onions, peeled and finely chopped

5

garlic cloves, peeled and crushed

1

green chilli, washed and finely chopped

2.5

ml (½ tsp) turmeric

2.5

ml (½ tsp) chilli powder

2.5

ml (½ tsp) garam masala

5

ml (1 tsp) ground coriander

5

ml (1 tsp) ground cumin

450g

(1lb) okra

1/2

lemon, juiced
Salt, season to taste
---
Instructions
Add the onion, garlic and chilli and fry until softened and slightly browned.
Add the okra and stir while frying.
Place a lid on the pan and let it cook further for 3 minutes.
Add the turmeric, coriander, cumin, chilli powder and garam masala to the okra and stir vigorously until everything is well mixed.
Add the lemon juice and stir.
Place a lid on the pan again and let it cook further for 3 minutes.
By this time the okra would have shrunk and changed colour. When it's tender the dish is ready.
Season to taste and serve as side dish with Indian meal.
---
Category:

Side Dish

Cuisine:

Indian
Nutrition
Serving Size:

1 serving

Calories:

139

Sugar:

4.1 g

Sodium:

51 mg

Fat:

7.4 g

Saturated Fat:

1.4 g

Carbohydrates:

15.5 g

Fiber:

5.2 g

Protein:

3.2 g
save the recipe to your pinterest board