Ever since I dived into Indian cuisine, I have discovered the fantastic things you can do with bhindi. Bhindi, also known as okra, is such a lovely and versatile vegetable that I can only recommend you to use it more. Delicious bhindi Indian inspired recipes abound! For example, if you wish to combine traditional Indian spices with okra, then take a look at this appetising vegetarian Indian side dish. Called bhindi bhaji, it is very suitable for you to make it if you've bought too much okra for this bhindi kurkuri recipe. Otherwise, you can also have a go at this vegan bhindi ki sabzi recipe, here.
kurkuri bhindi
The word kurkuri in Hindi means crispy, which is a very fitting name. Bhindi kurkuri is a crispy little dish that you can serve as a side. Think of it as Indian fries or Indian tempura if you wish. You can serve them as a snack. I'll bet your friends never had these with their gin and tonics before, so why not try this next time you entertain your guests? They are even surprisingly easy to prepare, so there's nothing to stop you from having a go at it.
In English, bhindi translates to okra or ladies' fingers. The origin of the plant is somewhat unknown. Today the plant is cultivated vastly throughout south Asia, through the Middle East as well as in Africa, even in North and Central America.
The edible part is actually the seed pod of the plant. There is a red type of okra as well as the more common green one. The former is rare to find in stores but does not taste much different. When the red okra is cooked it actually turns green as well.
the okra
Whether you call them okra or you stick with the Hindi name bhindi, they need to be prepared for cooking. Wash them thoroughly and dry them just as thoroughly. They need to be completely dry before continuing to prepare your bhindi kurkuri. Start by cutting off the tops, and if they are damaged, also the tips of the bottoms. Proceed to slice the okra lengthwise in thin slices. Some seeds will fall out in this process. This is nothing to worry about, though you don't need to remove all the seeds either.
spices
Bhindi kurkuri can be spiced in any way you like them. The traditional Indian versions include curry powder, madras curry or garam masala. If you like to experiment you can also create your own spice mix, using for example chili powder, turmeric, cumin or coriander powder and create your personal version of bhindi kurkuri. Note that is it best to use ground spices and not dried herbs. The latter easily turns bitter in the deep frying process.
Also, who said that you only need to use Indian spices for bhindi kurkuri? For a Caribbean spin, use this jerk spice mix. You can learn how to make jerk spice from scratch here. Otherwise, simple seasoning with salt, pepper and some dried oregano or basil will do the trick too. Indulge yourself in these Mediterranean flavours. If you have come up with a brilliant spice mix at home that simply produces amazing bhindi kurkuri, please do leave a comment below, and share it with the rest of us!
rice flour
Remember to coat them with gram and rice flour. This is where they'll acquire their crunch once you deep fry them! The flour will help bind the spice mix to the okra as well.
Also, for those who have a gluten intolerance, please note that rice flour is gluten-free! To be absolutely sure, simply use only rice flour for this bhindi kurkuri recipe.
deep fry
Some people are scared of deep frying, or tend to say they don't like deep fried food. However, deep fried food means a lot more than just plain old fish and chips. Also, there is nothing complicated about deep frying in your own kitchen. The key factor is to keep an eye on the frying pan. You should warm up the oil to a moderately high heat. If the oil is too cold whatever you are cooking will be greasier and less crispy, because the oil seeps into the ingredients.
Another thing to keep in mind is to fry the bhindi kurkuri in batches. If you dump them all in at once, the oil temperature will be lowered too much. If the pan is stuffed with okra they will not be cooked evenly. It only takes about 5-7 minutes to deep fry the oil, so keep an eye on them. They should end up with a beautiful golden colour, and crispy texture. Alternatively you can stir fry the bhindi in just a little oil, but the crispiness will not be quite the same.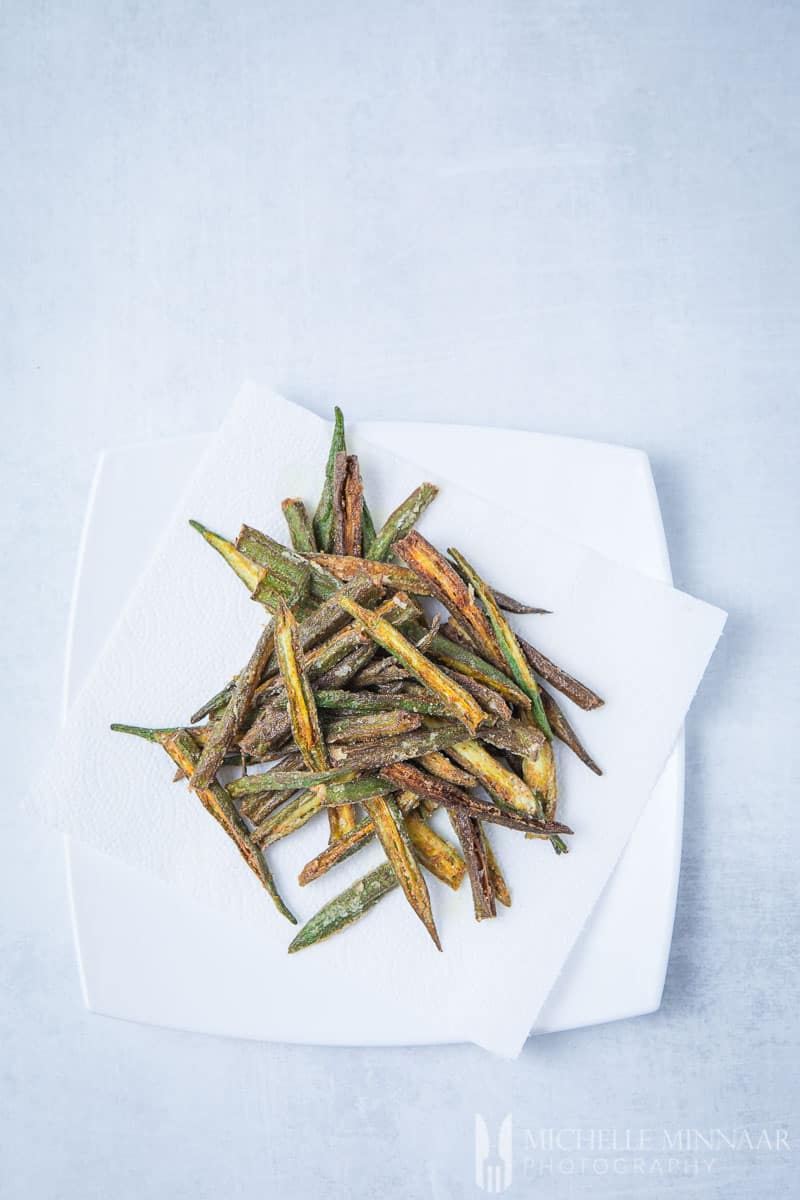 bhindi recipe
Bhindi kurkuri makes an excellent side for a lot of Indian dishes. Indian cooking does not always mean lots of rice or heavy curries. How about serving bhindi kurkuri with this chicken korma? It adds a completely new dimension to eating Indian food to have this crispy element on the plate. Also, it will definitely be lighter than eating rice as a side dish.
They are almost like French fries just in a spicy oriental way. Trust me, once you try these you will start making yourself bhindi kurkuri for non-Indian dishes too. You can pair these bhindi kurkuri with these BBQ chicken kebabs or even pair it with a whole smoked chicken. Click here to learn how to smoke a whole chicken.
They are also great as a little snack in between, though you need to be quick with serving them, as they taste the best, while still warm.
Print
Bhindi Kurkuri
---
Author:

Michelle Minnaar

Prep Time:

30 minutes

Cook Time:

15 minutes

Total Time:

45 minutes

Yield:

4

1

x
Description
Learn how to cook this bhindi kurkuri recipe. Coated with an Indian spice mix, gram and rice flour then deep fried. A perfect vegan side dish for any meal.
---
Scale
Ingredients
450g

(1lb) okra, washed and dried

5

ml (1 tsp) salt

1.25

ml (¼ tsp) turmeric

1.25

ml (¼ tsp) ground coriander

2.5

ml (½ tsp) red chilli powder

2.5

ml (½ tsp) dry mango powder / amchoor

2.5

ml (½ tsp) caraway seeds
Pinch asafoetida

15

ml (1 tbsp) rice flour

30

ml (2 tbsp) gram flour

30

ml (2 tbsp) oil
---
Instructions
Remove the okras' tops and quarter them lengthwise.
Mix the remaining dry ingredients in a bowl then cover the okra with all the spices.
You can leave the vegetables to marinate in the spice mixture for 30 minutes.
Fry the bhindi in oil until crisp and golden. You might need to do this in batches for optimal results.
Drain the bhindi on paper towels to remove excess oil.
Serve immediately.
---
Notes
Don't squeeze the bhindi at any time because they will become slimy in the cooking process.
Although the oil should be hot, don't have it at too high a temperature because bhindi burns easily.
Category:

Side Dish

Cuisine:

Indian
Nutrition
Serving Size:

1 serving

Calories:

142

Sugar:

3.8 g

Sodium:

324 mg

Fat:

7.4 g

Saturated Fat:

1 g

Carbohydrates:

15.1 g

Fiber:

4.3 g

Protein:

3.3 g
save the recipe to your pinterest board