If you are on track towards eating healthier and living a better lifestyle in general, then this cabbage poriyal recipe can help you. Among all similar vegetable-based vegan recipes, cabbage poriyal is the ultimate Indian cabbage dish. This amazingly simple recipe cooks within minutes because guess what – it doesn't take long for the cabbage to cook! Once the cabbage poriyal is ready and you've added all those amazing Indian flavours, finish it off with grated coconut. In my opinion, it is one of the simplest and most traditional South Indian vegan recipes out there. So please, do give this cabbage poriyal a go and let me know what you think.
Plus, it is as easy as it looks! Think of this cabbage poriyal recipe as a healthy type of comfort food full of flavours. You can serve this cabbage dry-curry recipe as a side dish to other curries such as beef kofta curry or a paneer korma. Otherwise you can double up in portion size and serve it as a main course for lunch or dinner.
cabbage poriyal recipe with grated coconut
Cabbage poriyal, simply put, is an Indian flavoured mix of stir-fried and thinly sliced cabbage. You can also consider the cabbage poriyal as a dry and spicy cabbage curry. Most of the time, one uses the traditional green cabbage only. However, as a last resort, you are also welcome to try this Indian cabbage poriyal recipe with red cabbage. The cabbage is stir-fried and tempered with traditional Indian herbs and spices. These often include mustard seeds and curry leaves. You may occasionally like to add lime leaves for a note of citrus. Also, it is not uncommon to add more ingredients for extra crunch or flavour, such as carrots, beetroot, beans or lentils.
In fact, one often makes poriyals with such ingredients. If you ever travel in the Southern part of India, you are bound to find beans poriyal, carrot poriyal, cauliflower poriyal as well as beetroot poriyal on the menu. By now, you are probably wondering, what is poriyal anyway? Here's a very simple explanation.
what is cabbage poriyal in Indian cooking?
Poriyal refers to any vegetable dish that involves the process of sautéing or frying. However, the word poriyal is also interchangeable with the 'Kannada' word called payla or 'Telugu' word porutu. So, yes you may also refer to this cabbage poriyal recipe as cabbage payla or cabbage porutu. However, just be aware that the cabbage payla (in respect to the region where it comes from) calls for the addition of chana dal instead of the traditional urad dal. It all depends on which part of India you are from. Nonetheless, they all refer to the same type of vegetable dish. This generally includes shredded vegetables and typical Indian spices.
Typically, a poriyal is a classic Southern Indian dish. It is served as a side dish. Most of the time, all poriyals have some form of vegetables and lentils, so as I've mentioned before you can make other versions like potato poriyal or beetroot poriyal. Again, the choice is yours. That's the beauty of cooking a poriyal dish! You can literally use up any leftover vegetables at the bottom of your fridge and turn it into an inspiring Indian dry curry.
how to cook cabbage poriyal
If this version of the cabbage poriyal isn't spicy enough for you, you can always double up on the spices. That's always the best part about cooking Indian food. You are the master of your own curry and you can control the amount of spices that go in. I always tend to opt for the milder versions, but still with a lovely kick of flavours. Besides, to keep things in the most traditional sense, you should add as much flavour and spices as possible.
When dealing with the spices, my recommendation is to not shy away from frying them off properly. For example, when you fry the mustard seeds, give them time so that they release their aromas. I always fry off my spices when I cook curries. It's an old trick for how to release as much flavour as possible into the curry that you are cooking.
traditional cabbage poriyal recipe – South Indian style
Traditionally, one serves the cabbage poriyal as a side dish. So, here are just a few dishes you can consider serving it with: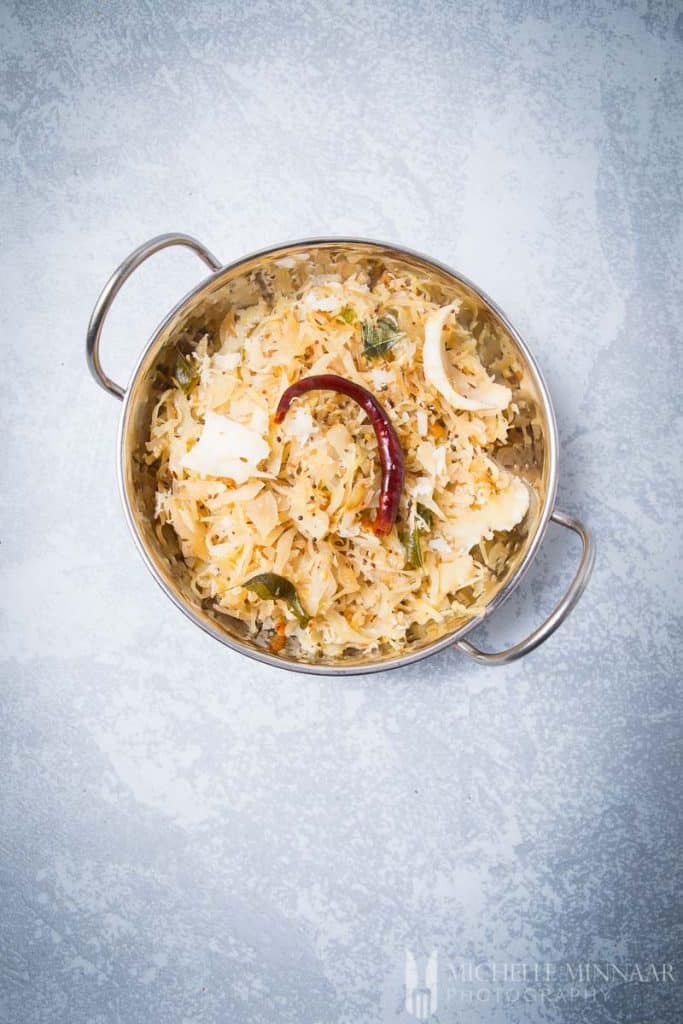 best toppings for cabbage poriyal
The cabbage poriyal wouldn't be complete without adding some grated coconut. In fact, in the region of Tamil Nadu (one of the 29 states of India), grated coconut is traditionally used as dressing for all types of poriyals. My recommendation is to always stick to the freshest of ingredients. So, go for fresh coconut if possible – you can even enjoy the raw coconut juice as a treat. If you are worried about opening the coconut or don't think you'll be able to find one, go for the prepackaged shredded coconut. Just make sure that it's unflavoured, as many contain lots of sugar or some extra flavour.
Lastly, an Indian curry wouldn't be complete without the use of fresh coriander leaves and some hot chilli peppers. Naturally, you can also use other herbs like parsley or watercress. However, I find that the coriander works best with the spices.
cabbage poriyal without coconut
Of course, you can also leave out the coconut element. Then again – why would you? Finding a substitute for grated coconut isn't the easiest task. However, luckily I have the answers you are looking for. First of all, if you want to stick to the nutty flavours of the coconut and respect the crunch factor, too, then nuts are your best alternative. The best type of nuts as toppings include macadamia nuts (oh these are so good) or Brazil nuts. They have a similar, soft texture and a mild, buttery-nutty flavour. Chip them up into smaller pieces and sprinkle all over the cabbage poriyal.
If you are looking for more deliciously spiced salads that are vegan, look no further. Take a look at my masala chana chaat. It's a wonderful spiced chickpea salad.
If in doubt, also give this saag aloo or Bombay aloo a try.
Print
Cabbage Poriyal
---
Description
Cabbage poriyal is the ultimate spicy and Indian vegan comfort food. Made with shredded cabbage, spices and grated coconut. Traditional South Indian recipe.
---
15

ml (1 tbsp) vegetable oil

5

ml (1 tsp) mustard seeds

5

curry leaves

1

green chilli, washed and finely chopped

2

kashmiri chillies

5

ml (1 tsp) chana dal

2.5

ml (½ tsp) urad dal

Pinch of asafoetida

15

ml (1 tbsp) jaggery or brown sugar

5

ml (1 tsp) ground cumin

½

cabbage, making about

4 cups

½

fresh coconut, flesh flaked
---
Instructions
Heat the oil in a large frying pan.

Fry the mustard seeds until they start popping, then add the curry leaves, chillies, and both dal.

Stir and saute the ingredients on a low heat until the dal changes colour.

Sprinkle in the asafoetida, jaggery and cumin.

When everything is well incorporated, add the cabbage.

Season with salt, add 60ml (¼ cup) of water, give it a good stir and cover the pan with a tight lid.

Cook on a low heat until the cabbage is cooked. Check on the food every 5 minutes to ensure the dish doesn't dry up and add a splash of water if necessary. At the end of the cooking process, all water should have evaporated.

When the cabbage is tender, add the coconut and mix well.

Serve as side dish with roti, paratha or rice.
Notes
If the cabbage poriyal isn't spicy enough for you, double up on the spices.

Since we're only using half of a cabbage in this recipe, you might be wondering if you can safely freeze the other half. The answer is yes! Simply follow a few easy steps found in my guide on freezing cabbage.
Prep Time:

15 minutes

Cook Time:

15 minutes

Category:

Side Dish

Cuisine:

Indian
Nutrition
Serving Size:

1 serving

Calories:

297

Sugar:

18.2g

Sodium:

750mg

Fat:

20.9g

Saturated Fat:

15.5g

Carbohydrates:

27.2g

Fiber:

6.3g

Protein:

3.1g
save the recipe to your pinterest board