Chana tikki is a traditional Indian patty that you can easily find on the streets of any Indian city, town or village. It's one of those meals, where it only tastes amazing when homemade or if you go directly to India. It's a surprisingly rich meal, especially since people eat three or four of these babies at a time. Generally, it is deep fried and well-seasoned, so that each bite contains the maximum amount of flavour. However, you don't have to deep fry these if you don't want to, but we'll get to that later.
Good to serve as a snack, starter or as a side to any delicious Indian meal such as tadka daal. If you want to have an Indian night with your friends, then definitely serve these as a starter and show off what you can do! The chana tikki is not so hard to make from scratch. However, it requires a bit of patience when preparing the patties.
chana tikki definition
By now, I 've been doing quite a little bit of Indian recipes. I can gladly say, that I can recognise the word of the main ingredient of this snack, which is chana. Chana in Hindi, means chickpeas! In the USA, they are known garbanzo beans. The word tikki in Hindi, means a small croquette or cutlet. So, the translation of chana tikki literally means chickpea cutlet or chickpea patty. They are known as kala chana tikki or kabuli kabab.
In India, Pakistan and Bangladesh, the locals refer the chana tikki to a hamburger or chickpea burger. They consider it an equivalent to the hamburger because of its shape. The only difference is of course the strong curry spices inside the patty and that it contains no meat.
vegetarian
This chana tikki is an excellent choice for vegetarians. Even for vegans, if prepared properly without any lactose or eggs. If you decide to go out and eat these in a restaurant, it's best to ask the chef what's inside the patty or tikki. Sometimes, people tend to use eggs to bind the mixture together and they still call it vegan. So, beware and ask! Also, if you are gluten intolerant, you should ask if they use flour to coat the patties.
These patties are very nutritious and are very high in protein and fiber. It leaves you satisfied for the day, with the recommended daily serving of vitamins. Also, chickpeas tend to lower your cholesterol levels. I wouldn't even hesitate to add these to my regular meals during the week.
vegetarian burger
What I love about chana tikki is that it can be consumed by itself, or you can mix it up with various types of meals. The best example I can give you is to use the chana tikki as a substitute for the real meat patty in a burger. It makes an excellent alternative for making burgers vegetarian, or even vegan, friendly. Also, if you are currently a meat-eater and want to make the switch to being a vegetarian, then this is the perfect alternative for you. You'll need those strong spices to keep you distracted from the tenderness and taste of the meat. It's possible to make the transition with something as delicious!
low- calorie mixture
In order get the best flavours into your mixture, I recommend pre-frying all the spices in a hot pan. This way, the entire meal will be more aromatic as the spices will release more flavour. Once this is done, add a little bit of coconut oil and toss in the diced vegetables such as the onions. Mix well and keep them on for about three minutes until the vegetables are soft and then remove. Next, mix it with the chickpeas in a bowl and start forming a dough. Once you make the patties out of the mixture, you should refrigerate them for an hour or two, so they have time to rest. Then, you can choose to grill them directly or pan-fry them. Or, even deep fry them.
I don't recommend deep-frying the chana tikki as the chickpeas will absorb most of the oil inside. This can leave you feeling bloated, or even cause really bad levels of indigestion. My suggestion is to pan-fry the chana tikki in a light drizzle of coconut oil.
other versions
Chana tikki is just one version of tikki that is very common throughout India and Pakistan. You can also come across aloo tikki. Aloo means potato. So, this would be a potato patty or potato burger. I am thinking what else I can make a patty out of, and the thing that crosses my mind are carrots and ginger. You can also go all green and use courgettes. Courgettes are widely used for pancakes or brownies, so why not patties? Just remember to eliminate that excess water from the courgettes, but otherwise, they are a perfect substitute for the chickpeas!
If on the other hand you have too many chickpeas, then you can make this amazing masala chana chaat recipe. It's super vibrant and fresh!
traditional dipping sauce
The traditional dipping sauce that goes with the chana tiki is a coriander and mint yogurt sauce. Unfortunately, the chana tikki wouldn't be vegan anymore. You can try to make a yogurt-free version of the sauce. Otherwise, I would recommend a spicy chili dipping sauce to kickstart the metabolism.
serving
Traditionally, the chana tikki or aloo tikki is best with a side of chai tea. Masala chai tea is a version of black tea, which includes various types of Indian spices. It's a centuries old beverage that has become increasingly popular in tea or coffee houses.
However, in terms of serving if with food, why don't you toss the chana tikki on top of a salad. The perfect salad I can already find is the masala chana chaat. I think it could be a perfect addition, a bit of hot and cold!
Print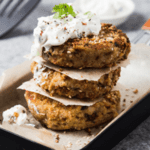 Chana Tikki
---
400

g

(1 tin) cooked chickpeas, drained

30

ml

(2 tbsp) oil

1

red onion

1

garlic clove, peeled and finely chopped

2.5

cm (1in) ginger, peeled and finely chopped

1

red chilli, washed and finely chopped

2.5

ml

(1/2 tsp) garam masala

30

ml

(2 tbsp) tahini

30

ml

(2 tbsp) roasted peanuts, coarsely ground
Handful coriander leaves, chopped

75

ml

(5 tbsp) water

2.5

ml

(1/2 tsp) sea salt

45

ml

(3 tbsp) sesame seeds
---
Instructions
Immerse the chickpeas in a bowl of boiling water for a few minutes so they soften and are easier to mash.
Drain the water and mash the chickpeas.
Heat half of the oil in a large saucepan. Add the onion and fry for 5 minutes until softened and translucent.
Add the garlic, ginger and chilli and stir for one minute.
Add the chickpeas, tahini, peanuts, coriander, salt and water and stir together.
Divide the chickpea mixture into 8 balls and roll between your palms to form balls, then flatten a little to form tikkis.
Heat the remainder of the oil in a frying pan.
Dip each tikki in sesame seeds and place half the tikkis in the pan, leaving it to cook on a low heat for 2 minutes or until the underside is lightly browned.
Turn them around and brown on the other side. Use more oil if necessary.
Repeat with the rest of the tikkis.
Serve hot with yogurt.
Prep Time:

20 minutes

Cook Time:

45 minutes
Nutrition
Serving Size:

1 serving

Calories:

278

Sugar:

6.1 g

Sodium:

136 mg

Fat:

11.4 g

Saturated Fat:

1.5 g

Carbohydrates:

34.5 g

Fiber:

10.1 g

Protein:

11.9 g
save the recipe to your pinterest board
A special thanks to Kelly Reeve for assisting with the recipe shoot.