Have you ever tried to make your own green chutney? If you're a fan of Indian food, you'll know that making your own is way more satisfying than ordering takeout or eating at a restaurant.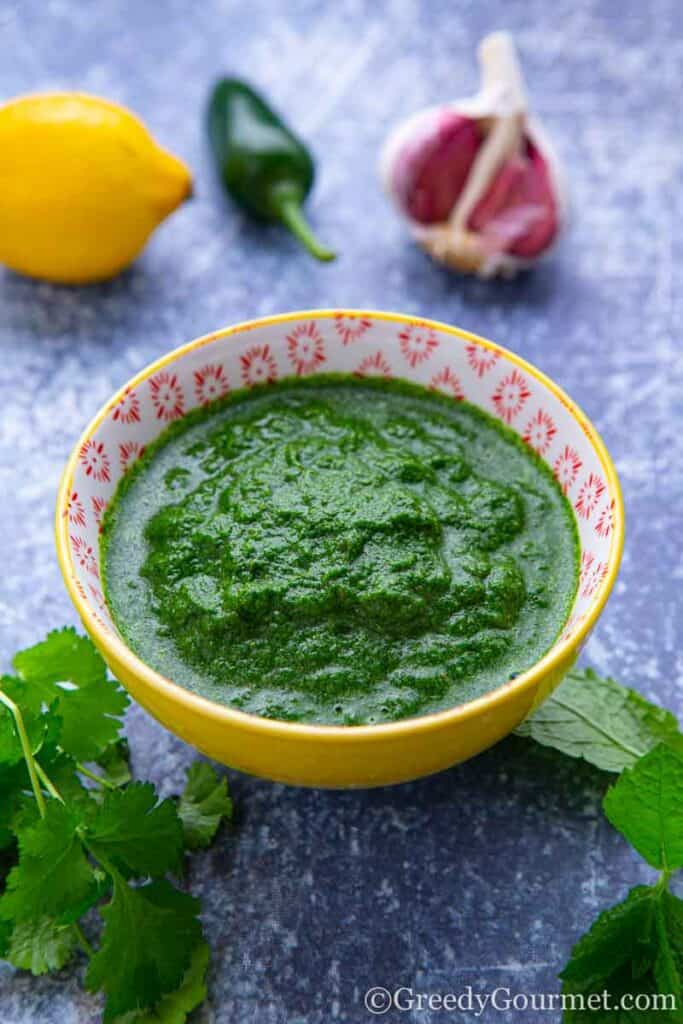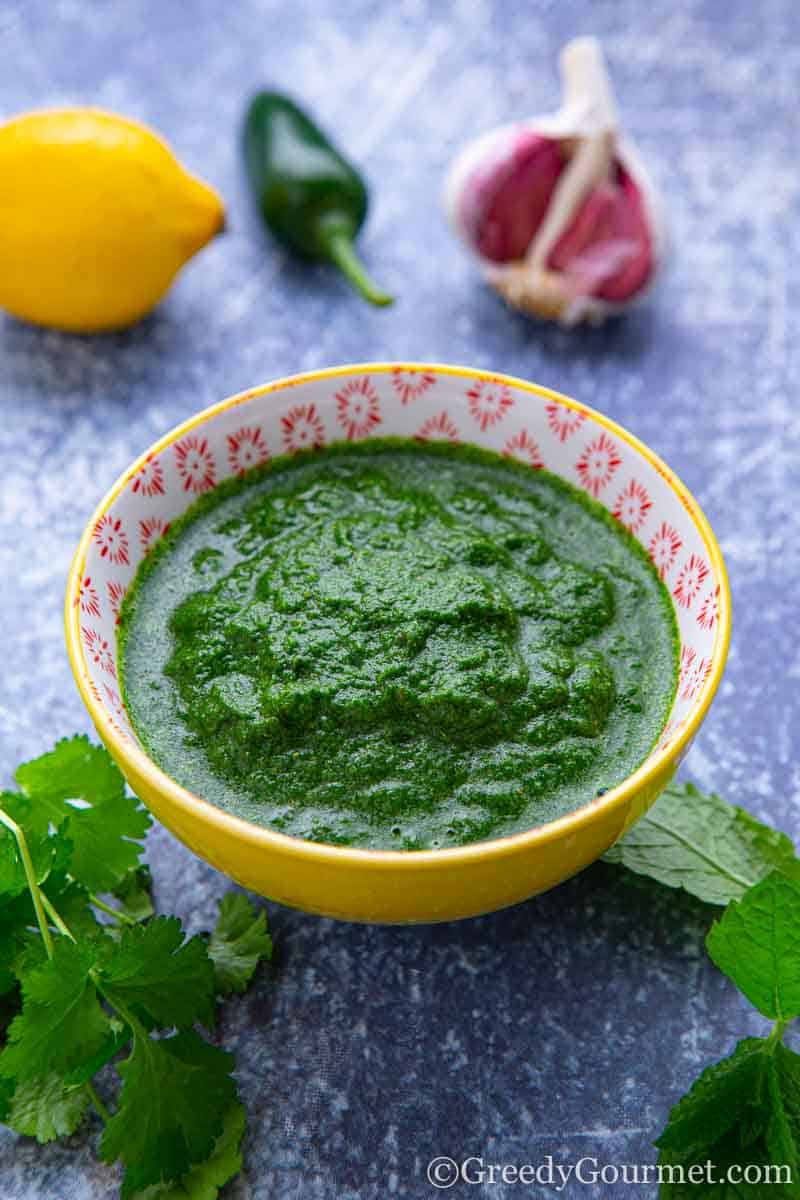 Well, green chutney is about as simple as Indian food gets. Best of all, it's utterly delicious! So, don your apron and get out those spices. It's chutney time!
Products you need for this recipe
There are a few key kitchen items and special ingredients you'll need to make green chutney: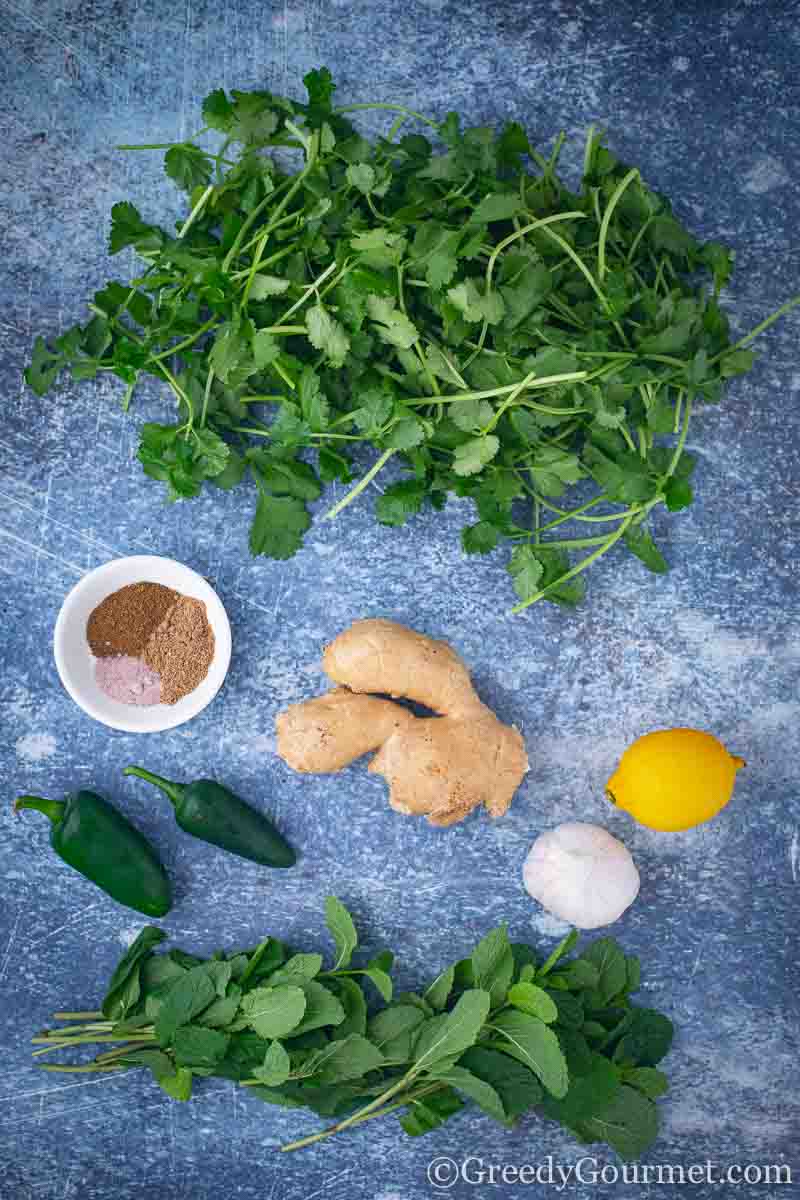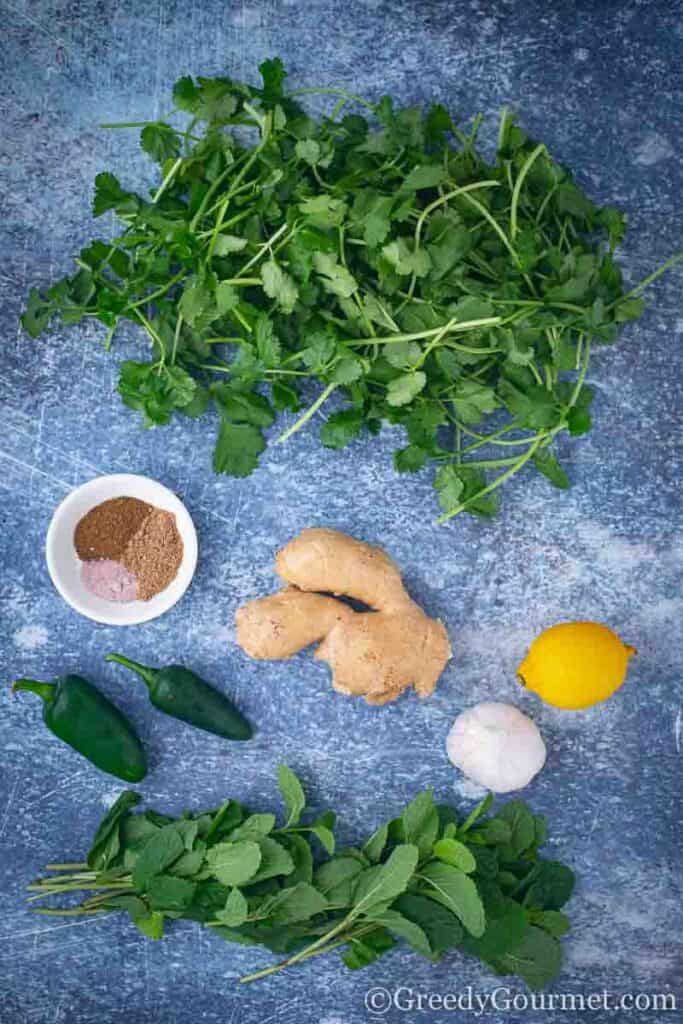 What is green chutney made of?
This green chutney recipe calls for a mix of several special herbs and spices. Cilantro or coriander leaves, mint leaves, lemon juice, cumin, salt, black salt, chaat masala, ginger and garlic are all mixed together.
If you want an extra kick to the dish, you can add green chillies.
Can you have green chutney without coriander?
If you're not a fan of coriander, you can easily tweak this recipe to your taste.
First of all, you can just replace the coriander with extra mint leaves. This will make your green chutney more of a mint chutney – especially good when served alongside an extra hot curry.
If mint leaves or a mint chutney isn't your thing, you can replace coriander leaves with radish leaves. They'll give your green chutney a peppery punch, while keeping that green color.
Why does my green chutney taste bitter?
When you make green chutney, you can sometimes end up with a bitter flavour.
The reason for this is if you blend your green chutney for too long in your food processor, it can produce a slightly bitter taste. This is caused by the oil in the coriander leaves, which starts to turn rancid when blended over processed.
It's best to blend it as quick as you can, which will result in a good balance of flavor.
Another reason your green chutney could end up tasting bitter is because you've used too many coriander leaves. Or, too much coriander stalk, which is more bitter than the leaves.
Just follow the measurements in this green chutney recipe and you should be fine!
How do you fix bitter green chutney?
If you do end up with a bitter tasting green chutney, there are several tricks you can pull that'll balance out the flavor.
First of all, you need to cut through the bitterness with a bit of sweetness. A tiny bit of honey or brown sugar should do the trick.
A hit of citrus would also help. Try adding an extra drizzle of lemon juice to balance things out.
Is green chutney good for you?
Green chutney is very healthy. It's packed full of antioxidants such as vitamin A and vitamin C. Antioxidants are essential when it comes to building and maintaining a healthy immune system.
Green chutney also helps to lower blood cholesterol and aids digestion. It can also lower blood sugar levels and increase energy levels in your body, as well as help to fight diabetes and the effects of asthma.
One tablespoon of green chutney contains 14 calories. Of these calories, 5 are carbs, 1 is protein and 8 are fat.
How long does green chutney last?
You can store green chutney in the fridge inside an airtight container for about a week. I'm willing to bet it won't last that long though!
How do you store green chutney for a long time?
If you want to store green chutney for a long time, you can also freeze it. Just store it inside an airtight freezer-safe container – it'll keep for around six months.
Thaw the chutney overnight in the fridge and use as you see fit.
What is the green dipping sauce at Indian restaurants?
If you've a curry fan, chances are you've wondered what that green dipping sauce is at Indian restaurants.
It's called hari chutney. What's hari chutney? It's green chutney! They're the same thing!
So, the next time you see hari chutney on the menu, you'll know from experience just how delicious it is.
What should you serve with green chutney?
There are plenty of amazing dishes that work wonders with a side of green chutney. Green chutney pairs well with everything from pakoras and chaats to bhajis and full blown curries.
Once you've mastered this green chutney recipe, try some of these:
Aloo chaat – a sumptuous snack, aloo chaat is one of the most popular snacks or side dishes in Indian cooking. It involves par-boiling potatoes, then frying them in select spices. Green chutney on top of aloo chaat makes a match made in heaven!
Chicken chaat - Another tasty chaat made with tender chicken sautéed with vegetables.
Mushroom pakora – an incredible pakora, this savory Indian snack is as delicious as it gets. One of the healthiest yet tastiest Indian snack recipes you'll find, this recipe also includes a dipping sauce that tastes out of this world
Potato bhajis – another one of the most popular Indian street foods, potato bhajis are a classic starter. If you want to impress your friends, look no further than this recipe. It's quick and easy, and has a satisfying deep fried crunch and subtle spice that makes the perfect pre-curry snack.
Peshwari naan – a supremely tasty traditional Indian bread, Peshwari naan has a dried fruit and coconut filling. Serve it with a green chutney on the side of a hot curry and you're in for a memorable meal
Kerala peratha – a flaky, tasty doughy flatbread that's the perfect side dish, along with green chutney, to accompany a hearty, spicy curry
Lamb karahi – a rich spicy sensation, this tender lamb curry would go so well with a green chutney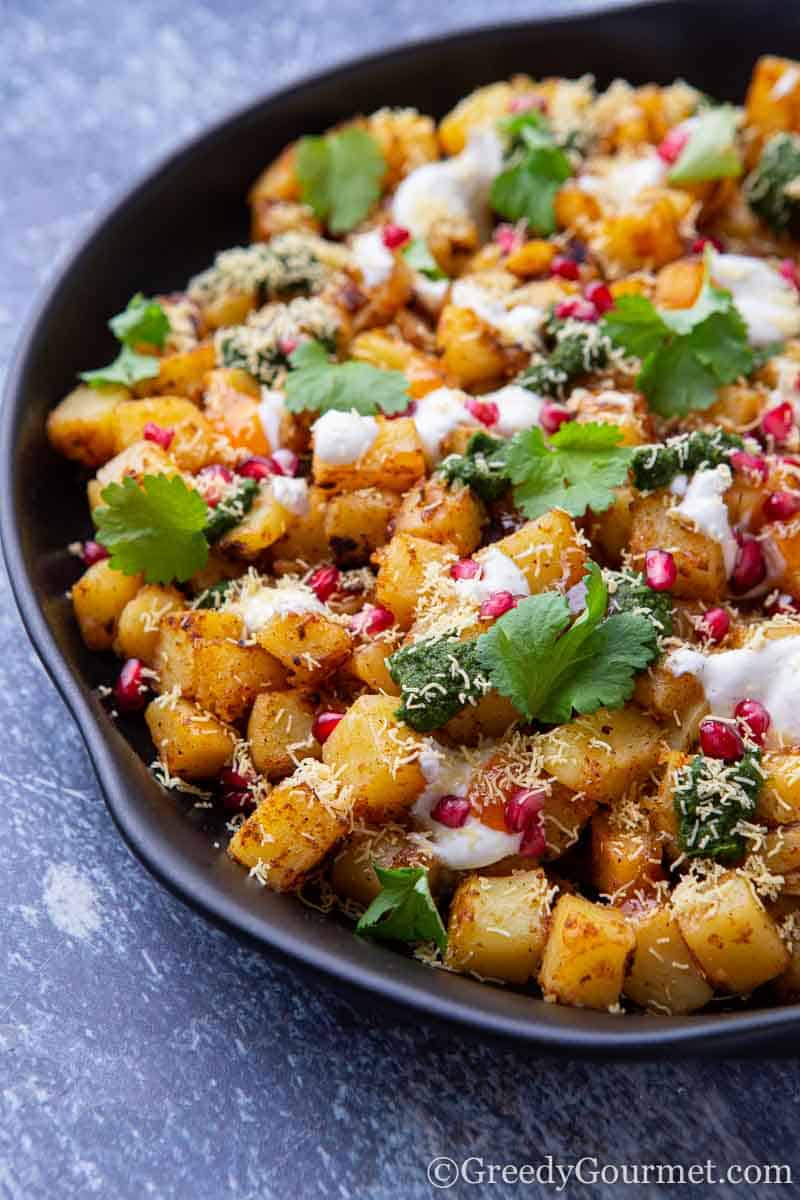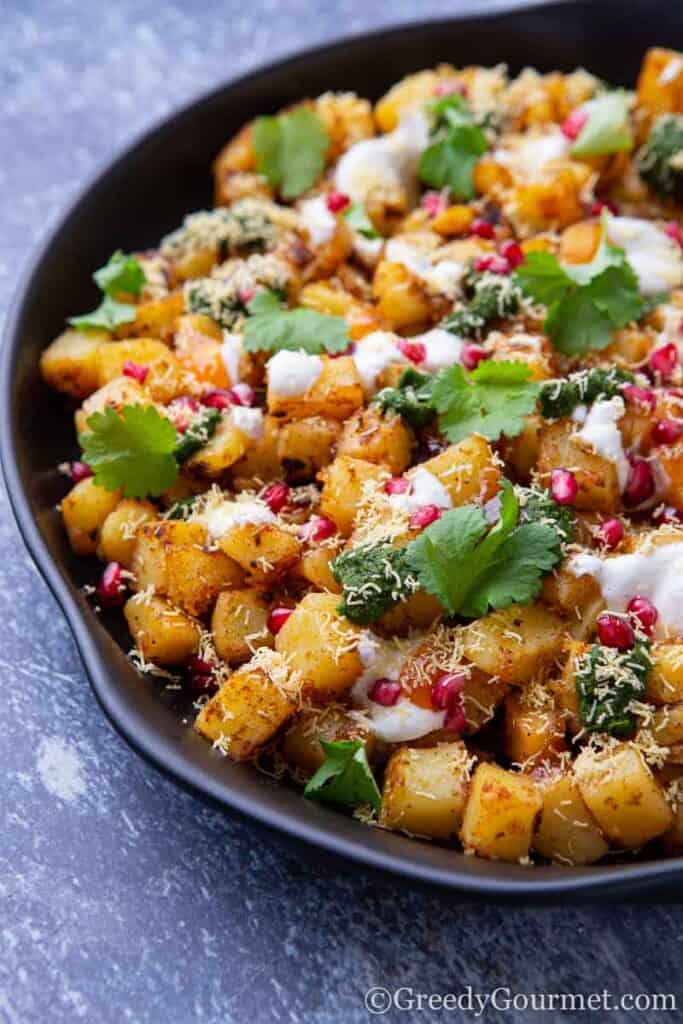 More amazing chutneys
Has this green chutney recipe got you in the chutney-making mood? If so, check these recipes out:
Print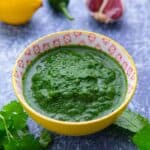 Green Chutney
---
Author:

Michelle Minnaar

Total Time:

10 minutes

Yield:

8

servings

1

x

Diet:

Vegan
Description
Green Chutney is a vegan Indian recipe comprising fresh mint and cilantro blended in a food processor with spices. Works great as a topping or dip.
---
100g

(

2 cups

) cilantro/coriander leaves, washed

50g

(

1 cup

) fresh mint, washed

2.5

cm (1 in) ginger, peeled

2

garlic cloves, peeled

1g

(

½ tsp

) salt

1g

(

½ tsp

) black salt

4g

(

1 tsp

) chaat masala

4g

(

1 tsp

) ground cumin

30

ml (2 tbsp) lemon juice
---
Instructions
Place all the ingredients in a food processor and blend until smooth. Use a small splash of water or two if needed at the beginning to make the blending easier.
Serve immediately as part of an Indian meal.
Notes
This chutney recipe can be stored in an airtight container for up to a week in the fridge.
You can freeze this recipe in portions.
Prep Time:

10 minutes

Cook Time:

0 minutes

Category:

Condiment

Method:

Blend

Cuisine:

Indian
Keywords: green chutney recipe, how to make green chutney, indian chutney recipe, mint chutney, cilantro chutney, mint and coriander chutney