Kerala Paratha is flaky, doughy flat bread that is round and soft in texture. Learn how to make it at home from the best in the business.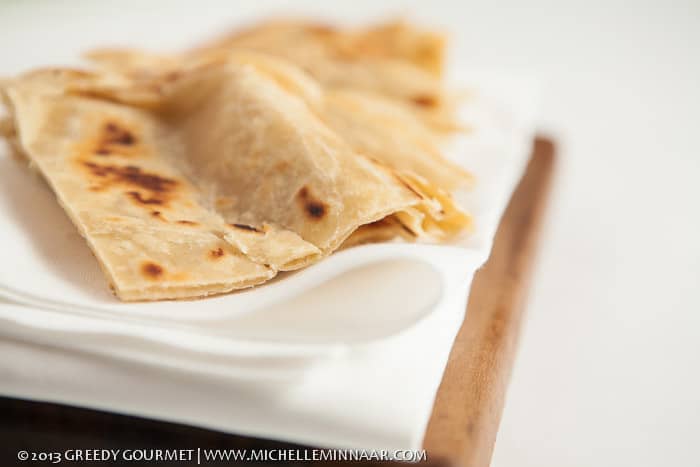 Life is an endless stream of contradicting experiences. When you're sweating in sweltering heat, you want to sit in a room with air conditioning. When razor-like arctic winds blow straight through you in winter, you yearn for warm rays of sun shine. If you're hungry you want to eat the whole menu of a restaurant, yet when you did you won't be able to stand the sight of food for a week. The list goes on and on and on.
For me the fun and exciting part of life is to explore and taste as many different cuisines and their dishes as possible. Mind you, I'll skip the eye balls, testicles and other dodgy bits. After all the enthusiasm, sadness kicks in when the realisation dawns that I'll never be able to try everything because a) my stomach is only so big, b) there are thousands if not millions of dishes to try and c) my life is finite, there are only so many days, weeks, months, years (who knows) left before I snuff it.
Indian food offers such a vast variety of delicacies from various regions' that it will take years to try everything in this cuisine alone.
It's best to start prioritising then!
Therefore I was super excited to visit Benares, one of London's foremost Indian restaurants, to do a recipe shoot and learn from the best. Unfortunately, co-owner and celebrity chef Atul Kochhar had to do last minute filming and the just as capable head chef Sameer Taneja did the demonstration for me.
It's not every day I get to visit a Michelin-starred restaurant's kitchen and it was an honour to watch everyone at work; precision and quality were everywhere I looked. If you find this kind of thing fascinating, Benares has a chef's table where you can watch the staff at work through a huge glass window.
On the day we made Vegetable Samosas, Coconut Fish Curry and Kerala Paratha. Let's start with the latter!
The Difference between Chapati, Roti, Paratha and Naan
It's easy to get confused between all these different Indian flatbreads. Here are rough guidelines to help you out. Chapatis are usually made with whole wheat flour. Roti is a synonym for Paratha, which is sometimes spelt Parotta. Naan is an enriched bread of Arabic origin. It contains milk and must be cooked in a tandoor.
Love Indian food? Check out these books!
Make a standard dough using either self-rising (plain, all-purpose flour can also be used) flour or, add a pinch of salt, and wet with lukewarm water. Roll the dough in a ball and place a damp cloth over it so that it doesn't dry out and form a crust. Leave it to rest for 15-20 minutes. One rule of thumb to remember is that the bigger quantity of dough, the longer the rest period has to be and vice versa.
Divide the dough in equal portions, a bit bigger than golf balls.
Hello, Sameer! Here he is rolling out one dough ball as thinly as possible with a rolling pin.
Those of you who have made your own puff pastry or croissants will sense some déjà vu. The whole idea is to roll the pastry as thin as possible and then creating layers.
Sprinkle some flour over the pastry.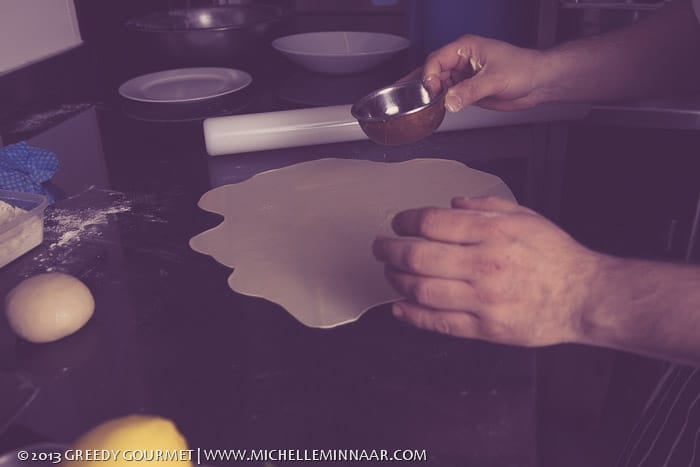 Then a bit of oil. You can use butter too.
Give the dough a light covering of oil.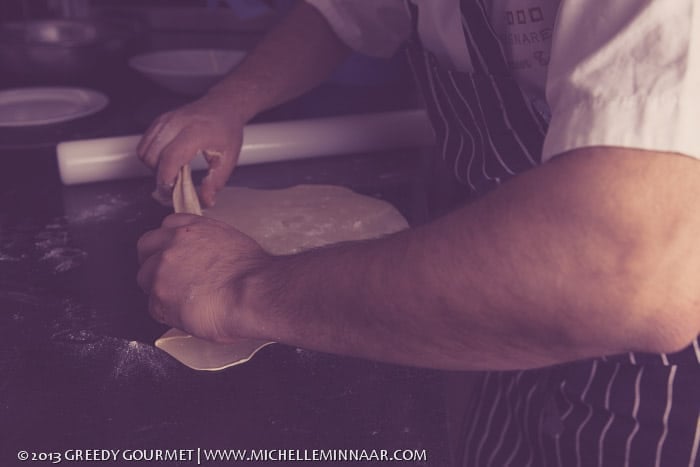 Starting from the further corners, assemble the dough in each hand.
It looks a bit like a concertina but you shouldn't allow it to fan out.
You're now left with with a snake.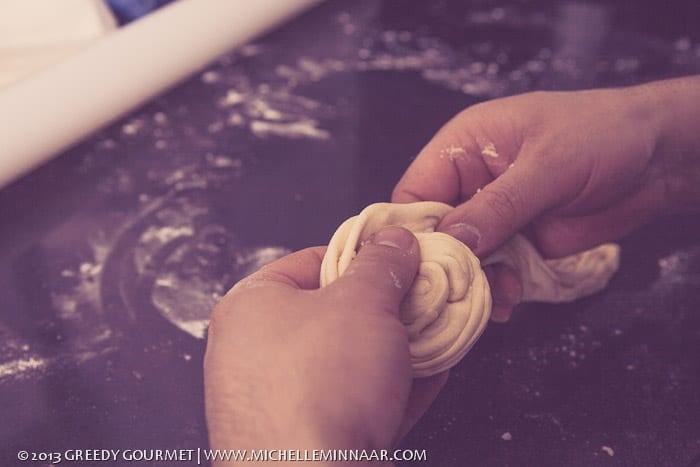 Starting at one end, roll it up into a spiral. For Brits and Americans, you should aim for it to look like a Chelsea Bun or Cinnamon Bun, respectively.
Pretty, don't you think?
After you've rolled all of the pastry into buns, it's time to roll each one into a perfectly round disc.
Make sure to dust each one with a bit of flour.
Here, we are back in the main kitchen of Benares, about to fry our Parathas.
In this case a non-stick frying pan was used. It was very hot and well oiled before the paratha hit its surface.
For frying purposes, oil is better to use than butter because the latter is on the heavy side.
One last brush of oil on both sides ensures that the dough browns evenly and obtains a fabulous golden sheen.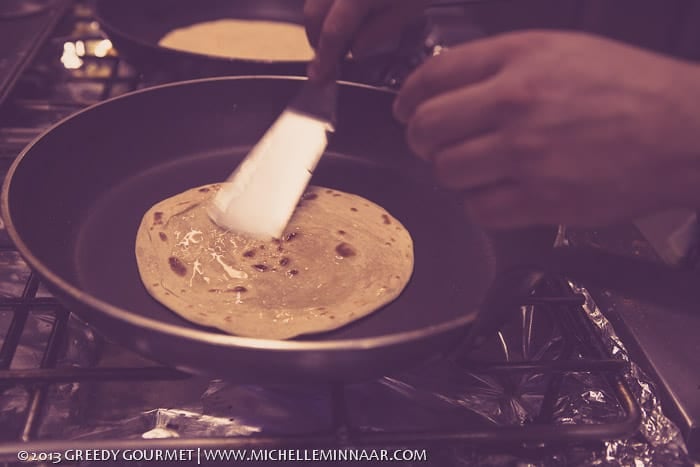 And we're done!
For a finishing touch you can scrunch the paratha to break it up a little and bring out its layering.
Afterwards you slice it in quarters and serve immediately.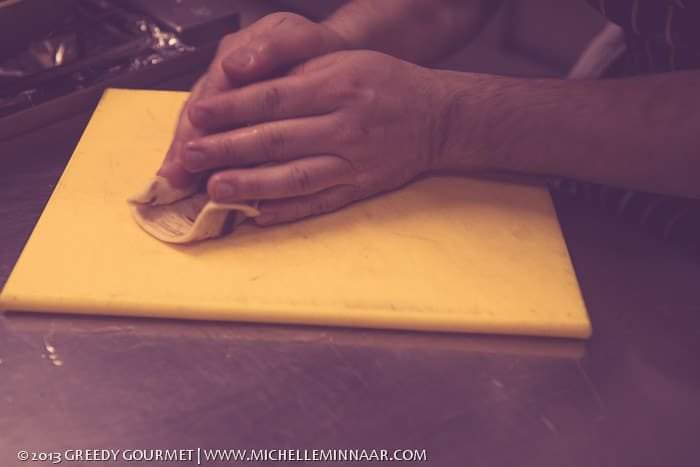 Storage Instructions
You can freeze parathas by covering each one with two sheets of baking paper of equal size. Place it in a freezer bag and store. You can reheat it by placing it on a low-heated griddle until it's fully defrosted.
Print
Kerala Paratha
---
Description
Kerala Paratha is flaky, doughy flat bread that is round and soft in texture. The outside of the Paratha is crispy brown and crunchy while the inside is warm and soft. It can be made of a griddle and is best paired with curries.
---
300

g

(2 cups) all-purpose flour

2.5

ml

(1/2 tsp) salt

45

ml

(3 tbsp) oil or ghee
---
Instructions
Place all the ingredients in a bowl and mix together.
Systematically add lukewarm water to the mixture until a soft dough forms.
Chill in the fridge for at least one hour covered.
When the dough has chilled, turn it out onto a lightly floured work surface. Roll small, golf-ball sized pieces of the dough into balls using your hands, then roll them into thin discs using a rolling pin. Then brush the dough discs with butter using a pastry brush.
Fold one dough disc tightly into a concertina shape. (Do not allow the concertina to fan out. The folds should be 1cm/½in apart.)
With the thinnest side of the concertina facing upwards, shape the dough concertina into a coil, tucking the outer end of the coil back into the centre of the coil.
Lightly squeeze the dough coil back into a ball, then roll it out using a rolling pin, until the disc is 0.5cm/¼in thick and 15cm/6in in diameter.
Repeat the process with the remaining pastry discs.
Heat the sunflower oil in a frying pan over a medium heat. Add the Paratha one at a time and fry for 1-2 minutes on each side, or until crisp and golden-brown on the outsides and soft and flaky on the insides.
Remove from pan and when it's cooled enough scrunch the paratha from opposite sides with both hands in order to break it and make it flaky, thus exposing its layers. Serve immediately.
Notes
Serve with any curry – it's ideal for scooping and dipping!
Prep Time:

65 minutes

Cook Time:

10 minutes

Category:

Side Dish

Method:

Bake

Cuisine:

Indian
Nutrition
Serving Size:

86.3g

Calories:

359

Sodium:

292 mg

Fat:

11.2 g

Carbohydrates:

55.9 g

Protein:

9.2 g
save the recipe to your pinterest board