This tangy masala grilled aubergine will take you on a spicy adventure, thanks to the new release, Saffron Soul. It will make you feel like you are on an exotic holiday somewhere in Asia.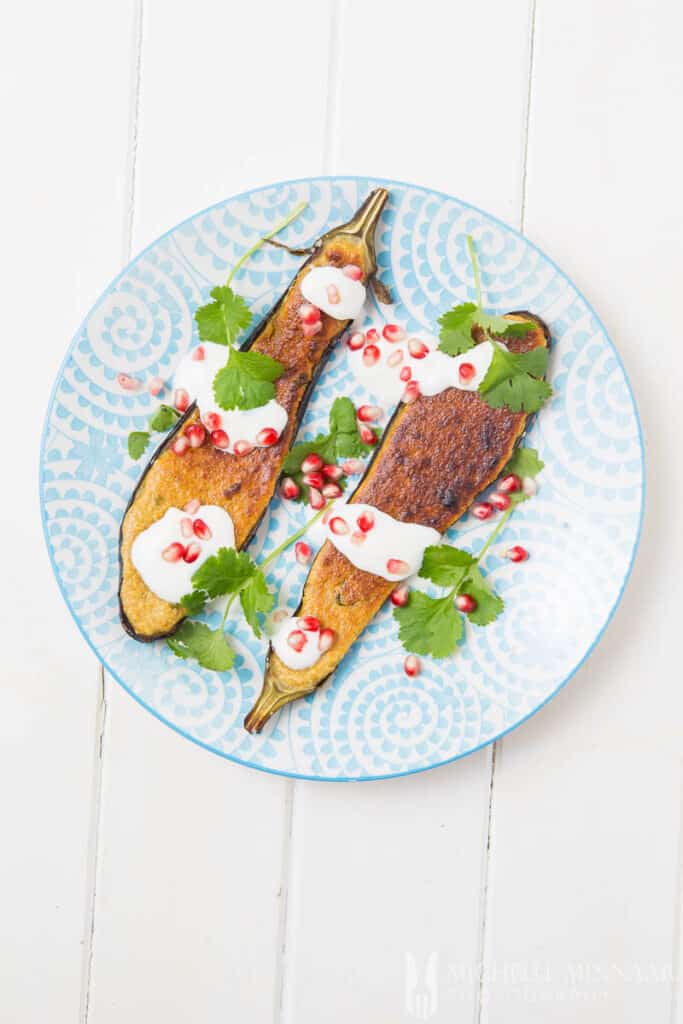 The softness of the grilled aubergine is a beautiful complement to the green flavours of the coriander and the sweetness provided by the pomegranate seeds. All in all, an absolute delicacy and a must try! Great as a side, starter and main. It all depends on how much you make!
Aubergine or eggplant or brinjal?
Who cares! It is the same vegetable. Aubergine is the French name for eggplant we use in Britain. Indians call it brinjal. In any case, I bet you anything, that what I am about to tell you will make your jaw drop.
Did you know that aubergines contain a fair amount of natural nicotine? Therefore, the next time you want to quit or see your friends smoking, give them a huge aubergine!
In fact, the nicotine might have been the reason why they accused aubergines of causing insanity. The ancient Egyptians monitored that there were more registered insanity incidents during the aubergine season.
Furthermore, the Italian folklore also supports this superstitious claim. Maybe there really is something to it. Don't worry, this recipe won't make you go insane.
There are three types of aubergines you can use for the masala grilled aubergine recipe:
Dark purple – the traditional
White
Green
A little trick I learned during previous aubergine recipe, melizanosalata, was that you should criss-cross the aubergine when you cook it. It cooks faster and evenly – a very handy trick.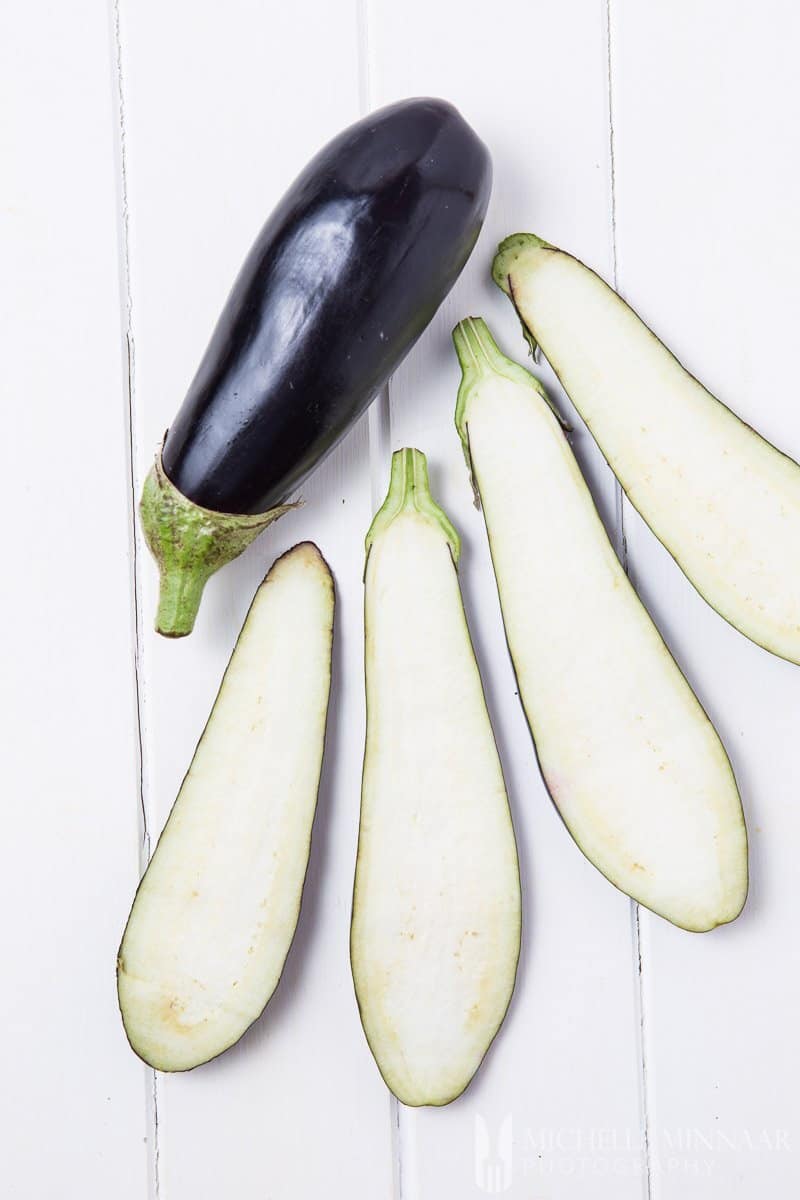 Masala
Masala is not one specific type of spice but rather a mixture of spices. The name 'masala' comes from southern Asia and is used to define a spice mix.
Hence, there are various types of masalas, depending on what spices you throw in the blend. The history of Indian spices dates back roughly 5,000 years!
Back then, spices were traded as valuable commodities and were considered as luxurious. These spice mixes have been used for centuries for eating, medicine, perfumes and cosmetics.
Spice mix
Speaking of medicinal properties of spices, let's examine what these spices can do for you in your masala grilled aubergine:
Ground cumin – cures upsets stomach and improves digestion.
Ground coriander – aids digestion, skin inflammation and reduces cholesterol.
Chilli – great for diabetics, regulates insulin levels and improves metabolic rate.
Tahini – great for a liver detox, high in minerals.
Turmeric – anti-inflammatory properties.
These spices are all pretty exceptional! No wonder they were and still are a valuable commodity to our modern kitchens.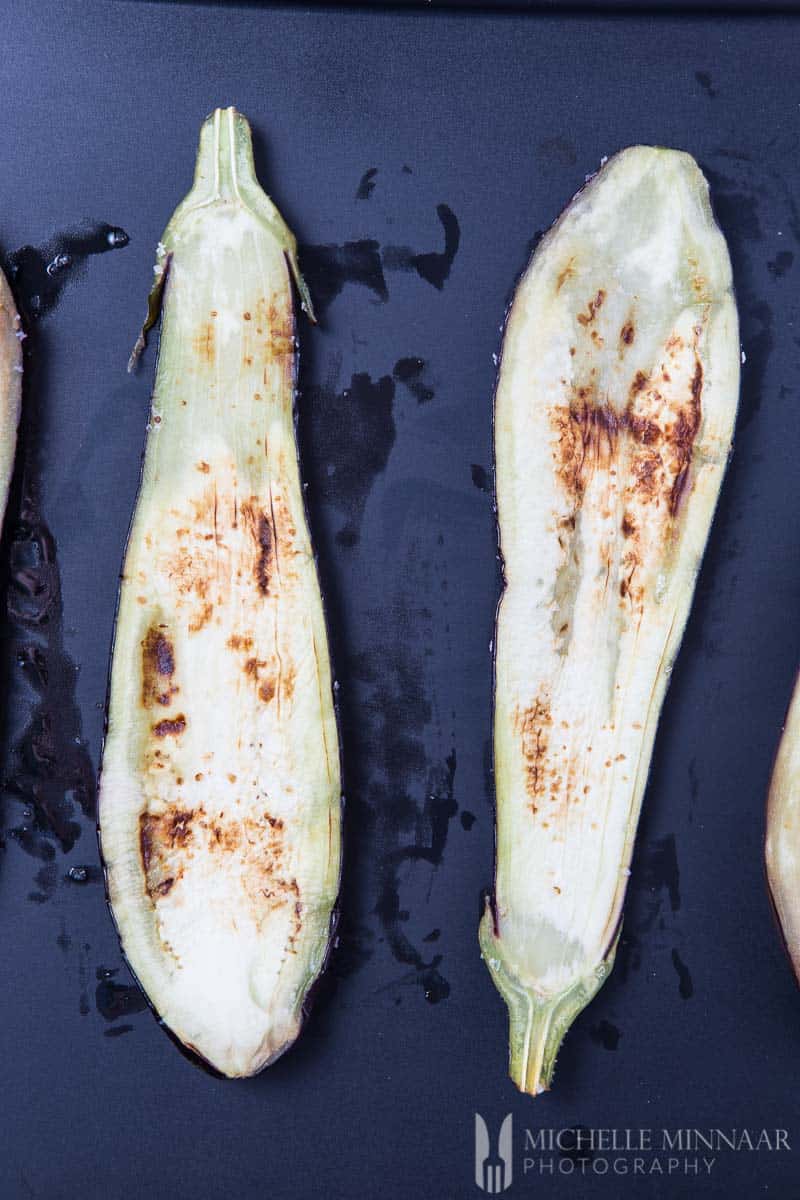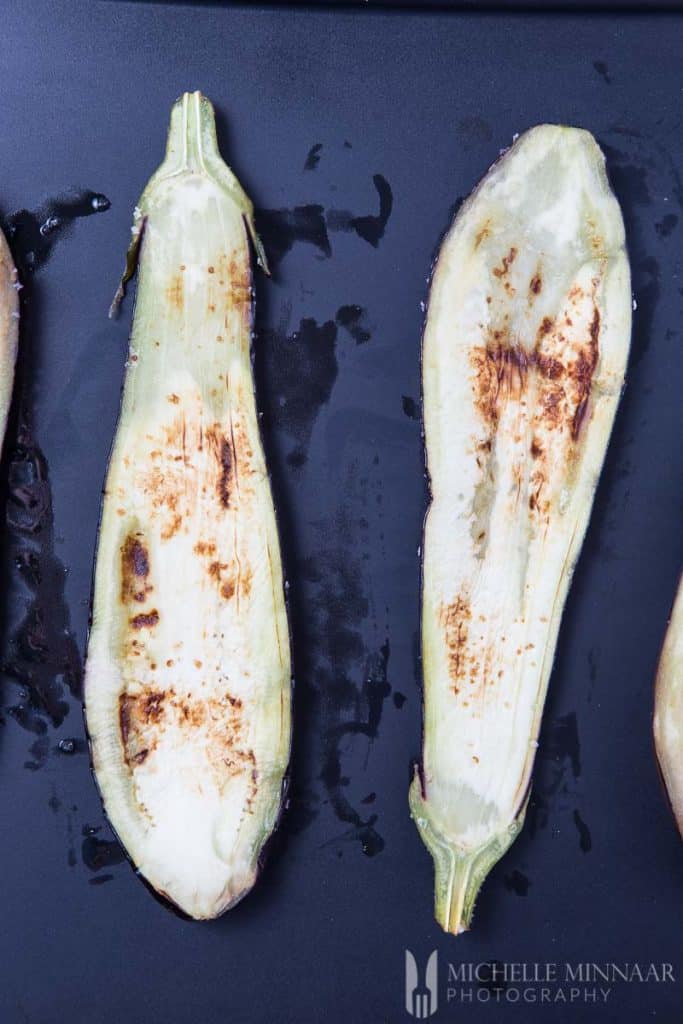 If you've got leftover masala, then definitely make this amazing Indian salad called masala chana chaat. It makes an excellent side dish or spiced chickpea salad.
Thickness
If it's your first time, just follow the recipe step-by-step. You should aim for achieving a paste-like thickness. If you don't like the thickness, simple add a little bit of water or lime juice.
The honey should give the masala mix a nice consistency though. Remember, you don't want the spice to run off the masala grilled aubergine while you grill or oven-bake them.
You can grill this aubergine recipe or oven bake it. If your oven is sophisticated enough, and has a grill setting, great! Just push the grill button and let it grill in the oven.
Nonetheless, the masala grilled aubergine works wonders on an open grill in the garden. First, you can extract that nice smoky flavour by getting a decent char on the aubergine.
Second, you can enjoy the weather and get some sun. Lastly, you can also enjoy a couple of pints with your friends and enjoy the grilled masala aubergine on a terrace.
If this appeals to you, you' l love the oven-baked barbeque chicken recipe I've made recently.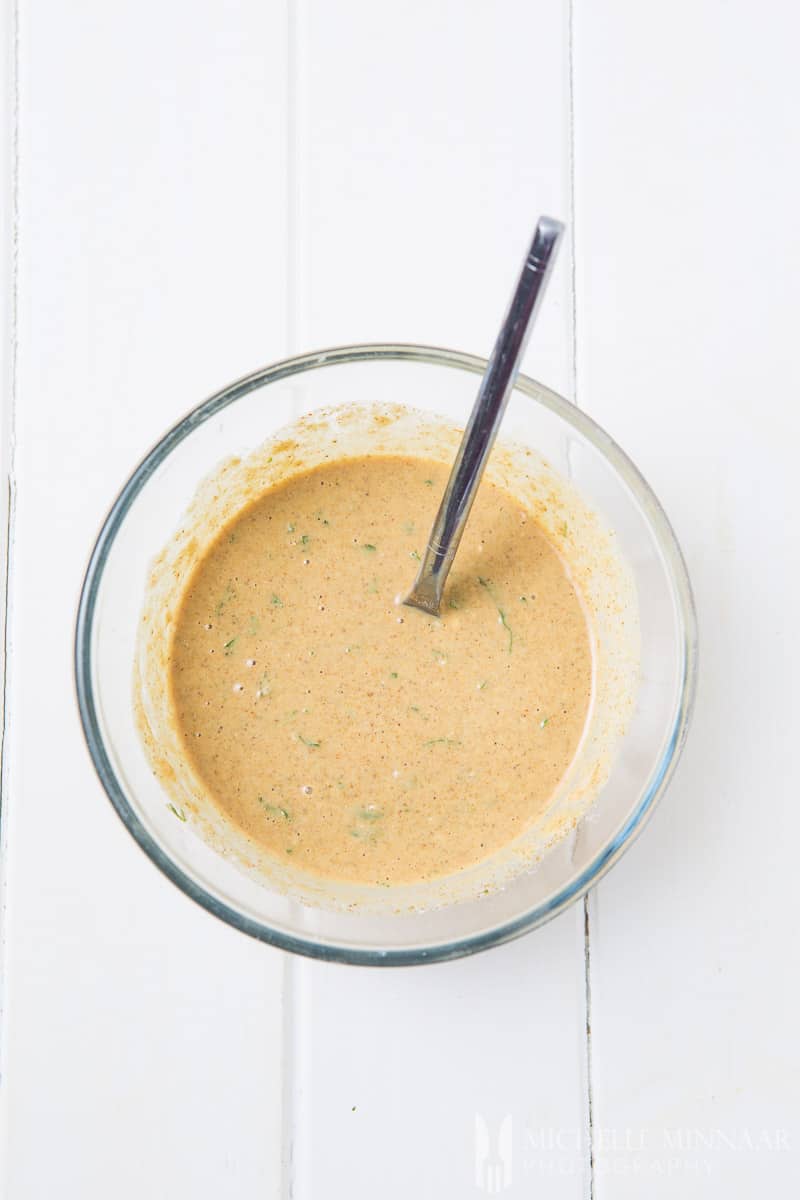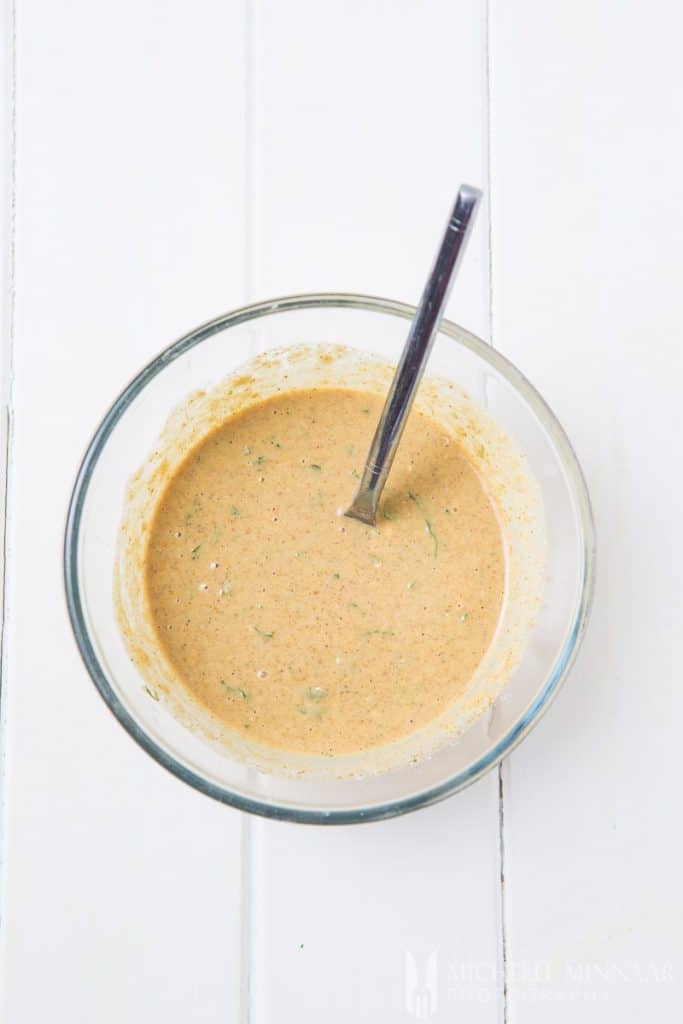 Yogurt
Yogurt is an excellent addition for the grilled aubergine. For those of you are sensitive to chilli, the yogurt tends to tone down the spice levels.
Moreover, it has a cooling sensation, and adds a different texture to the dish. You can also add some of the spices into the yogurt. I for example like to add cumin, chilli and a bit of fresh mint.
It's very traditional to have a cool mint-based yogurt as a side with Indian food. I think a touch of mint in your normal white yogurt is perfect, if you feel like the grilled aubergine might be too spicy for you.
I've also seen people combine grilled aubergine with soft ricotta cheese. They top the grilled masala aubergine with it, and let the cheese form a nice golden layer on top. You choose!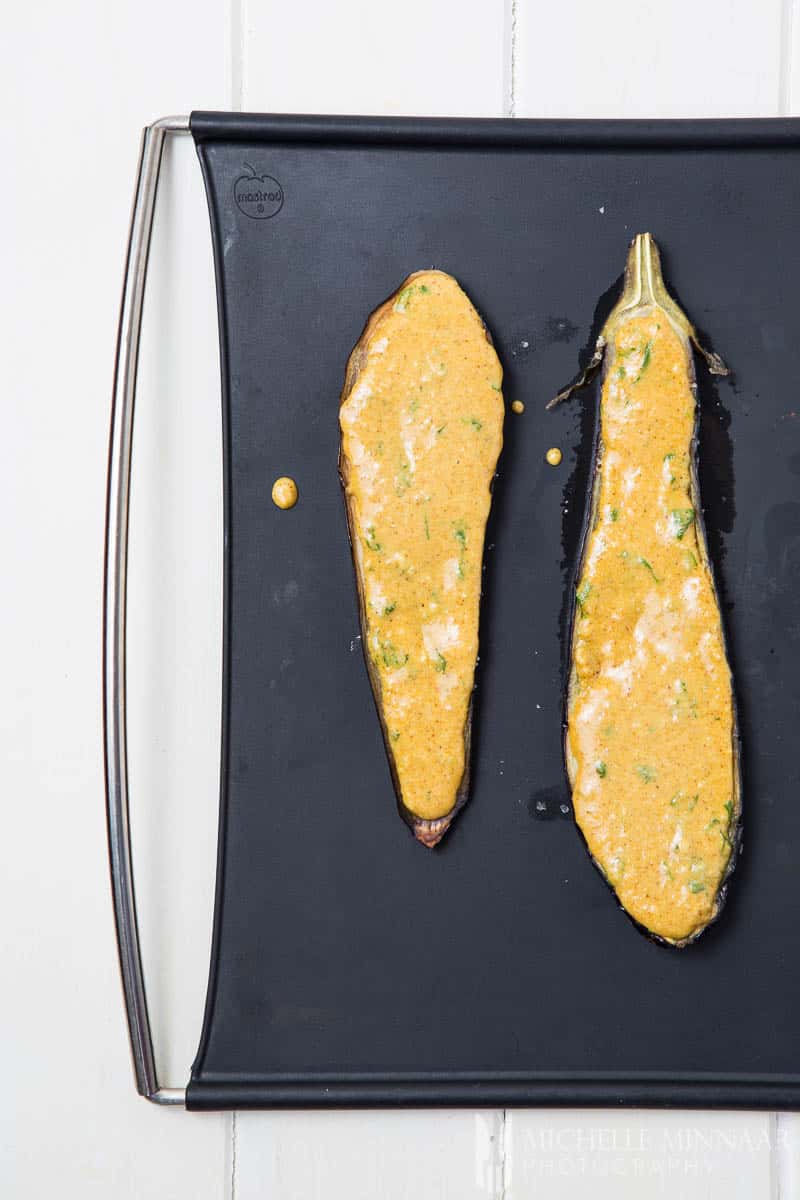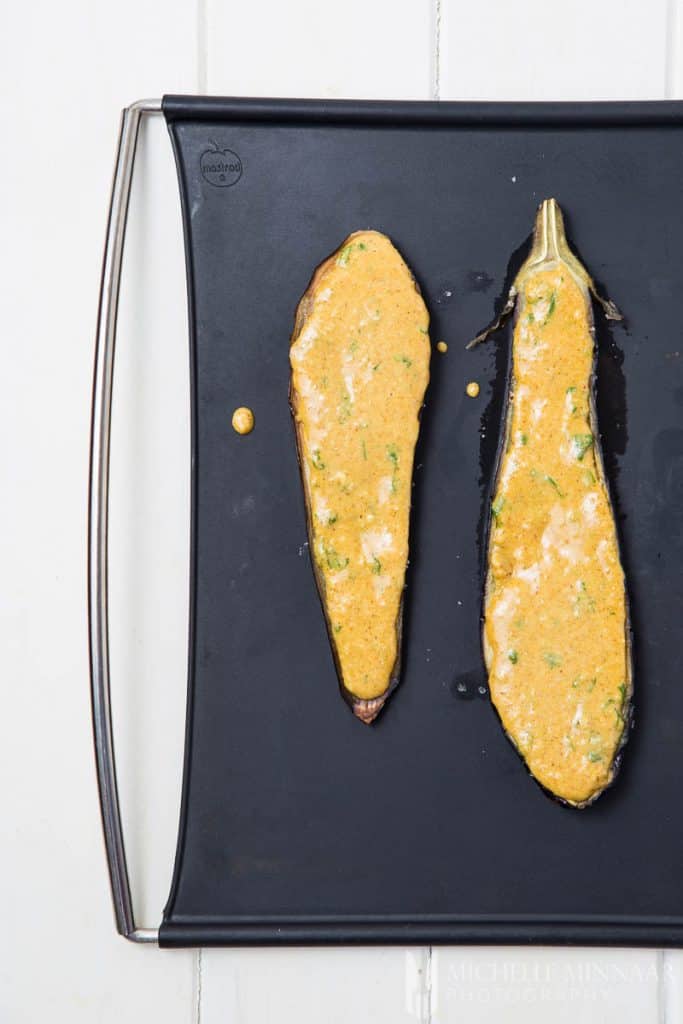 Pomegranate seeds
I adore this fruit. Its sweet and bitter flavour is just the best! Furthermore, it's very addictive. Once you have a little, you can't stop. It's very hard not to eat the pomegranate seeds and leave some for the masala grilled aubergine.
A while back, I didn't like buying pomegranates, because it was a hassle to get the seeds out and generally the juice was all over the kitchen. I'll pass a little trick to you that might just turn you into a seasoned pomegranate eater.
Get a deep bowl and fill it up with cool water. Cut into the pomegranate and with a little help the seeds should come out very easily.
No mess, no fuss. When you're done, enjoy. Remember to save some for the grilled aubergine.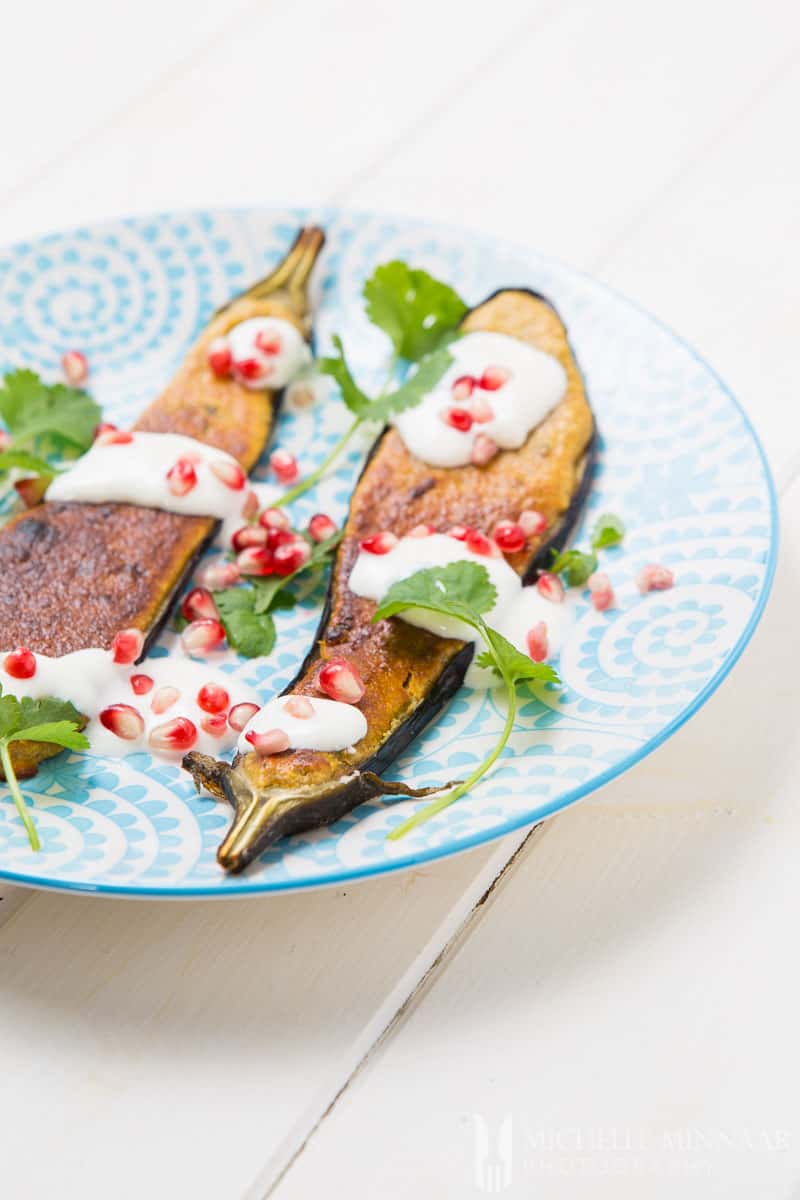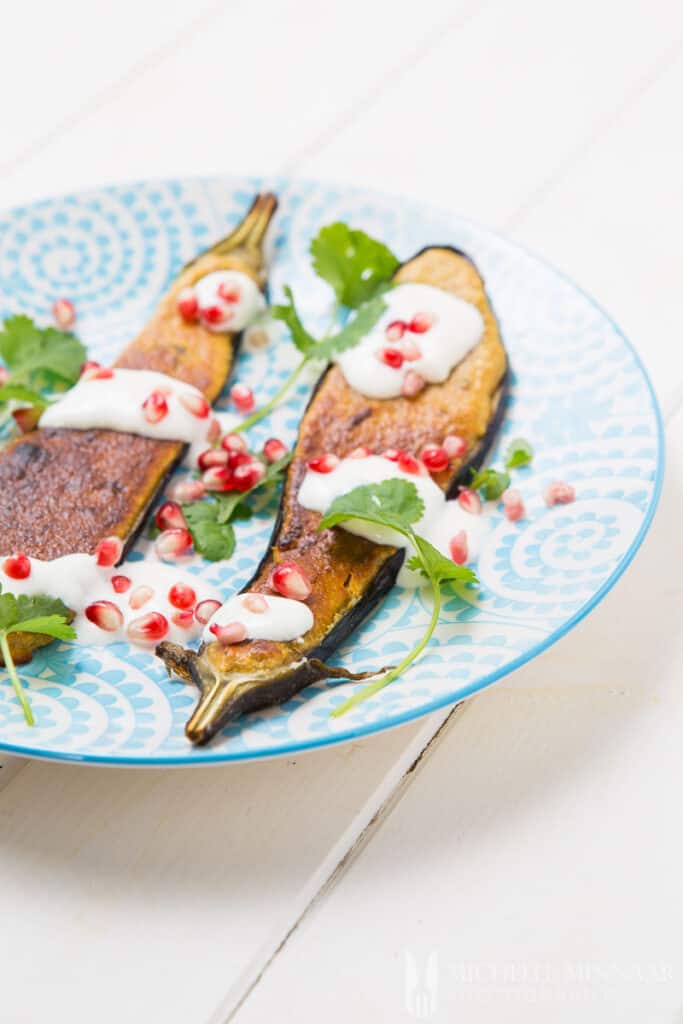 Serving
What I love about the masala grilled aubergine, is not only the flavour, but the versatility of this dish. Depending on how many aubergines you get, you can serve it as a main course or as a side.
Easy! You can either serve this dish as a vegetarian dish, or vegan (without the yogurt). If you feel like having more, then include a beautifully roasted lamb chop or pork chop and serve the masala grilled aubergine as a side. Enjoy!
Here are some eggplant recipes you may enjoy:
Print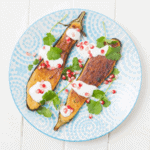 Masala Grilled Aubergine
---
5

ml (1 tsp) ground cumin

10

ml (2 tsp) ground coriander

2.5

ml (½ tsp) ground turmeric

2.5

ml (½ tsp) salt

2.5

ml (½ tsp) red chilli powder

60

ml (4 tbsp) tahini

40g

(

⅓ cup

) cashews, ground to a fine powder

30

ml (2 tbsp) honey
Handful of coriander leaves

15

ml (1 tbsp) sesame seeds
Juice of

1

lime

5

ml (1 tsp) rapeseed oil

100

ml (3½oz) water

2

large eggplants

30

ml (2 tbsp) coconut oil

1.25

ml (¼ tsp) salt
Plain yogurt, to serve
Pomegranate seeds, for garnish
---
Instructions
Preheat oven to 175°C/350°F/gas mark 4.
To make the masala sauce, mix together the cumin, coriander, turmeric, salt, red chilli powder, tahini, cashews, honey, coriander leaves, sesame seeds, lime, rapeseed oil and water in a small mixing bowl. The masala mix should be a paste the consistency of honey that you can layer onto the aubergine.
Slice each aubergine lengthways into 4 slices, each about 1cm (⅓ inch) thick. Place 15ml (1 tbsp) of coconut oil in a large frying pan over a lower heat. Once the oil was melted, place half the slices of aubergine in the pan and sprinkle a little salt over the top.
Leave to cook on a low heat for a few minutes, then turn and cook on the other side.
Transfer to a baking tray and repeat with the remaining oil and slices.
Place the tray of aubergine in the oven for 20 minutes until soft, piercing with a fork to check.
Next, layer the masala mix onto the aubergine slices as evenly as possible, spreading right to the edges, then cook in the oven for another 15 minutes.
Meanwhile, preheat the grill.
Cook the aubergine under a hot grill for 5-10 minutes, checking every few minutes to ensure it doesn't burn.
Serve the aubergine immediately, with a few dollops of yogurt and a sprinkle of pomegranate seeds and coriander.
Prep Time:

60 minutes

Cook Time:

10 minutes
Nutrition
Serving Size:

1 serving

Calories:

333

Sugar:

12.2 g

Sodium:

202 mg

Fat:

21.8 g

Saturated Fat:

8.5 g

Carbohydrates:

20.7 g

Fiber:

4 g

Protein:

6.9 g

Cholesterol:

2 mg
save the recipe to your pinterest board