If you're a curry lover, you'll know that 'naan bread' – an Indian/Pakistani flatbread recipe – is the perfect side dish for a tasty, heart warming curry. But have you tried peshwari naan?
No? Well, now's the time to try.
What is peshwari naan?
Most of you will know this Indian flatbread recipe that normally gets served up alongside your favourite curry.
Surprisingly, the word "nan" didn't originate from India but from Iran. The word is used throughout the Asian subcontinent for any type of bread.
The word 'nan' comes from nān, a Persian word that means 'bread.' These breads were traditionally baked in a tandoor, a clay oven from which tandoori cooking takes its name. This way of baking it gives this peshwari naan recipe a beautiful, unique taste. Although, when baked in a normal oven or a pan, it'll still taste great!
So don't worry, you don't need a tandoor for this peshwari naan recipe. You can bake it in your oven too at its highest setting, just check the recipe below.
Much like sandwiches, they can have different fillings. Peshwari, sometimes spelt Peshawari, has a dried fruit and coconut filling and once you taste it you'll never go back to plain, old boring dough. The other most famous ones are Keema, which is stuffed with meat and Kulcha, filled with a spicy salt and onion mixture. The sky's the limit, really, so let your imagination run wild. You can also check out a recipe for Kerala Paratha, a flaky, doughy Indian flat bread that is round and soft in texture.
Products you'll need for this Peshwari naan recipe
Other types of naan bread
There's quite a variety of traditional Indian naan breads, all with their own special unique character. So, whatever your preferred taste, discover the range of naans and find your favourite. Here are a few of the most well known naan breads:
Kashmiri Naan
One of the most loved recipes in Kashmiri cuisine, Kashmiri naan is quite different to most other naans. In fact, it's usually served at breakfast or, sometimes, with afternoon tea, the perfect occasion for naans with a sweet (from the desiccated coconut), nutty taste.
Laccha
Okay, so while it's technically not actually a naan, laccha is indeed very similar. It is normally made with whole wheat and doesn't use the typical raising agents. This makes it quite thin and multilayered when cooked.
Keema Naans
These soft and fluffy naans that are stuffed with keema once cooked. They're absolutely delicious! Taste them for yourself – have a go at creating your own and use my recipe for  keema matar for the stuffing.
Kulcha
Kulcha is made with maida or refined white flour, instead of plain flour. It's also a mixture of dough with mashed potato, making it a unique flatbread.
Paneer Naans
A crispy, plain naans stuffed with paneer, which is a fresh soft cheese that is very popular in Indian cuisine.
All of these naan breads make a great side dish to accompany just about any curry. This peshwari naan recipe is one of the best and would go with anything from a rich creamy curry to a dry spicy curry.
---
Peshwari naan recipe
There are several steps involved when making this peshwari naan recipe. It's not too complicated though – try it once and you'll be well on the way to mastering this peshwari naan recipe.
First, the filling is made by mixing together the sesame seeds, almond powder, pistachios, sultanas, coconut powder, desiccated coconut, caster sugar, single cream and mango pulp into a dough paste. Then you divide the dough into 4 equal dough ball portions.
Once you divide the dough, the almond flour, bread flour, baking powder and salt are mixed together and a little bit of oil is added, along with sugar, egg and milk to bind together and form a dough.
This dough is then kneaded on a floured surface for a few minutes. Once it's smooth and pliable it needs to settle. This is where you leave it to one side in a warm place for around an hour, covered with a damp tea towel or cling film.
Once the dough has cooled in a warm place, the dough balls are rolled out into 4 thick circles. Then the filling is spooned onto half of each circle, before the dough is folded over and carefully pinched and sealed, with the help of a little water to seal the deal.
The little naans-to-be are then sprinkled with sesame seeds, placed on a hot baking sheet and baked for a minute or two.
If you're lucky enough to have a tandoor, the naans are pressed onto the wall and cooked for 7-8 minutes. Once crispy, you'll need to remove them with skewers or tongs or take them off the baking sheet with a spatula.
Once removed from the baking sheet, the final touch is to add a little salt and brush each of the  naans with melted butter or, even better, ghee.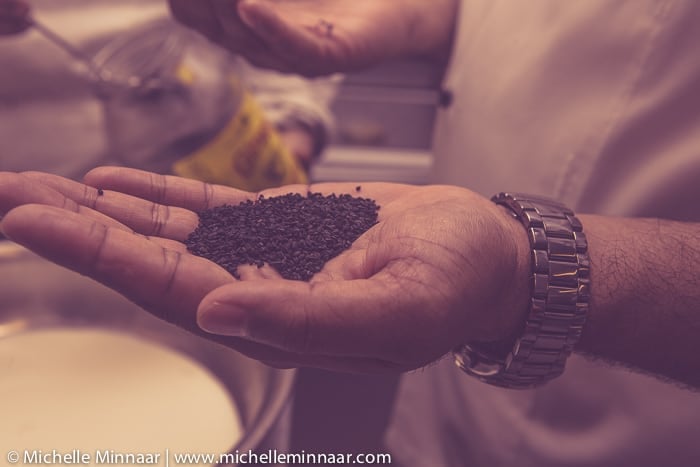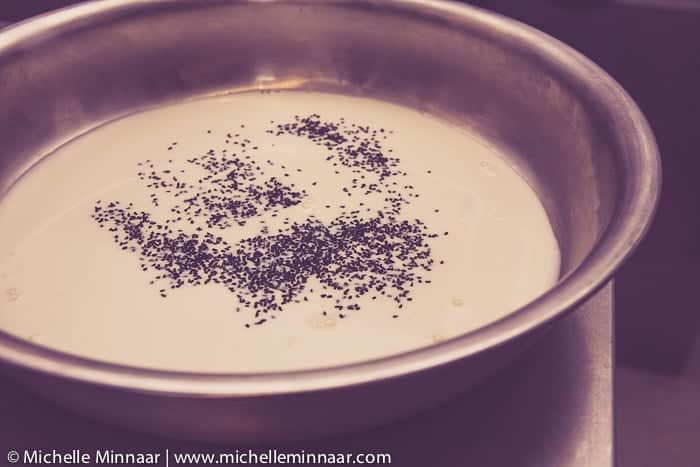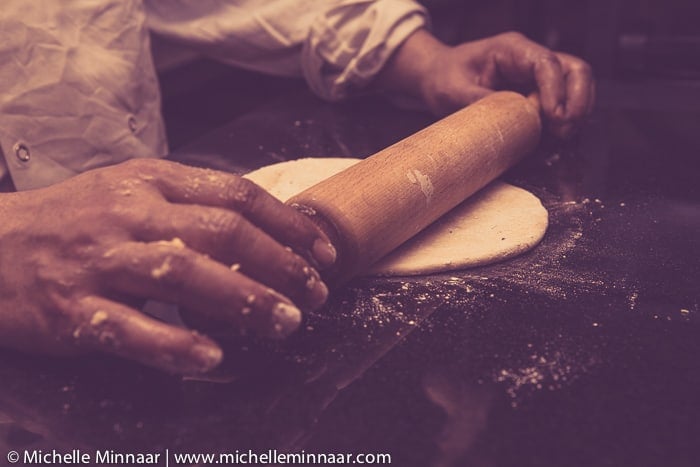 What is ghee?
When it comes to wonderfully tasty naans, the key is ghee butter. This scrumptious melted butter should be brushed onto the peshwari naan after it has come out of the oven.
Never heard of ghee butter? Well, let's take a closer look.
An absolutely essential element to many Indian dishes, ghee butter is huge in India. Ghee butter is made with melted butter. Once melted, the butter separates into liquid fats and lactose solids. Then, the milk solids are removed.
As it contains no lactose solids, ghee butter has less lactose than butter. So, it's most definitely better than standard melted butter if you're lactose intolerant.
Ghee butter also has a much higher melting point than normal melted butter. This means it's great for frying in a frying pan or sautéing in a frying pan. As it's heated for longer than other types of clarified butter, ghee has a rich nutty flavour. This is exactly why it's the first ingredient on the list when it comes to making an authentic Indian curry.
It also contains an essential fatty acid known as butyrate, which helps digestion and may also have anti-inflammatory effects.
You can find ghee online, at any large international food store, grocery store/supermarket or, of course, any specialist Indian food store.
Amazing curry recipes
Once you've successfully mastered this peshwari naan recipe, you'll want to know what to pair it with. Here's some curry inspiration, for an authentic Indian pairing.
Alternative side dishes
Aside from this incredible peshwari naan, there are plenty of side dishes for a mouth watering curry. Here are a few:
What's your favourite dish to serve with curry? Let me know in the comments below.
Print
Peshwari Naan
---
Author:

Michelle Minnaar

Prep Time:

1 hour 15 minutes

Cook Time:

8 minutes

Total Time:

1 hour 25 minutes

Yield:

4

servings

1

x
Scale
Ingredients
2.5

ml (½ tsp) sesame seeds

15

ml (1 tbsp) almond flour

5

ml (1 tsp) pistachios, finely chopped

25g

(

1oz

) sultanas

15

ml (1 tbsp) coconut powder

10

ml (2 tsp) desiccated coconut, plus more for sprinkling

10

ml (2 tsp) caster sugar

20

ml (4 tsp) single cream

5

ml (1 tsp) mango pulp

500g

(

4 cups

) bread flour, plus more for rolling

5

ml (1 tsp) baking powder

5

ml (1 tsp) salt

5

ml (1 tsp) kalonji (onion seed)

250

ml (1 cup) milk

1

egg

250

ml (1 cup) oil

5

ml (1 tsp) rosewater [optional]

2.5

ml (½ tsp) sugar

1 tbsp

of ghee or melted butter
---
Instructions
Filling: Blend together the sesame seeds, almond powder, pistachios, sultanas, coconut powder, desiccated coconut, caster sugar, single cream and mango pulp into a food processor to form a dough filling paste. Divide the dough into 4 equal portions.
Naan: Mix together the almond flour, bread flour, baking powder, salt.
Make a well in the centre of the dry ingredients and add the oil.
Add the sugar, egg, milk and bind to a dough.
Add 1 or 2 tablespoons water. Add flour to create a floured surface and knead the dough into a medium soft dough. The dough will appear sticky at first but keep kneading for few more minutes (5-6 minutes), adding another tablespoon of oil to the dough if required. When smooth and elastic, place the dough in a large, greased bowl and cover with a damp tea towel. Allow the dough to rise in a warm place for about 1 hour.
Preheat the oven to its maximum temperature and place a heavy baking sheet on the top shelf to heat.
Roll out each of the 4 portions of dough balls into thick circles on a floured surface.
Add filling to half of each of the rolled out dough balls with one portion of the filling leaving about an inch around the edge of the dough.
Wet the dough around the edges with a little water and fold each dough circle in half to enclose the filling.
Pinch the dough around the edges to close.
Gently roll out each naan into a round shape.
Sprinkle over sesame seeds.
Place the dough on the hot baking sheet and bake the dough for about 1-2 minutes until there are brown spots on the surface of the dough.
Brush with the melted butter and serve hot.
Alternatively, place the naan on a thick cloth pad instead of a baking sheet and press onto the wall of the tandoor and cook for 7-8 minutes or till crisp and brown on both sides. Remove with the help of skewers or tongs when it is crisp and brown on both sides. Leave to cool in a warm place.
---
Category:

Bread

Method:

Bake

Cuisine:

Indian
Nutrition
Calories:

563

Sugar:

Sugars

Sodium:

67 mg

Fat:

62.6 g

Carbohydrates:

58.3 g

Fiber:

Dietary Fiber

Protein:

13.1 g

Cholesterol:

55 mg
More Indian Recipes
save the recipe to your pinterest board