Beetroot rice is my take on a vegan summer risotto. Making full use of seasonal beetroot, I have transformed the traditional risotto into a colourful plate that puts you in a good mood just looking at it. The creamy goat's cheese is perfect for adding some richness to the dish and the flavour goes beautifully with beetroot. However, it won't be vegan anymore once you add the cheese! Therefore, this beetroot dish can easily become vegan and vegetarian, depending on your food preferences. The green touch comes from dill, which makes it a wonderful combination of flavours. Don't forget to check out my beetroot and goat's cheese tart too!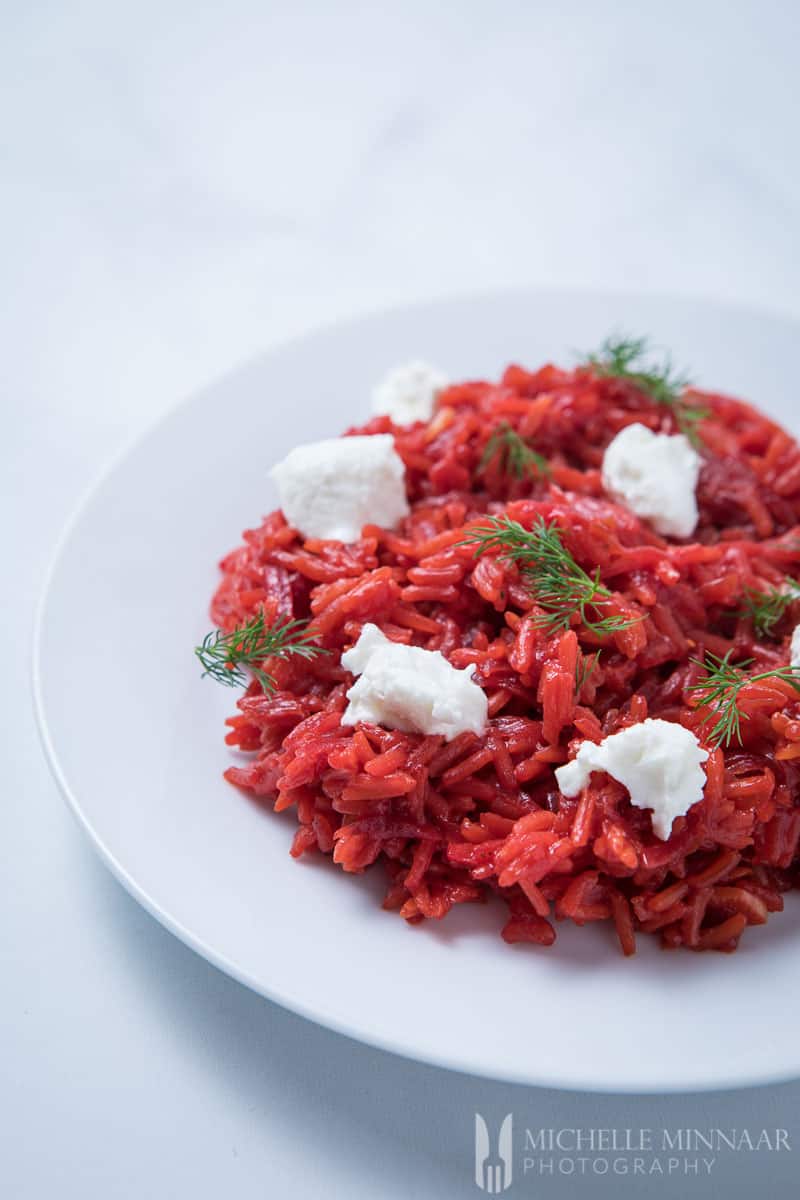 beetroot rice
Beetroot rice is a simple dish that is easy to prepare and you only need a few ingredients. It is also meat free and therefore perfect if you, like myself, are trying to reduce meat consumption. If you want to go vegan, you can leave out the goat's cheese too. However, that creaminess and flavour is hard to substitute.
What I love about beetroot rice is the subtle earthy flavours form the beetroot. In combination with the creamy goat's cheese, it is a combination you usually find at high-end restaurants! I recommend cooking this for your dinner guests if you are looking to impress!
the rice
In a traditional Italian risotto, you use Arborio rice. It's is a short grain rice that takes its name from the town of Arborio in the Po Valley of northern Italy. Once cooked, the rounded grains remain firm and chewy, but yet creamy at the same time. Be careful though, cooking Arborio rice requires a bit of patience. You constantly have to stir while adding stock occasionally.
However, for the beetroot rice you do not necessarily need to use this type of rice. You can also go with the more common long grain rice or basmati rice. These two types of rice will not require as much attention as the Arborio rice.
touch of green
Now some of you might think that dill is only good for prawn cocktails and other seafood. However, I find the flavour to work very well with the savoury taste of the beetroot. Especially when combined with the creamy goat's cheese. If you just try to experiment a little and break away from the set rules, you will find that dill is actually much more versatile than you might have thought.
Admittedly, some people simply cannot stand the taste of dill. If you are one of these people, you can use watercress instead. The peppery flavour also adds a nice spark to the beetroot rice and the goat's cheese.
You can use the amount of herbs that you like, although for this dish I like to keep it subtle. It is enough with just a few hints of dill here and there and not the entire herb garden.
goat's cheese
The type of goat's cheese you'll want is a hard and crumbly type of goat cheese. Definitely don't go with a softer one because it will blend right into the beetroot right and will spoil the consistency. My recommendation for you is to purchase a premium goat's cheese or a typical French goat's cheese called 'Vallencay' or Saint-Maure de Touraine. Valencay has a grey exterior and holds the shape of a pyramid. Comparatively, Saint-Maure de Touraine also has a grey exterior but has a cylindrical shape. They are both firm and will do the trick for this beetroot rice recipe.
vegan substitute
If you are looking to turn this beetroot rice vegan, simply leave out the goat's cheese. Also, don't use chicken stock for this recipe, but rather opt for vegetable stock. You can substitute the creaminess of the goat's cheese to that of a luscious ripe avocado. Simply cut the avocado into small cubes and place them on top of the beetroot rice. This way, your dish will be colour, and you can also enjoy the creamy texture!
Another vegan substitute for goat's cheese are nuts! More specifically, I recommend using macadamia nuts. To make them a bit softer, soak them in water for an hour or two. This trick works will all nuts. Sometimes I like to soak my walnuts in water for 2 hours. The water helps them get rid of excess bitterness and makes them soft and chewy.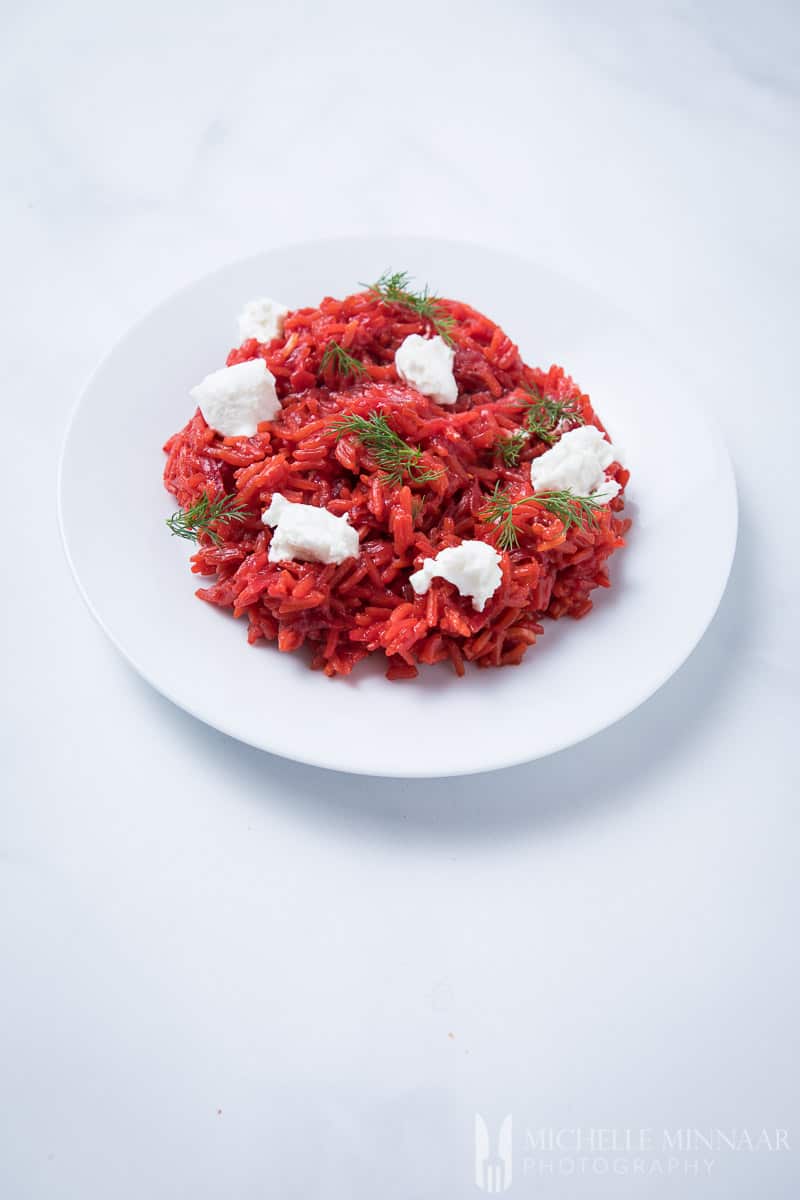 wine pairing
This dish calls for a lovely full-bodied fruity white wine or a refreshing rose. Why don't you give a rose from the region of Provence a go? They are fruity, sweet and rich in flavour. It will be a perfect combination with the earthy flavours of the beetroot.
starters and sides
To accompany this healthy rice dish, you might want to consider some light starters and sides. For example, as a starter you can consider this stunning avocado and cucumber salad, or a fancy Italian salad like this one. As for a side dish, this light courgette salad sprinkled with feta is perfect. You can even toss leftover goat's cheese on top. For a fresher alternative, try this sugar snap pea salad.
Remember, you need something green to cut through the rice!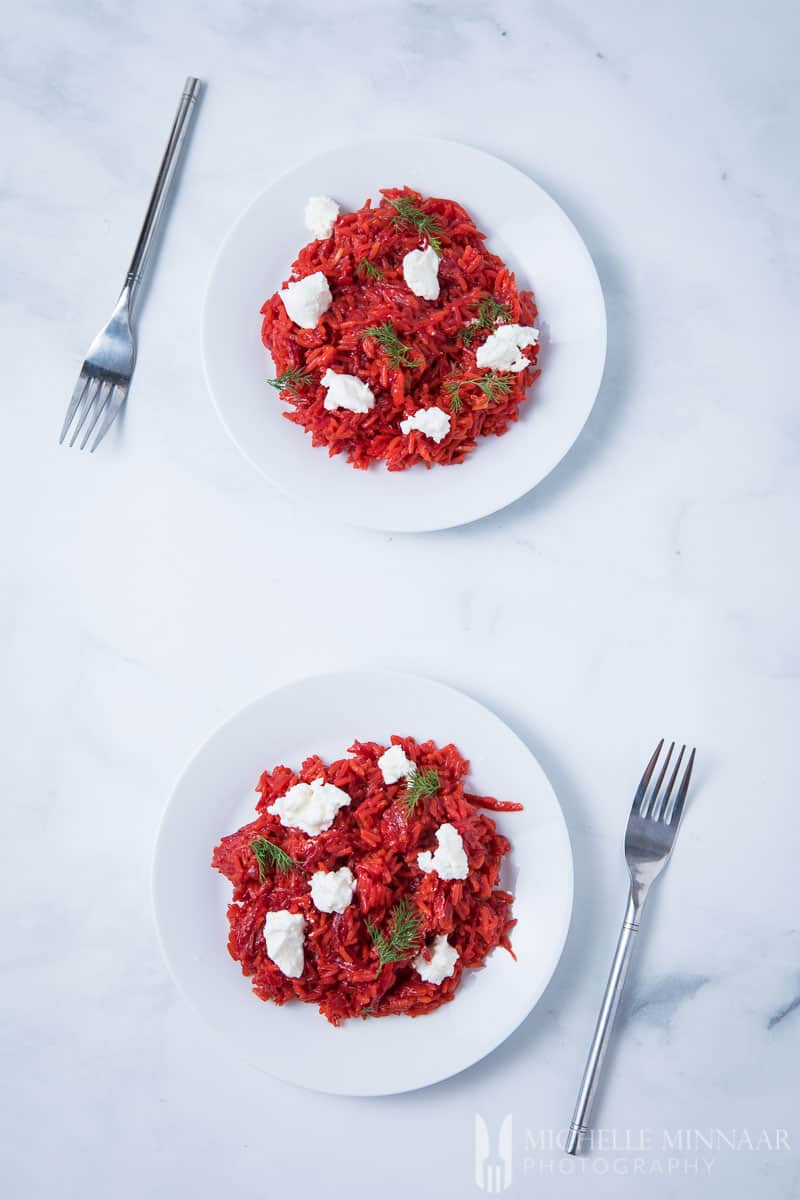 other rice dishes you might enjoy
I love cooking a good rice dish. It is an excellent way to cook a filling meal during the week for a large family. Also, who doesn't love comfort food? In this case, this beetroot rice is a healthy version of comfort food.
If you are looking for more filling and spiced up rice dishes check these out. They might make it on your list of weekly meals!
Ghanaian jollof rice – get the recipe here
Thai pineapple fried rice – get the recipe here
Caribbean rice and peas – get the recipe here
I hope you enjoy this beetroot rice. I have a feeling you'll be making this dish quite often now that you know how!
Print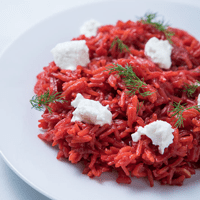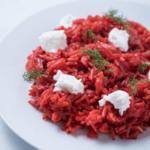 Beetroot Rice
---
Author:

Michelle Minnaar

Prep Time:

15 minutes

Cook Time:

30 minutes

Total Time:

45 minutes

Yield:

4

1

x
Description
Beetroot rice is just the sort of dish you'd want to present to your guests. Learn how to colour your rice naturally with beetroot. Pair with goat cheese.
---
Scale
Ingredients
30

ml (1 tbsp) oil

1

onion, peeled and finely chopped

2

garlic cloves, peeled and crushed

450g

(1lb) beetroot, peeled and grated

300g

(

10oz

) rice, washed

900

ml (1½pt) vegetable stock

125g

(

3 oz

) goat's cheese

60

ml (4 tbsp) dill, washed and fine chopped
---
Instructions
Gently fry the onion and garlic in the oil until softened.
Add the beetroot to the onion mixture and fry for 5 minutes or until softened.
Stir in the rice, then the stock and let it reach a slow bubbling point.
Simmer the rice for 15 minutes or until cooked. Stir every now and then add a splash of water should the mixture go dry and the rice isn't cooked yet.
Once the rice is cooked, divide evenly between 4 plates and dot with the cheese.
Sprinkle dill on top and serve immediately.
---
Notes
This recipe freezes well. Only add the cheese once defrosted.
Category:

Main Course

Cuisine:

French
Nutrition
Serving Size:

1 serving

Calories:

484

Sugar:

11 g

Sodium:

382 mg

Fat:

14.2 g

Saturated Fat:

5.7 g

Carbohydrates:

76.7 g

Fiber:

4.3 g

Protein:

13.5 g

Cholesterol:

13 mg
save the recipe to your pinterest board