I simply love broad bean bruschetta. It reminds me of sunshine and summer holidays. Plus with this fantastic little snack there are so many variations you can play.
Bruschetta is also quite easy to make, so what are you waiting for? This time I have incorporated a few of my favourite ingredients into the recipe. Namely Parma ham and broad beans.
It all comes together in this new bruschetta that I'm betting you probably haven't tried before. However, I think you will agree with me that the combination of flavours is delicious.
Forma House's zuperzozial tableware
Perhaps you have noticed in my photos the elegant tableware that I have plated the broad bean bruschetta on. If not, you might want to take a closer look.
These plates are a part of a new line of tableware from Forma House called Zuperzozial and these plates are no ordinary plates. In fact, they are made of 100% bamboo fibres held together with corn powder!
It sounds crazy, I know. Nevertheless, it is the truth and the entire line is ethically produced of 100% bio-degradable material.
It doesn't mean though that the plates will dissolve when you wash them or anything like that. Don't worry, they are even dishwasher safe and come in a range of different colours.
As a matter of fact the texture almost feels like stoneware. Only these plates are extremely lightweight, which makes them ideal picnic plates.
Not to mention how easy it will be to pack down and carry the crates down the stairs next time you move! I must say I find it really inspirational when clever new things like these plates become available to us all. Please check out the range of tableware I received and let yourself be inspired too.
Parma ham
As you may have noticed I have been working with Parma ham the past couple of months. On my recent trip to Parma, I received a massive half a leg of the stuff and have been playing around in the kitchen ever since.
Fortunately for you, Parma ham is nowadays widely available in most well stocked supermarkets throughout the UK. Either packed or sometimes freshly cut at the deli counter.
If you would like to try and taste some of my other dishes containing Parma Ham look at the following recipes:
warm broad bean salad
I have mentioned broad beans before, when I did my broad bean salad, and I really wanted to use them again. They are also sometimes called horse beans or fava beans, so keep that in mind when you go looking for them.
They can be a little tricky to find fresh but, trust me, they are worth the search. Try your local farmers' market or if you have a green grocer nearby who has a broad selection.
Nowadays, you will find broad beans in the frozen section too. In the old days they were perceived as peasant food, but I think this dish certainly put them in a more refined context.
If you are not in the mood for bruschetta but still want to enjoy the broad beans you can try my warm broad bean and bacon salad. In fact, why not just make the broad bean and bacon salad and use the leftover for a lovely broad bean bruschetta?
broad bean mash
For the broad bean bruschetta recipe I have mashed the boiled and peeled broad beans very lightly with a fork with a splash of olive oil. Just roughing them up a bit basically, but still somewhat preserving their shape.
Alternatively you can make the broad beans into an actual mash. You can use the mash as a spread for little bits of toasted bread, seasoned with just some salt and pepper.
The consistency you are looking for should be somewhat similar to hummus. Top with a slice of Parma ham if you want. You can even use the mash as a side for meat such as chicken or pork, or as a dip for veggie crudités.
herbs and spices
I have seasoned the broad bean bruschetta very gently with garlic, mint and lemon. However a small topping of fresh herbs always leaves a nice impression.
For this bruschetta I would recommend to go with the Mediterranean flavours such as basil or oregano. You could also use watercress or parsley.
The lemon is good for adding a little acidity to the earthy taste of the beans, so a few squeezes of lemon juice should be included. As always season to your personal liking with salt and pepper.
variations
Bruschetta can be varied almost in a number of ways. Another classic that I did recently is the bruschetta with tomato and Parma ham.
You can also style the broad bean bruschetta differently. A few delicately cut up green asparagus would make a welcome addition or substitute.
Top off with a few shavings of Parmesan cheese and some roasted pine nuts and you have a whole new creation. If you prefer a vegan alternative, simply omit the Parma ham and parmesan cheese.
I also like to do bruschetta with a topping of creamed mushrooms. Recently I had bruschetta with green cabbage and sautéed in garlic and olive oil in an Italian restaurant. It was actually very good.
Perhaps you have thought of or heard of a brilliant bruschetta that you would like to share with me. If so please leave me a comment below so I can try it out!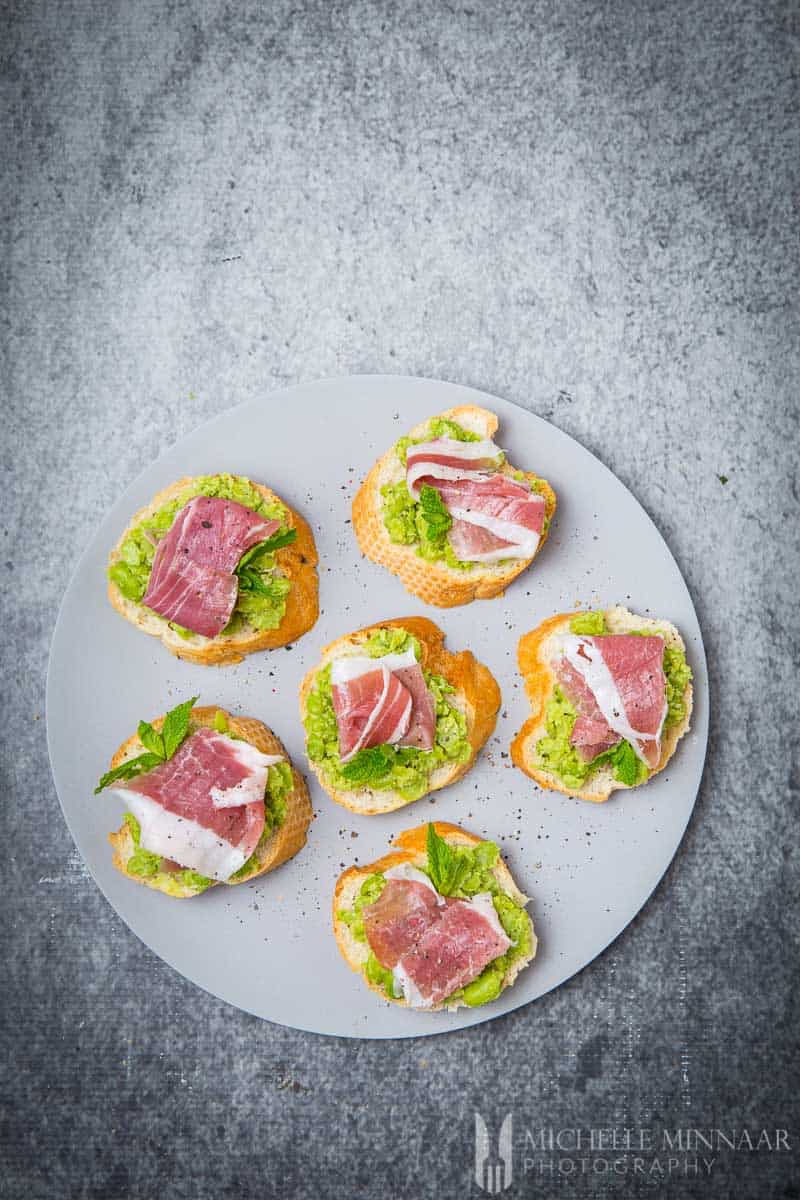 serving
The bruschetta is ideal as a starter either for your family or for guests at a dinner party. Serve a tray with a few variations of bruschetta and glasses of cold Prosecco and I guarantee your guests will feel like royalty.
If you like you can even serve bruschetta as a light lunch. Plate up with a little salad on the side made from arugula and cherry tomatoes and you are all set.
These stuffed cherry tomatoes will complement this finger food beautifully! Otherwise I would recommend serving this to accompany a gorgeous Caprese Salad.
Print
Broad Bean Bruschetta with Parma Ham
---
1

small ciabatta, cut in 1.5cm (

½

in) slices

450g

(1lb) podded broad beans

1

garlic clove, crushed

30

ml (2 tbsp) fresh mint leaves, finely chopped

1

lemon, juiced

60

ml (4 tbsp) extra virgin olive oil

8

slices Parma ham
Salt and pepper, to taste
---
Instructions
Toast the baguette slices. This can be done in a toaster. Alternatively, you can brush each slice on both sides with olive oil and pan-fry it until crisp or place a trayful in a preheated oven of 180°C/355°F/gas mark 4 until crisp. Place on a baking tray to cool down.
Cook the broad beans in boiling water for 2 mins. Drain, refresh under cold water, drain again, then peel from their skins.
Mash the broad beans roughly, then stir in the garlic, mint, lemon and oil. Season to taste.
Divide the bean mixture evenly between the slices of toast then top with ham. Serve immediately.
Notes
Some patience is needed to peel the broad beans but, trust me, it's worth the trouble!
Vegans can simply omit the ham.
Prep Time:

30 minutes

Cook Time:

10 minutes

Category:

Starter

Cuisine:

Italian
Nutrition
Serving Size:

1 serving

Calories:

349

Sugar:

1.8 g

Sodium:

1031 mg

Fat:

20 g

Saturated Fat:

8.8 g

Carbohydrates:

27.4 g

Fiber:

5.5 g

Protein:

16.1 g

Cholesterol:

32 mg
save the recipe to your pinterest board