Oh, have I got a vegan cheese loving treat for you! If you've ever debated whether dairy free plant-based cheese can be tasty, feast your eyes and taste buds on this.
Light and fluffy yet rich and creamy, this simple vegan cashew ricotta recipe can be whipped up in a flash. Once you make vegan ricotta one time, you'll never look back!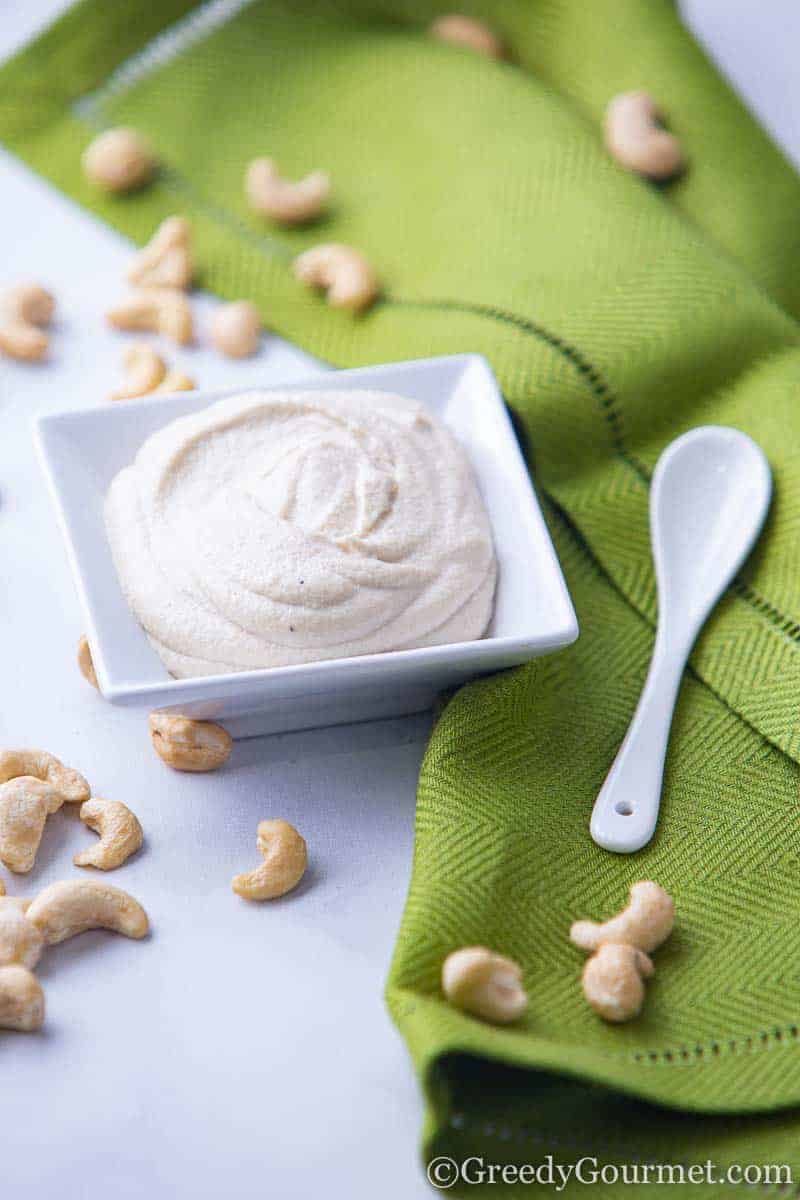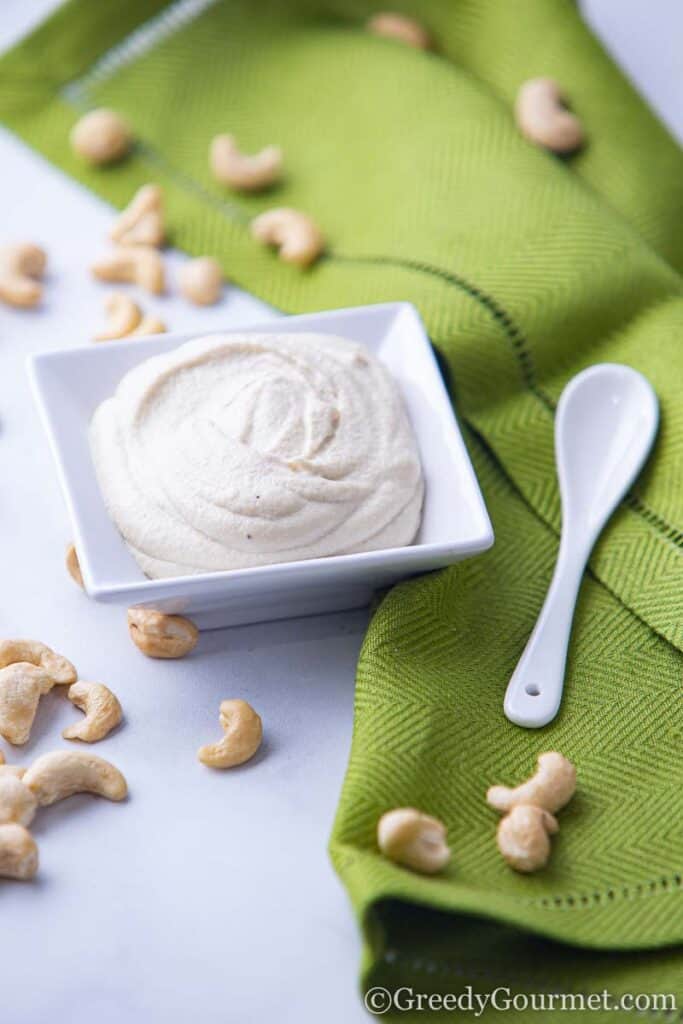 Products you need for this recipe
There are a few items and simple ingredients that you'll need for this recipe:
Food processor – invest in a quality food processor, which is essential for this recipe and so many more simple recipes. You can also use a blender instead of a food processor
Raw cashews – raw cashews are your start ingredient. Raw cashews are available online, as well as at your local supermarket or health food store
Apple cider vinegar – apple cider vinegar adds some acidity to your vegan cheese
Nutritional yeast – this is where a lot of your flavor is coming from
Onion powder – a simple yet essential ingredient that's so important to the flavor profile of your cashew ricotta
Cashew ricotta recipe
The perfect accompaniment to vegan pizzas and pastas and downright delicious on its own, this cashew ricotta recipe is what homemade vegan food is all about.
Simple, tasty and good for you. Plus, it's made from just a few ingredients – not of that tasty stuff found in store bought stuff.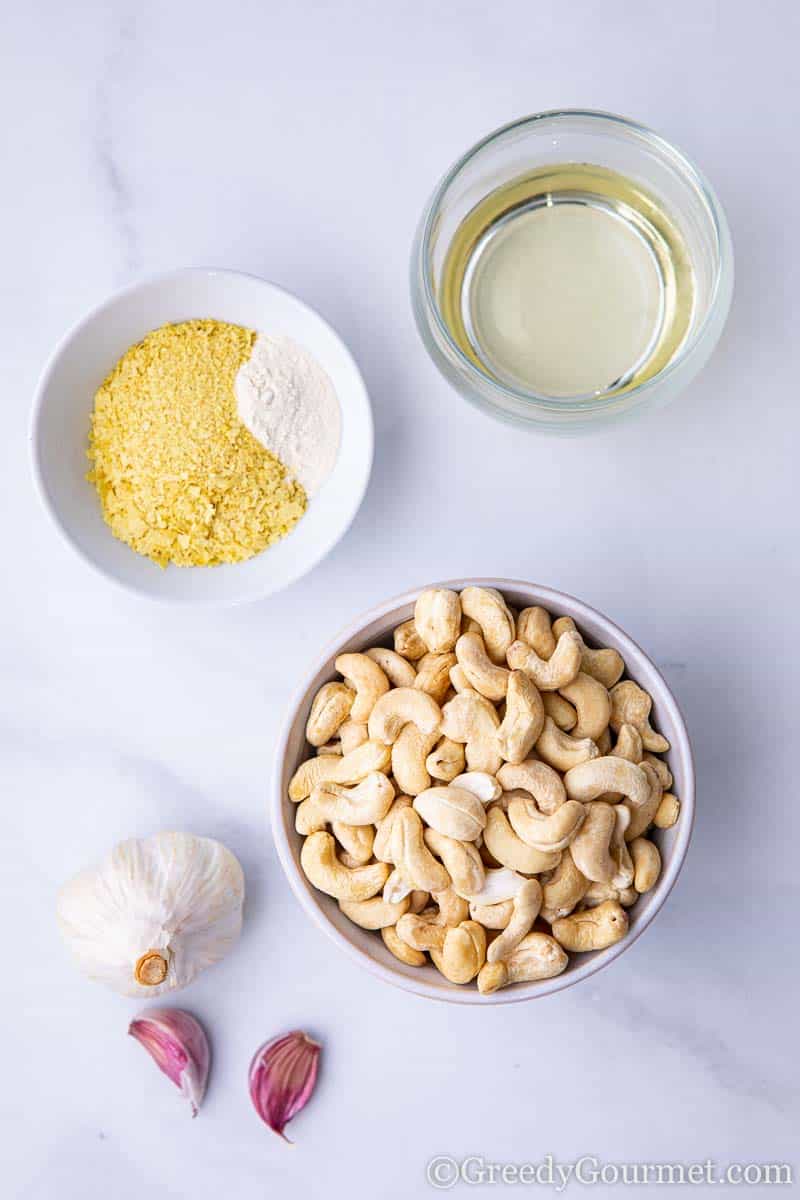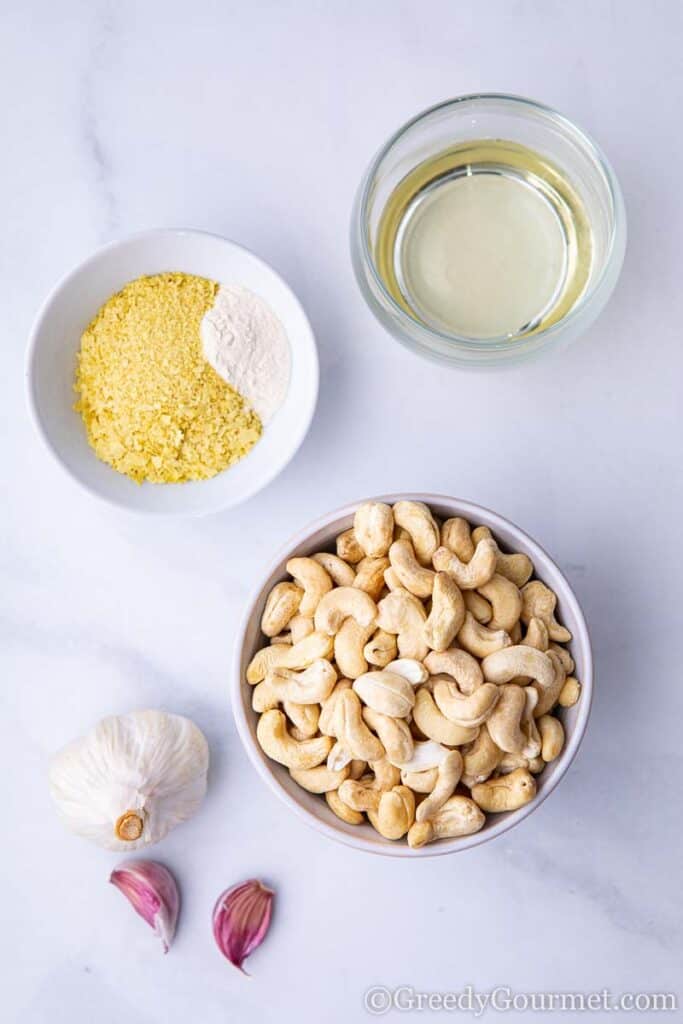 The ingredients in this vegan cashew ricotta recipe are cashews, apple cider vinegar, nutritional yeast, onion powder, sea salt, pepper and water. That's it!
Best of all, this dairy free ricotta takes only 5 minutes to make! You just need the ingredients above and a blender or food processor. Then you've got a super tasty vegan cashew ricotta, ready to up the flavor on your favorite dishes.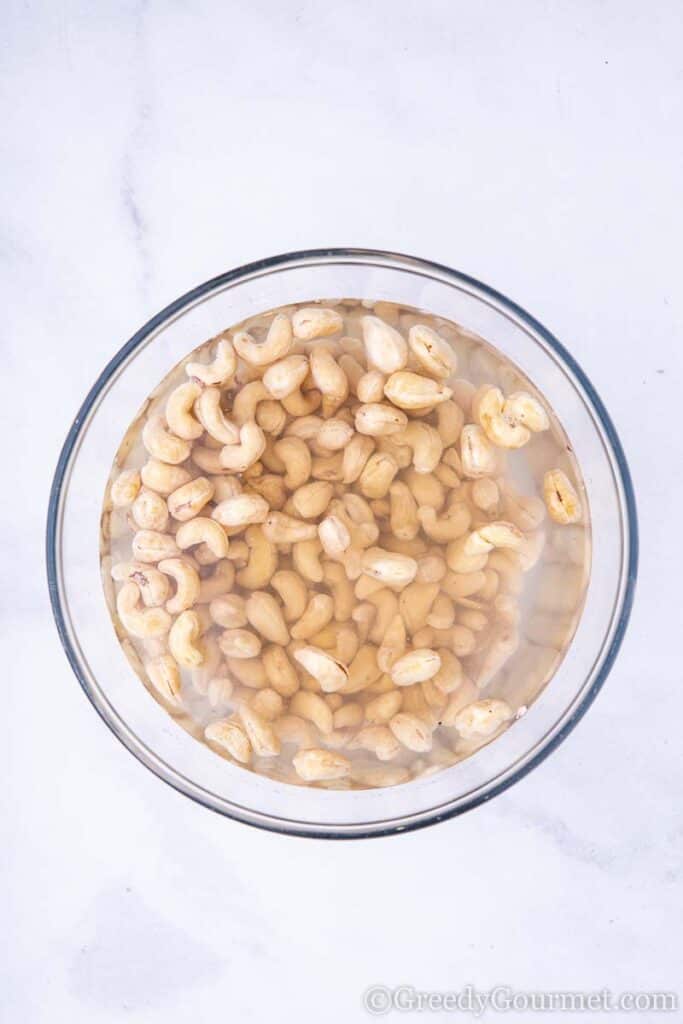 What is ricotta?
Ricotta is an Italian ingredient made from the leftover production of other cheeses. It can be made from cow's, goat's or sheep's milk.
Despite what most people believe, ricotta is not technically a cheese, as it's made from whey – the bit left over after the cheese making process.
No whey!
Yes. Whey. Bad puns aside, although it's not a cheese, ricotta is still delicious, characterised by a mild creamy flavor and soft texture.
It's deliciousness is not in question. For many vegans and dairy free foodies, ricotta is out of the culinary question. While there are some great substitutes for ricotta, for vegans there's one that stands out above the rest. Cashew ricotta.
What is cashew ricotta?
Lots of people wonder "what is vegan ricotta made of?" Well, vegan ricotta cheese is made of tofu and sometimes it's made of almonds.
However, the tastiest way of producing vegan ricotta is to make cashew ricotta.
Using cashews is a great way to replicate the flavor of ricotta. Vegan cashew ricotta cheese really is a dairy free delight!
Cashews make up the base of the flavor. Nutritional yeast brings the cheesy flavor that's essential to make vegan ricotta align with the real thing, while salt and pepper add a little bit of seasoning. The vinegar brings acidity and acts as a preservative.
This plant based dairy free ricotta is also 100% soy free and gluten free – no tofu or any additives with this recipe. 
What does cashew ricotta taste like?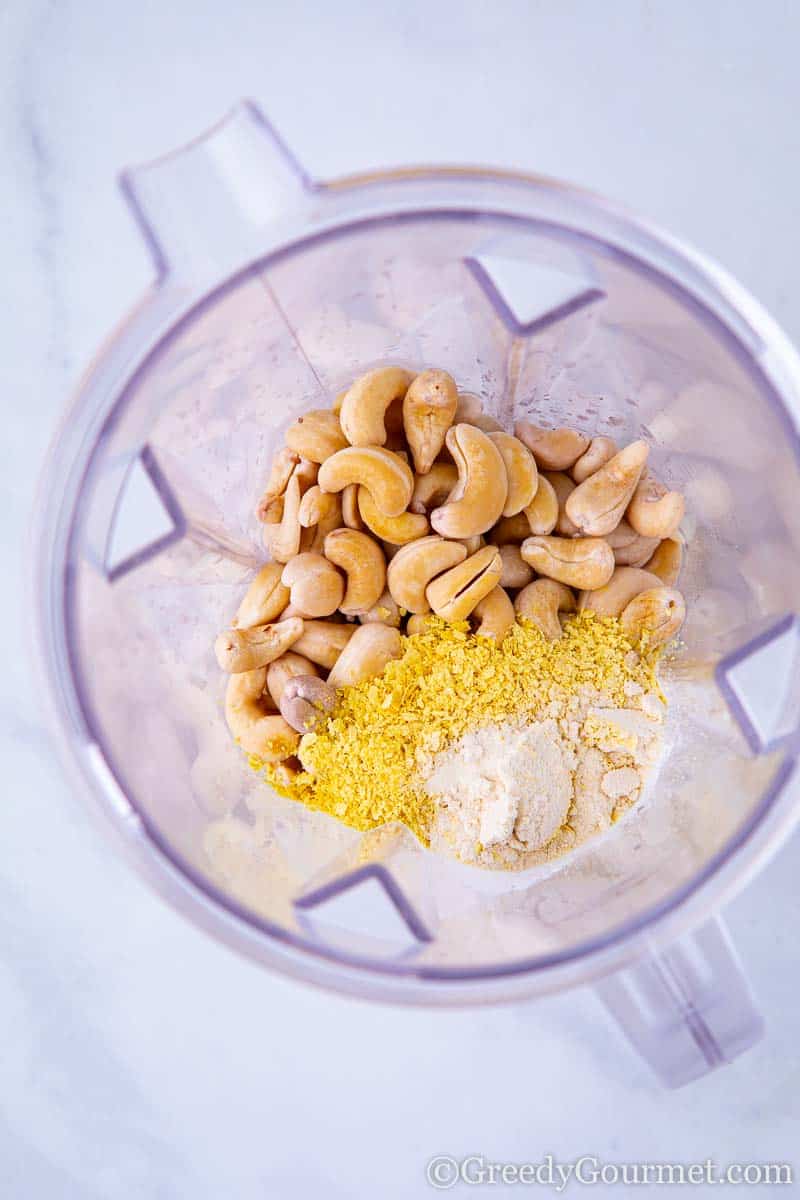 Cashew cheese does a great job of replicating the smooth mellow taste of real ricotta. It's got that mild, slightly nutty taste down pat and the texture is fluffy and light, much like ricotta.
Plant based cheeses regularly get a bad rap from cheese fiends, who say that the taste doesn't compare to the real thing. Well, all you have to do is try making your own cashew ricotta cheese. Then use it with some of your favorite recipes and you'll see for yourself.
Cashews work especially well as a creamy cheese substitute. This is because they're naturally creamy and dense. You don't have to chuck a load of stabilizers and other unnatural ingredients into the mix. 
You can always play around with the ingredients, until you have a vegan cashew ricotta cheese recipe that suits your taste. Try reducing or increasing the amount of nutritional yeast slightly. This will increase or decrease the 'cheesy' element.
You can also try adding a clove or two of garlic into the food processor along with the other ingredients, for an interesting flavor dimension. Or add a squeeze of lemon juice for an extra zing.
Then let me know what you think of the taste of this vegan cashew ricotta cheese recipe in the comments below.
How do you store vegan cashew ricotta cheese?
You can store your homemade vegan cashew ricotta in an airtight container in the fridge for up to a week. 
If you want to make a big batch, you can also freeze cashew ricotta. Again, make sure you store it in an airtight container – one that's freezer safe. It'll keep for up to two months.
How do you soak cashews?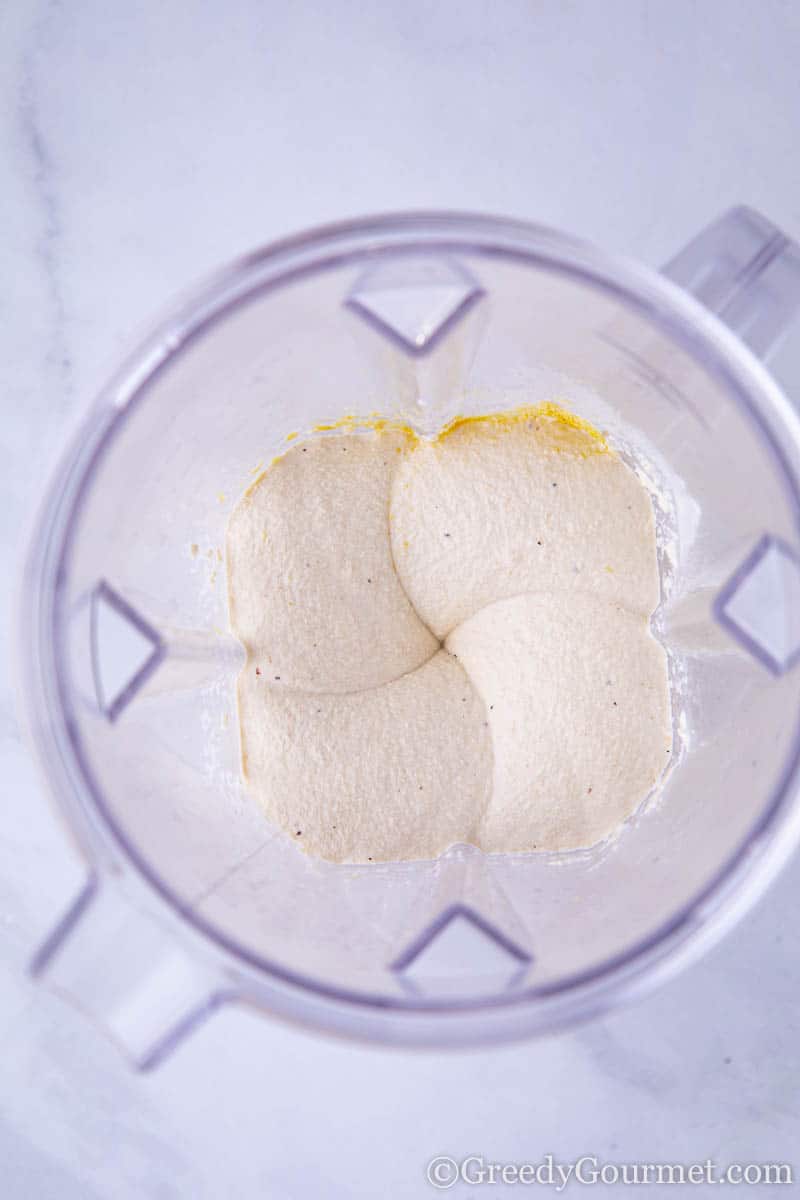 Soaking cashews is simple. Cover them with water and soak the cashews in the fridge overnight. Job done!
If you want to soak them a lot quicker, you can simply cover them in boiling water and leave them to soak for 10 minutes.
Do you need to soak cashews?
Soaking cashews softens them up and makes them nice and plump. It's also good for your digestion to soak cashews and makes it easier to absorb vitamins and minerals from the cashews.
What dishes can you use cashew ricotta with?
If you want to keep it simple, you can use this delicious cashew ricotta as a sandwich or cracker spread. You could even spread it on freshly baked scones!
If you have loftier ambitious though, here are a few great ideas for some inspiration:
Vegan spinach and ricotta rotolo – you've got to try your cashew ricotta cheese with this recipe! Healthy, easy to make and incredibly tasty, just one mouthful and you'll be in heaven
Sicilian cannoli – cannoli are so, so good! If you've never tried one, you're in for a Sicilian treat. Swap in the vegan ricotta, add some coconut yogurt in place of the mascarpone and indulge in the finest of sweet vegan treats
Macco di fave – serve up lashings of cashew ricotta and some crusty bread with this stunning Sicilian soup and you'll get a taste of la bella vita
Vegan sweet potato gnocchi – this recipe is a great way to use your vegan ricotta cheese. Tastes as good as the classic Italian dish, but so much healthier. It may well end up being your new favorite vegan meal!
Courgette involtini – use cashew ricotta as the filling for these delicious little beauties
Pastella alla palermitana – an unsung Italian hero, this recipe is a real gem. The Italian version of tempura, it's a recipe for battering and frying your favorite ingredients. Use this cashew ricotta for an irresistible snack that will have your friends and family in raptures
Baked chocolate cheesecake – oh sweet indulgence! Swap out the milk and ricotta, vegan it up with rice milk and your homemade cashew ricotta and turn this into a baked chocolate vegan cheesecake to die for! With a cherry coulis on top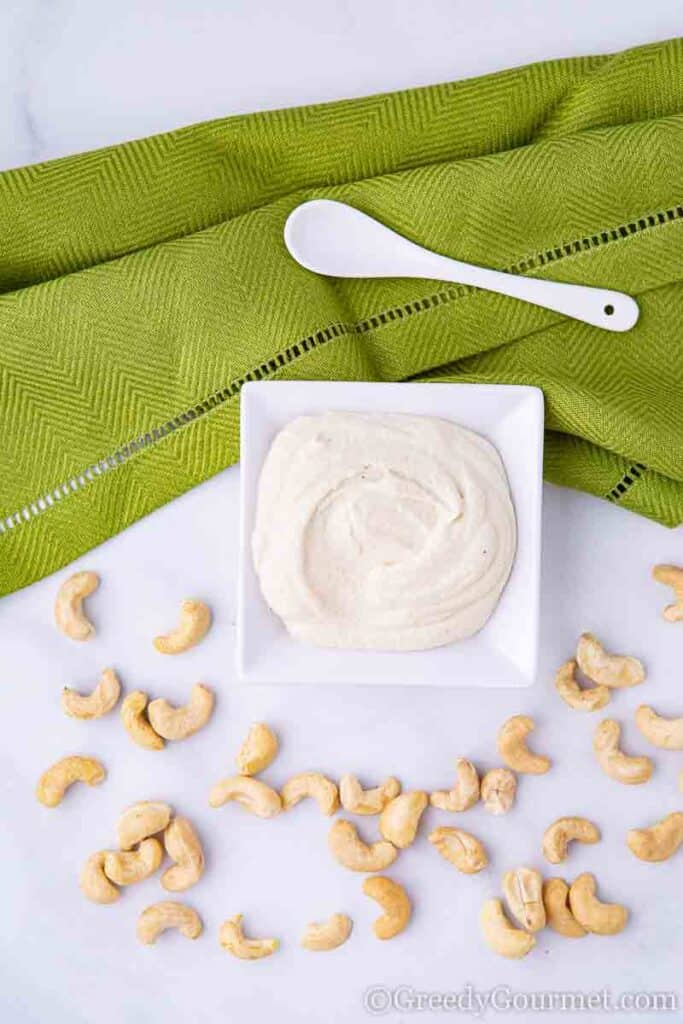 More vegan recipes
Can't wait to try some more vegan masterpieces? Try some of these on for size!
Print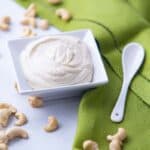 Cashew Ricotta
---
Author:

Michelle Minnaar

Total Time:

10 minutes

Yield:

16

, 30ml (2 tbsp) per serving

1

x

Diet:

Vegan
Description
Cashew Ricotta is a vegan ricotta cheese recipe that is perfect for vegan pasta dishes and sauces. It's creamy and versatile, so you can be creative. Have fun experimenting!
---
400g

(

2½ cups

) raw cashew nuts, soaked in water overnight

250

ml (1 cup) water

30

ml (2 tbsp) apple cider vinegar

33g

(

3 tbsp

) nutritional yeast

2

garlic cloves, peeled

2g

(

1 tsp

) onion powder
salt and pepper, to taste
---
Instructions
Place the drained, soaked cashews in the blender, along with water, vinegar, garlic, yeast and onion powder.
Blend until smooth and season to taste.
Serve as a dip with crackers and vegetable crudites, or in Italian dishes such as this vegan rotolo. Enjoy!
Notes
Alternatively, if you didn't soak the cashew nuts in water overnight, you can use a shortcut by pouring boiling water over them and soaking the nuts for 10 minutes. Drain and proceed with the recipe.
Prep Time:

10 minutes

Cook Time:

0 minutes

Category:

Side Dish

Method:

Blend

Cuisine:

Italian
Keywords: cashew ricotta, vegan ricotta cheese, cashew cheese, how to make vegan cheese, vegan cashew recipe