Are you ready for another classic from the much loved Italian cuisine? Chicken cacciatore is beautifully simple recipe that is ideal to serve for the family.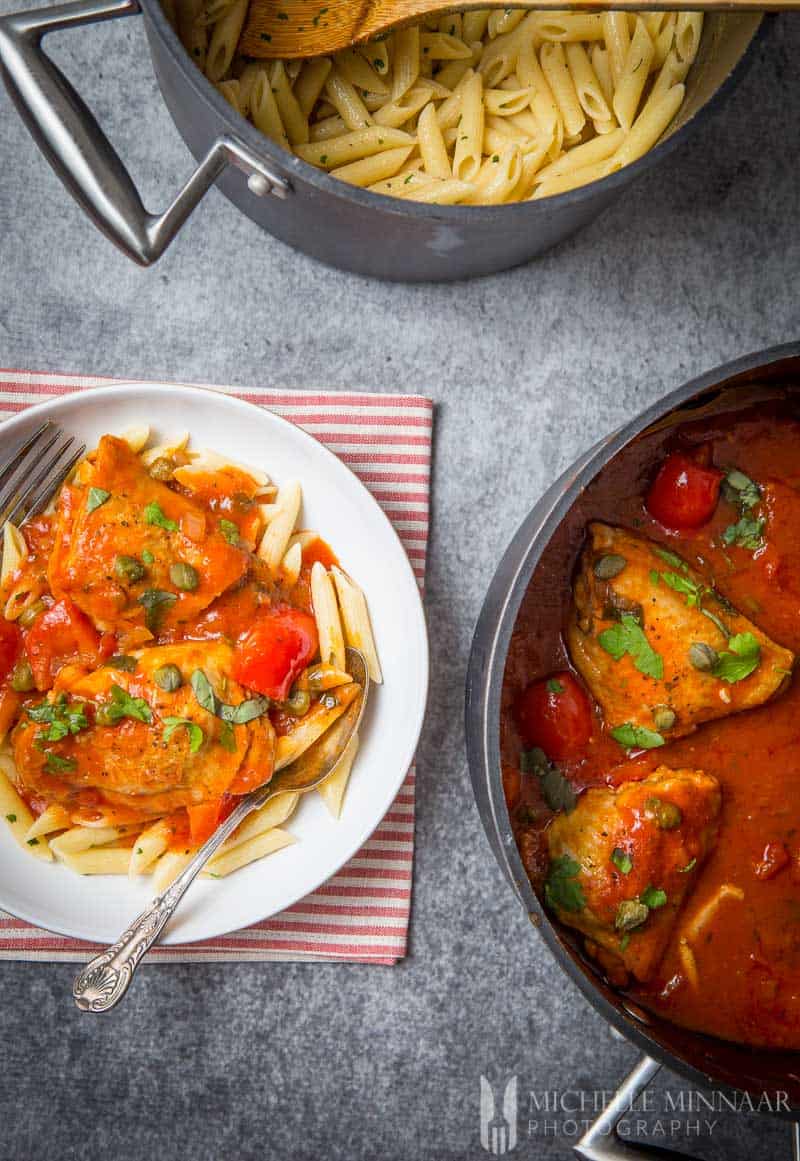 Once you have completed the necessary preparations, it can mind its own business bubbling away on the stove for a while. This dish is perfect for when you need an easy weeknight dinner and you can even help the kids with their homework while it's cooking.
There are a lot of variations you can do to this basic recipe, so feel free to be creative. There is even some debate which version is the most original as recipes usually vary from family to family. Perhaps, you will even invent your own version after trying this one out.
What exactly is chicken cacciatore?
If we analyse the term "cacciatore", the word means "hunter" in Italian. So if you ever spot the phrase alla cacciatore on a menu, it refers to the rustic "hunter-style" that you will also find in this dish.
To break it down, chicken cacciatore is a casserole with pieces of chicken in a tomato sauce, served with pasta. For my chicken cacciatore, I have used chicken thighs. However, you can any cut of chicken you prefer.
Remember to brown the chicken in the pan first before adding the liquids. That way you avoid the skin being pale and flabby after the cooking process.
As it is a casserole, the skin will not be crispy unless you brown it first. Remove the chicken after frying, turn down the heat and then fry the onions and garlic.
Be careful not to burn it because garlic becomes bitter when it browns. Add the white wine and let the alcohol sizzle away before adding the tomatoes and chicken stock.
A general tip here is to never throw leftover white wine away. If there is a bit left then cork up the bottle and stick it in the fridge.
You can use it for cooking for at least a couple of weeks. Now comes the best bit.
Put the chicken back into the pan and let it simmer at low heat until cooked. That should take you about 45 minutes, in which you can prepare the sides.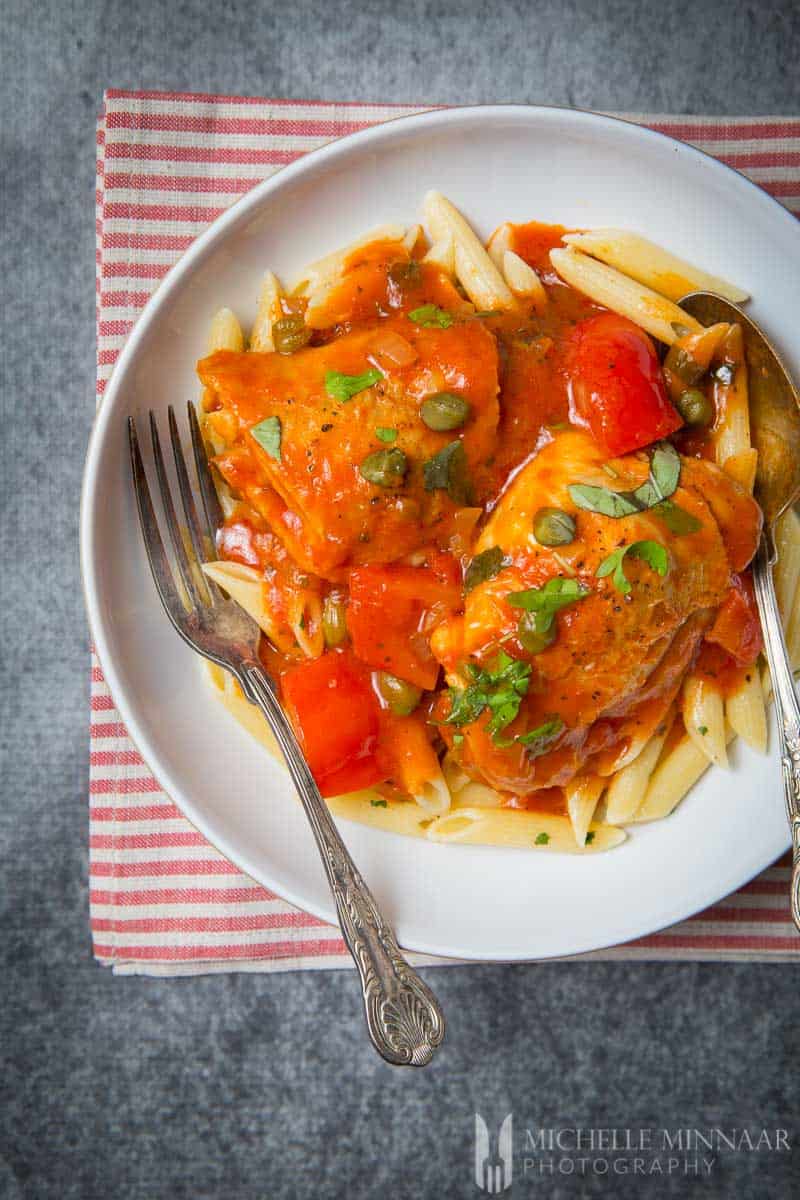 Variation of chicken cacciatore
Many Italian families have their own version of chicken cacciatore. Some of the popular additions to this dish are bell peppers or mushrooms.
Mushrooms are especially great for making the dish more filling and thus lasting longer. You can also add chopped black or green olives, or even anchovies!
As with many rustic Italian dishes, I prefer to keep it simple. A few high quality ingredients put together and well seasoned can be wonderful.
For a memorable chicken cacciatore you obviously need a proper chicken. Please do not buy the cheapest frozen one out there because it will make the dish taste sad, plus the chicken will rubbery.
I like to think that the chicken had a decent life, which is why I prefer free range organic chicken.
If you feel that this basic recipe is too plain for you, you can always add a bit more herbs and spices. For example, adding a pinch of chili for some extra kick in the background or some oregano to enhance the Italian flavour.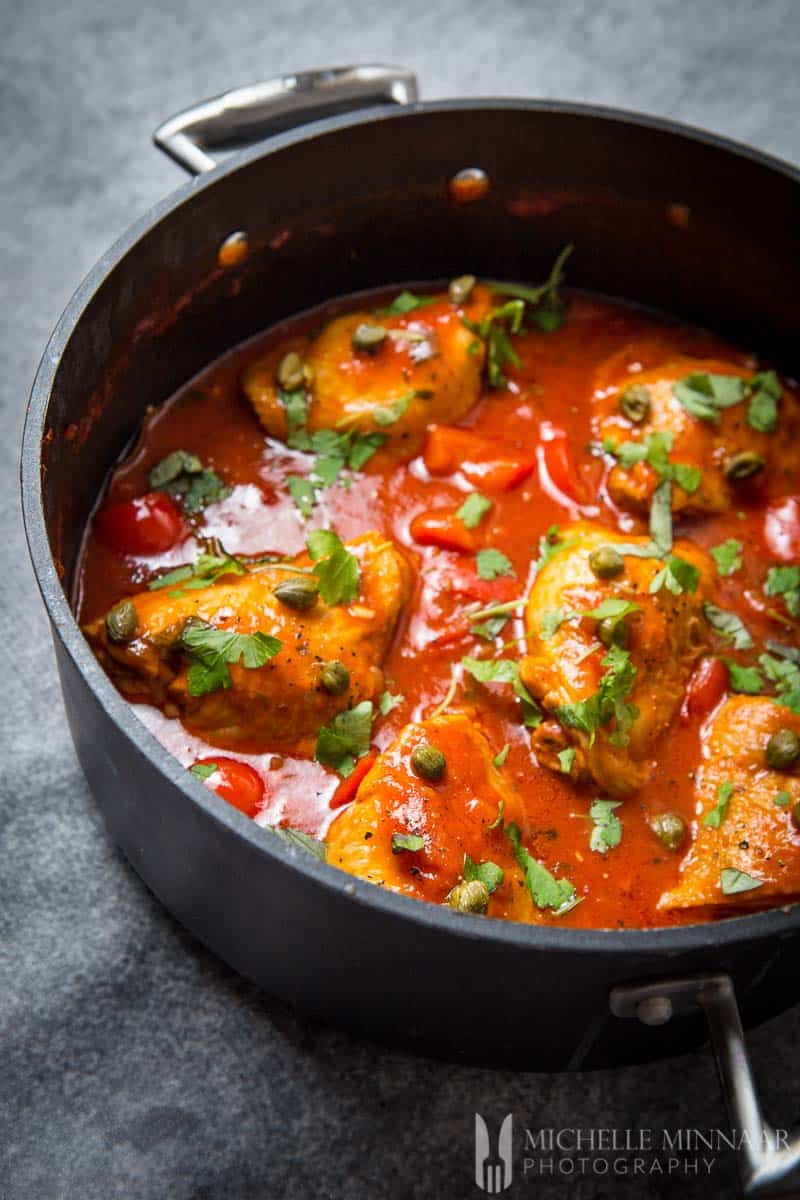 What to serve with it
Any good stew needs a good base to go with it and the chicken cacciatore is no different. I chose to serve mine with buttered pasta, which is also one of the most common sides.
If you toss the cooked pasta with a little butter it doesn't get so sticky. I find that this works better than tossing the pasta with olive oil.
If you get bored during those 45 minutes of simmering, you can try to make your own pasta. It's quite simple but a couple of helping hands when rolling out the pasta dough is essential!
If, on the other hand you are not so keen on pasta, there are plenty of alternatives. You can enjoy the chicken cacciatore with boiled rice, potatoes or potato mash, for example.
You can also try making rosemary roast potatoes or cheesy garlic bread as a side dish. If you are looking for a healthier alternative, you can opt for lentils or quinoa.
Some Italians serve chicken cacciatore simply with a good loaf of rustic bread. However, to keep things Italian, why not try my pesto stuffed bread?
This is also helpful if you are feeding more people. This way it's a more complete dish. If you feel like you are missing something green on the plate, I suggest you to make a simple salad to go with it.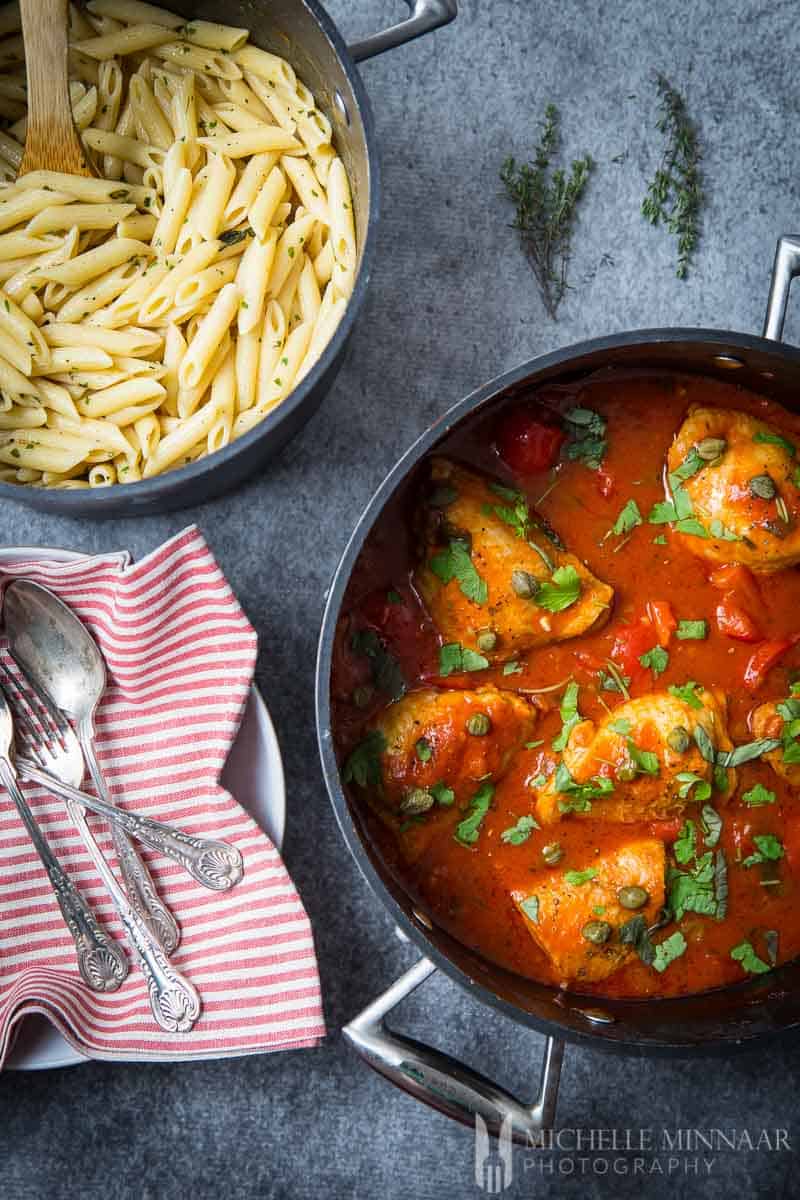 Serving
Upon serving, I added the capers. Capers are widely used in traditional Italian cuisine but not everybody is a fan. If you are one of those people who doesn't like them then simply leave them out.
A sprinkle of freshly chopped parsley is an absolute must though. The green finish lifts the dish and the Italians would never serve it without it.
Therefore, unless you simply can't stand parsley make sure to add it. If like me, you have basil in your window sill, it won't hurt to add a few chopped leaves of that too.
Nothing beats the smell of fresh basil, transporting you to Italy in an instant.
Storage
The chicken cacciatore can easily be stored in the fridge until the next day, allowing the flavours to develop. Perfect for an easy lunch, simply boil some pasta and heat the stew gently.
If you don't have a large family to feed or maybe just made a big batch, the recipe freezes well.
Divide the chicken cacciatore up into portions and freeze them and you will always have a tasty and healthy ready-made meal waiting for you when you need it. It will easily last about two to three months in the freezer.
What is your favourite Italian chicken recipe?
Print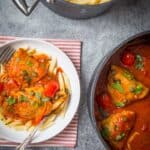 Chicken Cacciatore
---
Description
Chicken Cacciatore is an authentic Italian chicken recipe comprising chicken thighs, red peppers, tomatoes and capers. You'll learn what to serve with chicken cacciatore too!
---
8

chicken thighs

60

ml

(4 tbsp) seasoned flour for dusting

30

ml

(2 tbsp) oil

1

onion, peeled and finely chopped

3

garlic cloves, peeled and crushed

2

large red peppers, washed and chopped

125

ml

(1/4 cup) dry white wine

1

(400g) can chopped tomatoes

400

ml

(2/3 pt) chicken stock

60

ml

(4 tbsp) capers, drained

60

ml

(4 tbsp) flat leaf parsley, chopped
---
Instructions
Heat the oil in a large ovenproof pan.
Dust the chicken with flour and brown the pieces on a high heat.
Remove the chicken, lower the heat and add the onions.
Once the onions are translucent, add the garlic and red peppers and fry for 2 minutes.
Turn up the heat, add the wine and let it bubble for 2 minutes.
Add the tomatoes and stock, and stir well.
Return the chicken to the pan with the sauce and let the mixture reach a bubbling point.
Lower the heat until the stew slowly simmers and continue to cook for 45 minutes or until the chicken is cooked and tender.
Add the capers at the last minute and sprinkle the parsley upon serving.
Serve with buttered pasta.
Notes
This dish freezes well for later consumption.
Prep Time:

15 minutes

Cook Time:

1 hour

Category:

Stew

Method:

Braise

Cuisine:

Italian
Nutrition
Serving Size:

1 serving

Calories:

423

Sugar:

3 g

Sodium:

709 mg

Fat:

17.8 g

Saturated Fat:

3.9 g

Carbohydrates:

13.2 g

Fiber:

1.6 g

Protein:

42.8 g

Cholesterol:

125 mg
Keywords: chicken cacciatore, what to serve with chicken cacciatore, authentic italian chicken recipe
save the recipe to your pinterest board