Who would be able to resist such an elegant and refined seafood dish as this chilli prawn pasta? This restaurant-worthy meal can be made in the comfort of your own kitchen.
Forget spending a fortune in restaurants. If you've got access to the right ingredients, you can whip this dish up in no time. It is a rich Italian chilli prawn pasta reminiscent of those popular holiday dishes that one eats on vacation or holidays.
However, if you are staying in Italy, you might be able to find this dish as prawn linguine or something along those lines… that include the words scampi and linguine. It makes a filling and nutritious lunch or dinner.
Best enjoyed with a glass of fruity rose wine, that complements the chilli prawn pasta perfectly. If prawns are not your cup of tea, then you can easily substitute with simple pan-fried scallops. Indulge in the delicious Mediterranean vibe that this dish carries so persistently!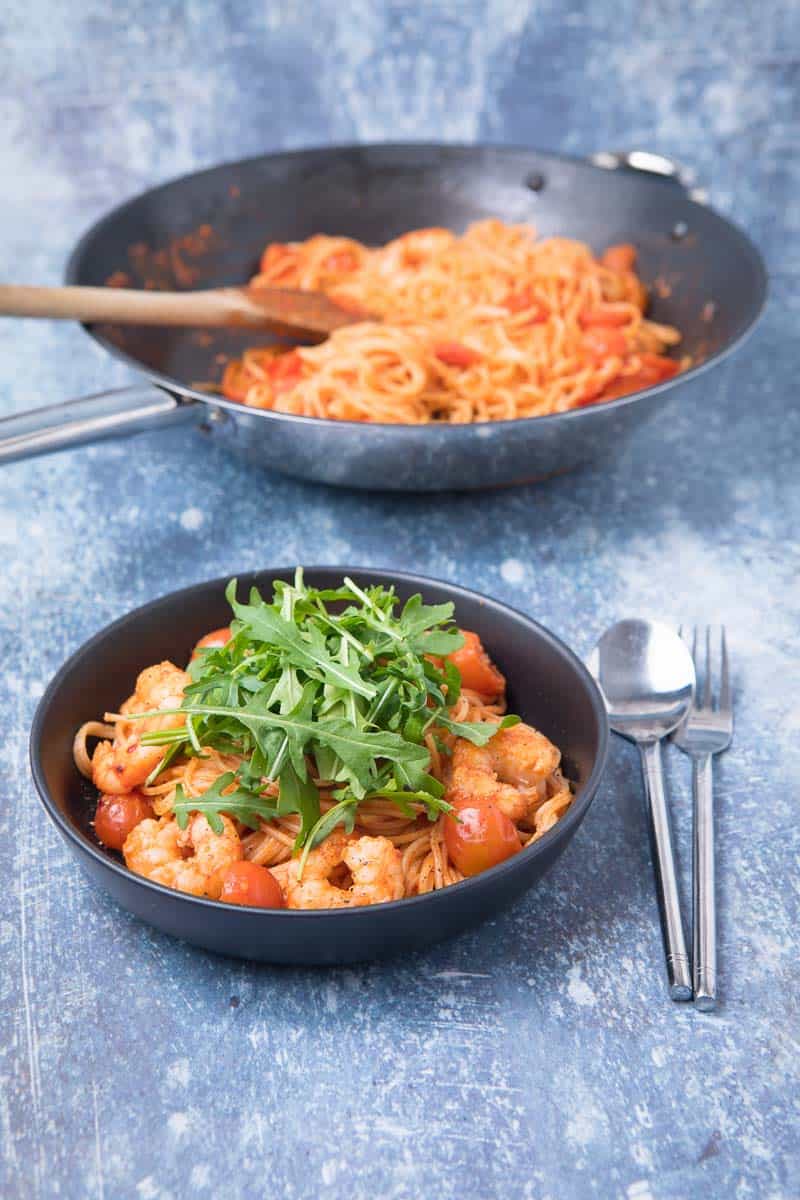 chilli prawn pasta – an Italian seafood pasta recipe
This chilli prawn pasta is a delightful example of just how appetising and varied Italian cuisine is. The dish consists of spaghetti, prawns, rocket salad, cherry tomatoes and dried chilli flakes.
The sauce is made up of tomato puree, garlic paste and Chinese rice wine for an extra kick. It is a flavourful and exciting Italian seafood pasta dish that anyone can prepare in a matter of minutes.
Better yet, imagine that there is a service that can deliver the packaged ingredients straight to your door! Cooking this chilli prawn pasta dish just got loads easier with Gousto.
The best part is, that you can try this new service with an incredible discount that I can share with you, but we will get to that later!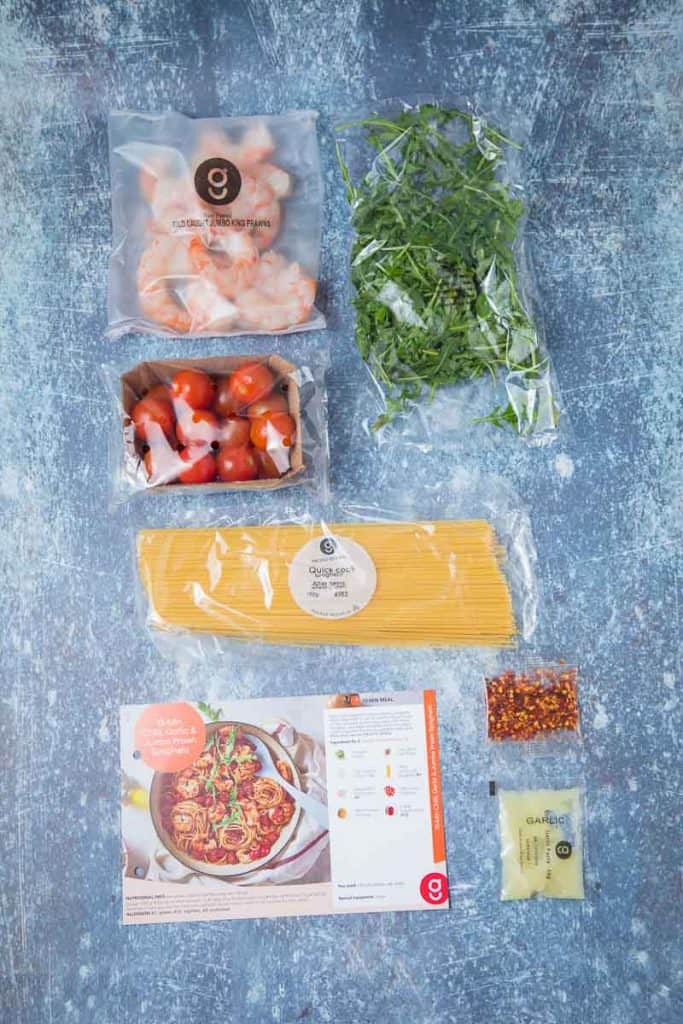 Gousto recipe boxes
Gousto sends over a million meals to family homes in the UK every month! Their target is to deliver up to 400 home-cooked meals by 2025!
All their meals are home-cooked as well as nutritious, containing pre-packaged, precise ingredients along with a delicious recipe and delivery to your door, creating an enjoyable and easy meal for everyone.
The Gousto recipe box is perfect if you are completely busy and literally have no time at all. There are over 30 recipes to choose from every week. In addition, from all the recipes, you can select whatever mealtime you want!
Get this – there are also 10 minutes recipes for particularly stressful days. This way, you'll have week-long inspiration for cooking and enjoying delicious meals.
Furthermore, Gousto has partnered with Joe Wicks and developed a range of tasty, simple recipes that are super-healthy! These recipes contain lean proteins and are at least one of your five-a-day, with low-carb and balanced options and sources of healthy fats.
As you know, I am always an ambassador for sustainability in the kitchen. All Gousto meals are a much better choice for the environment as they are perfectly measured. Hence you minimise your kitchen waste.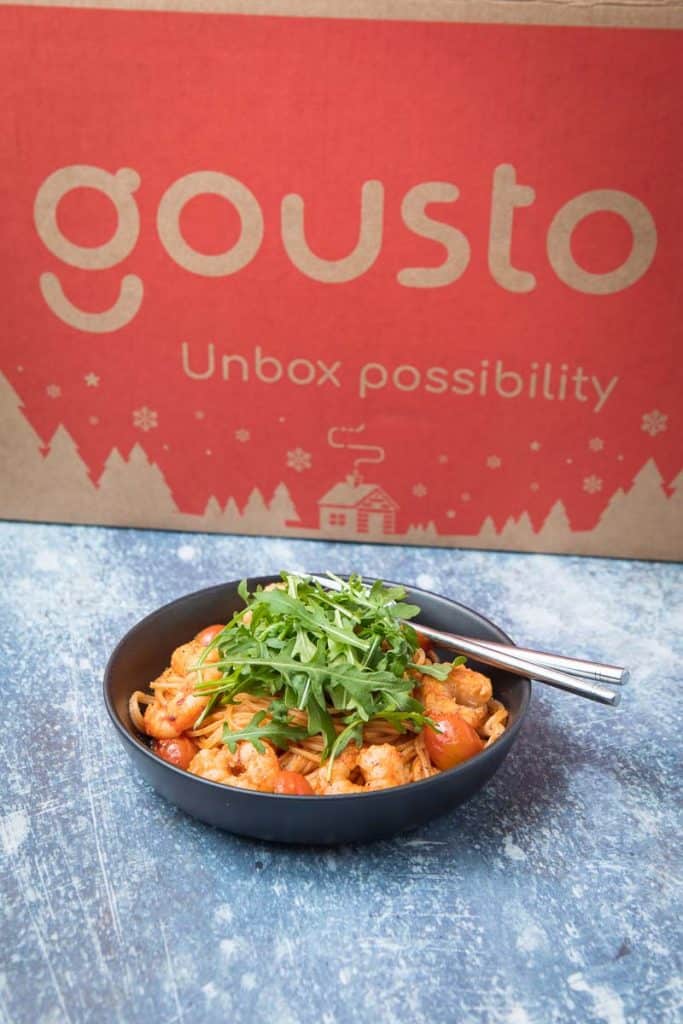 my experience with Gousto
So, the Gousto delivery arrived at the stated time! I was quite excited to unpack the box. Inside, the ingredients were well-packaged and the refrigerated ones were adequately cooled.
The box also came with a really handy folder where you save recipe cards. I made all 3 recipes, which were delicious. Putting them together was a snip.
So I look forward to making these delicious dishes again. In addition, my daughter was happy to help pick out ingredients and for once wanted to get involved in the kitchen. A fantastic development isn't it?
If you are wondering about the portion size, I can tell you they are very generous. The Miso & Sesame Chicken Noodles was a fantastic hit with the kids.
The One-Pot Vegetable Biryani is vegan and is so comfortable and filling you simply won't miss the meat at all. It came with coconut yogurt, which was a delicious new discovery for me.
As opposed to shell-on prawns, I tend to shy away from raw, peeled prawns because they taste like plastic most of the time. The jumbo prawns that arrived with the Chilli Prawn Pasta were humungous and meaty, top quality and impressive.
Honestly, I had a wonderful experience with Gousto and would recommend it to everyone. Check out Gousto's recipes here. In fact, you can try the Gousto service with a special discount!
The discount is for new customers only, and offers '60% OFF your first box + 30% off all other boxes in your first month'.
CLICK HERE and enter the discount code below!
Discount code: MICHELLE260M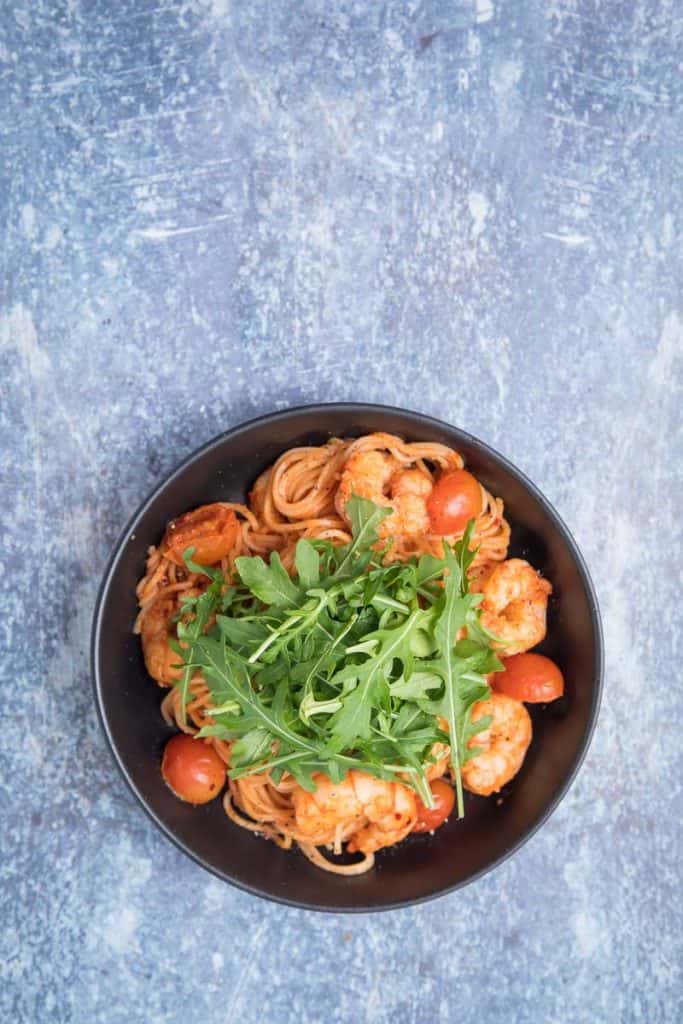 best pasta for prawn pasta – prawn linguine
The easiest type of pasta that works in this chilli prawn pasta dish is spaghetti of course. However, a very popular variation of this recipe is to make it with linguine.
It is very similar to spaghetti but are flatter in shape and slightly thinner. Tagliatelle or fettuccine are also excellent choices of pasta. The decision is yours! You can also make your own fresh fusilli pasta.
low-carb, low-calorie prawn pasta
You can make your chilli prawn pasta in a low-carb version. First, you can reduce the amount of pasta and go heavy on the protein and salad (part of the topping). You can't go wrong in including more of the tiger shrimp.
If, however, you feel like you don't wish to enjoy this recipe with pasta but still want to respect the flavours, then there's a simple solution. Make courgetti instead of pasta and eat away completely guilt-free! This substitute will definitely knock off carbohydrates as well as calories!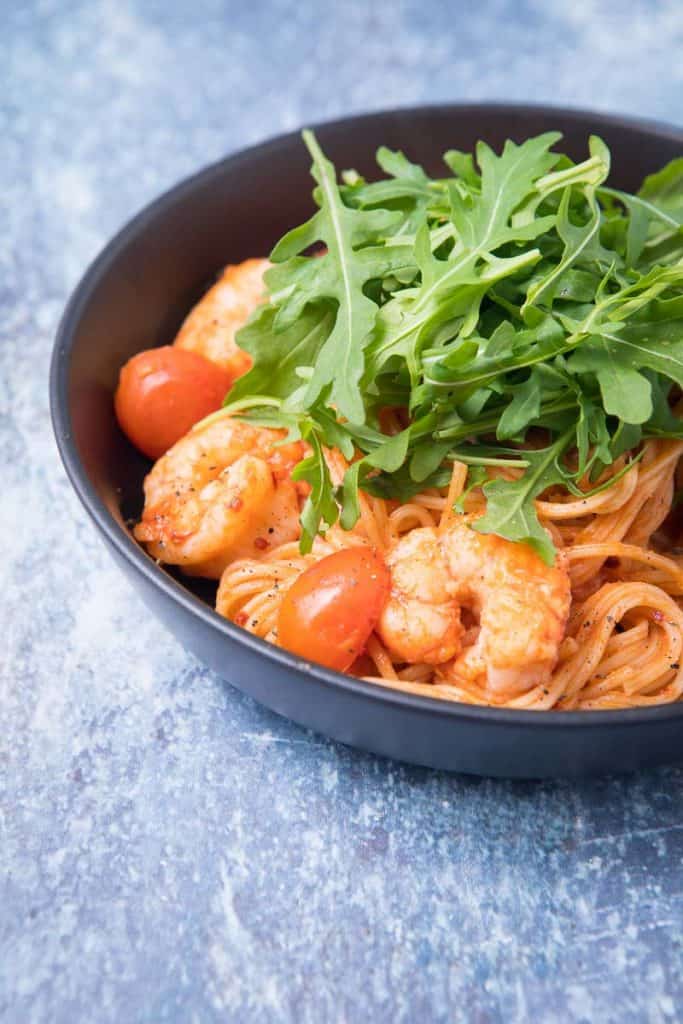 chilli prawn pasta toppings
To balance the flavours of this chilli prawn pasta, I recommend topping it with fresh rocket salad. The rocket salad brings a subtle sharp and bitter flavour that altogether excites your taste buds.
Especially, I highly recommend getting your hands on fresh rocket salad at a farmer's market during the warmer months. There's nothing better than enjoying a refreshing fresh rocket salad with parma ham and parmesan – the Italians can confirm this (if you have some handy)!
Despite fresh rocket salad being the best option, you may opt for using other fresh herbs. For example, fresh parsley, fresh baby spinach leaves or fresh basil will do the trick.
Ideas for additional toppings include pine nuts, parmesan shavings, fresh cherry tomatoes and drops of lime or lemon juice. What topping would you select for your perfect chilli prawn pasta?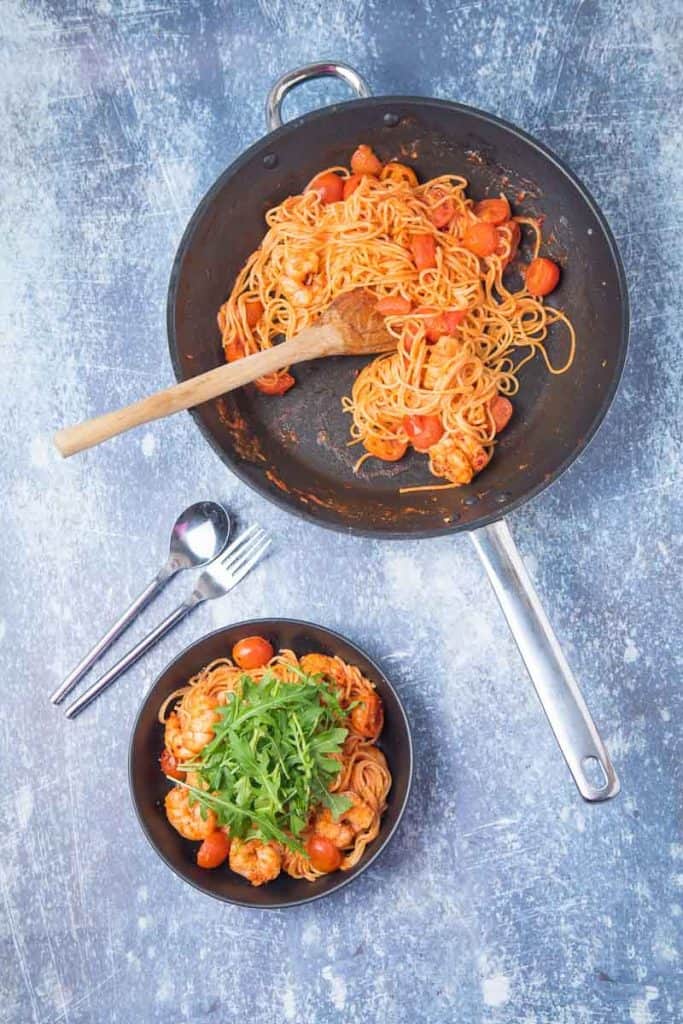 other Italian seafood dishes you might like
If you love Italian cuisine that combines traditional hearty Italian / Mediterranean flavours with the fruit of the sea, then this chilli prawn pasta is definitely for you.
However, there are other dishes you can take inspiration from. Especially if you feel like eating Italian all week. First, you can try your hand at a traditional squid ink risotto (you can also use cuttlefish ink), which is another hearty seafood pasta dish.
Otherwise, for a less filling option that's very suitable for a sunny day, try making this irresistible octopus salad. Lastly, for something super-simple which involves a limited amount of ingredients freely available in any store, try making this pesto baked salmon.
Otherwise, if you love prawns, try my king prawn butterfly. It's to die for! Crab isn't featured often enough and if you tried these stuffed cherry tomatoes, you'll be swooning!
Print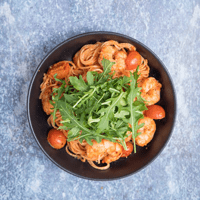 Chilli Prawn Pasta
---
Description
A simple chilli prawn pasta recipe that combines prawns with spaghetti and a hearty sauce. Topped with fresh rocket salad. Use any type of Italian pasta.
---
380g

(13½oz) dried spaghetti

15

ml (1 tbsp) olive oil

250g

(9oz) cherry tomatoes, washed and halved

250g

(9oz) raw prawns, peeled

5

ml (1 tsp) dried chilli flakes

30

ml (2 tbsp) tomato paste

15g

(½oz) garlic paste

30

ml (2 tbsp) Chinese rice wine

5

ml (1 tsp) sugar
---
Instructions
Boil the spaghetti according to package instructions. Drain and set aside.

Fry the tomatoes and prawns in the oil on a high heat for 1 minute.

Add the chilli flakes, tomato paste and garlic paste and cook for 30 seconds further.

Add the Chinese rice wine and sugar along with a generous pinch of salt and pepper. Cook for 2-3 minutes or until the prawns are cooked through.

Add the spaghetti to the pan. Add a splash of water if needed.

Cook for 1 minute, stirring until the sauce sticks to the pasta.

Serve the pasta immediately with rocket which is dressed with a traditional vinaigrette.
Prep Time:

10 minutes

Cook Time:

20 minutes

Category:

Main Course

Cuisine:

Italian
Nutrition
Serving Size:

1 serving

Calories:

364

Sugar:

7.4 g

Sodium:

371 mg

Fat:

10.3 g

Saturated Fat:

1.8 g

Carbohydrates:

33.4 g

Fiber:

2.4 g

Protein:

34.4 g

Cholesterol:

287 mg
save the recipe to your pinterest board
*This is a sponsored post