Courgette involtini makes the perfect bite-sized Italian starter or main course. The beauty is that you can control the amount of saltiness by adjusting the amount of cheese and ham used in the recipe.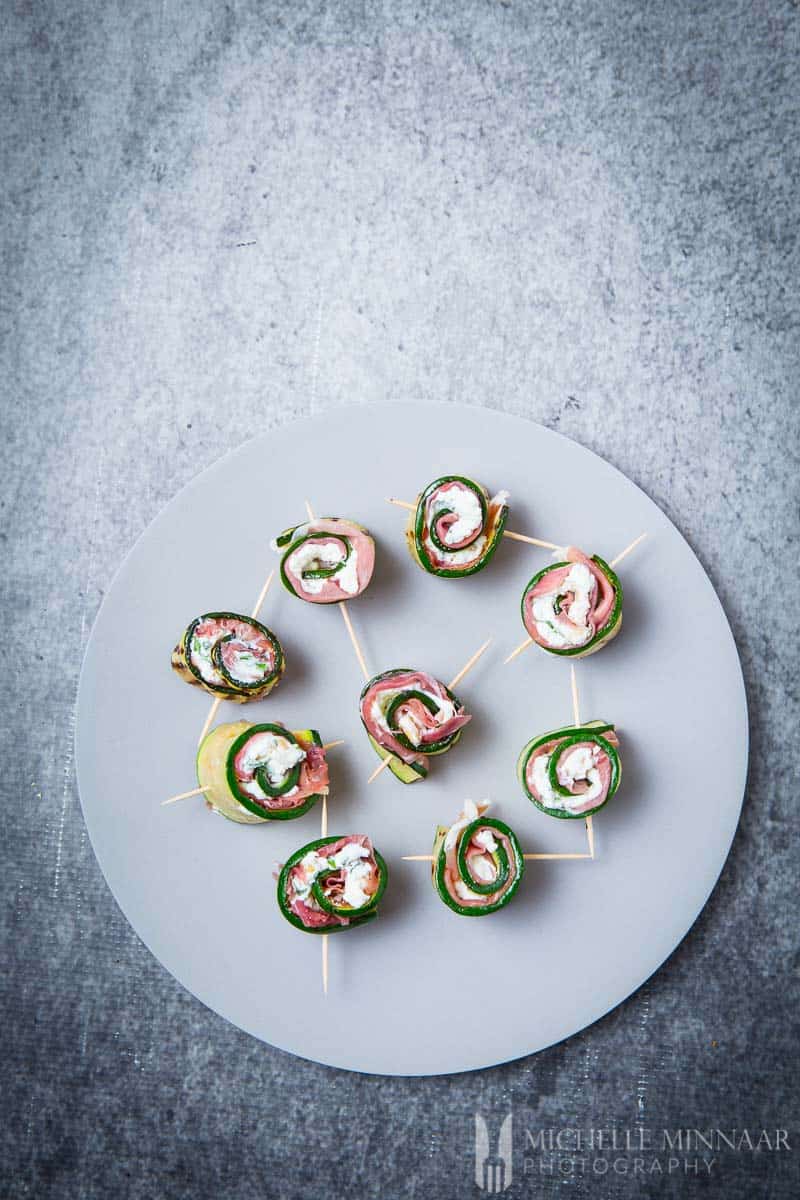 A full-bodied red wine goes hand in hand with this dish and before you know it all of it will be gone.
Originally, involtini was made using veal or chicken but as time passed people have put their own creative spin on the dish, such as I have done in this case!
The best part about this courgette involtini is the fact that it uses only the best ingredients Italy has to offer – Prosciutto di San Daniele and Grana Padano were used.
courgette involtini
What is involtini? The term involtini is a fancy Italian word which means "something rolled up", indicating there is some filling or stuffing inside. A courgette involtini therefore uses the vegetable to create the little parcel.
You can use any type of meat or any vegetables for this step. However, it's more common to use meat for the outer layer though. Also, you might also know that involtini are sometimes known as "rollatini" in some parts of Italy.
traditional involtini
Traditionally, you make involtini with very thin slices of aubergine or eggplant that you grill first. The stuffing usually involves some soft cheese such as ricotta.
As you can see, I like to experiment with this recipe a bit and tried a different combination that worked brilliantly. So, instead of using the traditional aubergine, I made it with courgettes. Carrots might work too.
You can also use pasta sheets and stuff them with something delicious. However, then they would not be involtinis but rather cannelloni!
Prosciutto di San Daniele
Prosciutto di San Daniele is truly a unique prosciutto. It hails from the Friuli Venezia Giulia region, in the province of Udine, located in the north-eastern part of Italy. Only Italian born pigs are used in the process.
Not only is the ham a natural food product, but it's also one of a kind. Visually, it has a distinct shape, similar to the shape of a guitar. Otherwise, if you are still unsure, you can easily recognise the Prosciutto di San Daniele by its specific seal on the top of the ham.
It has its specifications that date all the way back to the 1961. The Consortium of Prosciutto di San Daniele represents all producers of this unique delicacy.
Set up to protect and promote the product, the Consortium holds the PDO (Protected Description of Origin) rights, supervises its correct application and safeguards the mark.
Specific rules and legal provisions for production and sales must be respected at all times, otherwise stakeholders might face strict penalties and more more importantly it may not be able to be sold as Prosciutto di San Daniele.
What makes this ham so unique, is that it matures in San Daniele for a minimum of 13 months after the salt cure. If you ever come across one of these, then truly enjoy the moment when you taste the prosciutto.
Grana Padano
Grana Padano is perfect for the courgette involtini! Let's face it, it's perfect with any Italian meal. However, most people only recognize Grana Padano as small little triangles of hard cheese that you buy in the supermarket.
Well, the real thing looks quite different. If you go to Italy, you'll see huge wheels of cheese.
Take a look at the photo. Do you see how the rind has a beautiful, golden glow? Once you cut it, you'll see that the interior is a beautiful white or eggshell colour.
How do you recognize that the cheese is truly Grana Padano? The cheese rind has a special trademark or 'Grana Padano' seal, confirming the quality and the production process.
Just like Prosciutto di San Daniele, Grana Padano also has enjoys PDO status and is backed by the Protection Consortium.
You know what's crazy? Officially, a wheel of Grana Padano can never be under 24 kg and it can weigh up to 40kg. How would you fit that in your suitcase?!?
aging
In my opinion aging is fantastic when it comes to cheese and wine. When it comes to Grana Padano, it is sold at three different stages of aging. The first is the Grana Padano aged between 9 to 16 months. This has a generally milder taste and the texture is more silky.
Second, you can get Grana Padano where the aging process is 16 months or more. This is where things start to get interesting. There is granularity, so you get a bit of texture.
Plus, the taste is powerful, but not overwhelming with the aromas of fruit and hay. This cheese is ideal for grating and perfect for the courgette involtini.
Lastly, you can get the Grana Padano Riserva with aging between 20 to 24 months or more. This is the most luxurious cheese where gorgeous fragrances. Rich in flavour and granular in texture, you should definitely serve this cheese on its own with a beautiful, heavy red wine.
variations
There is plenty of room for you to play around with ingredients. You can also use theProsciutto di San Daniele as a wrap. Personally, I also like to use spinach and perhaps top the whole thing off with even more cheese and pine nuts.
However, other people tend to use meat as a filing or other types of cheeses, like cream cheese. You can literally make a cheese bomb with this courgette involtini.
Once this dish comes together and you serve it, the way you eat this dish reminds me a bit of sushi. The grated Grana Padano cheese acts as soy sauce in which you can dip the involtini into and munch away, dipping again when it tickles your fancy.
I hope you enjoy this courgette involtini and let me know what you think will work best in terms of filing!
For more canapé ideas, check out these stuffed cherry tomatoes.
How would you use Prosciutto di San Daniele and Grana Padano cheese in a recipe?
Print
Courgette Involtini with Prosciutto di San Daniele and Grana Padano cheese
---
Author:

Michelle Minnaar

Prep Time:

30 minutes

Cook Time:

10 minutes

Total Time:

40 minutes

Yield:

6

1

x
Scale
Ingredients
2

large courgettes, washed

30

ml (1 tbsp) olive oil

6

slices Prosciutto di San Daniele

125g

(

4oz

) ricotta

30

ml (2 tbsp) pine nuts

6

basil leaves, finely chopped & more for garnish

30

ml (2 tbsp) Grana Padano cheese, finely grated
---
Instructions
Slice the courgettes thinly lengthwise in 0.5cm (⅕in) strips. You are aiming for 12 strips. A mandoline works well for this task.
Brush the courgettes lightly with olive oil and grill on a high heat for two minutes on each side.
Place the cooked courgette on paper towel to drain excess oil and let it cool down.
Mix the ricotta, pine nuts and basil in a bowl.
Cut each slice of ham in half lengthways and place half a slice on each courgette slice. Repeat the process.
Gently spread the courgette topped ham with a thin layer of the ricotta mixture. Leave the one end clear of the spread.
Starting at the end with the ricotta at the edge, carefully roll the courgette and its contents. When you get to the end, stick a toothpick close to the edge straight through the edge to the other end to keep the roll together.
Arrange the courgette rolls on a serving platter and sprinkle with basil leaves and Grana Padano cheese. Serve immediately.
---
Category:

Starter

Cuisine:

Italian
Nutrition
Serving Size:

1 serving

Calories:

200

Sodium:

391 mg

Fat:

15.5 g

Saturated Fat:

5.6 g

Carbohydrates:

2.5 g

Protein:

12.9 g

Cholesterol:

22 mg
save the recipe to your pinterest board
P.S. This is a sponsored post.