I picked up this fantastically simple, yet superb seared tuna salad recipe on my recent trip to Sicily. Ever since then, seared tuna salad has become one of my favourite seafood dishes.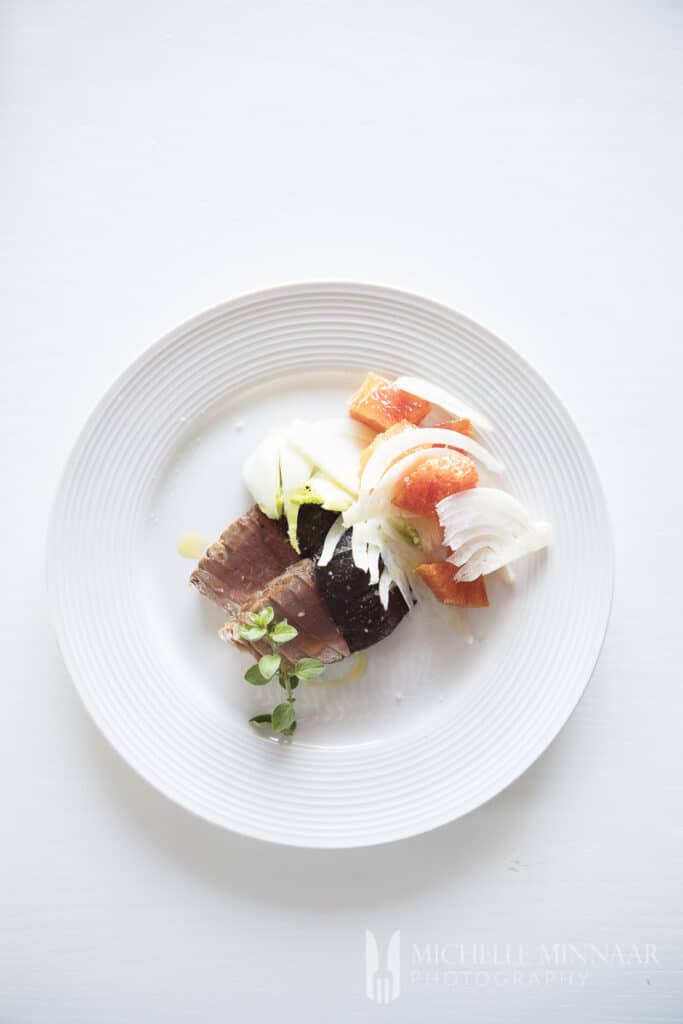 Needless to say, the gorgeous Mediterranean island of Sicily has some of the best imaginable seafood to offer. Among other things I learned there was this tasty sardine salad.
Seared tuna salad is a slightly more simple serving, yet at the same time is more elegant and refined. Using only a few ingredients, the centre stage is left to the fish.
This means you really get to taste the tuna as it should be enjoyed. With a touch of modern plating, you can really make this a restaurant-quality dish. Perfect for, say, treating your partner to a romantic dinner or for entertaining guests.
easy seared tuna salad
If you are looking for an easy but refined starter, this is it. You only need 15 minutes to prepare and cook this seared tuna salad. As with many good Italian dishes, there are only a few ingredients.
This means that the ingredients need to be of the best quality you can possibly get. For the salad you only need fennel and oranges so make sure to get some with loads of flavour.
For this purpose I would recommend going to a bio store. The products are a bit more expensive than regular stuff, however the quality is also superior. Moreover you only need a few things so it is not worth the compromise.
Personally, I find that fennel goes extremely well with fish, and with tuna in particular. However some people do not like the anise flavour of fennel, in which case you could go for swede instead. Just make sure that it is sliced very fine. If you have a mandolin this would give the best results.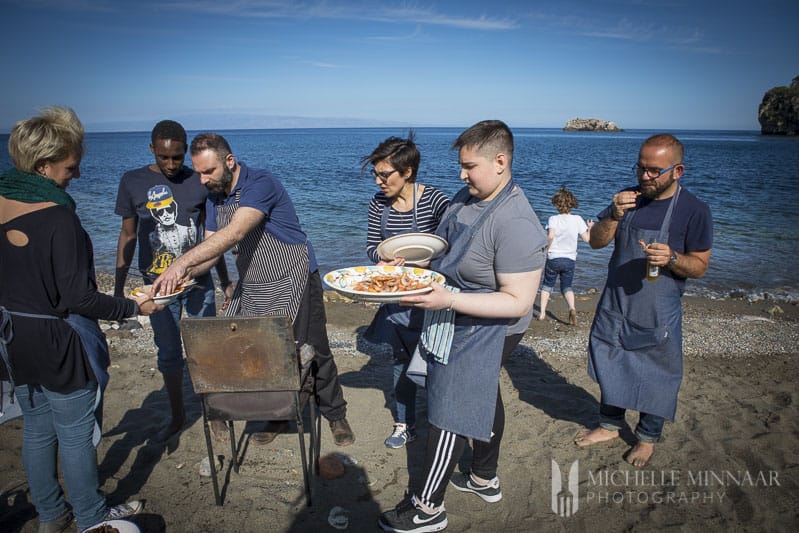 the perfectly seared tuna
First of all I cannot stress enough how important it is to get the best possible quality fresh tuna. In this seared tuna salad, the tuna plays the key part.
Furthermore it will be seared only on the outside and raw in the middle. Ask your fishmonger for sashimi-quality tuna.
When you sear the tuna, make sure that the pan or grill is sizzling hot. You need only to char the tuna for about 15 seconds on each side. Simply long enough to get some colour on the outside and seal the juices inside.
If you have a grill pan even better, as you will get some nice stripes on the tuna. If the tuna steak is very thick you can sear it slightly longer.
However, you must be very careful when doing this. Above all you do not want the Tuna to be cooked through. It will lose the delicious fresh flavour and texture, and look dull and grey on the plate too.
When I was in Sicily, I learned how to cook and prepare fresh tuna. The chef used fresh tuna steaks from the local fish market, which were of course top quality.
The fish fillets were really dark. The crew actually thought it looked like beef.
seared tuna salad with avocado
The combination of fresh tuna and avocado is famous in the world of sushi. If you want a bit more substance in your seared tuna salad you could add half an avocado cut into strips.
Avocados are very rich and fatty in flavour so be careful not to overdo it. After all, you still want to be able to taste the pure tuna.
If you add the avocado you should still leave the fennel and the orange in for balance. To counter the richness of the avocado, you can also add half an orange extra.
seared tuna salad with Jamie Oliver
Upon my return from Sicily I was curious about what others do with seared tuna. I inspired myself from Jamie Oliver's seared tuna salad which is a more Asian-flavoured dish.
Featuring spring onion, fresh chilli and ginger, it has clear Asian flavours. If you are a fan of Sashimi-styled tuna, this could be a tasty alternative.
seared tuna salad Nicoise
If you are looking for a more filling dish, that you can use as a side dish or a lunch dish, you can do a seared tuna salad Nicoise. Salad Nicoise is a classic French lunch salad, with cold boiled potatoes, green beans, bell peppers and olives.
Most of the time this is topped with canned tuna, however you can actually really lift the dish by using fresh tuna. Make the salad as you otherwise would, and garnish with slices of seared tuna on top.
If you are looking for other ways to use seared tuna, have a look at my fresh tuna and mango with lime noodles. 
serving
In order to obtain an elegant presentation I have sliced the fennel very thin. Equally, you should slice the oranges as finely as possible.
It looks beautiful on the plate and gives the dish a neat lightness when you eat it. Using a sharp knife, cut the seared tuna into strips.
It's important that the knife is very sharp as you can easily end up tearing the tuna apart. The flavour is still there of course, but the presentation will be messier than with neatly cut strips.
Drizzle with good quality olive oil, season with salt and pepper and serve immediately. If you like, add a few sprouts of watercress for the final touch.
Serve with nothing else other than a nice piece of fresh bread and you have a beautiful Italian starter. You can also pair it with another Sicilian starter called macco di fave or simple roasted artichoke hearts.
If you would like to find out more about Sicilian cooking, the island is certainly worth a visit. For some travel tips have a look at my article here.
While there, I also picked up some other traditional dishes like this squid ink risotto recipe or this octopus salad. If you love smoked salmon, you simply have to try this salmon terrine.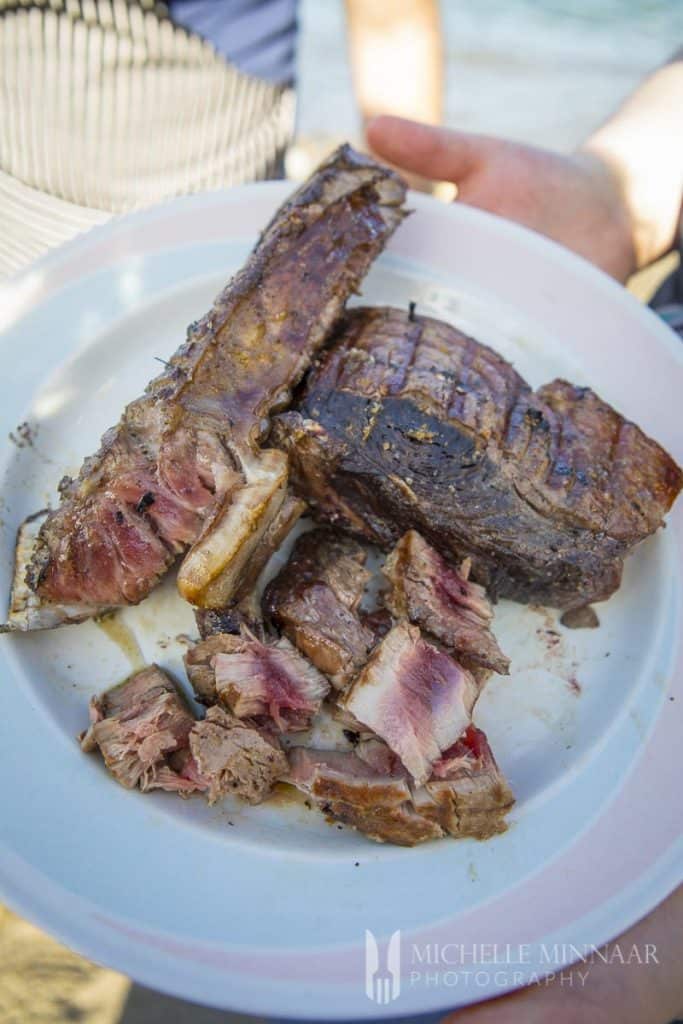 wine pairing
Even though the seared tuna salad tastes so good that you almost want to eat it every day, it is more intended for special occasions. Therefore if you are planning a dinner party and are thinking about seared tuna salad for the starter, you also need to think of the wine.
A crisp white wine, such as a Sauvignon Blanc would go splendidly with the fresh flavours of the seared tuna salad. Look to France's Loire Valley district for the best ones, or alternatively New Zealand.
The quality here is excellent, too, and pairs well with flavourful seafood dishes such as this seared tuna salad.
Print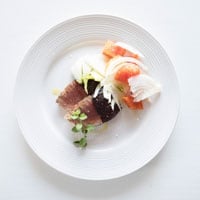 Seared Tuna Salad
---
Description
Replicate this easy seared tuna salad recipe at home and serve your family a healthy gourmet meal. Enjoy cooking with fresh tuna & make the salad your own.
---
450g

(1lb) fresh tuna steak

15

ml (1 tbsp) vegetable oil

2

fennel bulbs, washed and finely sliced

2

oranges, peeled and sliced

60

ml (4 tbsp) olive oil

Salt and pepper
---
Instructions
Run the vegetable oil all over the tuna steak.

Sear the fish for about 15 seconds on each side in a sizzling hot pan.

Remove from the heat and season with salt and pepper.

Arrange the fennel and orange slices evenly between plates.

Using a sharp knife, slice the tuna steak into thin strips and place them on top of the salad.

Drizzle the salad with olive oil and serve immediately. Enjoy!
Notes
The time to sear each side depends on the thickness of the piece of tuna steak you bought. If it's at least 5cm (2 in) thick, you can sear it for slightly longer.

Be diligent when cooking the tuna. You don't want it cooked through!

Buy the best quality tuna you can find, sashimi-quality if you will.
Prep Time:

10 minutes

Cook Time:

5 minutes

Category:

Starter

Cuisine:

Italian
Nutrition
Serving Size:

1

Calories:

439

Sugar:

8.6g

Sodium:

117mg

Fat:

25.1g

Saturated Fat:

4.5g

Carbohydrates:

19.4g

Fiber:

5.9g

Protein:

36g

Cholesterol:

55mg
save the recipe to your pinterest board