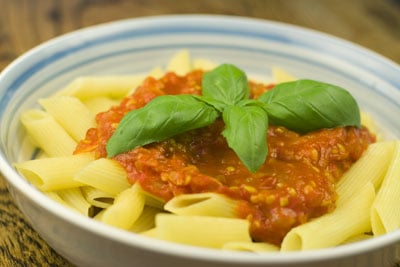 One thing that never ceases to amaze me is how easily tomatoes grow here in the UK. For four years in a row we've had bumper crops of tomatoes. With Gabriel's arrival this year our vegetable plot got grossly neglected and our poor tomatoes missed out on the tender loving care they needed. Yet we harvested kilos of them ever week. There was a slight problem though, I didn't know what to do with them! I needed a solution quick. It would have been an awful shame to let premium quality organic tomatoes go to waste.

My main problem with cooked tomatoes is that they are just so acidic. After flinching I would usually add a few teaspoons of sugar to temper them. However, I decided to live life dangerously and make a fresh tomato sauce. After submerging the red beauties in boiling water for a while, I patiently skinned all twenty-eight of them. It didn't take too long and Pluji kept me company (read she was in beg-mode barely restraining herself to practise the pathetic lift-one-paw technique). Afterwards she gratefully polished off the tomato skins while Shacia watched her - probably thinking Pluji's one mad dog. The sauce started off as very watery, but as time passed the water started to evaporate in the simmering process. Every now and then I checked up on the sauce, giving it a gentle stir. After ninety minutes all that remained was the thick essence of tomatoes and a strong, sweet aroma in the air. Slowly I dared to taste it while eyeing the can of sugar nearby. Tangy, but yet so sweet. I was amazed. When Neil tasted it he asked whether I added sugar to the sauce. I nearly chased him out of the kitchen with my rolling pin for knowing my cooking so well. Nonetheless I was very pleased with the outcome of the experiment. All the tomatoes following this batch have met their fate the same way. So moreish indeed.
There is a secret to this recipe. Wait for the tomatoes to ripen properly. Keep them out of the fridge and stash them with other fruit. Admire how they change colour from a light red to the deepest red possible. Squeeze them gently. They should be slightly soft, yet firm. Your fingernail should leave a slight indentation in the skin. It might seem like a lot of work at first, but if the tomatoes are really ripe peeling them would be a breeze since the skin slips off the flesh easily. I can assure you it is well worth the effort.
P.S. I am submitting this recipe to Andrea's Grow Your Own monthly food blogging event.
Print
Simmered Fresh Tomato Sauce
---
Description
Suitable for freezing
---
1

kg

(2 lb) fresh tomatoes

15

ml

(1tbsp) olive oil

1

onion, peeled and chopped

3

garlic cloves, peeled and crushed
brown sugar
salt and freshly milled black pepper
---
Instructions
Put the tomatoes in a big bowl. Pour boiling water over the tomatoes until every one is submerged. After a few minutes drain the tomatoes and hold them under running cold water. Slips their skins off.
Heat the oil in a medium saucepan, then add the onion and garlic and let them gently cook for 5-6 minutes, until they are softened and golden. Now add the tomatoes. Simmer the tomatoes on a very low heat, without a lid for 1½ hours or until all the liquid had evaporated and the tomatoes are reduced to a thick, jam-like consistency, stirring now and then.
Add salt and pepper to taste.
If the sauce if extremely acidic, you can try adding brown sugar in teaspoon increments until you're satisfied.
Serve the sauce spooned over pasta, sprinkled with Parmesan.
Notes
If you like mozzarella cheese, you can melt some in the sauce before serving up.
For extra flavour you can add some torn fresh basil leaves to the sauce before serving.
Prep Time:

15 minutes

Cook Time:

95 minutes
Nutrition
Serving Size:

1 serving

Calories:

116

Sugar:

1.2 g

Sodium:

65 mg

Fat:

5.8 g

Carbohydrates:

16.9 g

Fiber:

3.9 g

Protein:

2.8 g