Spaghetti alla carrettiera is traditional hearty Italian, or rather Sicilian, meal which looks simple but is packed with flavour! It is one of those dishes that you would expect to be served by an Italian grandmother in the countryside. What I love most about this Italian dish is that it uses inexpensive ingredients to create a delicious and memorable combination! Best served immediately, the Italians refer to this dish as difficolta molto bassa, which means very low difficulty! This is very true in this case.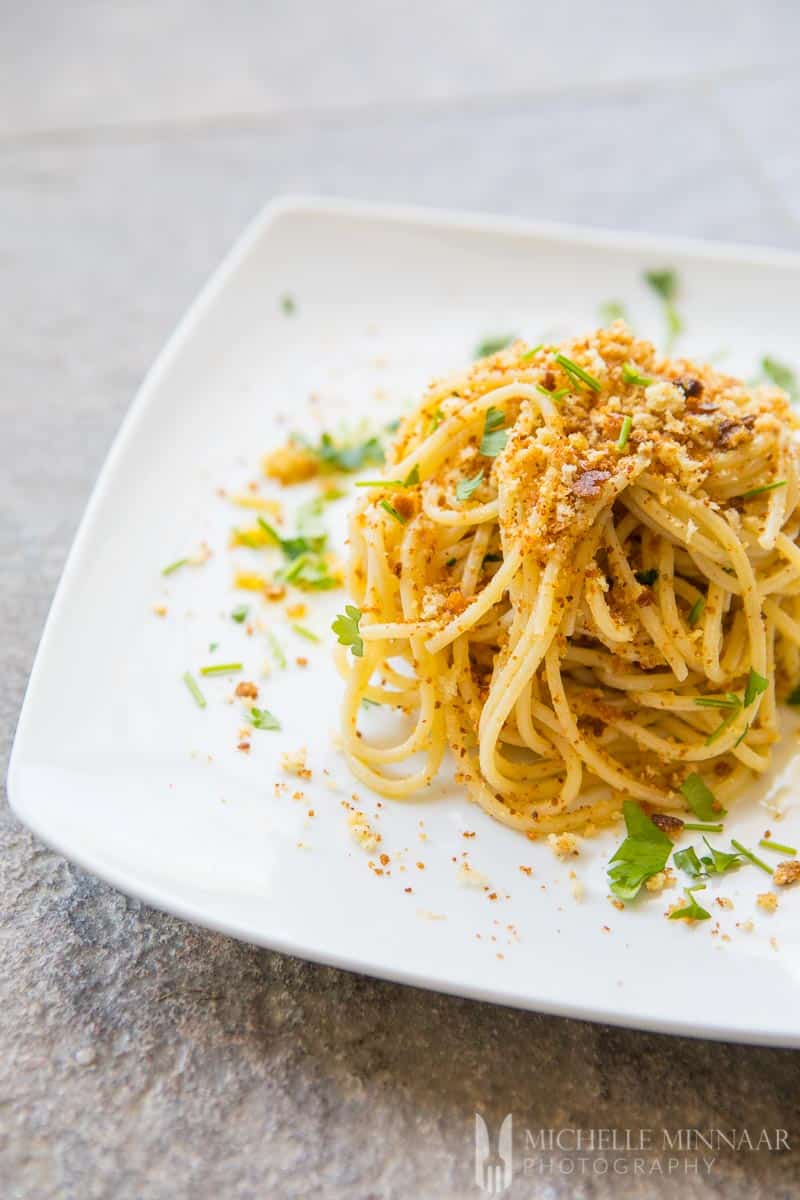 spaghetti alla carrettiera
I had the pleasure to stay at Massimo Villas' apartments during the Easter holidays and one of the services it provides is catering. So not only can you enjoy staying in a luxurious villa, with stunning views, but you can actually have a chef come over. The latter will cook a full blown Sicilian meal for the party, while you relax and mingle with friends and family.
This forms part of Massimo Villas' concierge service, where you can participate in sea activities, go on tours and private events can be planned. Kids and suitable activities can be organised and if you need to hire a car, look no further. Massimo Villas' staff are highly attentive and throughout my trip were approachable and easily contactable, ensuring my first trip to Cefalu was a fantastic and memorable experience.
Of course, being a true gourmet, I opted for the food related offering and had Sicilian chef, Antonino Quartana, cook for my son and I. Being the main cook for my family and friends, it was a novelty to be cooked for and a welcome break. Not only did I learn plenty from Nino about authentic Sicilian food but for the first time I truly understand the concept Italian cuisine is famous for. A few quality ingredients used in a simple recipe yields stunning results. As you can see this spaghetti alla carrettiera is prepared in a few, easy steps and anyone can cook it.
If you rent a villa with Massimo Villas, you can contact the team at Massimo Villas who will liaise with Nino on your behalf. Prices depend on the menu – the chef works at an hourly rate with the cost of the food on top. Contact details can be found here.
molto bassa preparazione
Spaghetti alla carrettiera is an excellent choice for busy professionals or hard-working moms that like to keep their time in the kitchen to a minimum! Molto bassa preparazione translated from Italian means 'very low preparation' and I really feel the need to highlight this. The minute I saw the spaghetti alla carrettiera, I initially thought that it would take a bit of time before it can be served. In essence, it requires minimal effort where you can easily take shortcuts to cut the cooking time even more. For example, if you purchase good quality pasta, there is no need for you to make it from scratch. Sounds appealing, doesn't it?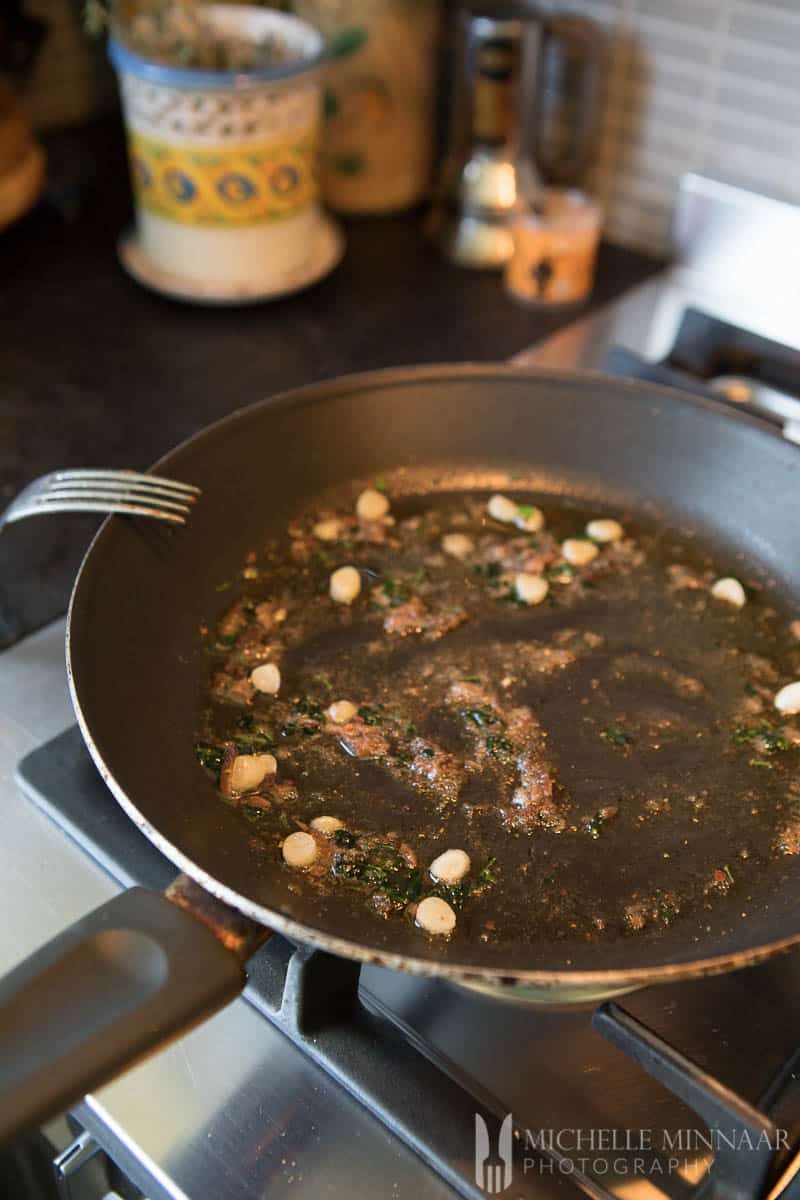 pasta alla carrettiera
Now, speaking of pasta, you might have come across a few phrases like pasta alla carrettiera Siciliana while researching this recipe. That's because you don't necessarily need to use spaghetti to make this dish. In fact, you can select any type of pasta of your preference from penne t0 fusilli to tagliatelle, and more. My recommendation is to stick to the spaghetti as they are perfectly suited for this Sicilian recipe in terms of texture. Tagliatelle will also do the trick. I wouldn't be so keen on using penne because the breadcrumbs will act as a filling rather than a sauce.
In any case, use your desired pasta and cook them according to the manufacturer's instructions. Let the pasta drain and set aside. I would even add a splash of olive oil so that the pasta doesn't stick together. If you've got a really high-quality pasta though, this should not happen.
breadcrumbs and garlic
Breadcrumbs or 'briciole di pane' in Italian, are the key to getting this pasta alla carrettiera recipe right! You'll need to be a bit careful in this phase of the cooking process so that you don't end up with burnt breadcrumbs. Generally speaking, you can use any type of white bread for making your own breadcrumbs. Or you can take a shortcut again and buy a ready-made pack at the shops.
Next, using 15ml (1 tbsp) of olive oil, toast the breadcrumbs in a pan until golden. I wouldn't add any more olive oil as the breadcrumbs can then genuinely become super soggy. Once they are golden, remove them from the heat and set aside. In the meantime, take a cloves of garlic, peel them and then crush them. Then, gently fry the garlic with the remaining oil in a large frying pan. This will create a nice garlic flavour throughout the spaghetti alla carrettiera.
anchovy mixture
Believe it or not, but this was my first time I ever had anchovies. Surprisingly, they were not overpowering in fishy flavour and balanced the spaghetti alla carrettiera well. In fact, the anchovies were almost more used like a condiment than a main ingredient and were very pleasant and enjoyable, tying the whole dish together. So, once you have your garlic in the pan, after two minutes, add the anchovies, chilli and parsley.
You'll also need to mush the anchovies with a fork until everything is in small bits creating, what I could call, a spicy anchovy pesto. Ideally, all components should be the same size. Next, gently fry the anchovy mixture for 5 minutes or until the garlic is cooked. There is nothing worse than serving uncooked garlic and biting in a chunk unexpectedly. Lastly, stir in the spaghetti and cover with sauce and let the pasta heat through. And voila – you are one step close to finishing your own pasta alla carrettiera.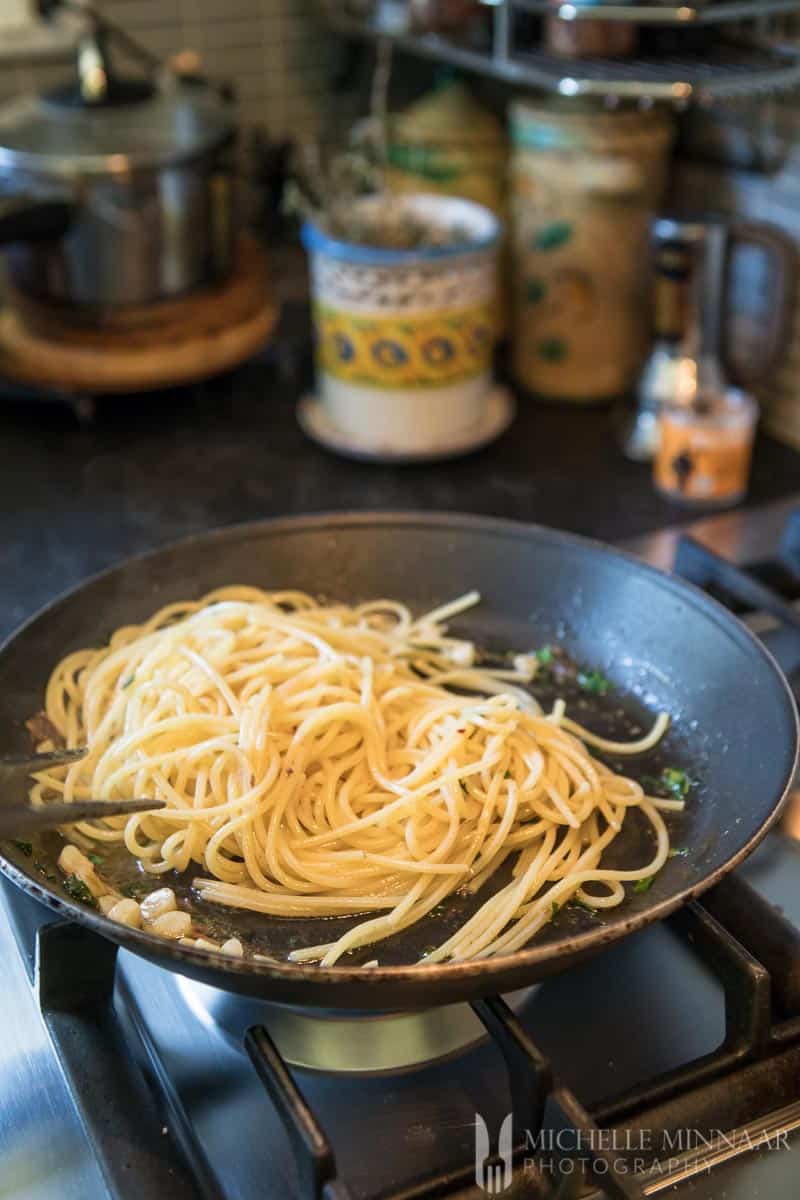 toppings
Remember to sprinkle the dish with the golden breadcrumbs as a finishing touch. Give it one last stir and divide the spaghetti evenly between four plates. If you are expecting more company, simply double up the portion sizes and follow the recipe in the same manner. My final recommendation is to garnish your spaghetti alla carrettiera with parsley and serve it immediately. Don't forget to also serve a lovely dry white wine, which will complement the dish perfectly!
other dishes
Even though the dish has molto bassa preparazione, you can also enjoy a nice Italian starter like this one. For something more robust you can create a starter that involves the use of Parmesan and a deep fryer. Or, for something a bit healthier, you can use your oven and bake Parmesan croquettes.
What is your favourite spaghetti recipe?
Print
Spaghetti alla carrettiera
---
Description
Have you even made spaghetti alla carrettiera? Pasta alla carrettiera is a traditional Sicilian dish including a garlic anchovy mixture with breadcrumbs. Sprinkle with fresh parsley and dried chilli flakes.
---
360g

(

13oz

) spaghetti

125

ml (½ cup) fresh breadcrumbs

105

ml (7 tbsp) olive oil

4

garlic cloves, peeled and crushed

6

anchovy fillets, in oil

60

ml (4 tbsp) parsley, washed and finely chopped

15

ml (1 tbsp) dried chili flakes
---
Instructions
Cook the spaghetti according to manufacturer's instructions. Drain and set aside.
Using 15ml (1 tbsp) of olive oil, toast the breadcrumbs in a pan until golden. Remove from heat and set aside.
Gently fry the garlic with the remaining oil in a large frying pan.
After two minutes, add the anchovies, chilli and parsley.
Mush the anchovies with a fork until everything is in small bits.
Gently fry the anchovy mixture for 5 minutes or until the garlic is cooked.
Stir in the spaghetti and cover with sauce and let the pasta heat through.
Sprinkle with breadcrumbs, give it one last stir then divide the spaghetti evenly between four plates.
Garnish with parsley and serve immediately.
Prep Time:

10 minutes

Cook Time:

20 minutes

Category:

Main

Cuisine:

Italian
Nutrition
Serving Size:

1 serving

Calories:

547

Sugar:

1 g

Sodium:

351 mg

Fat:

28.3 g

Saturated Fat:

4.2 g

Carbohydrates:

60.8 g

Protein:

14.1 g

Cholesterol:

71 mg
save the recipe to your pinterest board