There is nothing better than eating a fresh meal that comes from a recipe box which is delivered straight to your door. As such, this aubergine curry is a fantastic example of how a recipe box can save your life during a really busy day.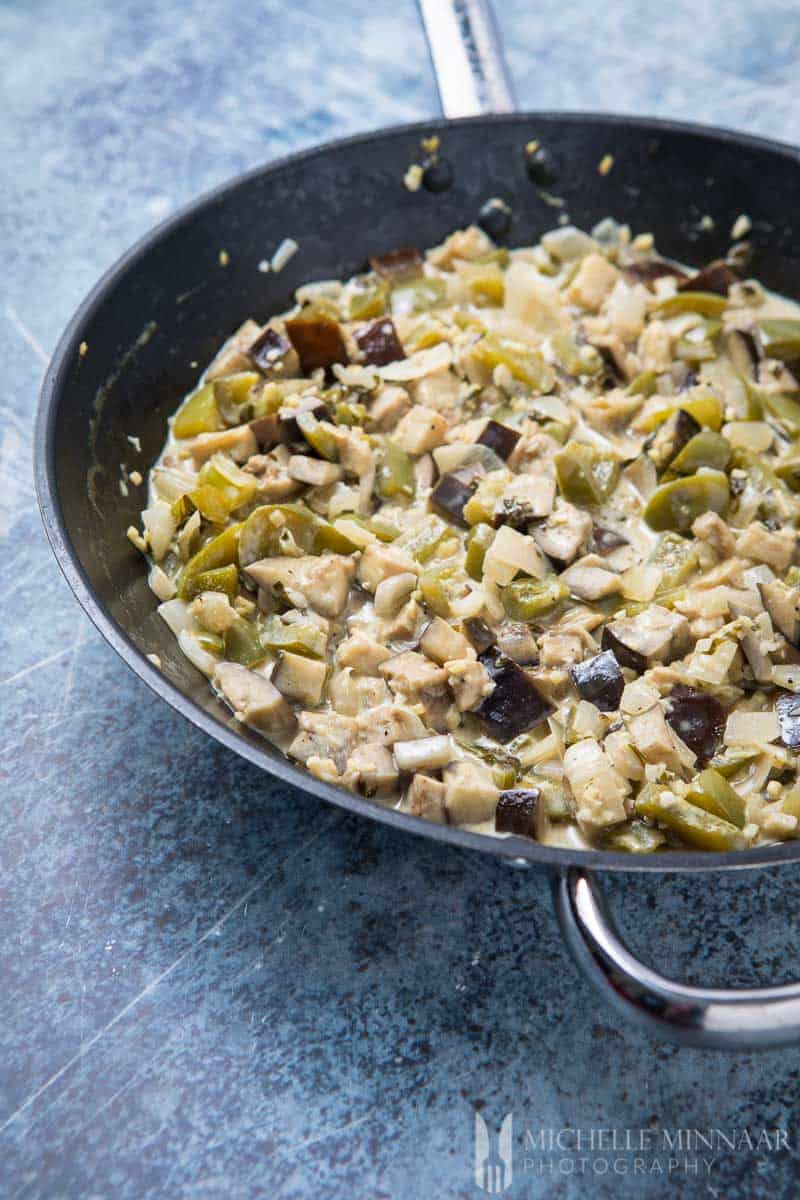 This Japanese-style aubergine curry from Morrisons new Eat Fresh Recipe Box service contains a fusion of Asian flavours that excel in making vegetarian food nutritious and tasty.
In addition, this vegetarian katsu aubergine curry is an ideal meal of choice for a cosy night in. So, just relax and feel free to rest your feet while the recipe box goes straight to your door.
Naturally, this aubergine curry needs very little preparation time! With this recipe, you can manage it all!
quick and easy aubergine curry recipe
What better way to make this quck and easy aubergine curry recipe than having it delivered directly to you! With Morrisons Eat Fresh recipe boxes, you'll be looking to order your meals daily to your door!
If you haven't heard of it, Morrisons Eat Fresh is a completely new recipe-box service. It's a new way of making cooking kits totally affordable! For example, 3 meals in a Morrisons Eat Fresh recipe box (for 2 people) costs just £25. If you compare this to another brand, it can cost up to £43!
I've browsed through their recipes, and they truly have everything from around the world. You can choose any type of recipe that tickles your taste buds and have it delivered fresh to your door.
All the ingredients are pre-portioned so it gives you that much more time to be creative in the kitchen. Plus, everything is made in just under 30 minutes!
Morrisons Eat Fresh trial
Well as you can see I've trialled the aubergine curry with basmati rice and, as expected, they'd packed the box with fresh ingredients and the end result was delicious.
Plus, it was so easy to prepare. Overall, my impression was that it was indeed a lovely vegetarian recipe with Japanese flavours. In fact, I couldn't resist the urge to try two more recipes from Morrisons Eat Fresh.
These included:
Overall, everything was well-packaged and the ingredients were good quality. I would heartily recommend Morrisons Eat Fresh recipe boxes to anyone!
Try the service here and see how it works for yourself and use the code greedygourmet50 to receive a 50% discount off your first box (new customers only and the box must be over £25). You will also find valuable information on pricing and how to subscribe!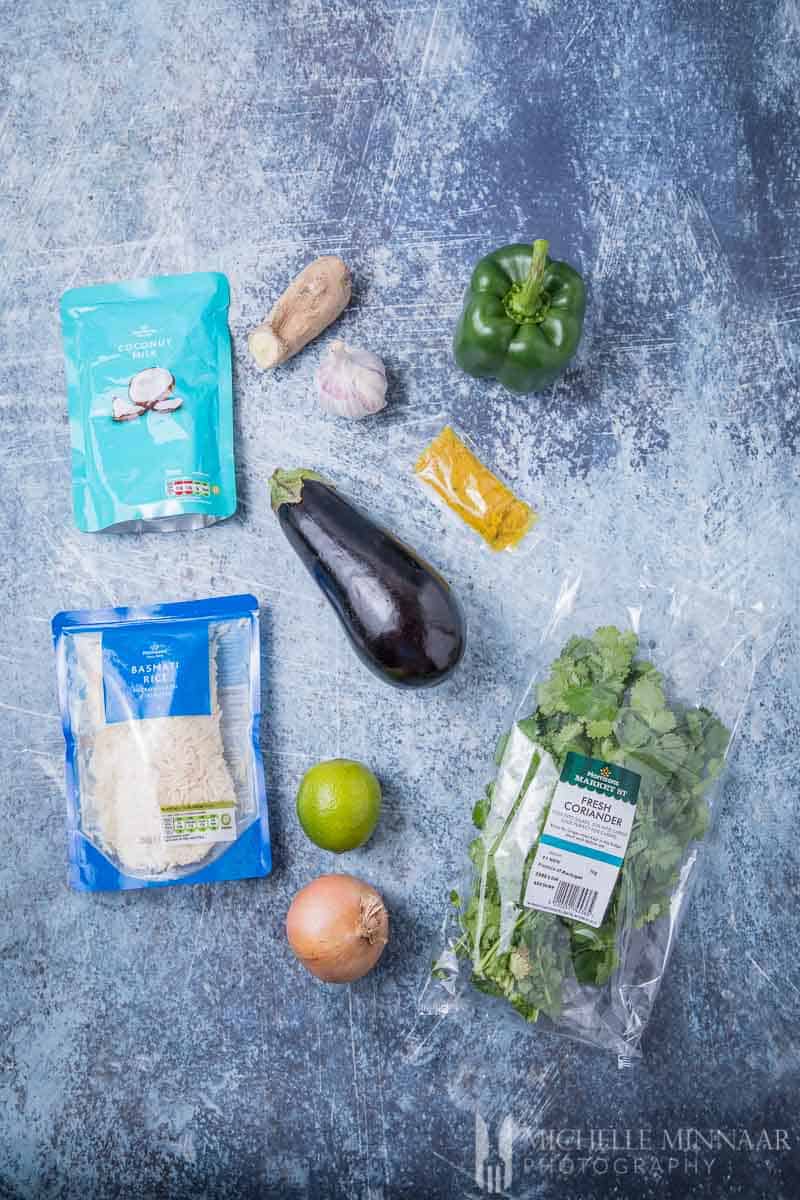 how to prepare aubergine for katsu curry
Cooking with aubergine is not a difficult task. In fact, it is one of my favourite vegetables. First, my kids love staring at the purple wonder.
Second, it's ready in seconds. Aubergine, also known as brinjal (in Asia and in Africa) or eggplant (in the U.S.) is in fact a fruit. Did you know that? Actually, to be more specific, it is a species of berry!
what is aubergine?
The texture is quite spongy and absorbent. So when you are cooking with aubergines, it's never a good idea to soak the aubergine with too much olive oil as it will soak right in and make your dish super-oily.
Furthermore, inside its white interior, you'll find tiny seeds. Nothing to be scared of. The seeds are very similar to that of a tomato, especially since they are in the same family – dare I say – fruit!
There are also other types of aubergines that I've seen in the supermarket. These include:
black aubergine
white aubergine
light purple aubergine
green aubergine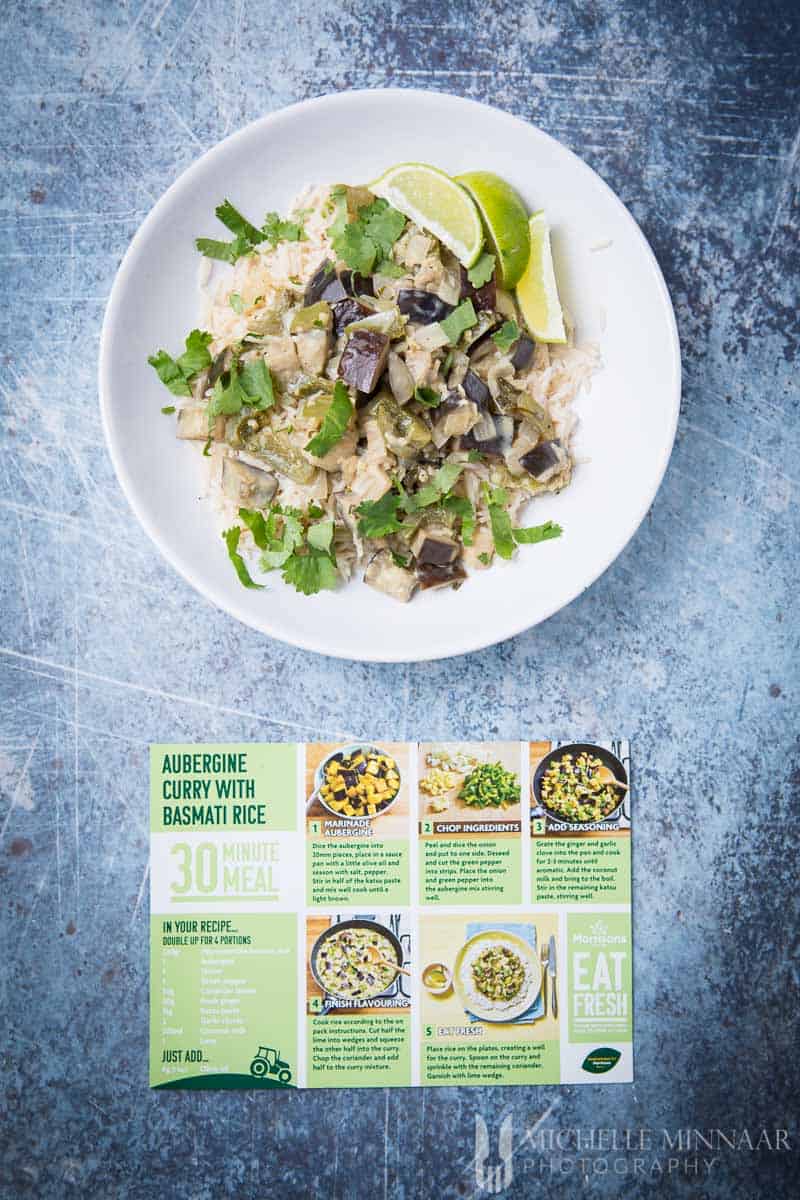 add more aubergine
So, if you wish to add even more aubergine to this meal and make it more hearty, yet not take a toll on the calorie count, feel free to do so. Just dice up the aubergine and leave the skin on. This way it looks similar to that of the aubergine in the recipe box.
Here's another fun fact. An aubergine also contains traces of nicotine. Relax though – you would have to eat roughly 10 kilos worth of aubergines to equal a single cigarette.
By the way, if you love aubergine, you simply have to try melitzanosalata.
Japanese-style aubergine curry
The reason behind this aubergine curry having a Japanese influence is the katsu paste. Katsu paste is a traditional paste from Japanese cuisine that one uses to make the famous katsu curry.
Katsu curry is generally made with various vegetables (onions, carrots, etc.) and meat. In addition, you should also pair a katsu curry with a side of rice. The most popular version of this dish is a chicken katsu curry.
So, this recipe box is a clever vegetarian spin on the traditional meaty recipe. Since aubergine also has a meaty texture and somewhat of a meaty flavour, this aubergine curry with basmati rice makes the perfect meal!
You can also add ginger, galangal or these galangal substitutes for extra flavour.
Nigel Slater's aubergine curry
When I eat this aubergine curry, I can't help myself thinking that I like it more than the version cooked up by Nigel Slater! The latter uses Asian ingredients, however, Nigel opts for the use of mild curry powder, garam masala and tomatoes.
Hence, he takes his curry in an Indian direction. Check out his recipe here.
If you love Asian recipes, I recommend you give this paneer tikka or this bami goreng a go.
Jamie Oliver's aubergine curry
If you do want to take this curry in another direction, then take inspiration from Jamie Oliver's spiced aubergine curry. He adds a very interesting combination of spices which includes cumin seeds, black mustard seeds and garam masala.
So, if you've got leftover aubergines, make his Indian-inspired spiced aubergine and coconut curry. It packs a delightful, spicy combination of Asian flavours. I think Indian flavours actually go quite well with the texture of aubergine, so I tried my hand at making brinjal bhaji.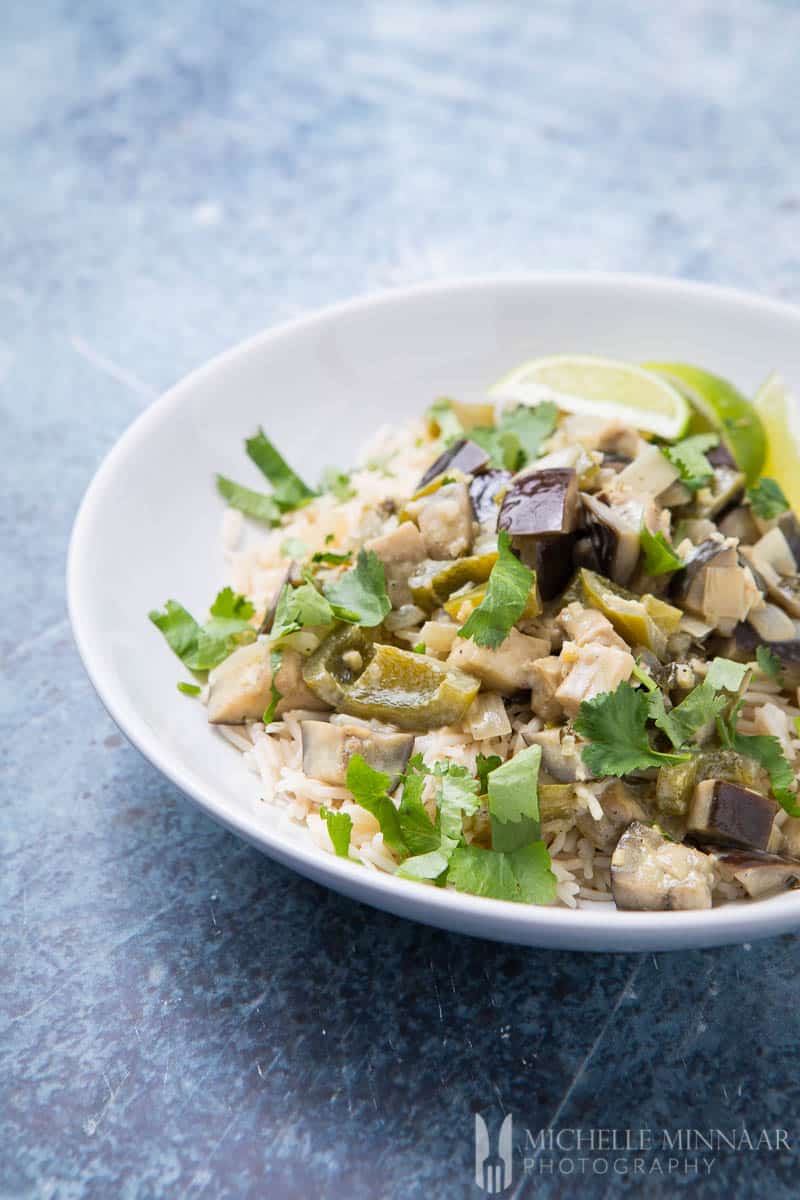 eggplant curry toppings
Although the aubergine curry recipe is perfectly tasty on its own, you can also opt for adding a favourite topping. This might include sprinkling the Japanese-flavoured curry with some fresh coriander leaves as well as fresh parsley.
For the more daring, try fresh red chilli, true Asian style! For a bit of crunch, split almonds also work. Lastly, my favourite flavour ever on Asian curries – add a hint of lime juice!
Lastly, as all traditional Japanese recipes call for pickled vegetables, try this amazing pickled dikon recipe as a topping. Otherwise just sprinkle some nigella seeds or these nigella seed substitutes.
Print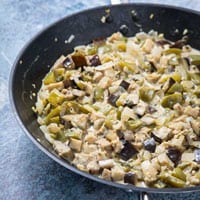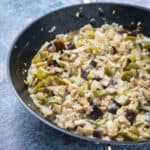 Aubergine Curry
---
Description
Make this easy aubergine curry recipe in just under thirty minutes! You'll get all the ingredients in advance. All you need to do is cook the ingredients.
---
2

eggplant, washed and cubed

30g

(

1 oz

) katsu paste

30

ml (2 tbsp) olive oil

2

Onions, peeled and finely chopped

2

green peppers, washed and sliced

2

garlic cloves, peeled and crushed

30g

(

1 oz

) fresh ginger, peeled and grated

400

ml (1 can) Coconut milk

1

lime, juiced

60g

(

2 oz

) coriander leaves, washed and chopped
Lime wedges, to serve
---
Instructions
Place the aubergine in a saucepan with the olive oil and season with salt and pepper.
Stir in half of the katsu paste and mix well. Cook until a light brown.
Add the onion and green pepper to the aubergine and cooked for 5 minutes or until softened.
Add the garlic and ginger, give it a good stir and fry for another 5 minutes.
Pour in the coconut milk and bring the curry to a boil.
Stir in the remaining katsu paste and let the curry slowly simmer for 15 minutes or until the aubergine is cooked through and tender.
Pour in the lime juice, stir and serve on top of a bed of rice with coriander and lime wedges.
Prep Time:

15 minutes

Cook Time:

30 minutes

Category:

Main Course

Cuisine:

Japanese
Nutrition
Serving Size:

1 serving

Calories:

384

Sugar:

10.9 g

Sodium:

160 mg

Fat:

32.1 g

Saturated Fat:

22.6 g

Carbohydrates:

26.3 g

Fiber:

7.7 g

Protein:

5.1 g
save the recipe to your pinterest board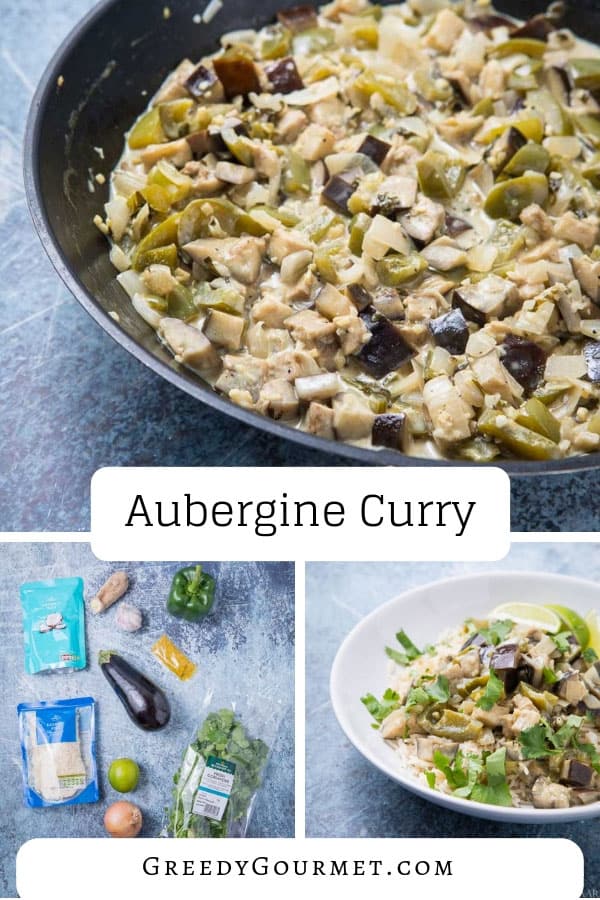 P.S. This is a sponsored post.