This Amlou recipe, made out of roasted almonds, honey and Argan oil, is a great alternative spread or dip if you're looking for something different.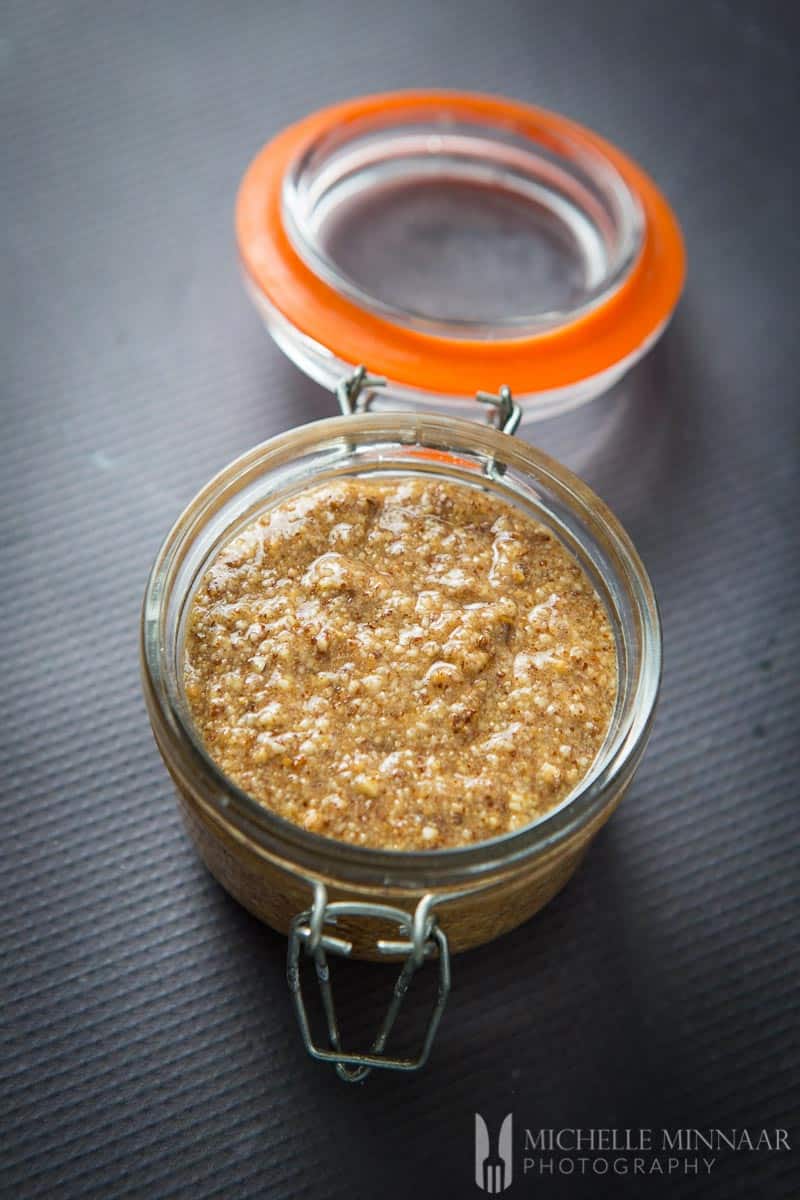 If you like almond butter and or simply roasted almonds, then this Amlou spread is definitely for you. If you have not tried Argan oil yet, you must make this right now and find out what you have been missing.
What is Amlou?
Amlou is a thick brown paste with textures similar to peanut butter, of ground roasted almonds and argan oil, mixed with honey.
It is a delicacy which originates from the Imazighen of the southern region of Morocco. It is also known as Swassa and used as an all-purpose condiment. It is the super food of healthy dips and spreads due to its Argan oil content.
Traditionally it is eaten for breakfast or afternoon tea with the most exquisite Moroccan breads, pancakes and pastries. Moroccans use it extensively in cooking and baking.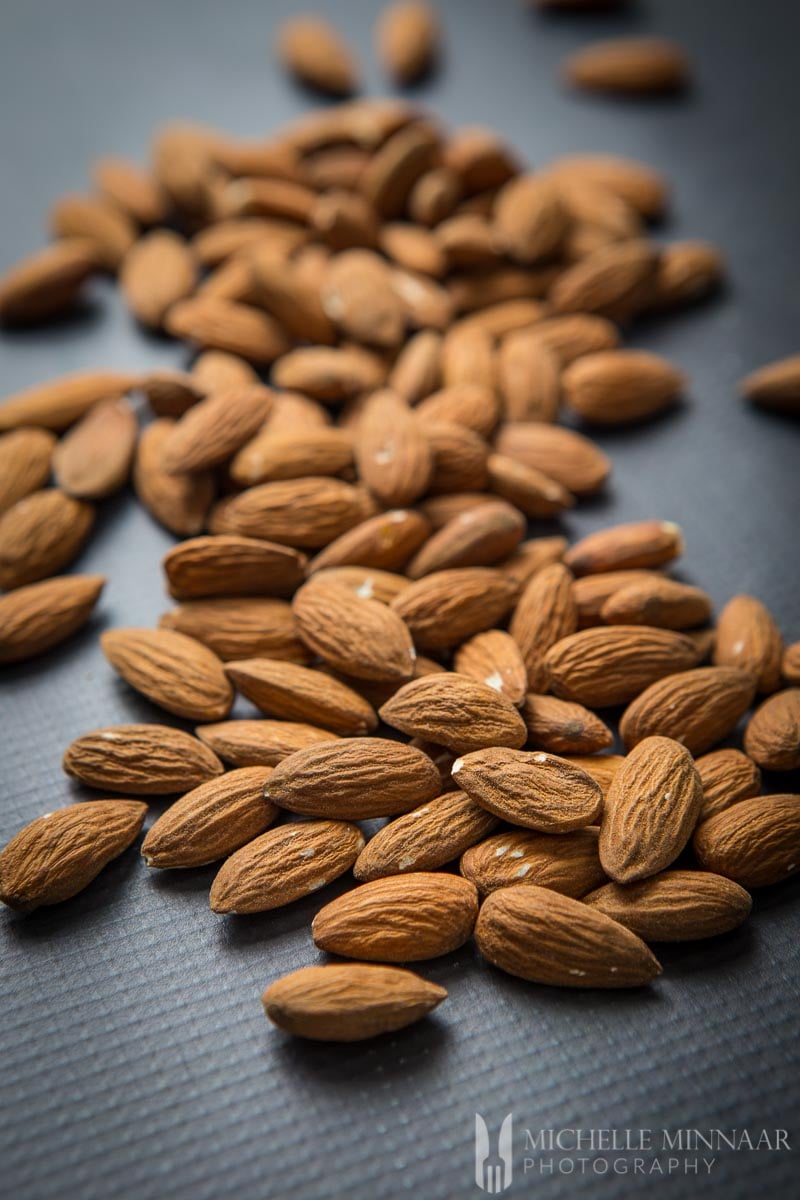 No more peanut butter and jelly sandwiches!
As westerners, we really do not follow much in the rules of tradition. If we like to eat something we eat it at any time that suits us. I use this spread on sandwiches. It replaces the peanut butter and golden syrup as eaten in South Africa and peanut butter and jelly sandwiches eaten in the USA. In fact, I use it at any time a spread or dip is called for. It is scrumptious with a crudité platter when entertaining.
Use it on baghrir, m'smen, scones, pastries, bread or vegetables and salad. I really enjoy half an avocado with Amlou as a sauce.
The Authentic Consistency
Traditionally Amlou is more liquid and does not have "paste like" consistency. In the Souss region, the almonds are ground to a fine smooth powder using an ancient grinding mill called "Arhaa". This grinding process creates a soft brown, smooth dough of almonds. A food processor or electric grinder will do the job well but apparently never the same way as the old "Arhaa". It all depends on you how you would prefer to eat it. For dips use more Argan oil and for pastes less. Grind the almonds to a powder if you want a smooth paste. You can opt for a crunchier version by not making the almond powder too fine.
If you prefer a sweeter dish add more honey. There is no cinnamon or salt in the traditional Amlou.
History of Amlou
This dish is a traditional Moroccan recipe and the main ingredient is the Argan oil, only found in Morocco. Created from the Argan trees that flourish in arid weather conditions, this oil has culinary as well as cosmetic uses.
History of Argan Oil
The Argan tree is believed to have originated in a village named Argana, which lay to the north-east of the Moroccan city of Agadir. The Argan tree grows wild in the south-west region of Morocco. These trees laden with fleshy fruits are the favourite of native goats. The goats eat the fruit, leaving behind a hard nut. This Argan tree nut contains kernels, which are the source of the beauty serum Argan Oil.
Moroccans have been using Argan oil as a skin moisturiser and hair conditioner since ancient times. Phoenicians as early as 1550 B.C. have recorded the use of Argan Oil by locals to heal and beautify their bodies. In 1510 African explorer Leo Africanus came across the Argan Oil when he was travelling across Morocco. From there, the oil entered Europe where only the rich and wealthy had access to this expensive, rare and exotic oil.
Oil for Exotic Beauty
Today, even after 3,500 years, the Berber women of Southern Morocco are known for their exotic beauty. Their secret is applying this precious golden oil regularly to their faces, nails, hair and body.
It was their legendary beauty that attracted scientists to the "rare oil". Testing this oil, scientists discovered that it is full of rich antioxidants, rejuvenating Vitamin E and other agents that add glow, youth and beauty to hair and nails.
This age-defying natural beauty serum has now become an international sensation. Particularly popular with women who prefer using natural, organic substances on their skin instead of artificial chemicals. Once it became a worldwide phenomenon, Moroccan women formed co-operatives to hand-produce Argan Oil and export it around the world.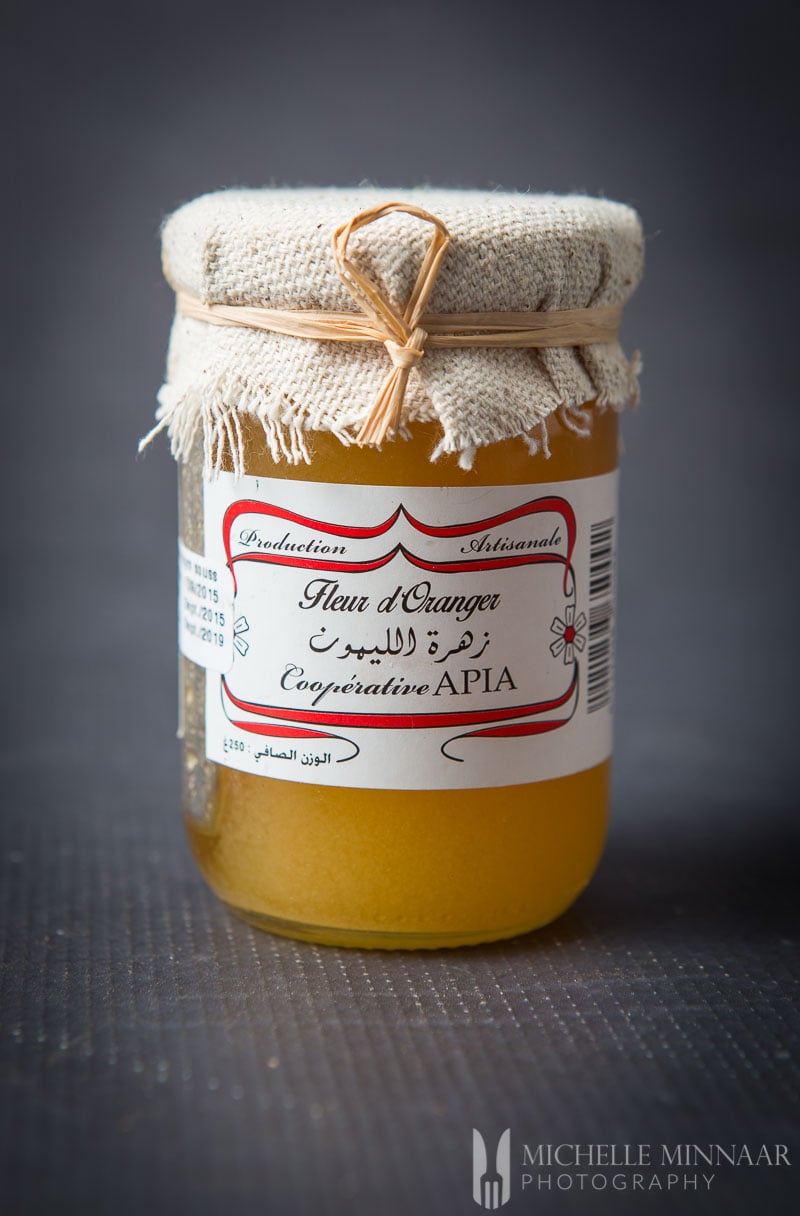 The Most Expensive Oil in The World
Most of us were introduced to Argan Oil when it became known as the hair product you couldn't do without. Subsequently more and more cosmetic and beauty products were launched with this super ingredient.
Argan Oil is the most expensive oil in the world and native to the southern Kingdom of Morocco. It is the rarest tree species and is more affectionately known as " The Tree of Life" or "Miracle Tree Oil".
Only from Morocco
Morocco is the only supplier of the nuts which make this rare oil. The other geographic regions of Morocco are unable to grow the Argan tree. Botanists from around the world have tried countless times to try and propagate this tree in other areas of the world and they have failed horribly.
Due to this peculiar nature, scientists were driven to conduct countless studies on the tree, the nuts and the oil to discover its secret. Their findings were so extensive and precious that UNESCO declared an 800 000 hectare "biosphere reserve" in south-west Morocco, the only place in the world where the Argan tree grows.
Packed with vitamin E it is fast becoming an iconic beauty product. The seeds are not roasted for cosmetic use so the colour is white and transparent. The culinary oil is made from roasted seeds so the cooking derivative has a rich golden brown colour.
Cooking with Argan Oil
When cooking please be very careful to use the culinary oil and not the beauty oil. Argan oil for food does not have a very long shelf life.
Most stores and online services sell Argan oil these days. However, the market is rife with fake products. Take care when making your purchase that it is the genuine product.
Argan oil for cooking is expensive, due to the shorter shelf life you need to ensure you are going to use it quite a lot after buying it. However, if you store it in the fridge and put a pinch of salt in it, will last longer.
If you do purchase online from a Women's Co-operative in Morocco the profits are shared between the women of the Souss Region. Travelling to the South of Morocco will definitely guarantee you have the real thing, at a quarter of the price.
There are fake oils in Morocco too, abundantly available, just as anywhere else in the world.
How To Identify Real Argan Oil
Smell the oil, it has a unique strong scent. If it smells like sunflower oil or paprika, it is not the genuine article.
Being a completely natural oil - light and dry - it will seep into your skin. Try some on your hand and wait 30 minutes or so. If it has been absorbed into your skin it is the real deal. If it is still oily and visible, it's fake.
Storing your oil in the fridge also serves to prove it's authenticity, it will harden, the harder it gets the purer it is.
Nutritional Value
Amlou has high nutritional value since the Argan oil is rich in vitamins and minerals. The almond and honey content adds to its nutritional value. Almonds are a rich source of protein and honey has many medicinal properties.
This Amlou recipe scores high in terms of both, taste and health benefits.
Print
Amlou
---
500

g

(4 cups) raw, whole almonds
Salt

250

ml

(1 cup) Argan oil

125

ml

(1/2 cup) honey
---
Instructions
Heat a frying pan and add the almonds and the salt. The amount of salt you use depends on how salty you would like the almonds to be. The goal is to give the almonds a light dusting of salt and giving them a lovely crunchy flavour.
Continuously stir the almond in the salt until you can smell the nutty aroma emanating from them. Their hue would change too to a brighter brown. You can test my eating one to verify whether it's toasted.
Place the almonds in a sieve to get rid of the excess salt and give a good shake. The salt can be reused for cooking.
After the nuts have cooled down, place them in a food processor. The more powerful the latter, the smoother the Amlou's texture would be. Process the nuts as fine as possible.
Place the roasted, ground almonds in a large bowl then add the oil and honey.
Store in sealable containers.
Notes
Alternatively, you can roast the almonds in the oven and add salt to taste in the end when you stir in the oil and honey.
This recipe can be tweaked to your taste. For a thicker consistency use less oil and honey and vice versa. Have fun experimenting!
Prep Time:

10 minutes

Cook Time:

10 minutes

Category:

Breakfast

Cuisine:

Moroccan
Nutrition
Serving Size:

1 serving

Calories:

86

Sugar:

3.9 g

Sodium:

58 mg

Fat:

6.5 g

Carbohydrates:

6.2 g

Fiber:

1.4 g

Protein:

2.7 g
save the recipe to your pinterest board