M'smen, a Moroccan flatbread also known as rghaif, meloui or faoud, is traditionally served with tagines or on its own with honey or Amlou.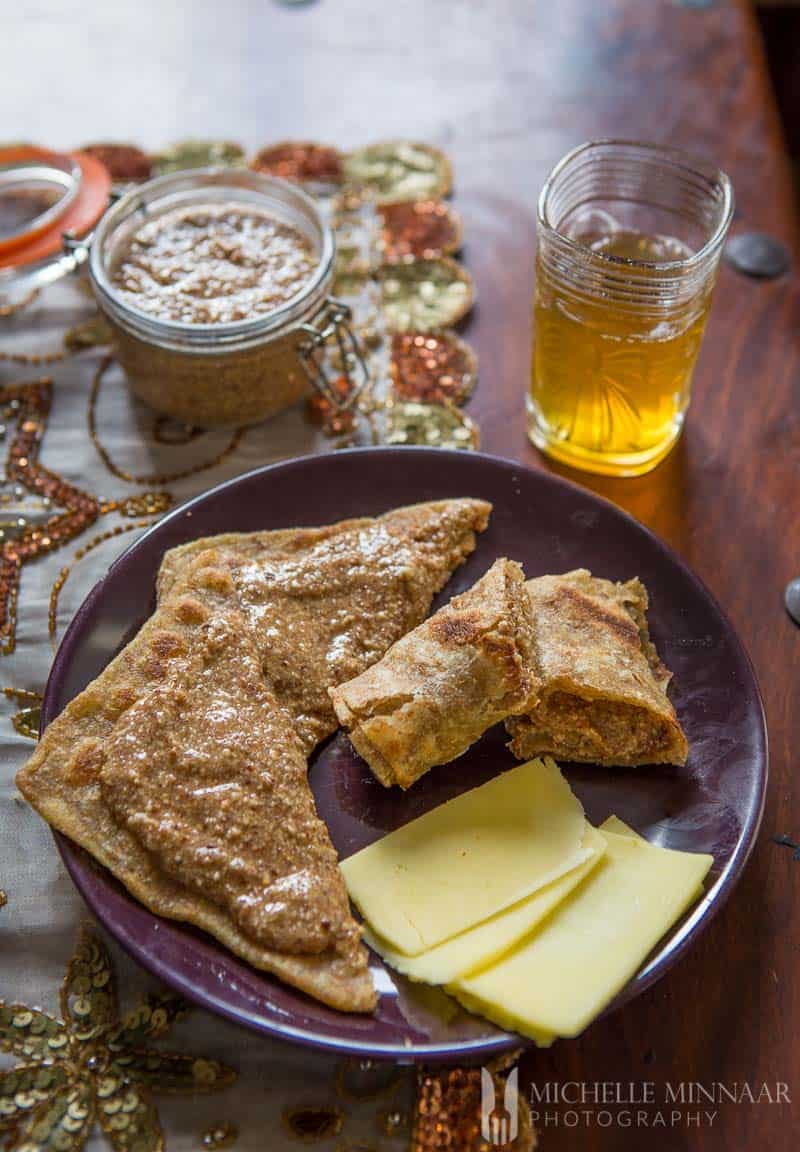 Breads in Morocco
The North African country Morocco, heavily influenced by the French, is renowned for its delicious breads, rolls and loaves. As a part of the Moroccans' staple diet, bread almost always accompanies every meal.
The traditional cuisine of Morocco consists of tagines, stews and soups. Very often cutlery is discarded and bread is used to mop up the meal of the day. Bread in this North African country is primarily made by women and sometimes twice a day.
The result is the most delectable bread of all kinds, from hard bread, flatbreads and pancake type bread which are readily available in private homes and the street markets (souks) from dawn to dusk.
Bread – an Essential Moroccan Food
Bread is a key component of any Moroccan diet. An ancient proverb "manage with bread and butter until God sends honey" affirms that bread is available to every resident in the country. The Berbers of the Rif Mountains sustained themselves with bread made from barley.
Present times allow more variety in Moroccan's diets and bread can be supplemented with potatoes, tomatoes, pepper, fruit or nuts. However, bread still plays an important role in the lives of Moroccans.
Moroccans shop daily, early in the morning and can be spotted carrying bags of assorted bread that they picked up at the market. In the more rural villages, women bake bread from scratch in earthen ovens. Traditionally lunchtime is the most important meal of the day and all family members still come home from school or work to eat together. At each meal, one person is appointed to serve the bread.
History of North African Bread
Bread is an essential element in the lives of these North African tribes and has played such an important historical role in the life of Moroccans. Until the 1980's, practically all Moroccan families baked their own bread.
One of the most traditional dishes of the Berber tribe is a spiced chicken and lentil dish served with the local unleavened flatbreads, m'smen. This dish is called Rfissa. Combining the sweet and savoury flavours has not changed since the early medieval times.
Similar dishes made their way back to Europe during the time of the Crusades when returning knights brought cinnamon, turmeric, ginger and spices from Syria and Palestine to liven up the taste of western cuisine.
Children Carried Dough on their Heads
Moroccan children would wear a padded hat to protect their heads from the weight and heat of a "gsaa" or red earthenware pan filled with dough on top of their heads. A "gsaa" is a large shallow wooden or earthenware bowl. Its flat interior is perfect to knead dough in and other pan fried or baked treats. It is often used to toss with or store the couscous grains.
Since Morocco is an African desert country, homes and kitchens were spared the extreme heat of an oven in their own private kitchens. This was an ideal arrangement as most households baked bread twice a day.
Strategically located community ovens, called "Frans" were found in every neighbourhood and these ovens were big enough to bake dozens of loaves at one time. As there were so many breads baking together, anything placed in the oven was marked with a rubber stamp.
Community Ovens called "Frans"
These "Frans" are still utilised by the "Fassis" (local people) today in the old Medina of Fes.
In the rural areas, families use small dome-shaped wood burning ovens to bake their bread. This gives the bread a unique flavour and characteristic that simply can't be matched in a conventional oven.
Although bakery bread can be bought in most neighbourhoods at "souks" (markets), many families still prepare their own bread and bake it in the street ovens.
Having said that, the fast pace of life and the increasing cost of living is starting to have an effect on these communities. Many households now require both adults to work for economic sustainability and they no longer make their own breads, but purchase them at stalls in the souks.
To Crust or not to Crust
Authentic Moroccan bread (khobz) is shaped into round, flattish loaves which have thick crusts served at lunch and dinner. Moroccan flatbreads which are folded and fried, such as m'smen, meloui, rghaif and fad, are served for breakfast and have no crusts. There is the lighter beghrir similar to crêpes which is also served around breakfast time.
The ingredients of each type of bread depend on the baker's personal preference and historical traditions. White flour, semolina, wheat, rye and barley are some of the flours that are used by Moroccan women to bake bread. Anise and cumin seeds are two additions that are often added to give thick or flatbreads extra flavour.
These breads can be baked in home ovens, and it is definitely worthwhile making your own bread to complement a Moroccan meal. You will find Moroccan bread so easy to make even if you're not experienced with yeast doughs.
What is M'smen?
M'smen is also known as rghaif or melloui. M'smen is the common name but it seems various tribes have different names for the same recipe. People from Essaouira call these 'faoud'.
These Moroccan flat breads remind me of a thick crêpe. The dough is folded into a square shape before being fried in a pan. This is a recipe for the dough used to make m'smen, the folding and cooking instructions. The dough is kneaded like bread dough until it's soft and smooth.
M'smen is a traditional classic breakfast food in Morocco. Much like westerners eat pancakes and waffles for breakfast they eat m'smen. You will find them eaten in the markets (like our street vendors) and in high-end hotels. Everyone loves them and they are very easy to make.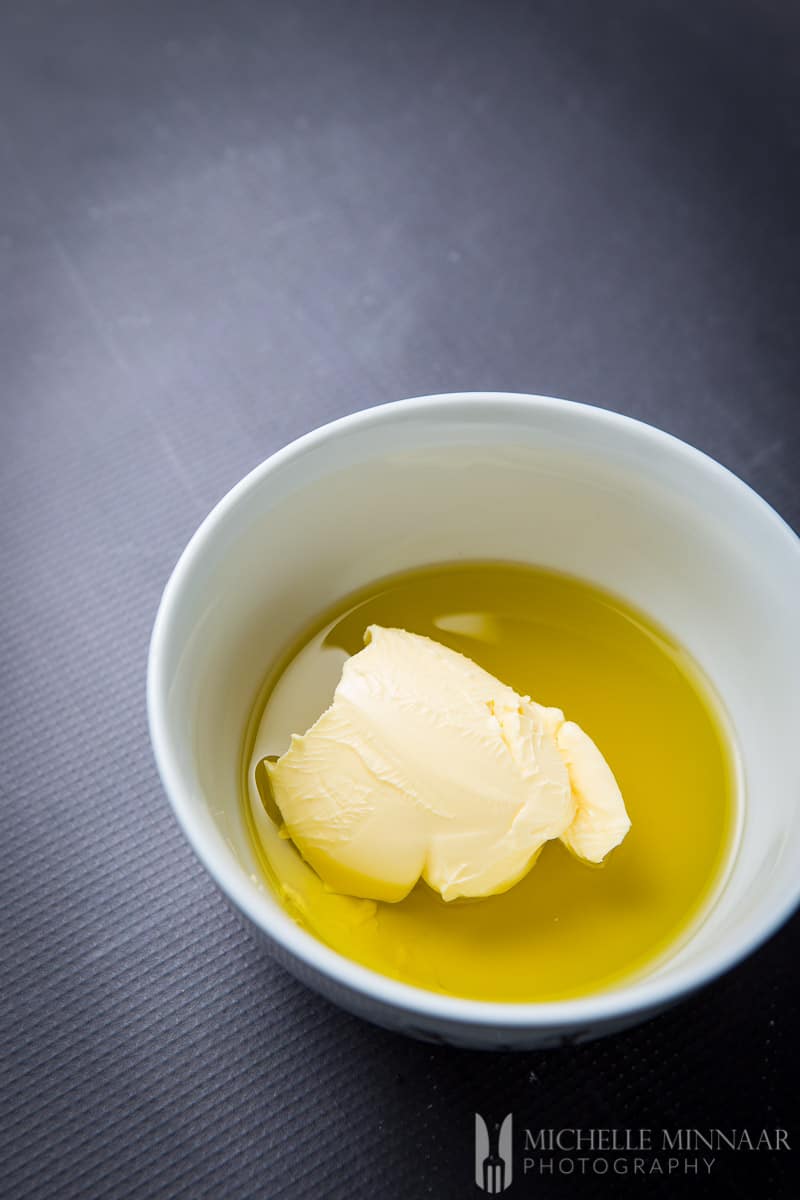 What are the Ingredients for M'smen?
M'smen is made with flour, semolina, vegetable oil, butter, salt and sugar. It's similar to an Indian paratha but nuttier and sturdier. For the best results warm it in a hot skillet or pan before serving.
M'smen, is a wonderfully buttery Moroccan flatbread that is perfect with just about everything. I love crisping them in a pan to serve with eggs in the morning, or just spread some butter and jam on it, just like toast.
This flaky flatbread is traditionally served with honey, the taste of the melted butter during the cooking process and dripping with honey is decadently scrumptious. You will really need to exercise a lot of willpower and not over indulge in this soft butter pastry.
These flatbreads; m'smen, rghaif or melloui are synonymous with mint tea. Moroccans pride themselves on their speciality mint tea. It is often the cause of mass debate amongst Moroccan nationals as to which family has the best "mint tea" recipe.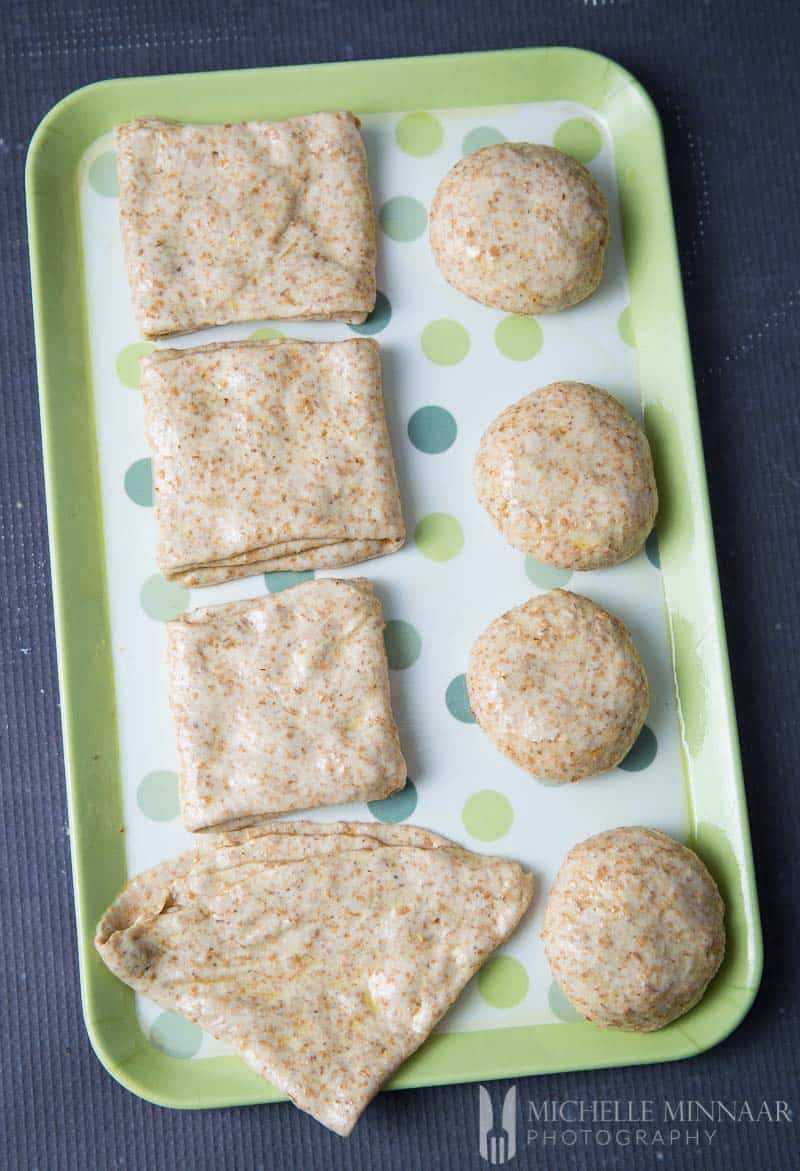 What do I serve M'smen with?
Other than eating these breads with soups and tagines, Western culture has also influenced them being served as sandwiches with the usual fillings such as tuna or chicken mayonnaise.
These breads are best served with savoury fillings. How about red wine goat stew? However, I do believe it could be exceptionally delicious as a dessert if you serve it with ice cream or cream, nuts and honey or even syrup.
The Dough and Pans
You can mix and divide the dough up to 8 hours before shaping, allowing ample time for the gluten to relax.
No special pans are needed to shape the dough, everyday baking sheets will work perfectly. The dough needs only an hour or so to rise, which makes perfect timing for warm bread to be served with the main meal. Try this basic Moroccan m'smen bread recipe the next time you plan to serve a tagine or other Moroccan dish.
You can cook as many m'smen at a time as your pan will take at one time. Lie the bread paper side up in the pan. Peel it off as soon as the bread begins to firm. It will come away easily. Cook the m'smen until they turn translucent and then wait for brown spots to appear. It usually takes 2 to 3 minutes per side. Transfer to a wire rack while you continue cooking the rest.
Storing M'smen
M'smen are most delicious eaten warm. Once cooled, they can be stored for up to 5 days, in an airtight container in the refrigerator. They freeze well for up to 3 months. Reheat m'smen for 1 minute on each side in a hot dry skillet before serving.
Quite frankly I love eating these m'smen breads on their own with no toppings or main meal. They are simply delicious.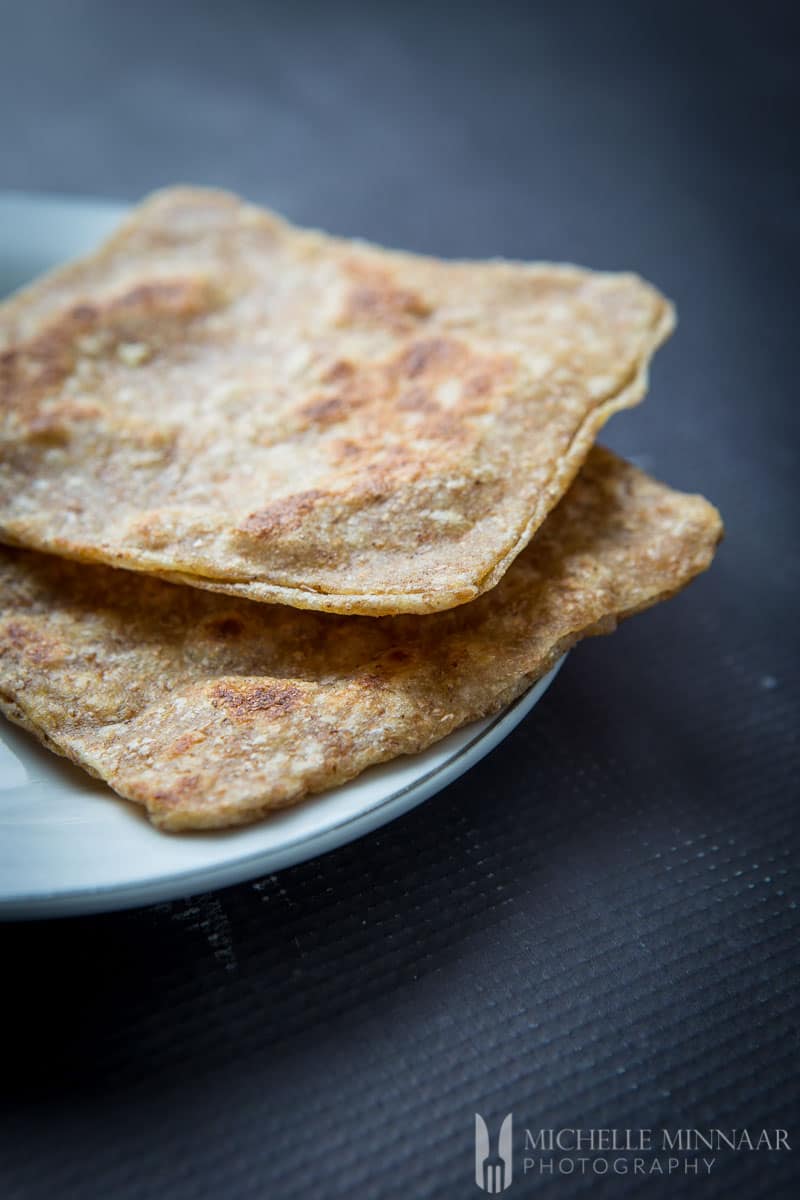 Print
M'Smen
---
500g

(

4 cups

) flour, and a bit more

100g

(

3 1/2oz

) semolina, and a bit more

7.5

ml (1½ tsp) salt

400

ml (1¾ cups) water

100

ml (3 1/2fl oz) oil

85g

(

6 tbsp

) salted butter, melted
---
Instructions
Combine the flour, semolina and salt in a large bowl. Use the dough hook attachment and mix on a low speed, while adding the water, until the dough is well combined, which takes around 2 minutes. Increase the speed and mix until the dough is smooth, which takes about 6 minutes.
Video shows best how to manipulate the dough, you can watch this link. I'll try my best to explain though.
Melt the butter and stir in the 90ml (3fl oz) of the leftover oil. This mixture will be used to oil surfaces and frying the bread.
Oil a baking sheet. Divide the dough evenly into 12 pieces about 5ml (2 in) in diameter. Roll them into small balls and coat them with oil. Let them rest on the sheet for at least 30 minutes.
Oil a countertop or another baking sheet. Gently stretch each piece the oiled surface until the dough makes a thin, translucent sheet. Brush with the oil micture and sprinkle with semolina.
Fold each side of the square dough a third of the way across the original diameter to make a 7.5cm (3 in) square envelope. Cover the dough with plastic wrap and let it rest again for around 15 minutes.
Heat a large frying pan and add a bit of the oil mixture to cover its surface. Stretch the dough on an oiled surface to create a 15cm (7 in) square. Place it in the pan over a medium heat for about 3 minutes on each side, until brown spots start to form and the bread puffs up. Serve immediately.
Notes
In this case we used whole-wheat flour because it's healthier than its all-purpose counterpart. Therefore the bread has a bit of a brown hue.
We used olive oil but vegetable and canola oil have a higher smoking point which also works with this recipe.
You can save time by using a food mixer but traditionally this was made by hand.
The cooked breads can be stored in an airtight container for up to 5 days in the fridge. Alternative, then the dough has finished resting you can clingfilm it and place it in the fridge for later use. It would last up to a day in the fridge.
Serve M'smen the traditional Moroccan way – for breakfast, topped with Amlou and served with cheese slices and mint tea.
Prep Time:

60 minutes

Cook Time:

10 minutes

Category:

Breakfast

Cuisine:

Moroccan
Nutrition
Serving Size:

1 serving

Calories:

291

Sodium:

333 mg

Fat:

13.9 g

Saturated Fat:

4.7 g

Carbohydrates:

36.3 g

Fiber:

1.1 g

Protein:

5.3 g

Cholesterol:

15 mg
save the recipe to your pinterest board