Pomegranate salsa is a beautiful example of just how delicious exotic fruits can be when paired with savoury recipes. The pomegranate salsa is tangy, savoury, crunchy and colourful with various combinations of flavours.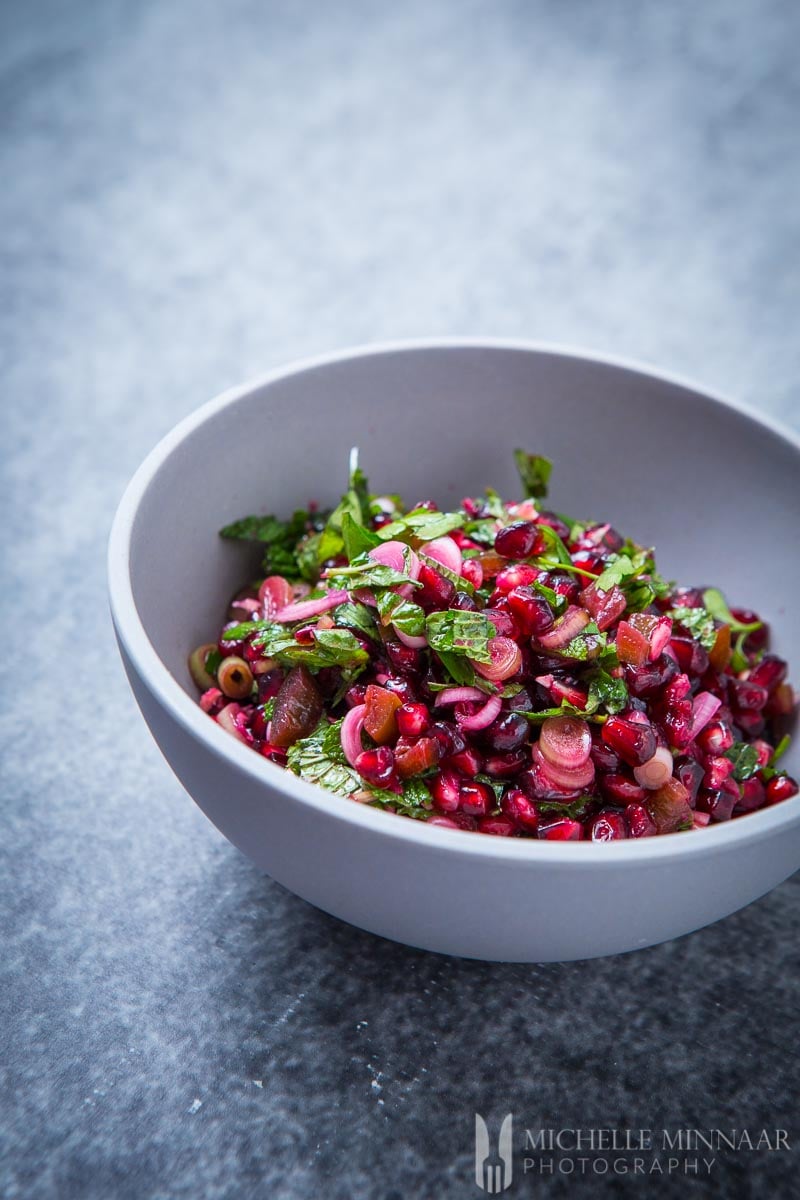 It's so moreish, you can eat the pomegranate salsa as a salad, dip or side dish. If you take out the savoury elements, you can even serve it as a fruit salad or dessert.
Be warned though! While you prepare this pomegranate salsa, please keep your self-control in check. I had to keep myself from eating the whole salsa before completing the recipe.
What can I say? I love pomegranate! This vegan salsa with its vivid red colours will make a stunning addition to the meals you serve over the holidays. Remember to tweak to your taste!
shopping for pomegranate salsa
Pomegranates are in season! More specifically, they are in season from September to October.
Pomegranates originally comes from the Middle East. More specifically, in regions like Iran, Afghanistan, Pakistan and India. In fact, this fruit is so old that historians traced it back all the way to ancient Egypt.
Later in Roman times, it made its way to the Mediterranean region. It shaped Mediterranean cuisine as we know it today. Its only in the late 18th century when Spanish conquistadors brought this exotic fruit to the Americas.
Luckily today, its very common to find a pomegranate in Europe and everywhere else in the world.
Fun fact! If you translate pomegranate into Latin, you'll get 'pomum granatum' – meaning 'apple seeded'. Although, some historians credit the term 'pomegranate' to the Spanish city of Granata.
Plus, if we account for the French, they translate it to a 'apple grenade'. I guess they all have a pretty literal translation and the interpretations are all applicable.
cleaning
Here's a handy trick that will save you a lot of time in the kitchen. Also, you'll be less likely to make mess and stain your clothes. A lot of times what happens is that you get juice all over the kitchen while trying to get the seeds out.
Step one is to take a deep bowl and fill it up will very cold water. Cut the pomegranate open and tear it apart in the bowl with the cold water. The water might eventually turn a bit red, however it won't get on the kitchen counter or spray all over the place.
Gently use your fingers to pick out the seeds. The latter will sink to the bottom of the bowl and the skin an membranes to the top. Simple scoop the top off and then strain the seeds in a colander.
substitute
Not a fan of pomegranate? Give mango or pineapple a go.
spicing
The best type of chilli that goes best with the pomegranate salsa is the jalapeno chilli. It's not as strong as the Thai or Indian chilli. It's actually edible and your tongue won't melt in the process.
I like to give my pomegranate salsa a good punch of flavour, so I always like using different herbs too. Coriander would be my top pick; however you can also use parsley. Don't forget to add a generous amount of olive oil and season well.
my preference
In this photo I paired this pomegranate salsa with some delicious parmesan crisps, which are super easy to make. Keep an eye out for this recipe! You can make large batches in no time as these versatile crisps cook fast in the oven.
Afterwards, you can top off the parmesan crisps with some whipped cream cheese and some pomegranate salsa.
remaining seeds
If you have any leftover seeds from making the pomegranate salsa, you can store them in the fridge for a day or two. I like to reuse my leftover pomegranate seeds as an addition to a delicious side salad.
For example, the seeds work extremely well in my grilled courgette and feta with pomegranate salad. The tanginess of the seeds go very nicely against the creaminess from the feta. Alternatively, you can use leftovers in masala chana chaat.
If you have more seeds or more pomegranate apples left, then why not make a delicious smoothie? It's just what you need with the upcoming holidays - a little antioxidant and vitamin boost is a clever way to fight off any viruses out there.
However, as Christmas is coming up, I would get ready for serving some delicious family friendly food. If you've got a bunch of relatives over for dinner, you can start by serving this pomegranate salsa as a dip to the parmesan crisps.
Print
Pomegranate Salsa
---
2

pomegranates

15

g

(1/2oz) fresh mint, finely chopped

15

g

(1/2oz) fresh flat leaf parsley, finely chopped

10

spring onions, finely chopped

2

jalapenos, finely chopped

30

ml

(2 tbsp) extra virgin olive oil

1

lime, juiced
---
Instructions
Remove all the seeds from a pomegranate and place them in a large salad bowl.
Add the mint, parsley, onions, chillies, oil and lime to the bowl and stir thoroughly.
Serve as a side salad or dip.
Notes
If you can't get hold of jalapeno chillies, use another variety. Remember to tweak to your taste!
Prep Time:

15 minutes

Category:

Starter

Cuisine:

Moroccan
Nutrition
Serving Size:

1 serving

Calories:

144

Sugar:

13.2 g

Sodium:

10 mg

Fat:

7.5 g

Saturated Fat:

1.1 g

Carbohydrates:

20.7 g

Fiber:

3.6 g

Protein:

2.2 g
save the recipe to your pinterest board