Keen diners would immediately think of duck confit on French restaurant menus but surprisingly fish can also be used. Who could possible resist succulent flakes of tender salmon?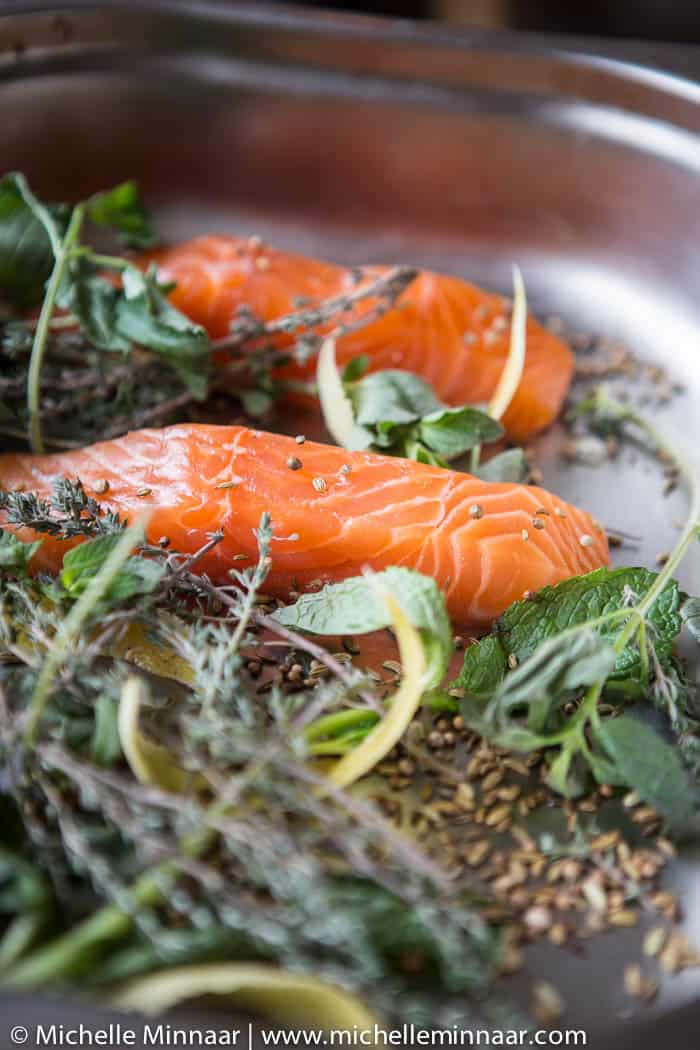 A long, long time ago it was discovered that meat can be preserved by sealing it airtight under a layer of fat. Even though we have fridges and canning equipment at our fingertips, confits are still used as a method of preserving.
Here is how the French do it:
Season the meat with salt and herbs
Let it soak up the flavours for a day
Dry the meat
Submerge it in fat
Cook the meat gradually for several hours
Drain the meat
Place the meat in a sterilised container and add extra salt
Remove the spoilage-prone meat juices from the fat
Pour the fat over the meat
Seal and enjoy later
If you have the urge to run away at the news of how much work confit requires, fret not. We are dealing with fish in this recipe. The method is much simpler and you can enjoy the fruits of your labour in just over 30 minutes. Any type of fat can be used, such as goose and duck. If you browse the internet, you would notice that olive oil is used a lot with preparing confit of salmon, but we won't be going down this path.
Tom Sellers demonstrated how to make salmon confit at his restaurant, called Story. The secret is using clarified butter and if you can't be bothered to make the stuff yourself, you can buy Lurpak's ready-made product.
The salmon can be used in multiple applications. In the photo, the clarified butter that was used in cooking the salmon was slathered on a piece of rye bread topped with the luscious fish. Dried cranberries were added to the butter originally. It can be eaten as a whole fillet as part of a main meal or it can be broken up and tossed into a salad. These are just a few ideas. What would you do?
Check out these Fishy Cookbooks
Print
Salmon Confit
---
300g

(

10oz

) salmon

250g

(

8oz

) clarified butter, Lurpak or homemade

1

thyme sprig

1

bay leaf

1

garlic clove

5

ml (1 tsp) fennel seeds
---
Instructions
In a pan deep enough to submerge thef salmon, melt the butter and infuse with thyme, a bay leaf, a clove of crushed garlic and fennel seeds.
Lightly salt the salmon and leave for 10 minutes to slightly cure the flesh. Then, place the salmon into the hot melted butter and chill for 30 minutes.
Afterwards, scoop off the butter and enjoy the salmon.
Notes
While I use bay leaf with this recipe, feel free to experiment and make this dish your own. Here is a list of different bay leaf substitutes you could use in it's place.
Prep Time:

30 minutes

Cook Time:

5 minutes

Category:

Dinner

Method:

Boil

Cuisine:

French
Nutrition
Calories:

453

Sugar:

Sugars

Sodium:

76 mg

Fat:

37.3 g

Carbohydrates:

2.6 g

Fiber:

Dietary Fiber

Protein:

27.8 g

Cholesterol:

115 mg
More Salmon Recipes
P.S. This is a sponsored post.