A one pan wonder with a depth of flavour that will tingle the taste buds, my leftover turkey curry is simple to follow and is bound to please the whole family. Leftovers don't get much better than this!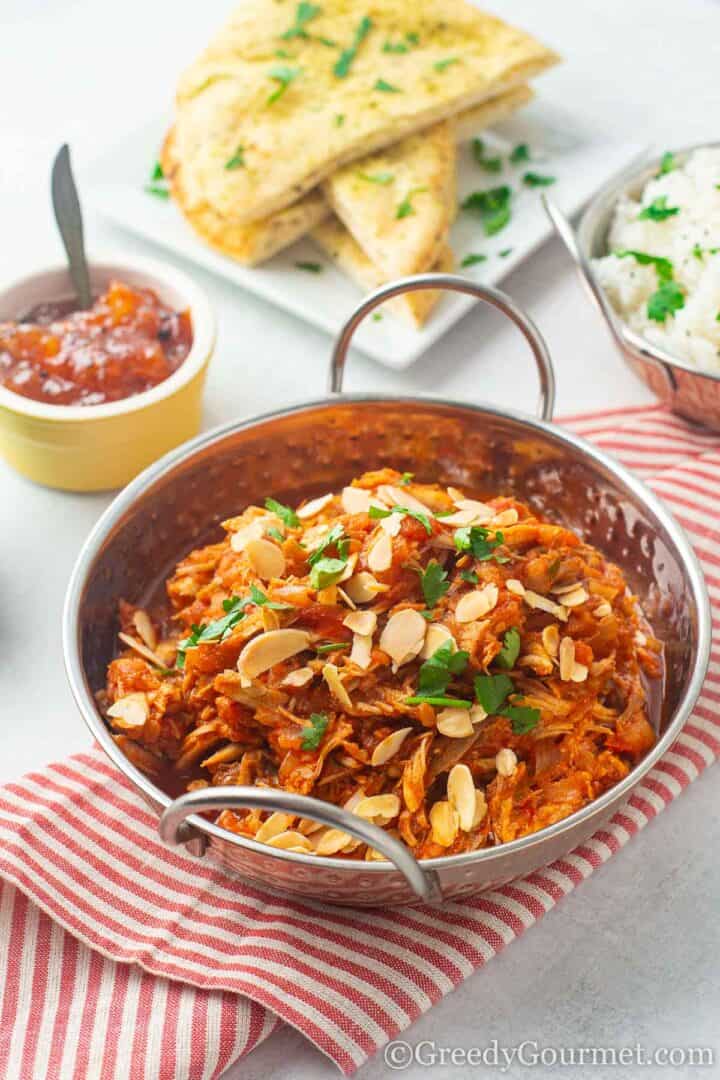 Products you need for this recipe
Here are a few essential items you'll need for this recipe: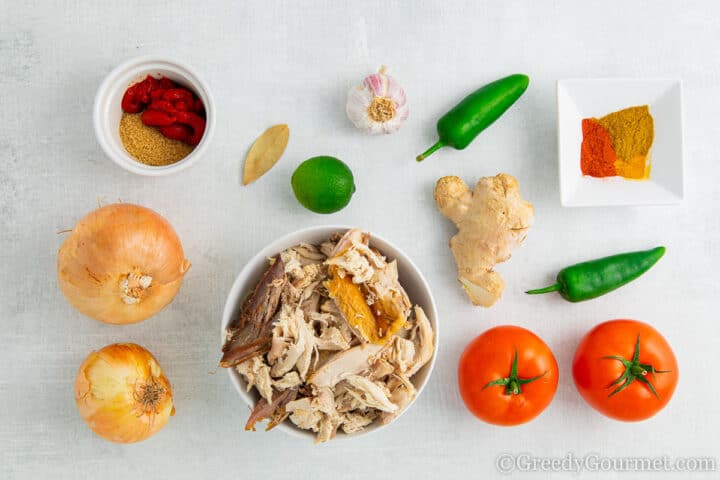 Leftover turkey curry recipe
When you cook a huge turkey for Christmas, you're clearly going to have lots of leftovers. So, finding the right recipe to give those leftovers a new lease of life should be right at the top of your Christmas food ideas list.
For many of us, the leftover meals are as much of a tradition as the Christmas roast turkey itself – and for good reason! The party season certainly doesn't end after Christmas – or Thanksgiving, if you're cooking this in November – and so leftover meals should be special.
This one certainly is! Forget those plain old turkey sandwiches and dive into this delicious leftover turkey curry.
It's a very easy meal to whip up – everything is done in one pan, which is perfect for a leftover dish. After all, the last thing you want is to be cooking all day after working away in the kitchen all Christmas.
An easy turkey curry, this recipe is sure to become a firm family favourite. It takes little over 20 minutes to make – all you have to do is fry up the onions, garlic, ginger, bay leaf, salt and turmeric, add the turkey, chillies and other spices, stir in the chopped tomatoes – go for fresh, you'll notice the difference. Then, add the other ingredients and let everything simmer away!
Tomatoey, just spicy enough to bring some earthy heat and wonderfully rich, this turkey curry is a great way to use up those turkey leftovers.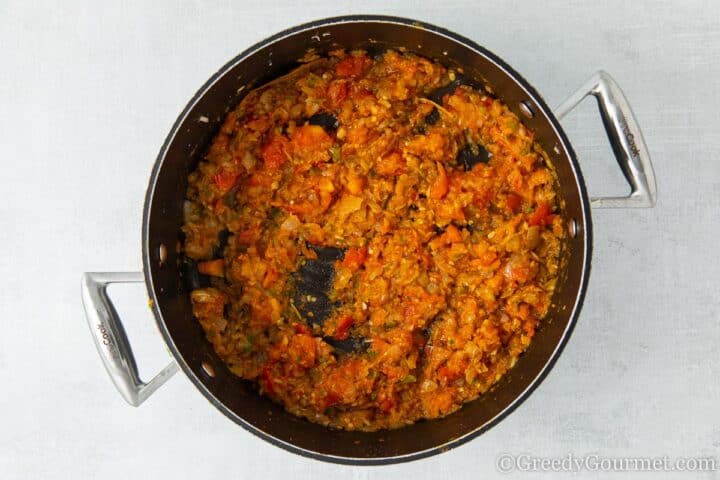 How do you reheat turkey without it going dry?
If you've cooked your Christmas Day or Thanksgiving turkey the right way, it will be deliciously rich and succulent. It will even taste great the next day. 
However, when you heat it up, you run the risk of undoing all that good work. You might destroy the taste and dry out the turkey. 
The best way to avoid doing that is to heat it through in a sauce on a low to medium heat. This way, the turkey keeps that all important taste and juiciness, while taking on new flavours.
That's why this leftover turkey curry is the perfect way to use up your leftover roast turkey. You're not recooking the turkey or cooking it in a dry environment. You're letting it retain that juiciness by heating it in the sauce, while it takes on the wonderful aromas of the spices.
Is turkey curry gluten-free?
Yes it is! My leftover turkey curry recipe is completely suitable for those on a low-carb or gluten-free diet. Take a look at my side dish suggestions for some gluten-free accompaniments.
Can I use leftover chicken instead of turkey in a curry?
Absolutely! While this turkey curry recipe is perfect for Christmas or Thanksgiving, it can be used at any time of the year, for turkey or for chicken.
Whenever you cook up a roast chicken for Sunday lunch, this is the ideal Monday night recipe for your leftover chicken, you could also try out my Easy Chicken Curry recipe.
What other leftovers can I add to curry?
Not only can you put your leftover turkey to good use, but this recipe also suits many vegetables you might have left over from your holiday feast. Sprouts, spinach, green beans, collard greens, carrots, parsnips – they'd all work well in this turkey curry.
How do you store leftover turkey curry?
If you find yourself with leftovers of the leftovers, you can easily store them to be eaten at a later date. Store your leftover turkey curry in an airtight container and place the container in the fridge. It will keep fresh for 2–3 days.
Can you freeze leftover turkey curry?
If you want to keep leftovers for longer, you can freeze leftover turkey curry. Make sure you store leftovers in a freezable airtight container and keep it in the freezer for up to 3 months.
Can you reheat leftover turkey curry?
If your leftovers are frozen, first fully defrost them in the fridge – I recommend defrosting overnight.
Slowly reheat your leftovers in a saucepan on the hob, stirring regularly, until fully heated through. This should take 5–10 minutes. If the leftover turkey curry starts to look a little dry or sticks to the bottom of the pan, add a splash of water.
What else can I do with leftover turkey?
Looking for a little more inspiration with what to do with your Christmas leftovers? I have some great ideas on how to use up leftover turkey.
My leftover turkey lasagna is one for those who want something rich and comforting. Perfect for a Boxing Day lunch or the day after Thanksgiving, it's pretty straightforward to make and is utterly delicious!  
You could also use your turkey leftovers in a wonderful leftover turkey chowder! Smoky, smooth and oh so comforting!
Another leftover dish – although this one isn't turkey – my leftover stuffing waffles are absolutely to die for!
What should I serve with leftover turkey curry?
Your go-to side for this dish should be plain basmati rice. There's really no need to over complicate things – basmati is the ultimate simple side that brilliantly complements the spiciness and all-round deliciousness of this leftover turkey curry.
If you fancy something with a bit more richness and spiciness to it, you could always go for the classic pilau rice.
For those looking for a gluten-free side, cauliflower rice is perfect.
Traditional Indian breads such as Kashmiri naan, Peshwari naan and gluten free puri are also an ideal match for this spicy leftover roast turkey curry.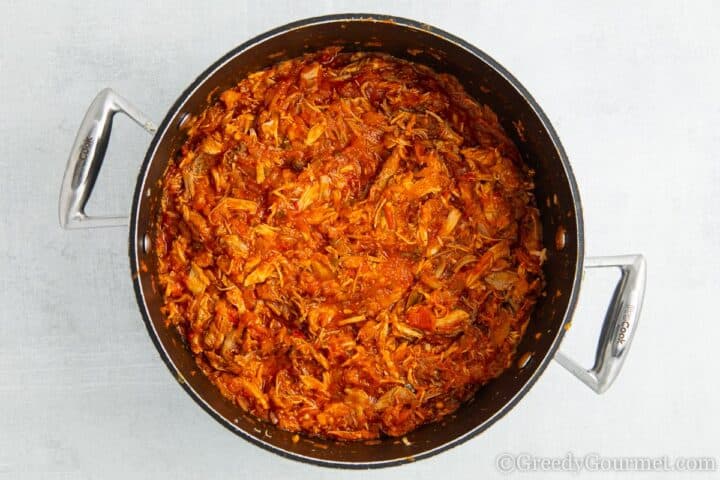 Variations on this recipe
If you want to change things up a little bit, there are plenty of ways to tweak the taste of this recipe.
Tangy
You can double down on the tang factor by adding a little more vinegar to this recipe. You could also go for the tangy/fruity flavour, by adding a tablespoon of mango chutney.
Sweet
If you prefer a sweeter taste to balance out the tanginess, add an extra teaspoon of brown sugar or jaggery. I do recommend using jaggery, if you can get hold of it.
Spicy
You can add a little extra spice and warmth to your dish by adding a teaspoon of garam masala alongside the other spices. Garam masala is a blend of cinnamon, cardamom, ground mustard seeds, ground coriander seeds, cloves, mace and nutmeg. You could also add a teaspoon of standard curry powder.
Creamy
If you're a big fan of creamy curries, you can add coconut cream or coconut milk. Add them after step 7, when the curry is settling. Use coconut milk or cream sparingly, as you don't want to dilute the spices too much. If you prefer, you can also use a creamy yoghurt or, for a non-dairy alternative, you could use cashew milk.
Nutty
Ground almonds are a great addition to any curry, especially this leftover turkey curry. If you prefer a nutty crunch, go for roughly chopped almonds.
Wine pairing
Well, it wouldn't be Christmas without a delicious wine to go with your festive feast, now would it?
Just because it's a leftover meal, doesn't mean you shouldn't enjoy it to its fullest. Many people make the mistake of thinking wine and spices don't mix. Well, they absolutely do… as long as you choose the right wine!
If you want to go bold with a red, a Shiraz is great, as it stands up to the spice. If you want something to cool the palette, a fresh dry rosé, such as Grenache, is perfect.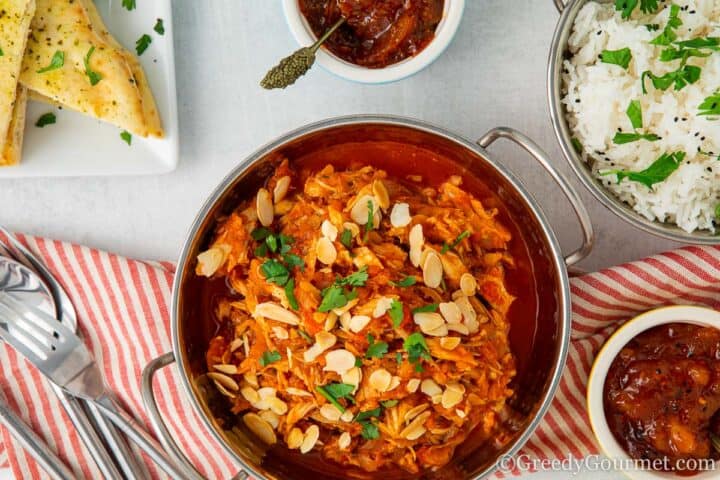 More recipes for the holiday season
The holiday season is a time to really get creative in the kitchen! Once you've mastered this leftover turkey curry recipe, try your hand at one of the following:
Print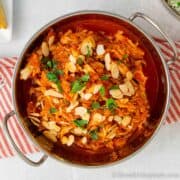 Leftover Turkey Curry Recipe
---
Author:

Michelle Minnaar

Total Time:

40 minutes

Yield:

4

servings

1

x

Diet:

Gluten Free
Description
Leftover Turkey Curry makes the most of the leftover turkey you had for Christmas. This is a tomato based curry with sweet and sour flavours, called Pathia. 
---
45

ml

(3 tbsp) vegetable oil

300

g

(2 cups) chopped onions

3

garlic cloves, crushed

5

cm (2 in) fresh ginger, peeled and finely chopped

1

bay leaf

1

g

(1/4 tsp) salt

1

g

(1/4 tsp) turmeric powder

450

g

(1lb) cooked turkey, shredded

2

green chillies, finely chopped

2

g

(1 tsp) cumin powder

2

g

(1 tsp) ground cayenne

6

tomatoes, chopped

15

ml

(1 tbsp) tomato puree

2.5

ml

(1/2 tsp) white vinegar

10

ml

(2 tsp) brown sugar or jaggary

1

fresh lime, juiced
---
Instructions
Heat the oil in a heavy saucepan. 
Add the onions, garlic, ginger, bay leaf, salt and turmeric powder and fry until the mixture turns golden brown. It should take about 5 minutes.
Add the turkey to the pan and cover the meat in the onion spice mixture.
Add the chillies, cumin and cayenne and stir well.
Add the tomatoes and fry until they form a shiny paste and the oil starts to separate.
Stir in the tomato puree, vinegar, sugar and lime juice. If the curry seems a bit dry and you like it saucier, you can add up to 125ml (½ cup) of water.
Taste and adjust seasoning as needed. Simmer for 10 minutes then turn off the heat and let it rest for 10 minutes.
Sprinkle chopped coriander on top and garnish with a slice of lime. Enjoy!
Notes
You can easily tweak this turkey curry to your taste. Like it tangier? Add a bit more vinegar. Sweeter? Sugar. You can even add more tomato puree to make it more tomatoey. Have fun playing around! 
Although I recommend using bay leaf in this recipe, you could always use one of these bay leaf substitutes instead.
Prep Time:

30 minutes

Cook Time:

10 minutes

Category:

Main Course

Method:

Pan Fry

Cuisine:

Indian
Keywords: leftover turkey curry, turkey curry recipe, thanksgiving curry, christmas curry, turkey pathia recipe, pathia recipe, leftover turkey recipe