So, what is Som Tum Pak you might ask? It is in fact the original Thai name for green papaya salad, and it is one of the most common dishes you might encounter on your travels in Thailand, or here in the UK, in a good Thai restaurant.
Despite that papaya is generally used for sweet dishes, the Som Tum Pak is actually a savory dish. Besides the main ingredient, the green papaya, this delicious salad comes with a variety of fresh vegetables.
The combination of which can vary ever so slightly depending on where you get your Som Tum Pak. Moreover, it is very often possible to order it, to fit your specific taste.
Do you like it sweeter on more on the sour side? Spicy or not? I will get in to some of the popular styles below.
Mango Tree
I have been searching forever for an amazing thai restaurant. If you are an Asian or Thai foodie, you'll probably understand that it's not so easy!
I always wanted to find one that serves authentic Thai flavours. Luckily for you, you won't need to search for that long.
Where I've come across this delicious Som Tum Pak recipe, is in a fabulous restaurant called Mango Tree in London, Belgravia. Ever heard of it?
It's quite a popular venue in London. Here's a hint you might have probably guessed, the Mango Tree is usually full of guests. Making the reservation is totally worth it!
Mango Tree is very closely situated near the Buckingham Palace. If you happen to enjoy the sites of London and have an hour to spare, why not pop in to try some delicious authentic Thai cuisine.
The best part is, that after you're done, can take a stroll around the park in front of the palace. I know I really enjoyed my walk to Mango Tree.
As soon as you get near the restaurant, your nose will immediately pick up the different spices. You won't be able to resist walking in.
A special thanks to head chef Babu Nair for teaching more about Thai cuisine on the day.
As soon as I stepped in, I immediately liked the modern interior design. Also, the lighting is nice and cosy. Furthermore, the Mango Tree is quite large, so you won't feel too crowded, as many other places in London do. I really enjoyed trying some dishes here, including the Som Tum Pak.
Green Papaya
Out of curiosity, I ordered the Som Tum Pak because of the green papaya. What makes the green papaya different from the normal papaya then? Well, actually nothing at all except the ripeness! It's the same fruit, only for this recipe you need an unripe specimen of this otherwise sweet and juicy fruit.
Apparently, papaya is originally from Mexico. However, now it's everywhere throughout the tropical parts of the globe. Meaning places such as South America, the Caribbean and Florida, over India, Southeast Asia, Malaysia and Australia. Moreover, the popularity of the papaya is on the rise. Definitely a popular summer fruit!
Som Tum Pak made its breakthrough in the street kitchens of Bangkok, possibly by immigrants from Laos.
Traditionally it comes with a generous amount of chili, however nowadays, tourists can also get a less spicy version, gentler to western stomachs.
Practical information on the Green Papaya
Many Asian stores actually sell pre-shredded green papaya, needed for this recipe. However, if you can only get a whole papaya, make sure to get an unripe one! A ripe one is not only too sweet for the dish, but also too soft for the preparation. The best way you can achieve the 'noodle effect" is either with a spiralizer or a normal vegetable peeler.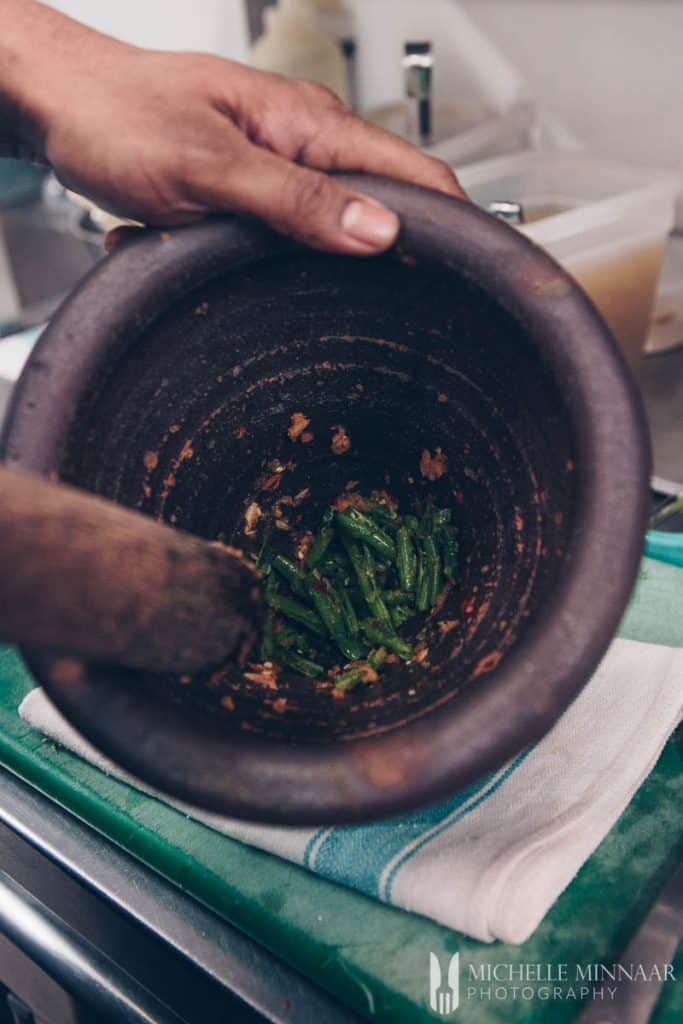 The Thai mortar
The preparation of this dish, calls for a mortar. Preferably as big as possible. If you don't have one, and are looking for one, go for a big sturdy one, made from stoneware or clay. Basically, you then smash up the ingredients on the mortar using a wooden pestle, in order to release flavours form the herbs and vegetables. It's a great way to get some anger out of the system, however for this dish, you just need to bruise the ingredients up. Not beat them to a pulp. Don't overdo it!
Vegetables
The most common vegetables to use are green beans, carrots and cherry tomatoes. You can use whichever kind of cherry plum vine tomatoes you prefer. Be it bright red acidic ones, or the sweeter yellow ones. That is entirely up to you.
The same goes for the carrots. I sometimes like to give the dish a more colourful look by using different types of carrots. In many stores, you can now get the so called old carrot types. Meaning bright yellow, pale yellow and even purple! Of course, the normal orange ones will also do just fine.
Finally, beat some fresh chili in the mortar with the other ingredients. This is, of course, totally optional if you're not a fan of chili. You can also add other lovely veggies according to your taste. My suggestion would be to add a little spring onion, or some baby spinach leaves.
Add something extra on top of your salad
To complete the dish and if you're not vegan, you can top it off with some garlic roasted shrimps, cooked fish or even pork or beef. In Thailand, it is common to have the green papaya salad served with sticky rice, thereby creating an entire meal. However, you can also use the salad without and extras as a side for some grilled chicken or other meat.
To cultivate those vibrant Asian flavours, sprinkle your Som Tum Pak with some freshly chopped herbs. Coriander is the obvious choice for this dish, but if you are not keen on coriander, try with some watercress instead. Lime juice is an absolute must for this. You need the acidity to balance out the flavours. I also like to sprinkle some cashew nuts over the salad for a bit of extra crunch. Of course, the addition of the roasted peanuts is must!
Print
Som Tum Pak
---
2

red Thai chillies

4

cloves garlic, crushed

100g

(

3oz

) fine green beans, chopped in 2.5cm (1in) pieces

100g

(

3oz

) carrots, julienned

60g

(

2 oz

) cherry tomatoes, halved

500g

(1lb) Thai green papaya, peeled, seeded and julienned

120

ml (½ cup) lime juice

80g

(

2 oz

) palm sugar

10g

(

⅓ oz

) salt

10g

(

⅓ oz

) sugar

30

ml (2 tbsp) tamarind concentrate

90g

(

3oz

) roasted peanuts
---
Instructions
Muddle garlic and fresh Thai red chilli together. Add french beans and muddle it again.
Add carrots, tomatoes and papaya.
For the salad dressing, mix the lime juice, palm sugar, sugar, salt and tamarind concentrate in a bowl until smooth.
Pour the sauce over the salad and mix thoroughly.
Top with peanuts and serve immediately.
Nutrition
Serving Size:

1 serving

Calories:

467

Sugar:

32.5 g

Sodium:

1979 mg

Fat:

12.8 g

Saturated Fat:

1.6 g

Carbohydrates:

95.4 g

Fiber:

5.8 g

Protein:

15.2 g
save the recipe to your pinterest board
A special thanks to Kelly Reeve for assisting with the recipe shoot.