A mango salsa is an excellent little side dish that takes just no time at all to prepare. Basically, just a few simple ingredients, so make sure to choose the best quality possible.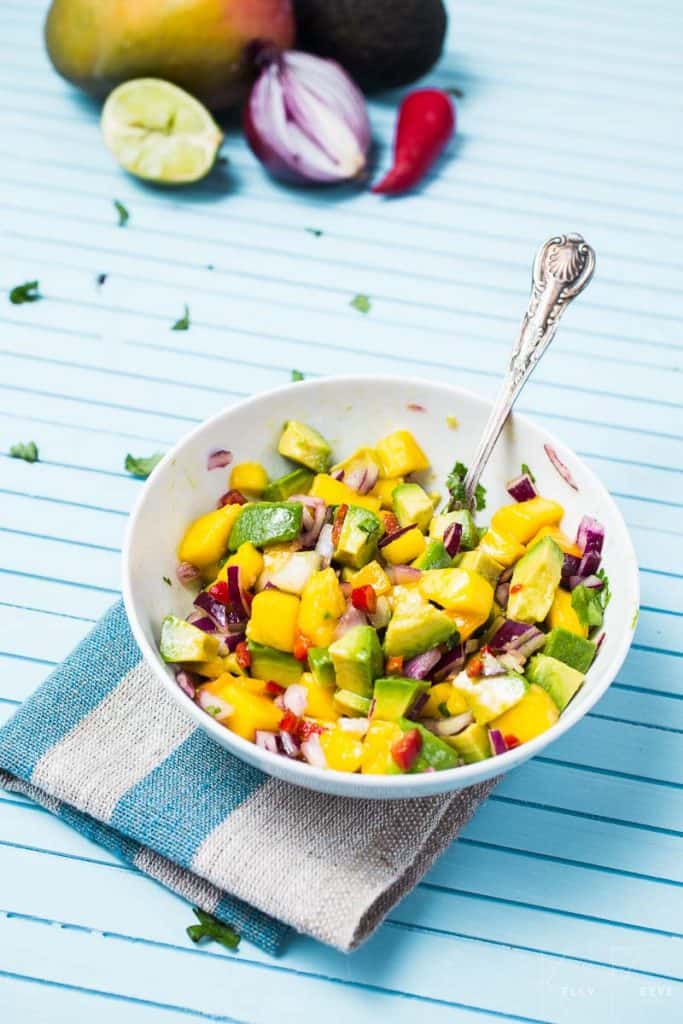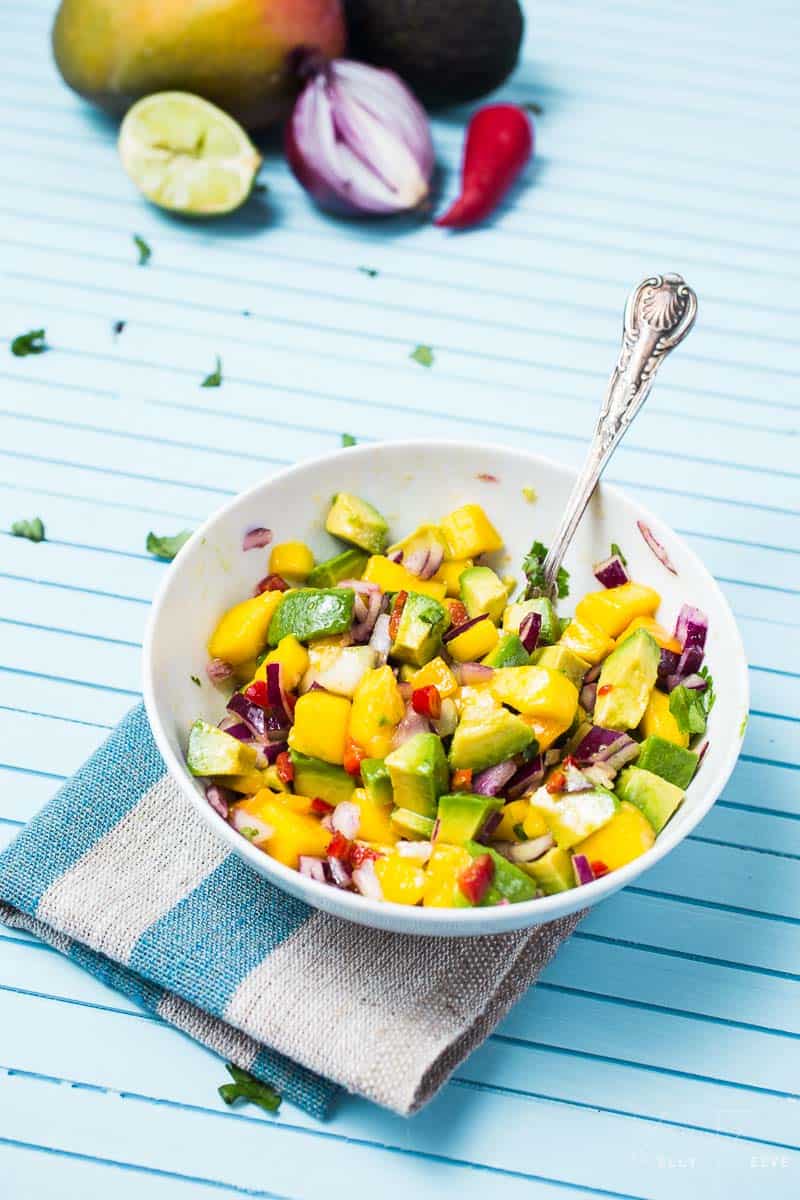 Depending on what you use it for, you can take the taste in a Mexican, Jamaican or more Asian inspired direction. The sweet, spicy and at the same time savoury flavours make it a very interesting and versatile dish.
You can use the mango salsa as a side for meat or fish, but also as a party food. Amazing with jerk prawns, which are an excellent addition to any party platters. Did you know you can make your own jerk spice?
Also, serve on the sunny terrace with a glass of delicious chilled rosé. This is going to be a hit for the summer.
Sourcing Mango
Getting the good ingredients for this relatively simple recipe is where you have to put in some effort. Amongst these ingredients, the mango is of course the absolute hero of the dish.
However, that means that you need to make sure to get your hands on a good mango. The mango you can buy in the stores, will most likely be from either India or Southeast Asia.
Its colours can vary, from green/red to almost golden yellow, depending on the type. The Thai mango for instance is yellow, turning almost orange. These however, are somewhat rare and dear over here.
If you want to know if the mango is ripe or not, simply feel it on the top and if it's soft, it's good. Don't buy a mango that feels hard or stiff on the outside.
It will not be ripe! When the mango is perfectly ripe, you will also get the well-known own sweet exotic flavours, for which we love the mango.
Sourcing Avocado
When you buy your avocado, you can use much of the same principles as when buying mango. The avocado needs to be very dark green in the skin, almost turning a blackish purple.
If the Hass avocado is bright green, it won't be ripe. Don't fall for the trick of a frozen avocado. Sometimes, the bright green ones can be soft, however they have absolutely no taste.
A good avocado should be almost totally black in colour. The avocado too has to feel a bit soft on the top when you push it.
This is a sign that the fruit is ripe. To get the most out of your avocado, I have a handy trick for you.
Cut the avocado in half. Take a large spoon and simple scoop the two halves of the avocado out!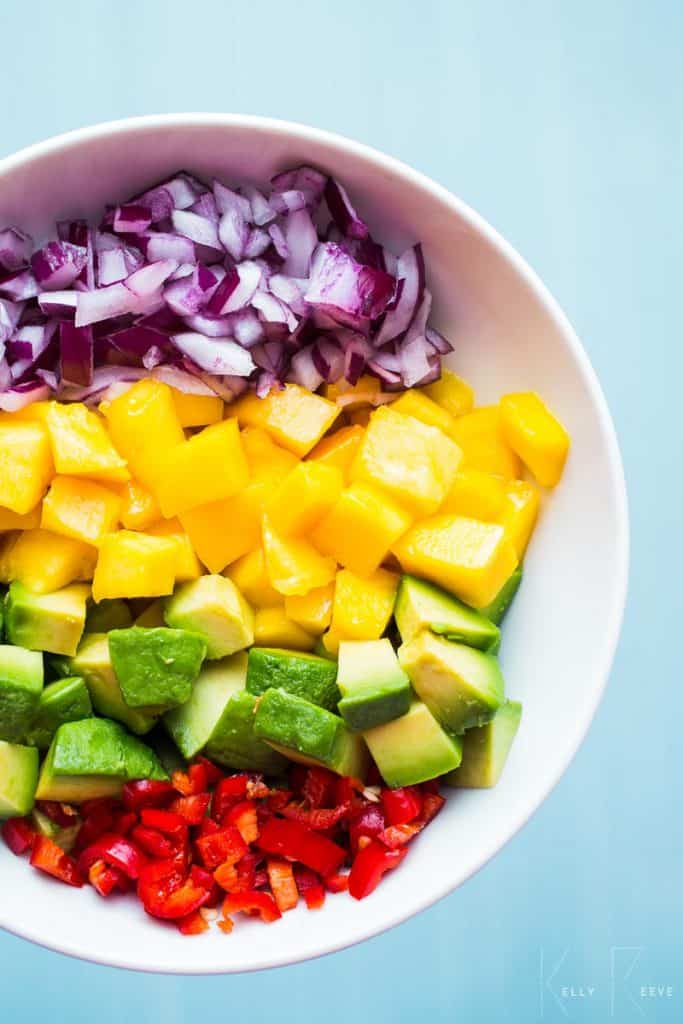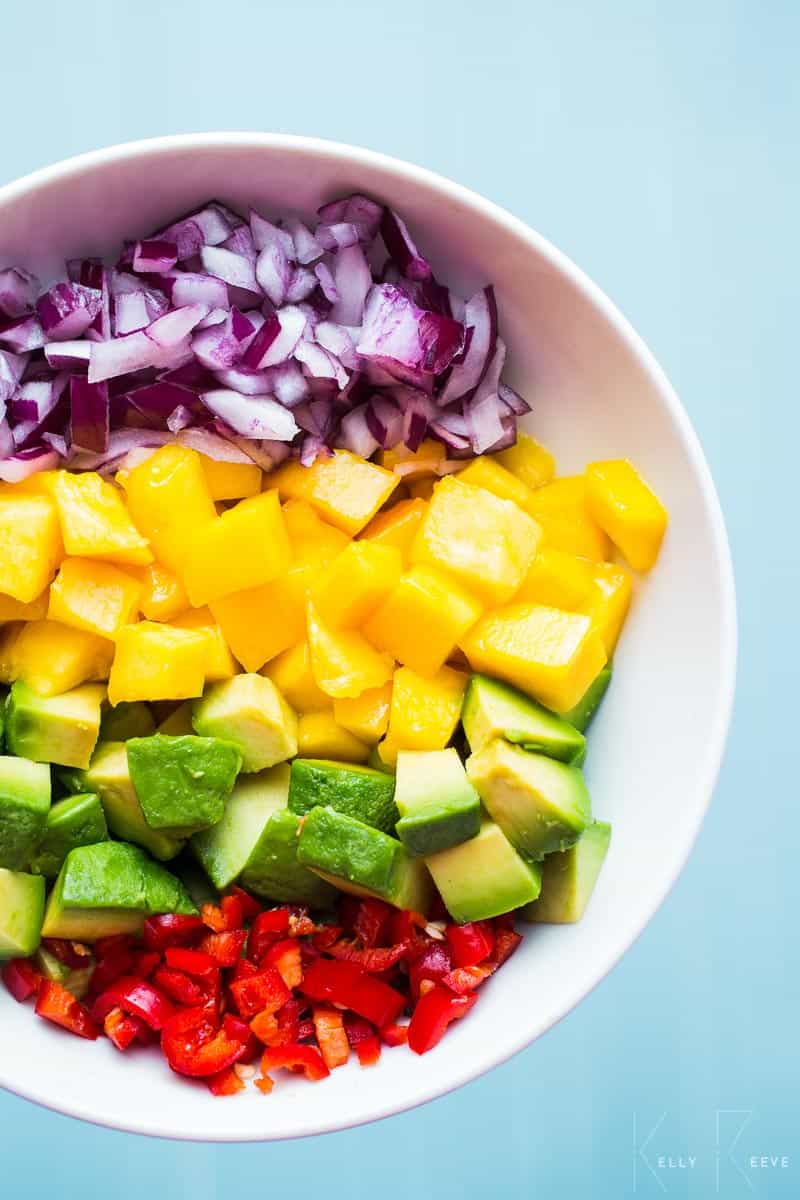 Red onions
Red onions are slightly sweeter and more aromatic than the standard yellow onions, that we normally use as a staple in cooking at home.
They are not only perfect taste wise for the mango salsa, but are also excellent in salads. Plus, the lovely purple skin adds beautiful colour to any dish you use them in.
If you can't get red onions, you can substitute them with Italian white onions. These are usually the most expensive.
However, the white onions are not as strong in terms of flavour and not so aromatic. They will freshen up the mango salsa and add that nice extra crunch.
If you added a normal yellow onion, that we usually use for cooking, it would overpower the mango salsa.
Chili
Add a softer, not too hot chili for this dish. This step is totally optional, if you are not a big chili fan. You can add more or less of chili. Green chili is a great alternative for the usually hotter red ones.
If you can get a Moroccan green chili, it's the perfect mix of aroma and spiciness, that goes very well with the sweetness of the mango, and the fatty, rich avocado.
However, you can also add red chilies. These tend to be a little stronger though. If you forgot to buy chili at the supermarket, don't you worry!
You can easily substitute with a hint of chili power. Just be careful not to overdo it.
Dicing and cutting
Make sure the mango and avocadoes are cut in squares, roughly the same size. This will distribute the flavour evenly throughout the mango salsa.
Also, don't forget to dice your onions and chili extra fine. This is very important. It gives a much more delicate flavour if you cut the onion and chili finely.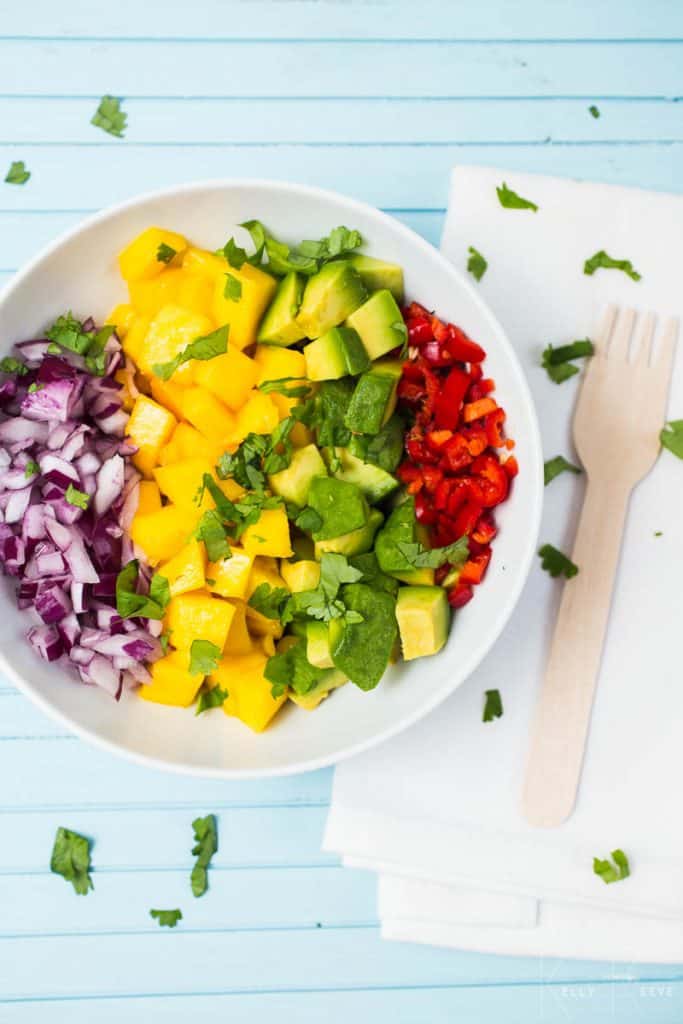 Toppings and seasoning
Coriander, lime juice, seasoned with pepper and salt, are the usual ingredients, that you need to really pack flavour into the salsa. You can of course vary the seasoning to your own taste, and use your favourite herbs.
It will change the flavours of the mango salsa, but don't be afraid to play around a little. This is where cooking gets interesting and you don't always have to stick to the recipe.
Crank up the spice
Speaking of spice, I absolutely love to combine this mango salsa with the jerk prawns and the rice and peas. These go hand in hand in terms of creating a powerful meal full of flavours.
Just look at the photo! Doesn't it all look stunning together? The mango salsa is a perfect refreshing addition to the jerk spices on the jerk prawns.
It brings the spice levels down. The rice and peas on the other hand are quite filing, so if you are hungry, make sure you take more!
Other ways to serve
You can also serve this mango salsa as a side with white fish or seared scallops. Trust me it's absolutely delicious.
Toss the mango salsa with a little rocket salad. Otherwise you can use the mango salsa as a dip for party snacks. Excellent for a summer afternoon with friends on the terrace!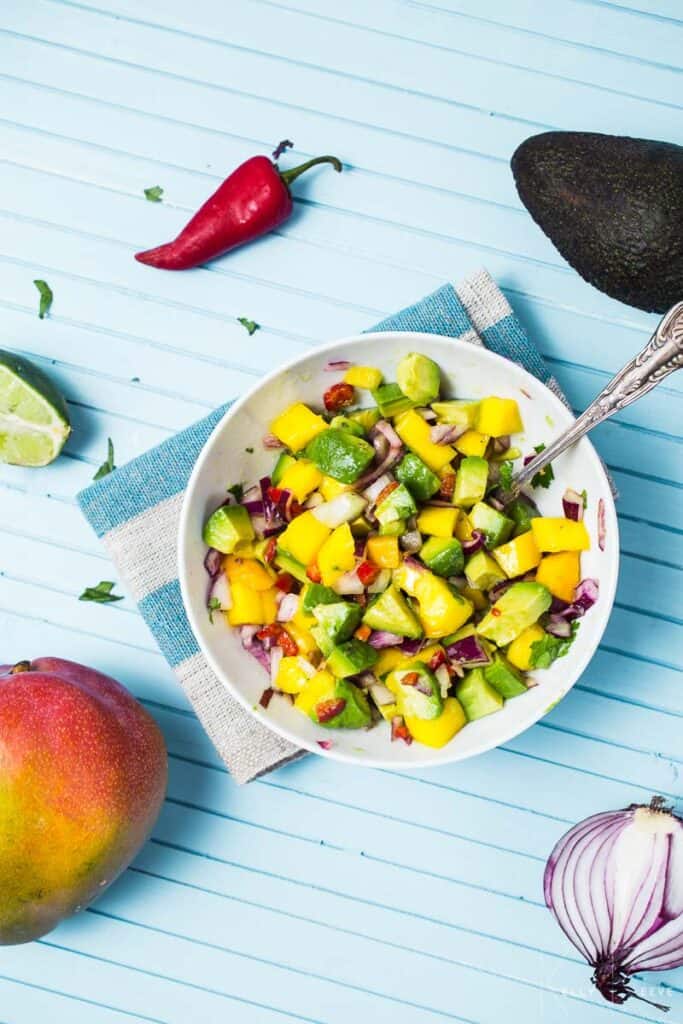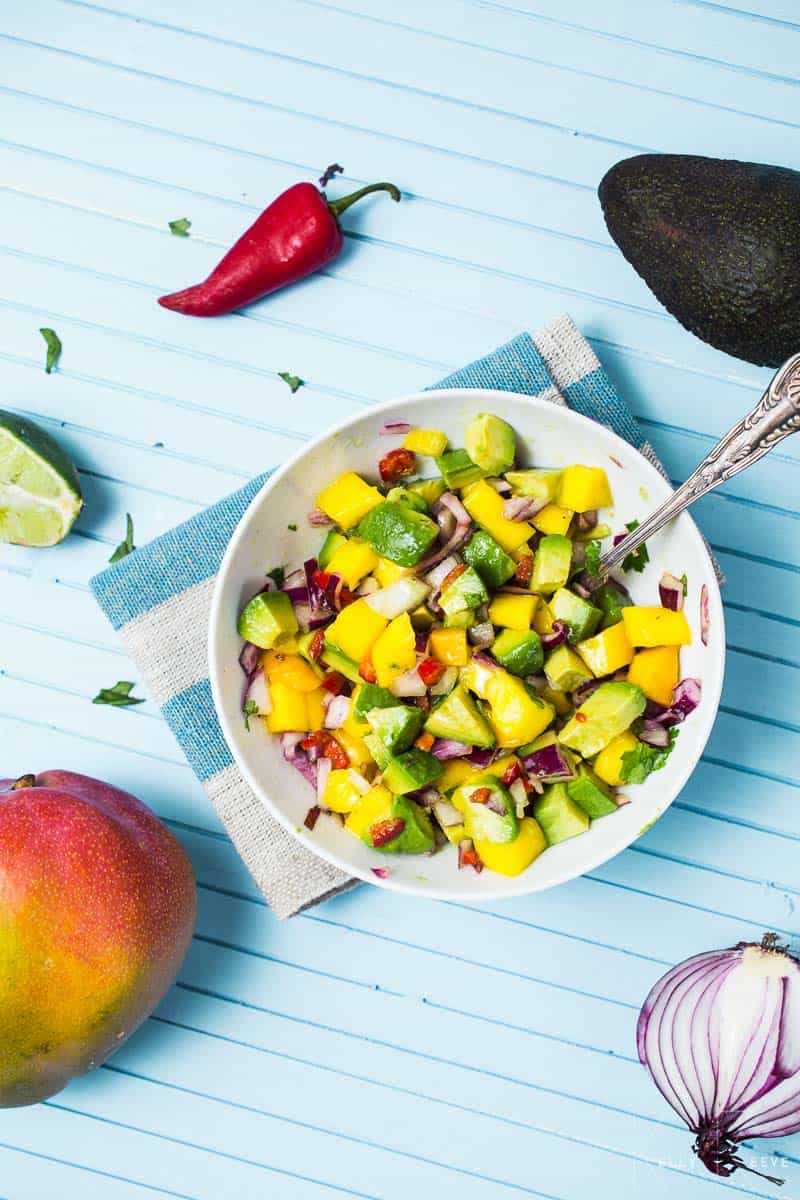 Wine pairing
If you eat the mango salsa with jerk prawns or other types of seafood, I would definitely recommend you to serve it with a nice fruity aromatic rosé from Aix-en-Provence.
You can even go for a crispy dry white wine. If wine is not your thing, then just go for the classic glass of cold homemade lemonade.
It's perfect for the summer! It will freshen you up straight away!
Print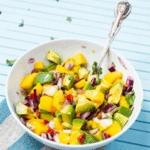 Mango Salsa with Avocado
---
Description
This mango salsa comprises mango, avocado, red onion and chilli. It goes well with jerk chicken, rice and peas for a Caribbean meal. Great with fish too.
---
1

large ripe mango, peeled and cubed

1

large ripe avocado, peeled and cubed

½

red onion, peeled and finely chopped

1

red chilli, deseeded and finely chopped

1

bunch coriander leaves, washed and chopped

1

lime, juiced [optional]
Salt and pepper
---
Instructions
Mix the mango, avo, onion, coriander and chilli in a large bowl and season to taste.
If not serving immediately, stir in the lime juice to prevent browning.
Nutrition
Serving Size:

1 serving

Calories:

168

Sugar:

12.6 g

Sodium:

5 mg

Fat:

10.2 g

Saturated Fat:

2.1 g

Carbohydrates:

20.6 g

Fiber:

5.6 g

Protein:

2.2 g
save the recipe to your pinterest board

A special thanks to Kelly Reeve for assisting with the recipe shoot.