Chicken caldereta is a wonderful Filipino dish that is filling and rustic at the same time. It uses various parts of the chicken to deliver a very specific umami flavour. Think of it as an Asian passata-based chicken stew. Admittedly, it's a little bit reminiscent of a chicken cacciatore (classic Italian recipe), but it's much more powerful. There are many versions of a chicken caldereta. Often, it is one of those dishes where every household puts their own spin on it. Plus, it's most likely at its best when served by a Filipino grandmother, as typically in Italian cuisine. You know what I mean.
Serve it immediately with a side dish, usually either rice, potatoes or mash. Otherwise, if you make a version of a chicken caldereta which also involves potatoes, then feel free to double up in portion size and serve it alone in a deep curry plate. Select your favourite toppings and enjoy to the maximum! There is no better way to enjoy a hearty and spicy chicken dish!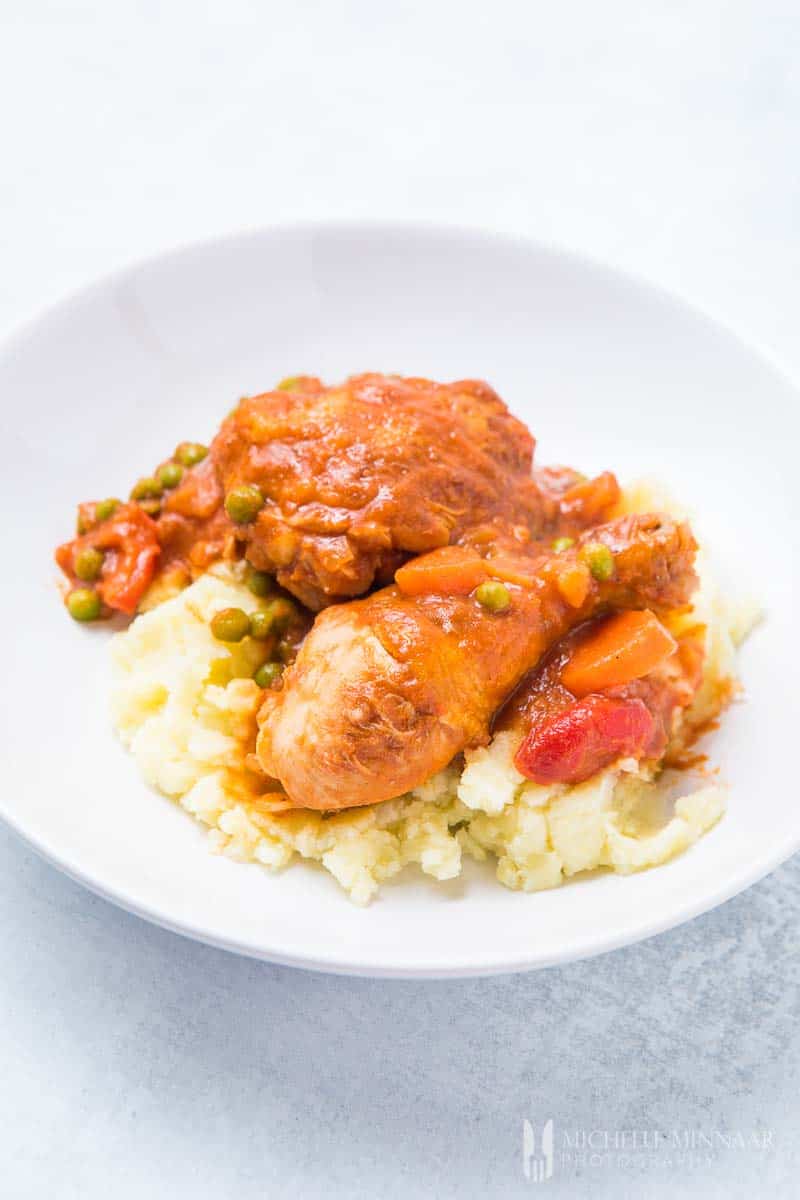 chicken caldereta recipe Filipino style
In this chicken caldereta recipe, you'll discover the flavour of Filipino cuisine. Ask yourself, when was the last time you truly enjoyed an authentic Filipino dish? In the past, I've made and shared plenty of flavourful and vibrant Filipino dishes. Some of these include:
kare-kare - an authentic and rich Filipino oxtail curry. If you've got leftovers from this recipe, you can reuse the chicken in the kare-kare.
taro laing - recipe made with dried taro leaves and coconut milk
what is caldereta?
Similarly to the kare-kare, this chicken caldereta is a very rich meal. It is often a popular choice during festivities or celebrations.
Although the name sounds Spanish, the dish is from the Philippines. You might also know it as kaldereta. The name is derived from the Spanish word 'caldera', which means cauldron. Historically, the dish came to the Philippines during the 300-year Spanish occupation. So, think of this dish as a fusion of cultures.
Generally speaking, a caldereta recipe usually combines beef or goat meat. Sometimes, you may even find versions of it with wild duck and pork. However, I've decided to make a more healthy version with white meat, which is chicken.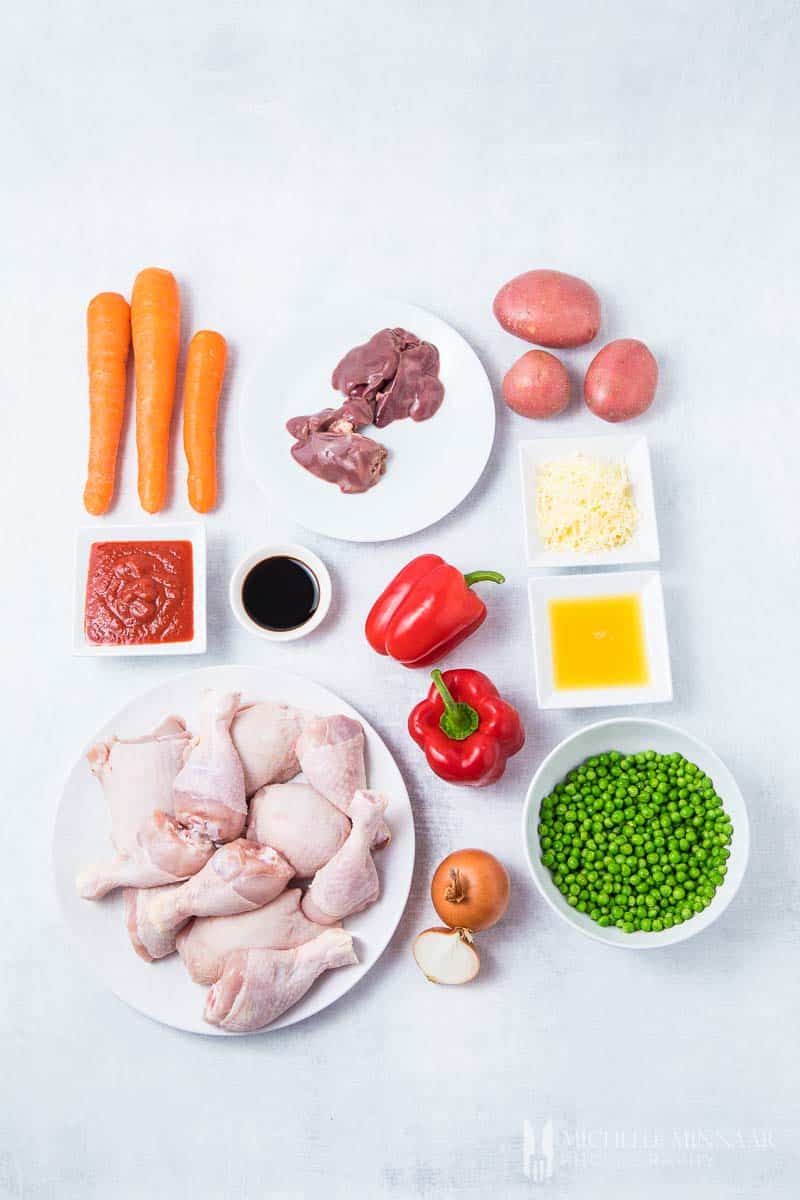 chicken caldereta – Pampanga-style
By now you are probably wondering, what in the world is Pampanga? Firstly, Pampanga is a province that's located north-west of Manila, in the Philippines. Pampanga is famous for its Kapampangan cuisine which is deeply connected with Spanish cuisine. This is due to the Spanish colonisation in the past. During this period, the Spanish explorers taught the Kapampangan natives the true basics of Spanish cuisine. After some time, the Kapampangans were able to put their own spin on the Spanish dishes. Over time, Kapampangan recipes started to gain popularity and were in demand by the settlers. Some of the typical Kapampangan dishes include:
the traditional caldereta like this one
sisig
morcon
lengua
lechon
bringhi paella
taba ng talangka (with crab meat)
tibok tibok
So, how can you make this chicken caldereta in true kapampangan fashion? Simple. Just follow this recipe to make an authentic version! Although in kapampangan cuisine you should opt for using goat meat.
chicken caldereta with cheese
What makes this chicken caldereta super-creamy and intense, is the addition of cheddar cheese at the end. The cheese should incorporate into the sauce. Hence, you are left with a total melt in your mouth feeling with every spoonful of the chicken caldereta.
If you don't have cheddar cheese at hand, you can use other alternatives. For example, you can grate these:
chicken caldereta with coconut milk
Ordinarily, this chicken caldereta doesn't call for coconut milk. However, you can easily add coconut milk as a non-dairy option. In fact, I highly recommend also adding the thick coconut cream. This is the element that can really make a difference when it comes to caldereta curry.
Add as you see fit. However, I would add more than 1 full can of coconut milk. For the optimal creaminess, I recommend adding half a can of coconut milk with a bit of coconut cream.
if are looking for a creamy chicken recipe, then try my peppercorn chicken. Delicious!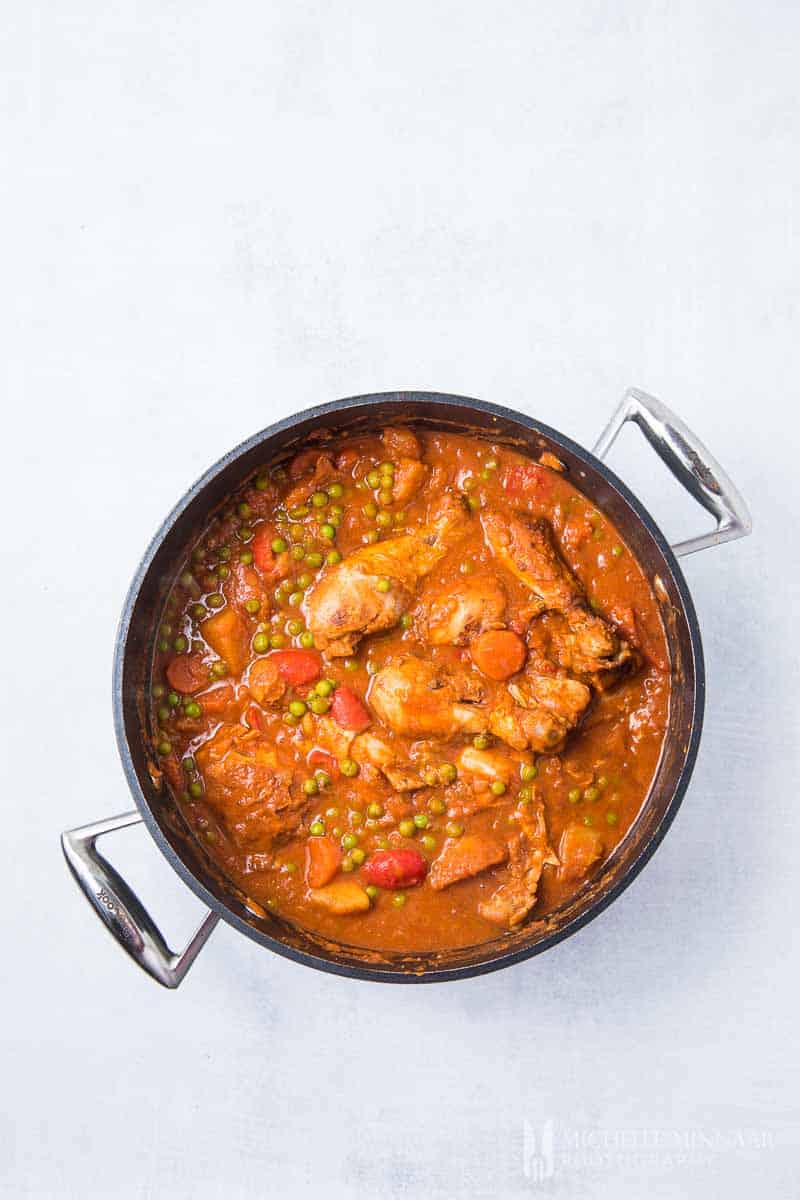 chicken caldereta with peanut butter
Often, many Asian recipes include or are based on a delicious peanut sauce. Like this extraordinary Thai red beef curry in a sweet peanut sauce. So, my trick here is to add a little bit of normal peanut butter into the sauce while it simmers.
The peanut butter will melt right in, and it will add a delicious, sweet as well as salty nutty taste. I highly recommend adding a tablespoon or two of peanut butter. Can't go wrong with that!
chicken caldereta calories
Don't think about the calorie count when eating such a rich dish as this chicken caldereta. If you really wish to cut down on calories, then serve the dish without mash or rice. Instead, go for a low-carb alternative such as these garlic and chilli courgetti.
The chilli will increase your metabolic rate while adding a good kick to the dish. Of course, if you are sensitive to spicy chillies, then take this element out.
serving
The best way to serve this chicken caldereta is with a side dish of mashed potato or simple basmati rice. As mentioned above, you can also cut down on carbs and serve the caldereta with vegetables. Otherwise, feel free to serve it in a deep curry dish and eat it alone as it is. This way, you can fully enjoy the exotic and intense flavours of the dish without anything distracting you from the flavours.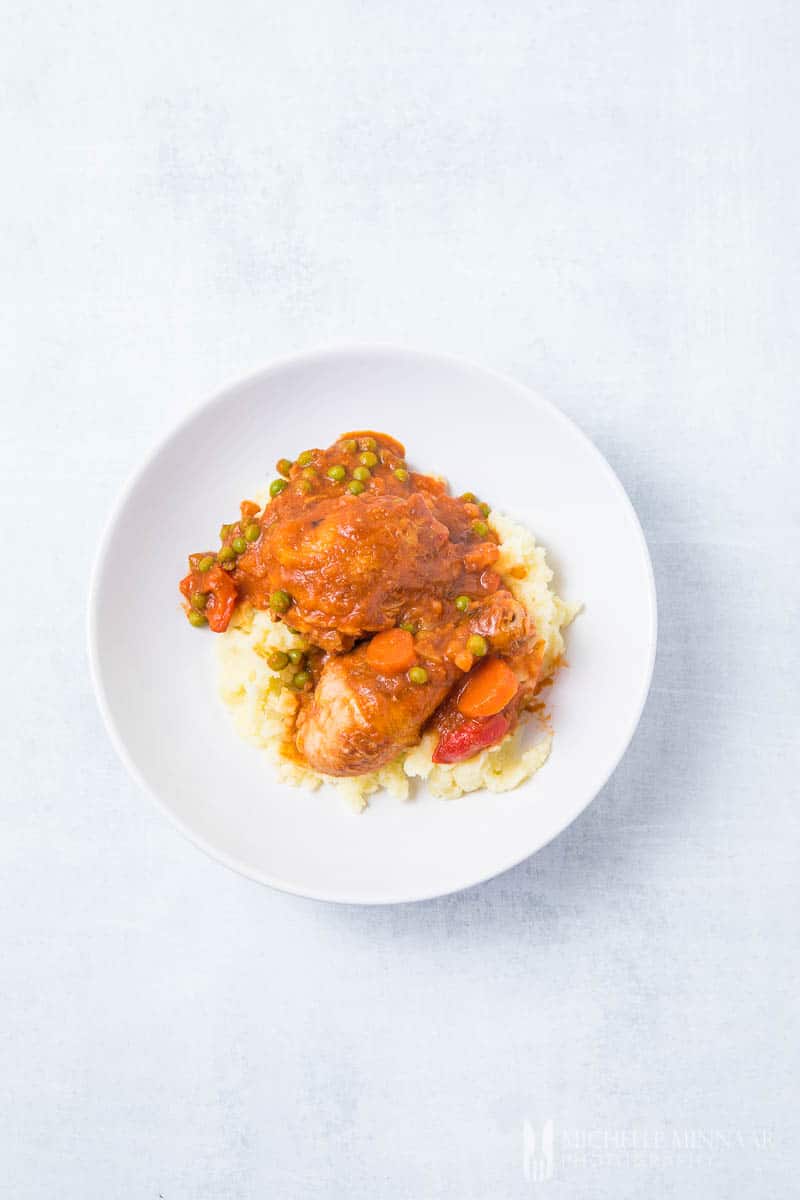 toppings
A chicken caldereta, as any other Asian dish, is all about toppings! Here are just a few which you can consider for completing your dish. These are:
fresh red chillies
spring onions
fresh or roasted peanuts
fresh herbs like coriander
sweet peas or sugar snap peas
fresh red bell peppers
lime juice
So, which topping would you select for your chicken caldereta recipe? Enjoy!
Print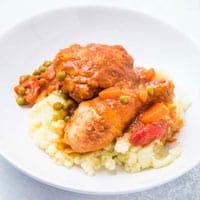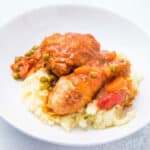 Chicken Caldereta
---
Description
It's about time you discovered the Filipino cuisine with this authentic chicken caldereta recipe. Taste the traditional flavours of Kapampangan cuisine.
---
250

ml

(1 cup) pineapple juice

30

ml

(2 tbsp) soy sauce

4

chicken drumsticks

4

chicken thighs

100

g

(3 1/2oz) raw chicken livers

5

ml

(1 tsp) sunflower oil

30

ml

(2 tbsp) vegetable oil

1

onion

500

g

(1lb) potatoes, peeled and cut into bite-sized chunks

2

carrots, peeled and chopped

400

g

(1 carton) passata

1

red pepper, washed and chopped

250

ml

(1 cup) peas

125

ml

(1/2 cup) grated Cheddar cheese
---
Instructions
Mix the pineapple juice and soy in a bowl then place the chicken pieces in the sauce. Marinate for at least 2 hours, or preferably overnight.
Fry the chicken livers in sunflower oil until completely cooked. Remove from the heat and let them cool down. Blend the livers in a food processor until it forms a smooth paste. Set aside.
Remove the chicken pieces from the marinade and pat dry. Reserve the marinade.
Heat the vegetable oil in a large casserole and brown the chicken on a high heat.
Add the onion and fry for 5 minutes.
Lower the heat to medium and add the potatoes, carrots, passata and marinade.
Give everything a stir and let the chicken stew reach a slow simmering point.
Cook for about 1 hour or until the chicken is cooked through and tender.
Add the red pepper and peas, and cook for another 10 minutes.
Stir in the liver paste and cheese until well incorporated into the sauce.
Serve immediately with rice. Enjoy!
Prep Time:

30 minutes

Cook Time:

90 minutes

Category:

Main Course

Cuisine:

Filipino
save the recipe to your pinterest board