Cooking a gluten free shepherd's pie recipe is a fantastic opportunity to make use of two ingredients that I love: lamb mince and potato mash. If you prepare these correctly, you'll end up with a rocking gluten free shepherd's pie. The best part is that, even without the short crust pastry one would expect on a pie, this pie works fine without it and is a definite winter warmer. A shepherd's pie is filling, but you can easily lighten it up with some roasted green beans! A shepherd's pie, also known as cottage pie, has multiple variations. Reintroduce this classic English recipe in your kitchen and feel free to put your own twist on it.
A traditional shepherd's pie has always been known for its heartiness. It consists of lamb mince which you fry with root vegetables and let it simmer in a gravy or sauce. Place the delicious shepherd's pie filling into a ovenproof dish and cover it with the potato mash. What you are looking for is that gorgeous mouthwatering golden crust. That's when you'll know that your gluten free shepherd's pie is ready for business!
If you love making pies, then you'll love the idea of making mini gluten free shepherd's pies. Just take a look at these mini beef and mushroom pies for some inspiration and enjoy this meaty comfort food classic!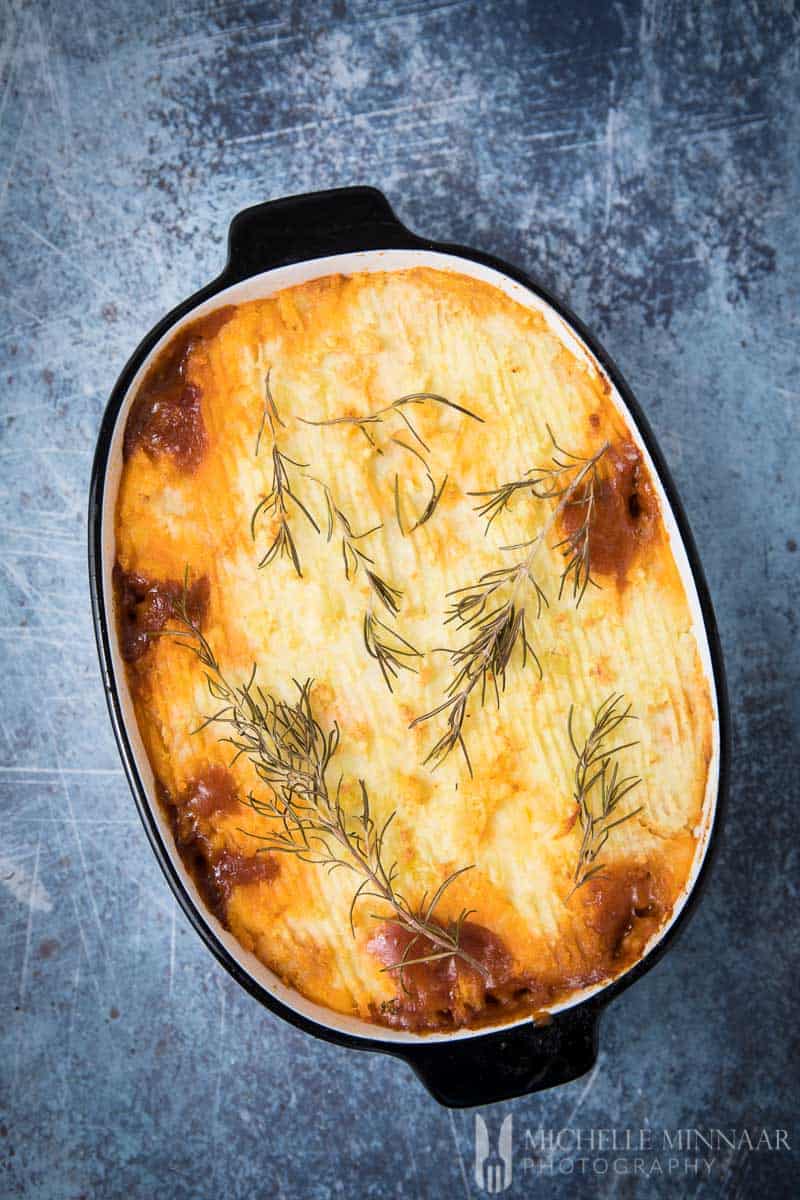 easy gluten free shepherd's pie recipe
Albert Bartlett has been focusing on recreating recipes from the last 70 years to pay respect to their long success and UK heritage. Focusing on the 1950s era with this gluten free shepherd's pie is a nod to the company's long history. This gluten free shepherd's pie is a lovely family recipe which is nutritious and hearty. Were you aware that a shepherd's pie actually celebrates the period after the war? This traditional shepherd's pie recipes is a time old classic that was heavily encouraged during the post-war years due to the strict food rationing regime.
That being said, all easy and inexpensive potato recipes were encouraged by the UK government during and after the World Wars due to rationing. It was only in 1954 when restrictions on meat and bacon were lifted. Not only that, but sugar and butter were also some of the ingredients rationed. Being a foodie, I don't know if I could manage so easily just like that. Today, we have so many alternatives that you can easily make a pie with the simplest ingredients. That's why it's key to nail the main ingredient: the humble potato.
Albert Bartlett potatoes
What better way to make the best gluten free shepherd's pie than with the best potatoes around which are Albert Bartlett grown potatoes? Albert Bartlett is the UK's leading supplier of fresh potatoes, therefore it is no surprise that you should cook this recipe with their potatoes!
Albert Bartlett is a family run business that has over 70 years of experience of growing potatoes. This year, they are celebrating their 70th year with their retro-style packaging which is available in stores from 1st September 2018. Make sure you keep an eye out for the the vintage look!
It all started back in 1948 with Albert Bartlett & Sons (Airdrie) Ltd when Albert Bartlett invested 30 pounds into a water boiler and cast iron bath to set up a beetroot boiling operation in Scotland. Ten years later, Bartlett's sons expanded the family business and opened their first factory in Britain to pre-package carrots. Over time, the company grew, bought and packed multiple vegetables in local communities and co-op shops. It was in 1978, the company started supplying carrots, onions, and potatoes to supermarkets which enabled it to grow rapidly.
It took four generations to get Albert Bartlett to where it is today, still being the best suppliers of potatoes. Today, Albert Bartlett is a progressive family brand that still remains entirely independent.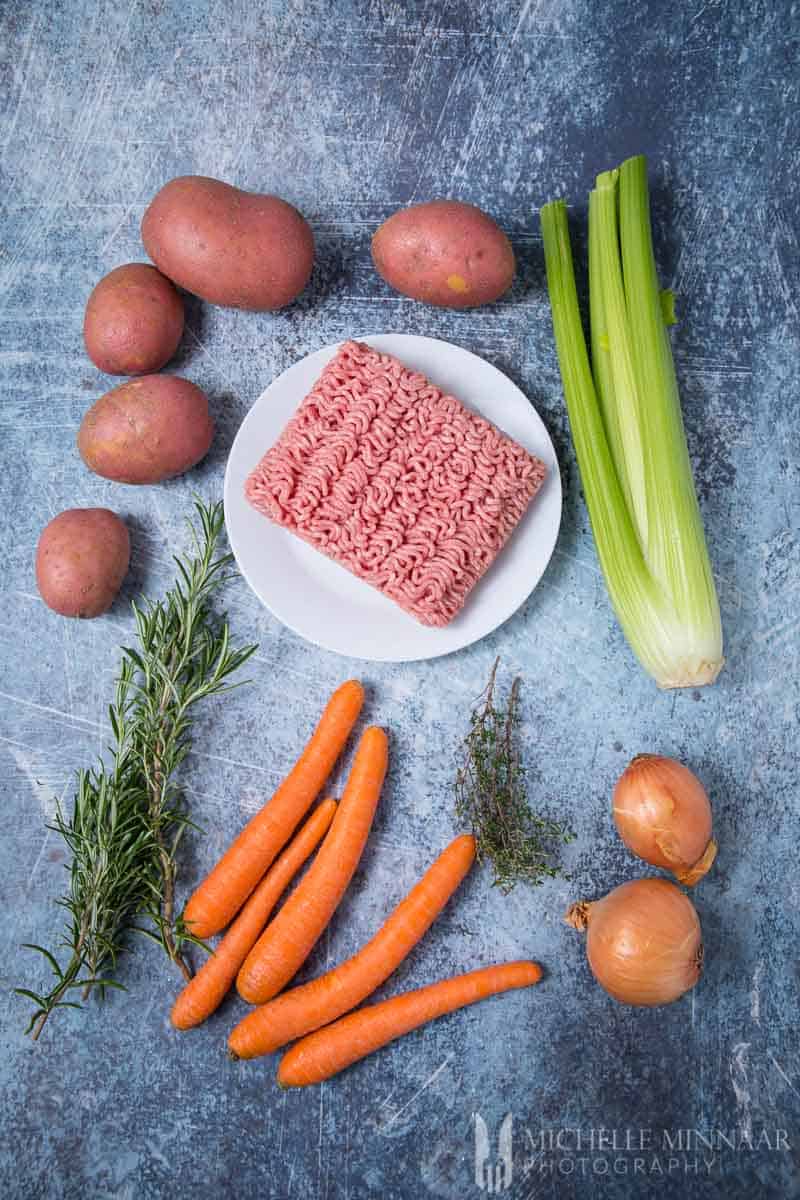 best potatoes for shepherd's pie
There are different types of potatoes that Albert Bartlett grows. For example, these include:
Rooster potato – a versatile all-rounder with floury yellow flesh and a classic potato flavour.
Apache potato – waxy texture and chestnut flavours. Looks like a chestnut too!
Elfe potato – a distinctive smooth, yellow potato with a sweet, buttery taste.
Albert Bartlett potatoes are grown all across the UK, from Scotland and Northern Ireland, down to to Cornwall and even Jersey.
For this gluten-free shepherd's pie recipe, I've used the Albert Bartlett Rooster potato, easily recognisable by its distinct red skin and flavour. It is abundantly versatile and can be used for roasting, baking, mashing, steaming and boiling. Packed with nutrition, the Albert Bartlett Rooster contains vitamin B6, vitamin C, fibre and carbohydrates.
Good news! You can easily buy them all year round in most major UK supermarkets.
shepherd's pie's consistency
Traditionally, back in the day, it was very common for people to use flour to thicken up the meat base in the pie. However, these days we have to make allowances, so in this recipe we used cornstarch. Plus, I prefer cornstarch because flour can get lumpy pretty quickly.
gluten free and dairy free shepherd's pie
Just when you thought that this pie couldn't get any healthier, there are more steps you can take. In addition to making this a gluten free shepherd's pie, you can also make it gluten free and dairy free at the same time. The key thing here is to avoid putting milk or butter into the potato mash. You might be thinking that it's impossible to make mash luscious without these ingredients, but it really is not. You can add vegan cream alternatives and mix it in with the mash. Don't believe me? I recommend that you explore this vegan cauliflower mash recipe.
Also, if you are looking for a vegetarian version of this pie, your potatoes will work wonders in this homity pie recipe.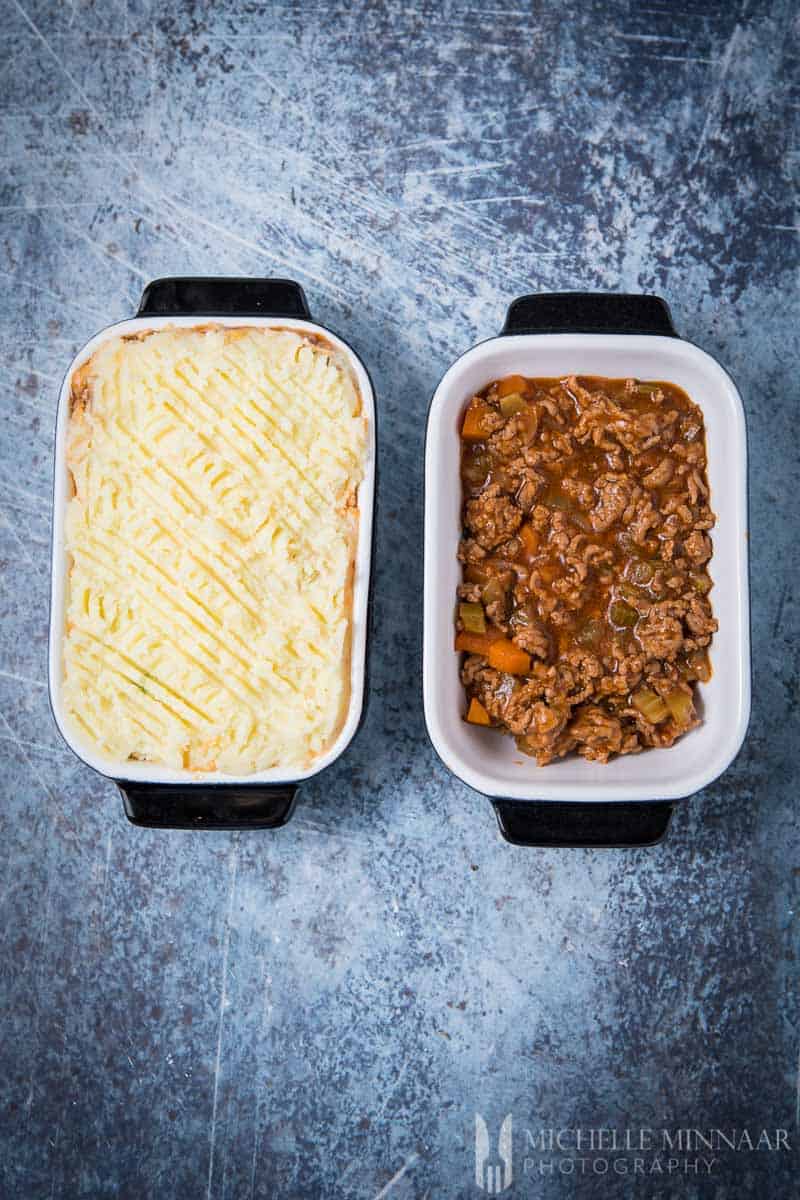 gluten free shepherd's pie with sweet potato
Although Albert Bartlett's potatoes are the best, one of my favourite alternatives are sweet potatoes. They are very low in sugar and are perfect for those who suffer from a diabetic condition. Just make this roasted sweet potato mash as an alternative or make a half-half version to get the best of both!
how to make the best shepherd's pie
You can add grated cheddar cheese to the mash for extra flavour and sprinkle some more on top to create the best shepherd's pie. The extra cheese will be let you have that beautiful golden crisp on top once you take this gluten free shepherd's pie out of the oven.
Lastly, I highly recommend that you do include some fragrant herbs like thyme or rosemary. These go hand in hand with any potato recipe. They'll also make you pie look more refined.
how to store shepherd's pie
Shepherd's pie is an excellent choice for a family dinner or for preparing food in advance for a busy work week. If you are really pressed for time, make a big batch and you'll have tonnes of leftovers.
This gluten free shepherd's pie is fantastic when it comes to storage. Once it bakes the oven, you'll need to let it cool down completely before you put it in the freezer. In fact, you can even store it prior to baking it. Cool down, thaw and bake later!
Print
Gluten Free Shepherd's Pie
---
Author:

Michelle Minnaar

Prep Time:

30 minutes

Cook Time:

75 minutes

Total Time:

1 hours 45 minutes

Yield:

6

1

x
Description
A gluten free shepherd's pie recipe is an English classic, consisting of lamb mince & potatoes simmered in gravy. Dairy free shepherd's pie also optional.
---
15

ml (1 tbsp) vegetable oil

1

onion, peeled and finely chopped

3

carrots, peeled and cubed

2

celery sticks, washed and chopped

450g

(1lb) lamb mince

15

ml (1 tbsp) cornstarch

600

ml (1pt) lamb or vegetable stock

15

ml (1 tbsp) tomato puree

5

ml (1 tsp) thyme, finely chopped

15

ml (1 tbsp) rosemary, finely chopped

1

kg (2lbs) Albert Bartlett Rooster potatoes, peeled and sliced

90g

(

3oz

) butter

45

ml (3 tbsp) milk
---
Instructions
Gently fry the onion in the oil until softened.
Add the carrots and celery and fry for 5 minutes.
Turn up the heat and fry the lamb mince until browned, stirring the mixture constantly.
Turn down the heat and sprinkle the cornstarch over the mixture and stir.
Pour in the stock, tomato puree, thyme and rosemary.
Stir thoroughly and let the mixture slowly bubble for about 20 minutes.
Preheat the oven to 180°C/ fan 160°C/356°F/gas mark 4
Meanwhile, boil the potatoes in plenty of salted water.
When cooked, drain the potatoes and mash with the butter and milk.
Pour the meat in an ovenproof dish and top evenly with mash.
Ruffle the mash and bake for 20 minutes or until the mince bubbles and the mash is golden brown.
Serve immediately with green vegetables.
Notes
You can add grated Cheddar cheese to the mash and sprinkle some more on top to create a decadent Shepherd's Pie.
Before baking the pie you can actually let it cool down and freeze it. Thaw and bake later!
Category:

Main Course

Cuisine:

English
Nutrition
Serving Size:

1 serving

Calories:

563

Sugar:

4.9 g

Sodium:

191 mg

Fat:

30.4 g

Saturated Fat:

14.1 g

Carbohydrates:

30.8 g

Fiber:

3.3 g

Protein:

41.7 g

Cholesterol:

109 mg
save the recipe to your pinterest board
P.S: This is a sponsored post