For those of you on Paleo or low carb diets such as Atkins, these Athenian chicken and bacon skewers are your dream meal.
A special thanks to Alan May, who is the executive chef at The Real Greek, for demonstrating a few Greek dishes from the restaurant's menu. Although he is Jamaican, he might as well be Greek as he knows the cuisine and cooking techniques off by heart. I peppered him with questions on the day of how to cook the food in the easiest way possible without compromising quality with the end result being restaurant quality food. A few ideas are thrown in on the way as well. Want to find out what to do? Read on!
Check Out These Cookbooks For More Barbecue Ideas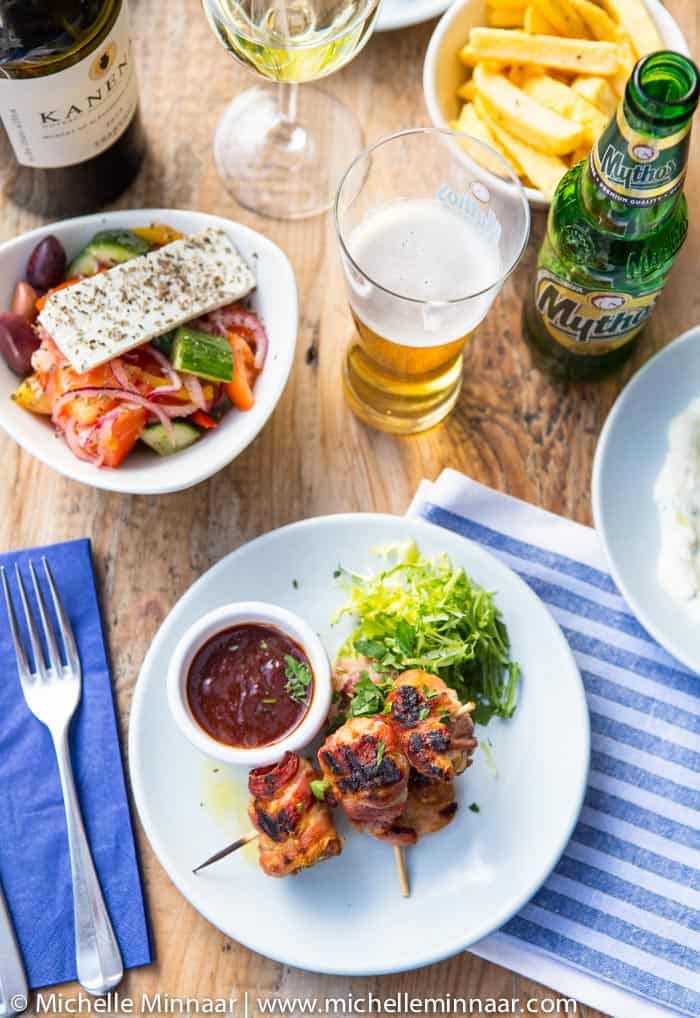 Let's start with the type of meat used – breast or thigh? While there's no stopping you from using the former, thanks to the higher fat content of dark meat the latter will be more sumptuous.
You will need to blanch whole chicken thighs first. Why? Firstly, you drastically reduce the change of giving anyone food poisoning by serving undercooked meat. Two, in the cooking process some of the fat leaves the meat, which means when you place the meat afterwards on the grill, there's less chance of charring it on the grill. Three, the final result it juicier.
This is an excellent trick for many applications such as barbecue.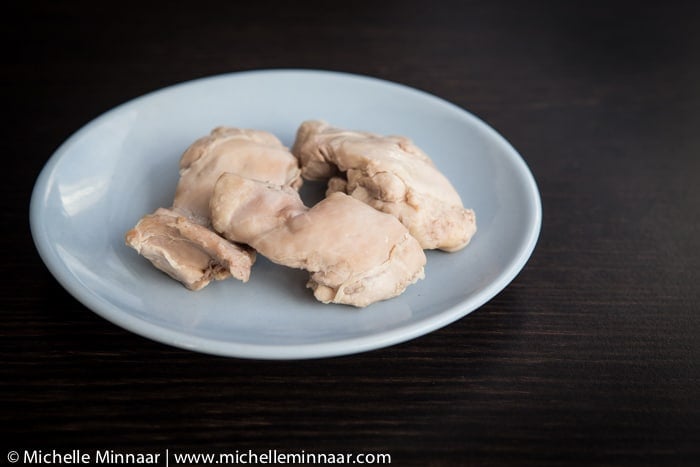 After you've blanched the thighs and they have cooled down, cut the into even bit-sized pieces.
Now for the bacon. Back or streaky? Yet again, you can use back bacon but streaky bacon is thinner and higher in fat content, which will give the skewers a more flavoursome and crunchier bite. Smoked or unsmoked bacon, that comes down to personal preference.
Each bacon rasher should be cut into three pieces. Now to start rolling!
Just roll each chicken bit in a piece of bacon and repeat.
Just make sure to pierce the meat close to the loose end of the bacon.
Bamboo
or metal cooking skewers
can be used.
Throwing a Party?
To wow your guests with excellent canapés, make smaller versions of these kebabs and load them onto cocktail sticks
. Place them in a single layer in a large baking tray and cook at high temperature in the oven
until the bacon is browned and crispy. Serve with sweet chilli dipping sauce
.
Finish them off on the gas barbecue
or over the coals
.
Serve with chips, Greek Salad and chilli sauce
and enjoy!
Print
Koto-Bacon
---
300g

(

10 oz

) streaky bacon

450g

(1lb) blanched chicken thighs

150g

(

5 oz

) chili dip

60g

(

2 oz

) frizzy salad leaves

15

ml (1 tbsp) ladolemo or vinaigrette
---
Instructions
Cut the chicken into even bite-sized pieces.
Wrap each piece of chicken in bacon and cut off the excess. It works out at approximately 1 piece of bacon for every 3 pieces of chicken.
Repeat until all the meat is used up.
Place the skewers on the grill for 8-10 minutes, turning halfway through.
Serve with chili dip, lettuce and ladolemo.
Prep Time:

20 minutes

Cook Time:

10 minutes

Category:

Dinner

Method:

Barbecue

Cuisine:

Greek
Nutrition
Calories:

397

Sugar:

Sugars

Sodium:

1124 mg

Fat:

29.8 g

Carbohydrates:

0.5 g

Fiber:

Dietary Fiber

Protein:

32.1 g

Cholesterol:

89 mg
Related Recipes