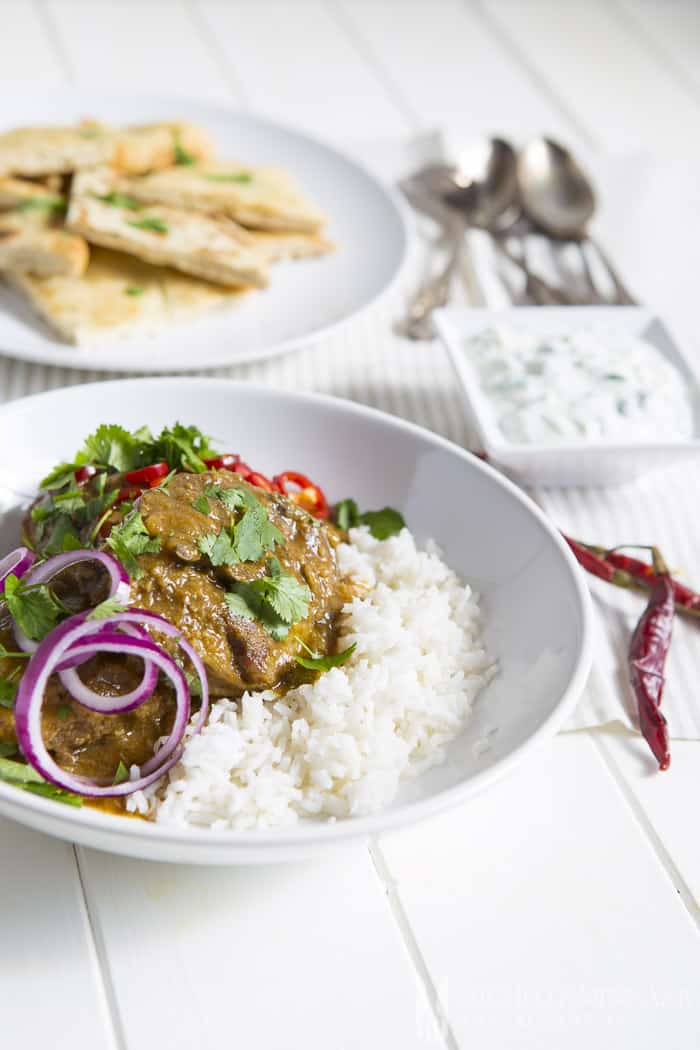 Hailing from Rajasthan in India, Laal Maas is a fiery lamb dish chilli lovers adore.
As long as my tongue isn't burning too much at the time, it's fascinating to observe people eat hot food. On the one hand there's the reaction of the super taster whose face turns purple and begs for a glass of milk in a blind panic after taking one mouthful of the mildest of curries. On the other hand there's the dude who will eat a Carolina Reaper whole with a seemingly straight face. Why? Is it a case of nature or nurture?
A little bit of both. In cultures where spices form part of everyday cooking, heat tolerance appear to form part of the gene package. Capsaicin, the hot stuff in chillies, triggers receptors in pain neurons and some people's neurons just happen to be more sensitive than others. As for the westerner who only started dabbling with sprinklings of Tabasco or Sriracha sauce on this food in his teens, it's nurture. Building tolerance is key. Mexican parents are known to mix chilli powder with sugar and give it to their kids to systematically desensitise their tongues. Another interesting fact is that people who readily consume spicy food tend to be thrill seekers who are more likely to enjoy activities such as gambling and riding roller coasters.
In this recipe I used a cheap lamb cut, the neck. After all, what's wrong with peasant food? Meat-on-bone dishes have much more flavour than their just-meat counterparts. All it needs is a little bit more cooking to become fork tender and served with rice, naan and/or greens, comes pretty close to being a perfect one-pot meal.
With all the scaremongering that newspapers inflict on us on a daily basis, it's not surprising that we check out products on the shelves with some scepticism. What does horse meat look like? Did the factory worker wash his hands before handling this piece of meat? Did the animal suffer much throughout its life?
If you'd like to ease your doubts and conscience, look out for the little Red Tractor logo on packaging, which means it's farm assured. The latter indicates that high standards of food safety and hygiene are practised and the animal welfare and environmental protection take priority. Now that you know what to look out for, here are plenty of lamb and beef recipes to get you started.
As for me, I'm still building up my spice tolerance, so don't be afraid to add even more chilli than the recipe states below. If you come across other recipes, you would notice that Laal Maas is vibrantly red. Psssst! Red food colouring, called carmine, was used. One of its ingredients? Insects. Quite frankly, I think there's enough protein in this dish already!
What is your favourite way of cooking stewing lamb?
Cook More Indian Food At Home
Print
Laal Maas
---
1

red onion, minced

30

ml (2 tbsp) hot chilli powder

5

ml (1 tsp) turmeric

5

ml (1 tsp) ground coriander

5

ml (1 tsp) ground cumin

250

ml (1 cup) plain yogurt

1

kg (2½ lbs) lamb neck slices

1

onion

5

cm (2in) fresh ginger, peeled

8

garlic cloves, peeled and crushed

60

ml (4 tbsp) ghee or vegetable oil

8

green cardamon pods

5

cloves
---
Instructions
Mix together the red onion, chilli powder, coriander, cumin and yogurt.
Add the lamb to the yogurt mixture and marinate overnight.
Blend the onion, ginger and garlic into a paste.
Heat the oil in a heavy-based pan and add the onion mixture and fry for 4-5 minutes until translucent.
Add the lamb and gently cook for 8 minutes, browning the meat.
Add the cardamon and cloves to the meat and stir well.
Add 300ml (½ pint) boiling water, cover and simmer over a low heat, stirring occasionally, for 90 minutes.
Garnish with coriander leaves and serve hot with roti or rice.
Prep Time:

15 minutes

Cook Time:

2 hours

Category:

Dinner

Method:

Braise

Cuisine:

Indian
Nutrition
Calories:

560

Sugar:

Sugars

Sodium:

255 mg

Fat:

43.4 g

Carbohydrates:

8 g

Fiber:

Dietary Fiber

Protein:

31.2 g

Cholesterol:

8 mg