Celebrate National Curry Week by indulging with this comforting, thick and rich lamb bhuna. This authentic Indian curry recipe is filled with flavours due to its famous bhooning or 'browning' process. As a result, don't expect this lamb bhuna to be runny or creamy, but rather thick, chunky and dry! Serve this lamb bhuna with your favourite Indian side dishes and don't hesitate to adjust this lamb bhuna recipe to your preferred heat level!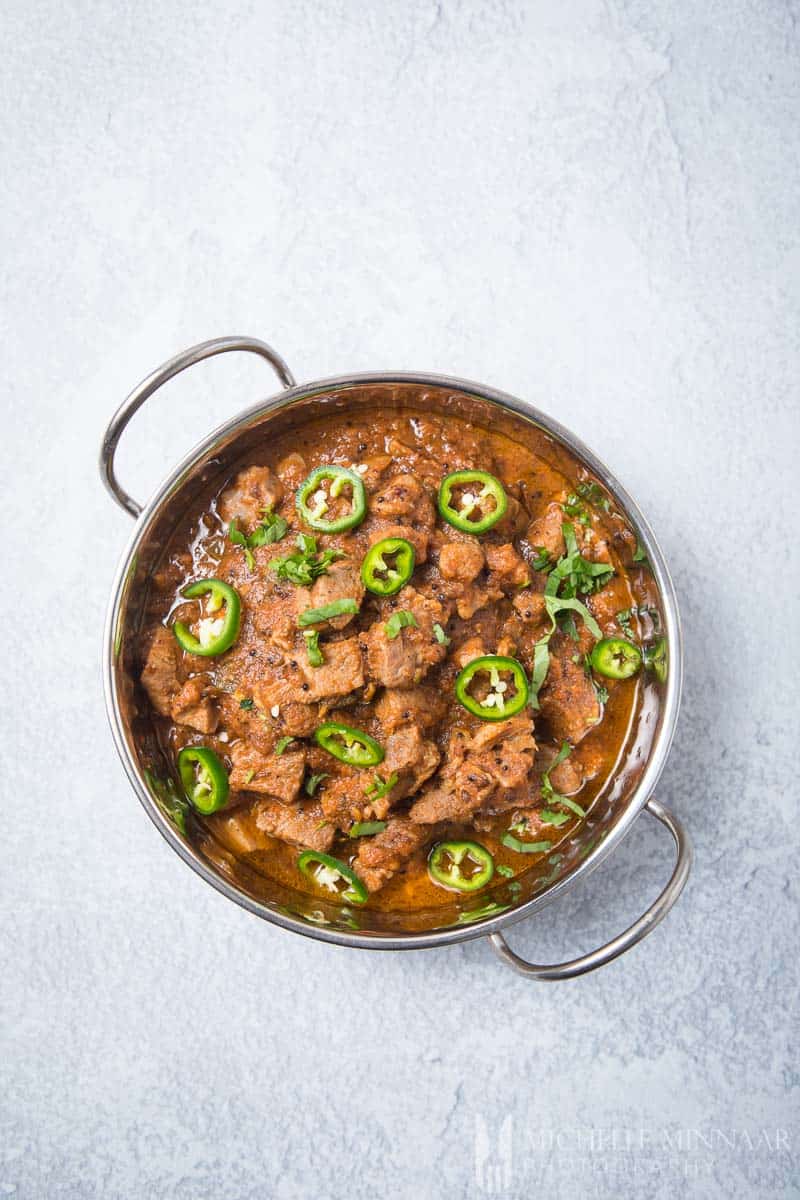 a Bengal recipe
A lamb bhuna, also known as lamb bhoona, is one of the most popular bhuna recipes. Simply put, a lamb bhuna is a fairly hot Indian curry which originates from the Bengal region. Bhuna translated from Indian, means to 'brown'. Hence, any bhuna recipe involves browning the spices in oil so that the maximum amount of aromas is released. This is what the bhooning process is all about. It is very common to add the lamb or meat into the spices so that the meat also releases its juices and adds even more flavour. A bhuna curry is traditionally known as a dry curry, meaning that it is not runny like a creamy korma curry recipe. In comparison, a bhuna curry is very thick.
Traditionally, a lamb bhuna recipe is quite hot and is garnished with green bell peppers, onions or green chillies – if the heat doesn't scare you. Of course, you can control the amount of heat by omitting the chilli element. For a milder lamb bhuna, just use cayenne or mild chilli powder instead.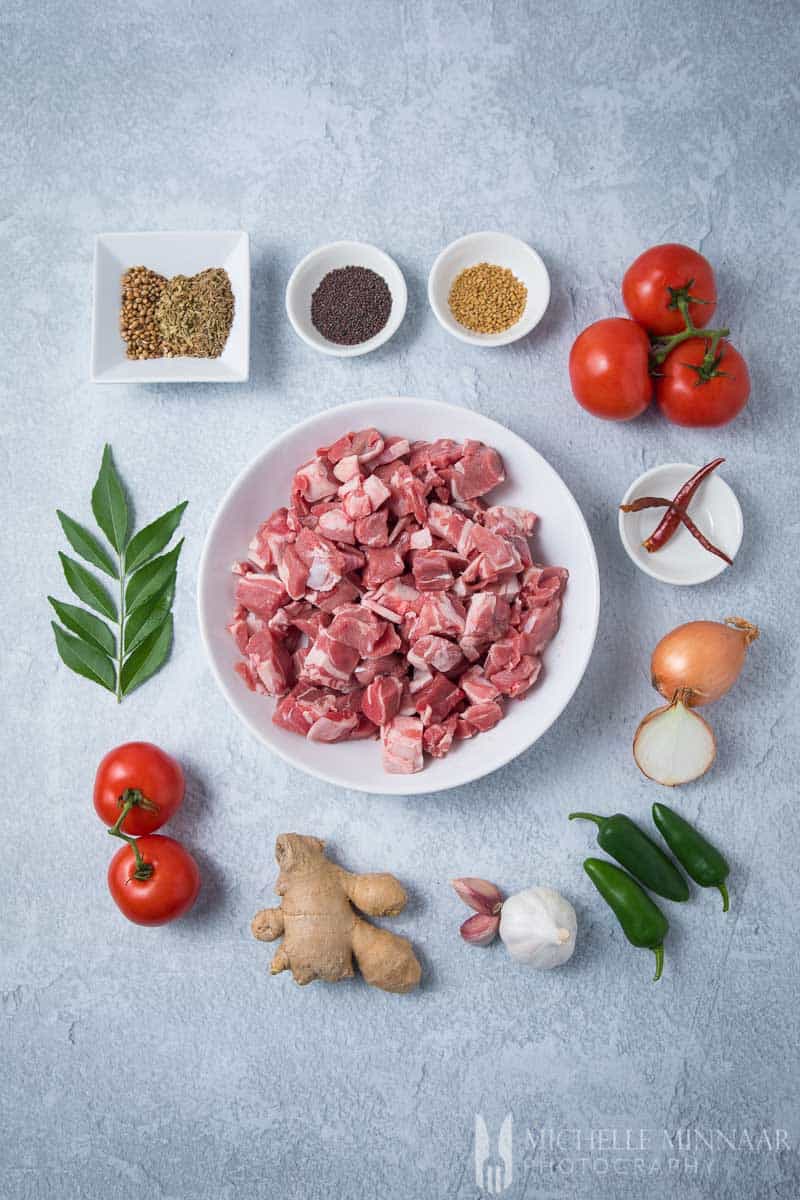 bhuna curry using lamb shoulder
What better way to recreate a fabulous lamb bhuna recipe than using fresh European lamb? This lamb recipe calls for using the lamb shoulder. However, you can easily substitute shoulder with other cuts of lamb, such as lamb leg, lamb neck fillet, lamb steak, and more. As you can see, lamb is versatile, which is why you should strive to cook more with lamb! Just check out what you can do with lamb with these recipes below:
Thanks to EU-funded campaign Lamb. Try It Love It, more people around the world will cook with a beautiful ingredient like lamb. This tasty message from Europe will make you realise that not only do we have access to lamb of the highest quality, coming from sustainable farms across Europe, but lamb is also delicious. Understandably, lamb has a unique and strong flavour that's not for everyone. Therefore, lamb is for the brave and the bold. Lamb has the distinct ability to bring a certain elegance to any meal at no extra cost.
Thinking that lamb is expensive is a common misconception. There are multiple cheap yet delicious cuts of lamb available which are perfect for everyday meals. For example, cooking lamb steaks is a process that only takes minutes!
Lastly, lamb is a healthy ingredient, which is naturally rich in protein, low in sodium and provides seven essential vitamins. Most noteworthy are vitamins such as niacin and B12, which help regulate the energy production within the body and support the nervous system.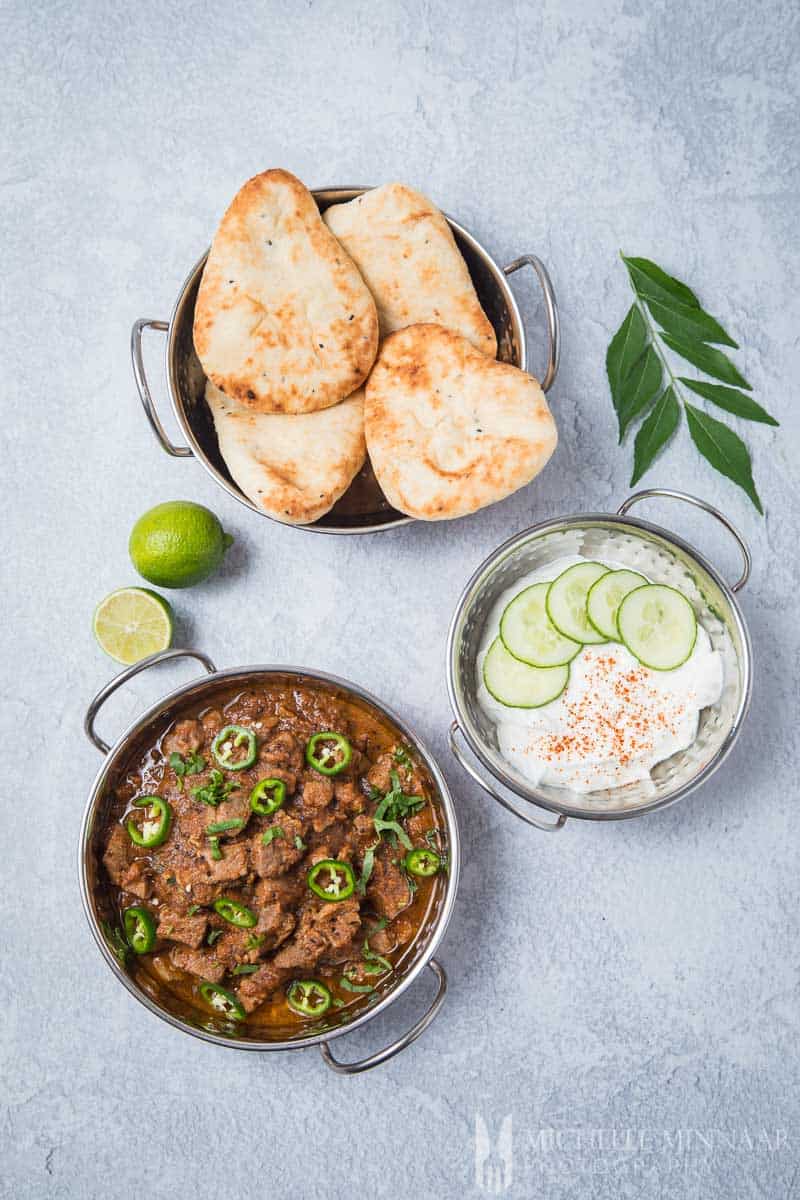 quick and easy lamb bhuna recipe under 30 minutes
Of course, making lamb bhuna from scratch always yields the best results. However, there is a very quick and easy way to prepare this dish. If you are pressed with time or just feel like making comfort food without too much hassle in the kitchen, then listen up. You can purchase bhuna sauce or bhuna paste which is readily available in stores. No worries, it's completely fine to cheat from time to time. Trust me, having kids, I've done it countless times. If you stick to presenting your lamb bhuna like I did and use the right toppings, you will get away with it!
So, here are just some of the sauces. You might even recognise some of these, so let me know which one is your favourite.
Patak's Bhuna Cooking Sauce – check it out here
Loyd Grossman Sweet Tomato Bhuna Curry Sauce – check it out here
Sharwood's Bhuna Cooking Sauce – check it out here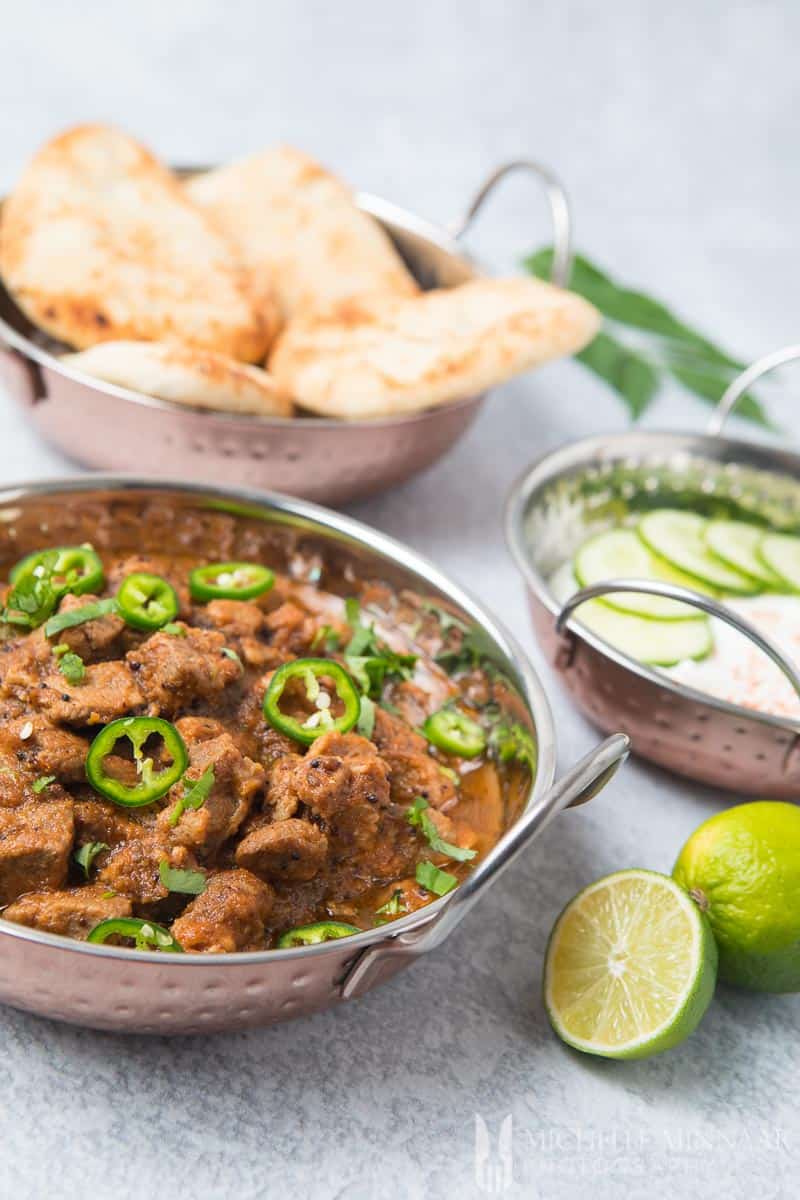 In addition, you can use these pastes and leftovers can be used for more bhuna recipes. Compared to the sauces, I reckon they last you for at least two more bhuna recipes, so why don't you experiment with other cuts of lamb or other meats? You can choose from this paste selection:
Patak's Bhuna Spice Paste – check it out here
Geo Organics Organic Bhuna Curry Paste – check it out here
Whichever option you go for, I am confident that your lamb bhuna will turn out excellent.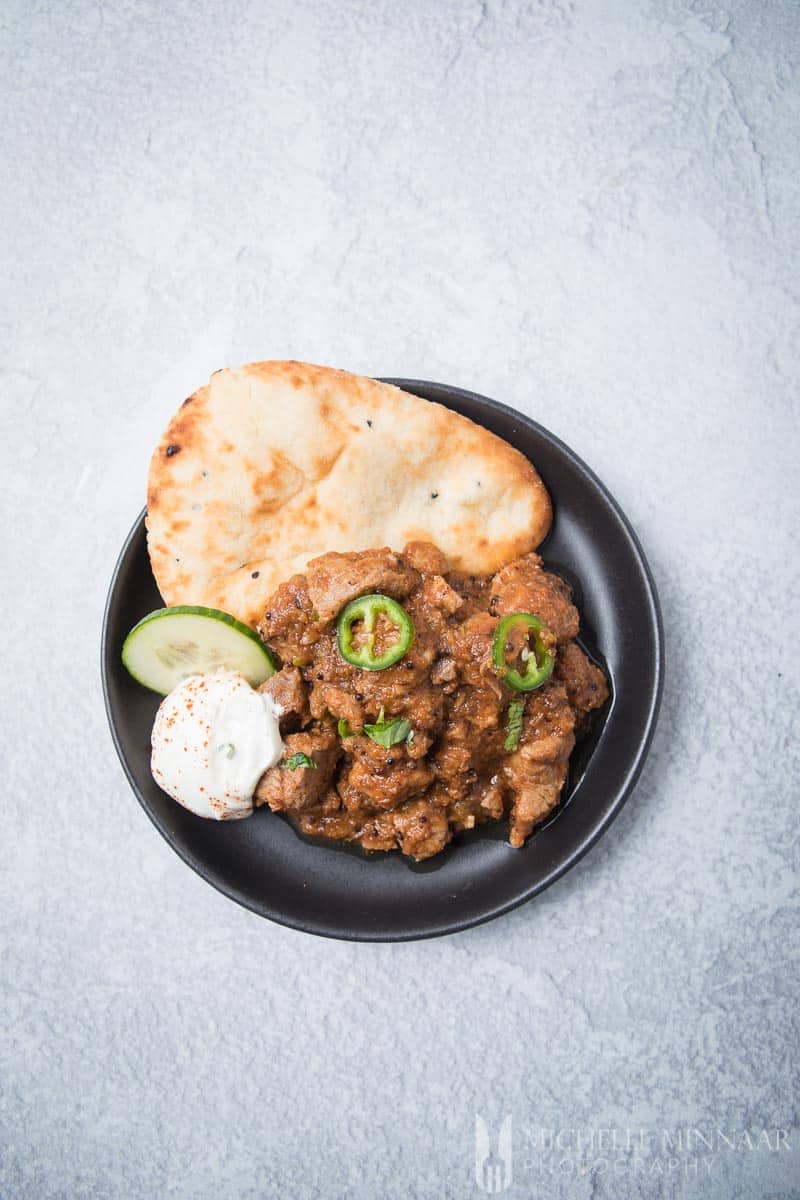 what to serve with an Indian bhuna
First and foremost, depending on the spice level of the curry, you need to consider serving the lamb bhuna with a cucumber raita. The cucumber raita is a cooling agent and will immediately bring down the spice level of any curry. Plus, it's refreshing and tasty. In my opinion, no Indian curry recipe is complete without a side dish like raita.
Of course, let's not forget the essentials like a fluffy, warm naan. Making naan from scratch doesn't require Michelin star cooking skills. In fact, it's quite easy, you'll wish you've tried it years ago. Just take a peek at my sweet peshwari naan recipe. Although I think a peshwari naan has all what it takes to be the perfect side to a lamb bhuna, you can also opt for garlic naan or just stick to the plain, traditional naan and sprinkle over some sesame seeds!
Print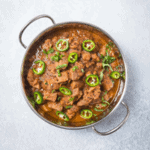 Lamb Bhuna
---
Author:

Michelle Minnaar

Prep Time:

15 minutes

Cook Time:

2 hours

Total Time:

2 hours 15 minutes

Yield:

6

1

x
Description
Make an authentic thick and luscious lamb bhuna recipe. Read about the bhooning process and learn about its importance for recreating a bhuna curry. Enjoy!
---
Scale
Ingredients
Spice Paste
15

ml (1 tbsp) cumin seeds

15

ml (1 tbsp) coriander seeds

15

ml (1 tbsp) mustard seeds

15

ml (1 tbsp) dried chillies

5

ml (1 tbsp) fennel seeds

5

ml (1 tbsp) fenugreek seeds

15

ml (1 tbsp) vegetable oil
Curry
30

ml (2 tbsp) ghee

1

kg (2 lbs) lamb shoulder, cubed

2

onions, finely chopped

6

garlic cloves, peeled and crushed

3

green chillies, washed and finely diced

10

curry leaves

6

tomatoes, washed and pureed

5

ml (1 tsp) salt

5

ml (1 tsp) garam masala
---
Instructions
First prepare the spice paste by frying all the spices in the oil until their fragrances are released. You'll hear popping and the spices should turn a golden brown. The process should take around 5 minutes on a medium heat.

Immediately remove the spices from the heat and grind finely in a coffee grinder.

In the same frying pan, brown the lamb in the ghee, then set the meat aside.

Fry the onions for 5 minutes or until softened, then add the garlic, chillies and curry leaves for about 5 minutes.

Add the ground spices to the mix and give it a good stir.

Pour in the tomato puree and let the mixture reach a slow simmering point, then add the lamb.

Continue cooking the lamb until tender. This can take about an hour. The longer it cooks for on a low heat, the more tender the results.

Season with salt and finish off with garam masala. Cook for another 5 minutes then serve.
---
Notes
Serve with pilau rice or naan.

Raita will help with the heat.
Category:

Main Course

Cuisine:

Indian
Nutrition
Serving Size:

1 serving

Calories:

441

Sugar:

5.5 g

Sodium:

377 mg

Fat:

20.4 g

Saturated Fat:

7.7 g

Carbohydrates:

13.9 g

Fiber:

4.1 g

Protein:

49.8 g

Cholesterol:

161 mg
save the recipe to your pinterest board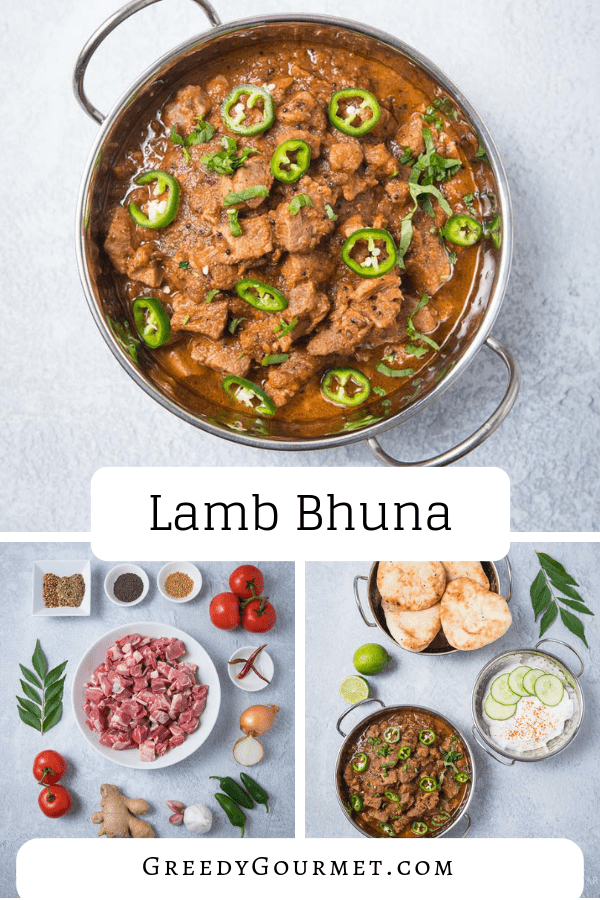 P.S. This is a sponsored post.